'Let them eat cake!!' Umm... more like them the DRINK cake. Carrot Cake is one of those things that has grown on me through my many 😉 years on this earth. As a child it was a little too much like eating veggies but as I grew older I really loved the cinnamon taste, mixed with the sweetness of the carrots.
Today, much like with my Healthy Blueberry Muffin Smoothie recipe, I decided to turn one of my favourite desserts into an easy, on the go, everyday snack. Because who wouldn't want to have cake as a post-workout snack or even for breakfast? Sounds like heaven.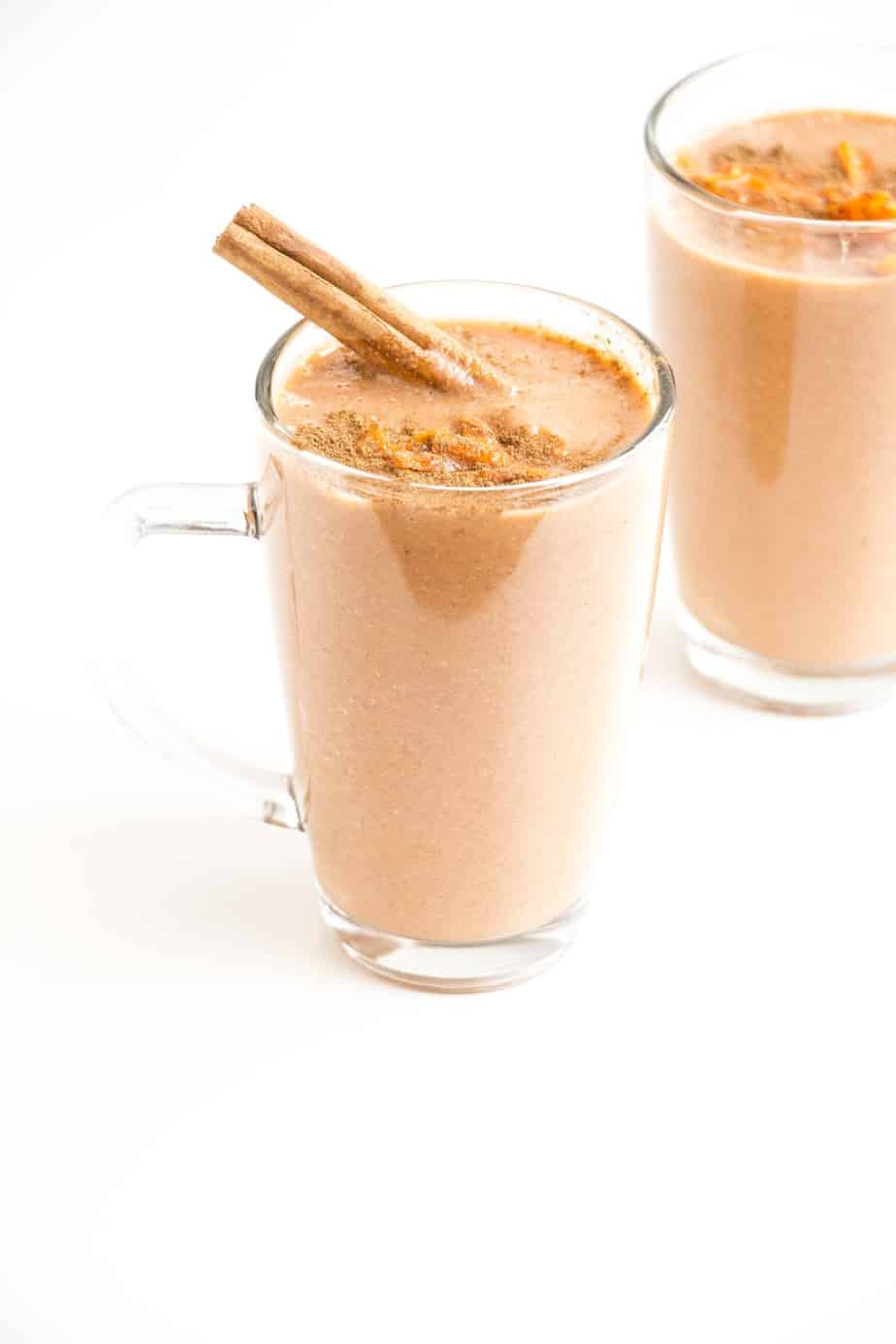 I've had such fun playing around with all kinds of combinations of fruit, veggies and spices since getting my NutriBullet. It seems like anything and everything I chuck into it turns out delicious. And the best part is that everything tastes like dessert...BUT  is actually sooper dooper healthy.
What I love about this Healthy Carrot Cake Smoothie recipe, is that it is a really sneaky  way to eat your veggies. I absolutely love fruit, but veggies... I'm not such a big fan of. And since carrots are insanely good for you (check out why over here), this seems like a pretty darn delicious way to up your veggie intake.
To make this Healthy Carrot Cake Smoothie, all you do is chuck all the ingredients into your NutriBullet. Then you simply plug it in, press it down and there you are... A deliciously healthy smoothie that you can have as an on the go breakfast, as a delicious snack or even as a replacement for dessert. This recipe is also perfect for vegans, as all you have do is swop out the milk for a non-dairy milk, such as almond milk, and swop out the yoghurt for either homemade Coconut Yoghurt or a little more non-dairy milk.
Healthy Carrot Cake Smoothie
Ingredients
1

Banana

1

Cup

Chopped Carrots

½

Cup

Milk/Almond Milk

½

Cup

Yoghurt/Coconut Yoghurt

1

Tbsp

Maple Syrup

1

tsp

Cinnamon

¼

tsp

Nutmeg

¼

tsp

Ground Ginger

½

Cup

Ice
Instructions
Place all ingredients in your blender, ensuring that the milk is on top, and blend on high.

Blend until smooth.

Serve immediately and enjoy.

Other Recipes You May Enjoy
Healthy Blueberry Muffin Smoothie:
Salted Caramel&Pecan Chia Pudding: