Carrot juice is packed with benefits from improving your skin to boosting your immune system. Find out why you should be drinking carrot juice every day.
Because carrot juice is so good for you I love making fresh carrot & orange juice first thing in the morning but don't stop there we've got an amazing list of fresh, healthy breakfast juice recipes.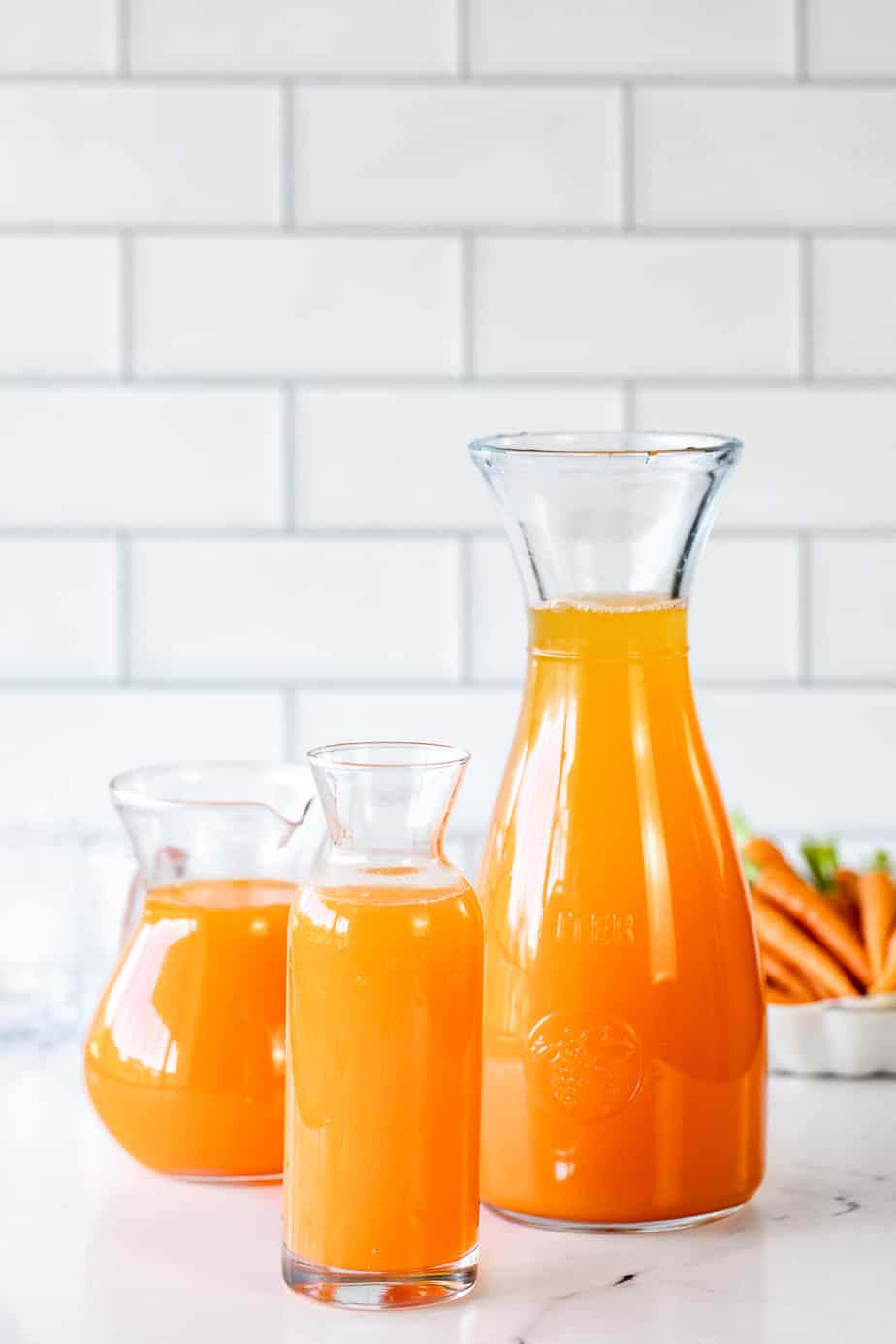 Jump to:
What Makes Carrot Juice So Amazing?
Carrot juice is packed with a variety of essential vitamins and minerals, making it a highly nutritious beverage.
It is an excellent source of vitamin A, which is important for maintaining healthy vision, skin, and immune function. In fact, just one cup of carrot juice provides more than twice the daily recommended intake of vitamin A.
Carrot juice is also a good source of vitamin K, which is essential for blood clotting and bone health.
Additionally, it contains significant amounts of vitamin C, which is important for immune function and collagen production, and potassium, which is important for maintaining healthy blood pressure levels.
In addition to vitamins and minerals, carrot juice is rich in antioxidants, such as beta-carotene, lutein, and zeaxanthin, which help to protect the body against oxidative damage caused by free radicals.
Beta-carotene is especially important, as it is converted to vitamin A in the body and has been shown to have anti-cancer properties.
Health Benefits of Carrot Juice:
1. It helps reduce sunburn
This is my number one reason because I am a ginger... and any ginger will know that the sun is your number one enemy.
Carrots contain tons of carotenoids which protect your skin against sunburn. Having your daily dose of carrot juice could likely end up replacing your suntan lotion.
2. It's good for your liver
Carrot juice improves the functioning of your liver and aids your body in getting rid of toxins. That's definitely a great benefit of drinking carrot juice daily.
Carrot juice contains anti-inflammatory compounds that may help to reduce inflammation in the liver. Chronic inflammation can lead to liver damage and disease, so reducing inflammation is an important aspect of maintaining liver health.
3. Contain's cancer preventing characteristics
The high levels of carotenoids contained in carrots can help prevent particular types of cancers such as cervical, breast and colon.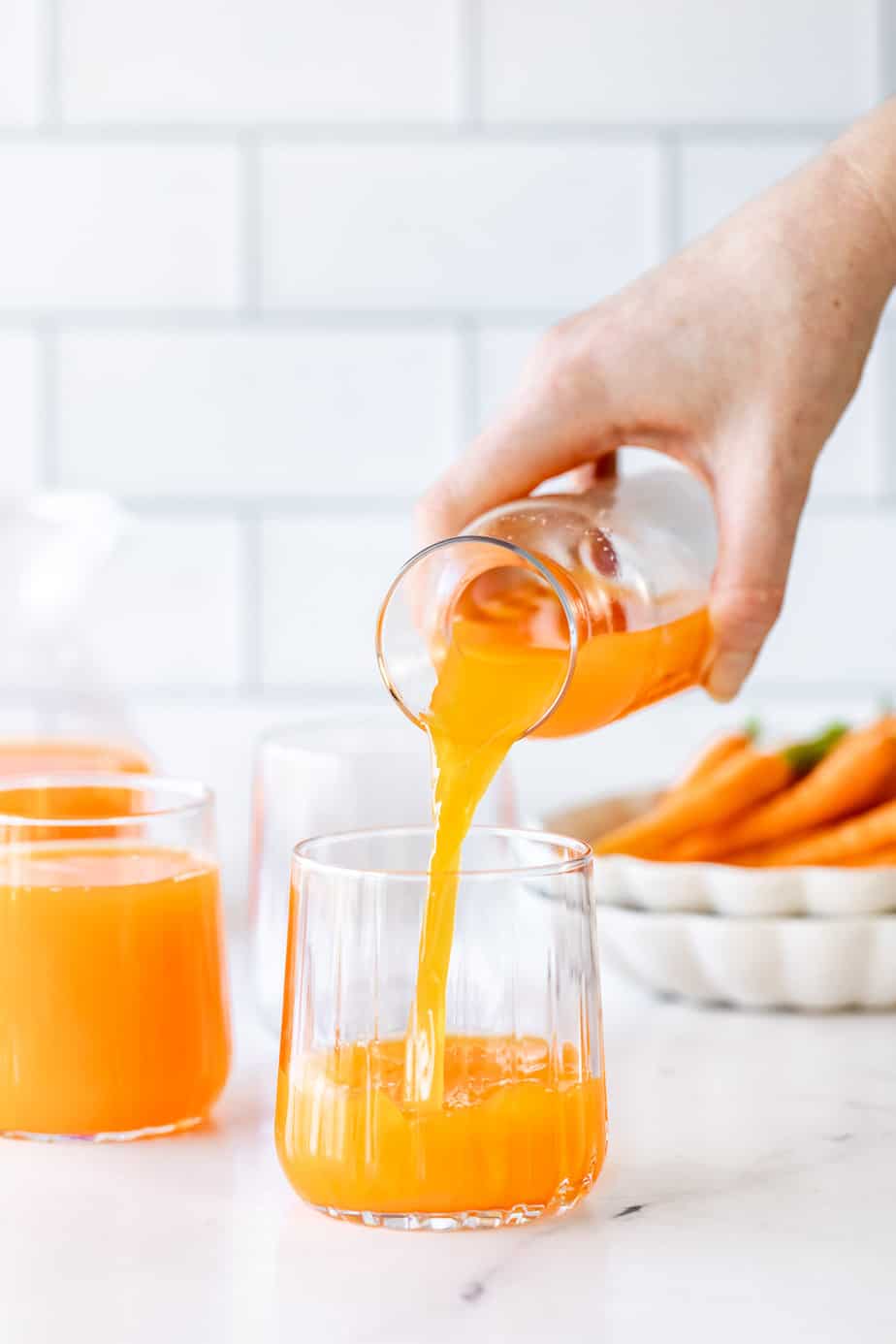 4. Carrot juice is beneficial for lowering your cholesterol
Carrots contain large amounts of soluble fibre which binds to cholesterol and then helps the body to excrete it as waste. So the best time to drink carrot juice would definitely be in the morning. Get that detox going early on.
5. It protects your vision
Carrots contain insane amounts of Vitamin A in the form of beta-carotene which is vital in protecting your eyesight. Vitamin A is one of the most important things needed by the body in order to improve vision.
6. Boosts your immune system
Drinking carrot juice daily can give you many of the antioxidants needed by your body. These antioxidants help prevent free radical damage and assist with inflammation.
7. Carrot juice benefits your skin
One of the top benefits of drinking carrot juice daily is its amazing effect on your skin. Carrots contain such a large amount of Vitamin A, it helps to protect your skin from dryness and things associated with that such as psoriasis.
It helps your skin stay moisturised and can aid in healing scars and blemishes.
8. Gives you Energy
Carrots contain Iron which is vital in providing your body with the energy it needs to live an active lifestyle.
9. Improves your smile
Carrots contain certain minerals that have important antibacterial properties that aid in preventing tooth decay and cavities and they can also make your teeth whiter by removing stains.
10. Carrot juice helps you stay young
One of the health benefits of carrot juice is its high quantity of beta-carotene. Carrots help the skin stay young and are great for preventing wrinkles.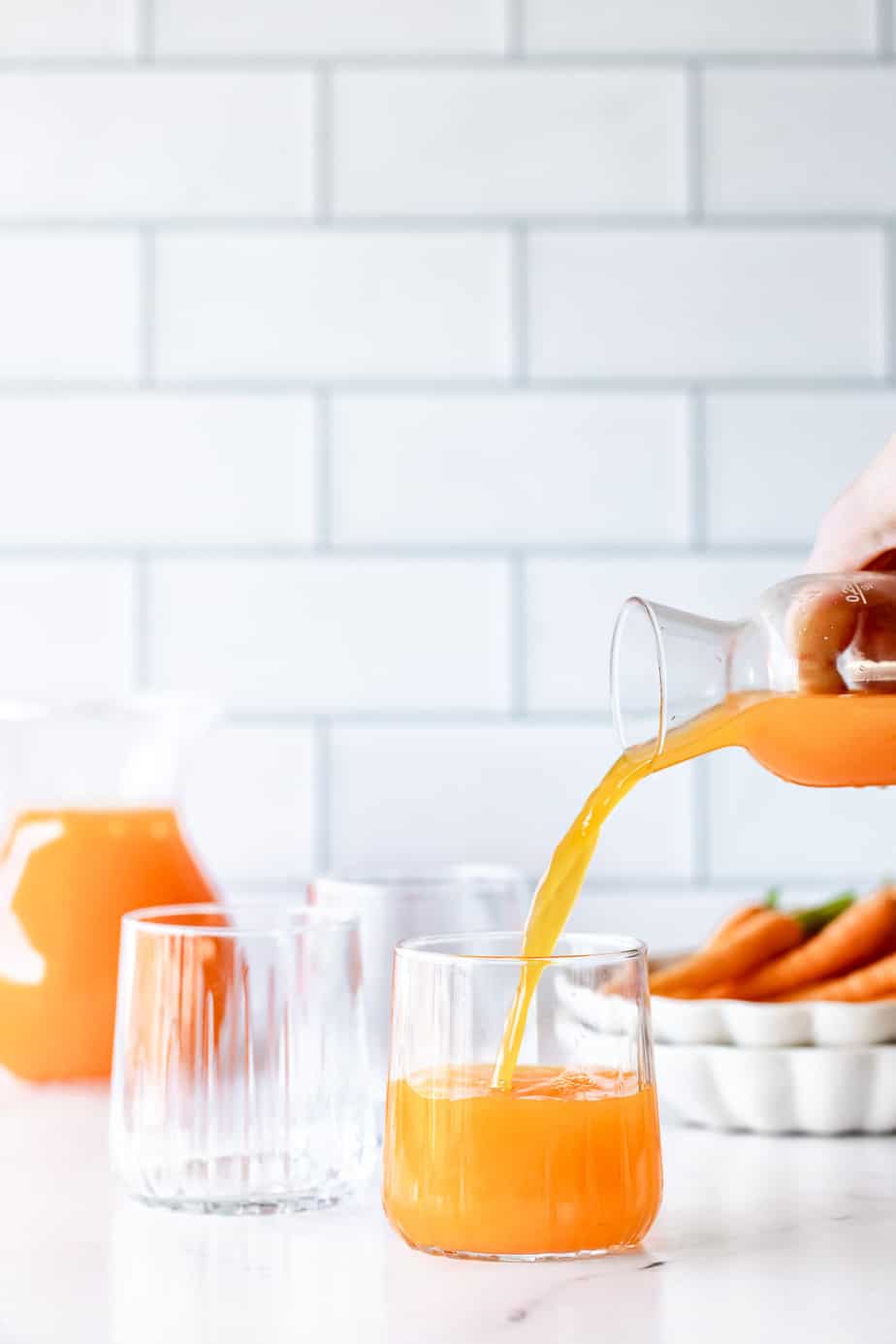 If it doesn't appeal to you to slurp up a couple of carrots every day, then add some ginger and apples to your juicer, it will make your juice a lot more sweeter and as you know "a spoon full of sugar makes the medicine go down".
How to make carrot juice
Making carrot juice is incredibly easy. All you need is 4-6 large carrots, a juicer or even a blender. If using a juicer, wash and peel your carrots, then pop them through the juicer.
To make carrot juice with a blender, peel and chop your carrots. Add them to a high-powered blender with about ¼ water. Once blended, pour the juice through a nut milk bag or sieve to get rid of all the pulp and enjoy.
How many calories are in carrot juice
Carrot juice is great for weight loss because it is packed with fibre and incredibly low in calories.
Carrot juice is a great addition to a healthy diet as it helps you to feel fuller for longer and only contains about 80 calories per glass.
Is it ok to drink carrot juice every day?
Carrot juice is packed with health benefits so we definitely want to get as many of those benefits as possible.
Although it is perfectly fine to drink carrot juice every day, make sure to only consume ½ glass per day if drinking it every day. If you feel like having more, try making an Orange & Carrot Juice.
Drinking large amounts of carrot juice every day can lead to carotenemia which causes your skin to turn slightly yellowish.
I hope you love this list of The Benefits of Carrot Juice. And follow me on Instagram or Facebook for even more food and drink inspiration!