This refreshing Carrot Mango Juice recipe is full of nutrients and tropical flavor! This fresh homemade vegetable juice can be made using a juicer or a blender and is ready in minutes.
I love making fresh juices as it is so quick and easy and is a great way to boost your daily nutrient intake. This mango carrot juice is a delicious way to get a natural boost that both adults and children will enjoy.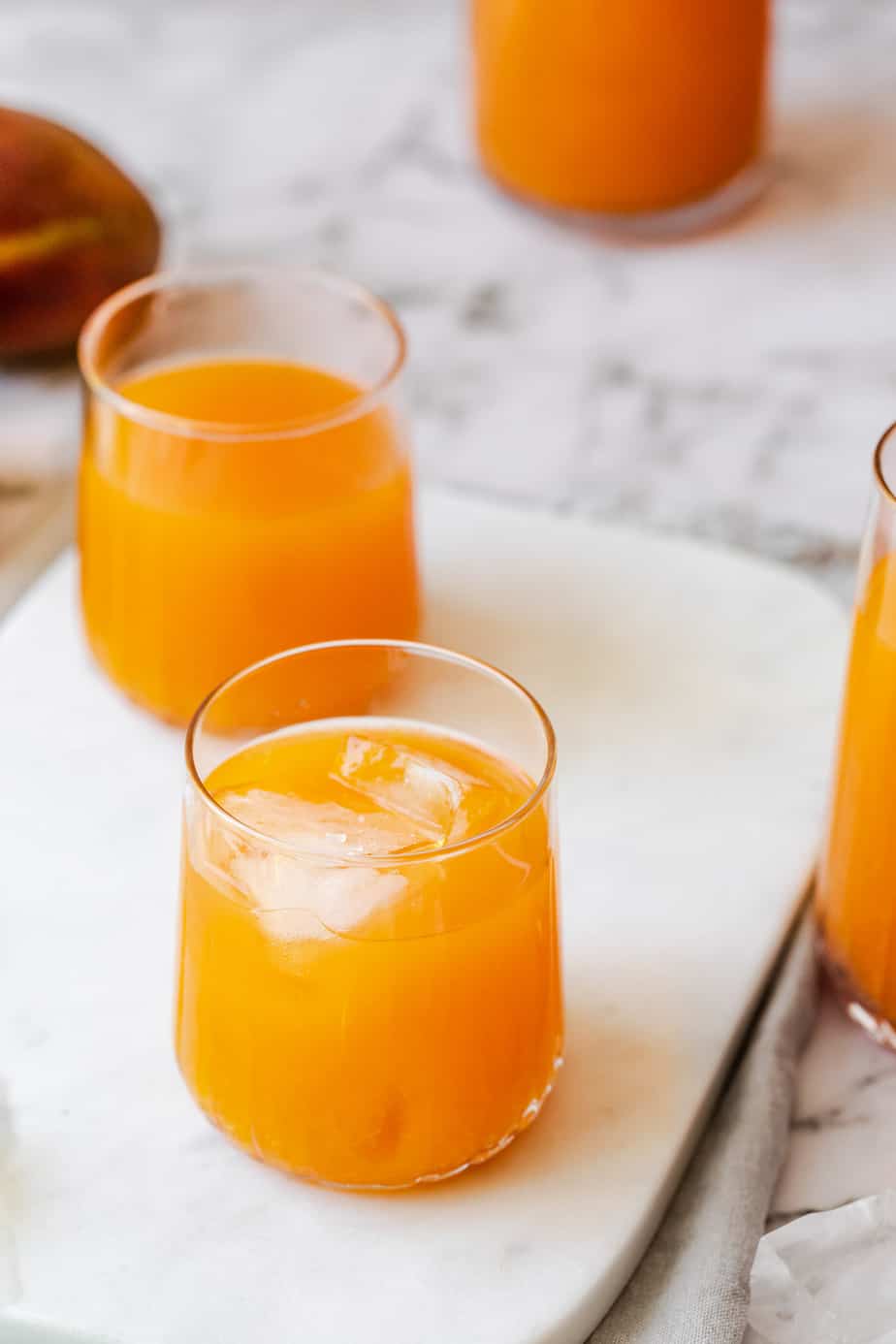 What are the health benefits of juicing
There are many health benefits that come from drinking fresh juices because they add extra vitamins and minerals to your diet. Juicing is a great way to get nutrients from fruits and vegetables in a way that is easy to digest.
The benefits of fresh Carrot Mango juice:
High in vitamins
Contains antioxidants
High in fibre

Helps with digestion

Hydrating
Has natural sugars
Check out my list of 10 Reasons to Drink Carrot Juice Every Day for more information!
This fresh carrot and mango juice is packed with minerals and vitamins. It is an easy fresh juice to make with just three healthy ingredients. This fresh juice can also be stored in the fridge for up to a week and drinking a glass of juice is a great way to have a natural boost whenever you need it!
Another delicious fresh juice recipe to try out is my homemade Orange & Carrot Juice
IS IT OK TO DRINK CARROT JUICE ON AN EMPTY STOMACH?
Carrot juice can be enjoyed any time of the day and can be combined with all sorts of other fruit and vegetables. I love kicking off my day with a fresh breakfast juice but carrot juice has also been shown to help with sleep. So carrot juice is ok to drink at any time of the day, even on an empty stomach. Drinking carrot juice on an empty stomach is actually very good for you as your body is able to absorb more of the nutrients much faster.
Ingredients Needed:
Carrots: Any kind of carrot will work for this fresh juice.
Mango: Use a ripe mango to add natural sweetness to the juice.
Pineapple (optional): This optional addition brings a delicious freshness and tanginess.
How to make carrot mango juice (Two-Ways)
With a juicer:
To make this juice with juicer, add the prepared ingredients to a juicer, starting with the mango and then the carrot.
If adding pineapple juice, add it to the prepared juice.
Mix together and enjoy as is or serve with ice!
With a blender:
Place all the ingredients into a blender and blend until smooth, about 2 minutes.
The juice will have a thicker consisitency and can be enjoyed as is or you can add a dash of water or extra pineapple juice and blend again.
Another option is to strain the juice through a nut milk bag or a fine strainer before serving.
Serve the juice as is or enjoy with ice.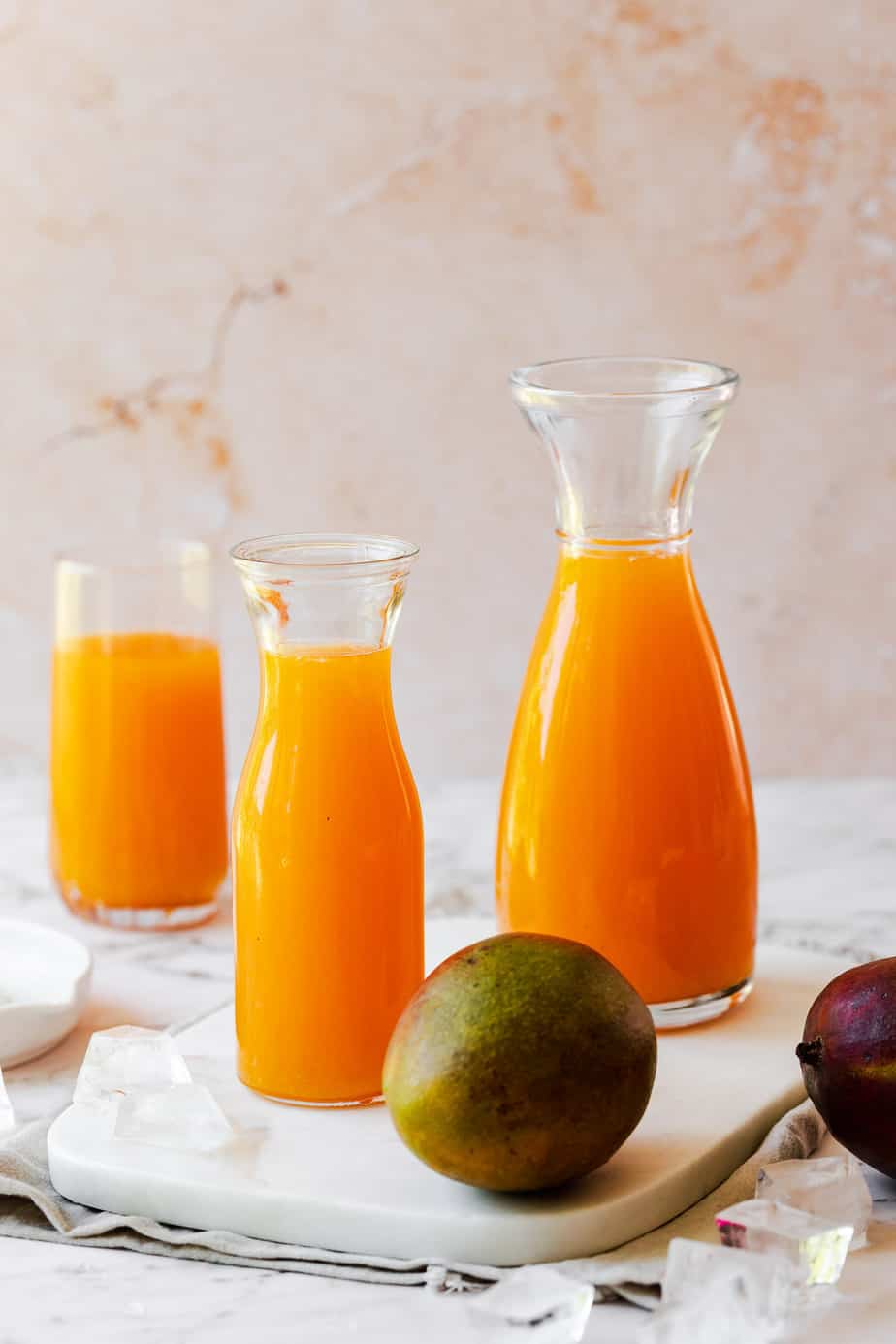 Tips to make this juice perfectly
Customize the juice. If there are any other fruits or vegetables you'd like to add to this juice go ahead! I have added apples, ginger, and celery before and they all work perfectly.
Use juicy oranges. Some oranges are not as juicy as others. If the oranges you are using are not as juicy you may need to add a few more.
Change the ratio. If you prefer more mango or more orange in your juice you can change the ratios of the recipe to suit your preference.
Use ripe fruit. The more ripe fruit is the sweeter it is due to natural sugars that develop, so use ripe fruit for this fresh juice recipe to ensure you have a delicious sweet juice at the end. If you feel you need a touch more sweetnes to your juice you can add a teaspoon of honey or agave syrup.
Should I peel mango before juicing?
Fruits with hard or inedible skins should be peeled before juicing, the skins of fruits and vegetables are usually edible (yes, even mango skins) and often contain a higher amount of nutrients than the internal flesh of the food. If you are juicing a mango with a blender you should peel the skin of the mango as it will affect the texture of the blended juice. If you are juicing a mango with a juicer you can leave the skin on or you can peel it first.
How to store this juice
Store the fresh juice in a sealed large jar or bottle in the fridge. The fresh juice can then be stored for up to a week. Before drinking, give the juice a shake or a mix as it is natural for some separation to occur as the sediments fall to the bottom of the juice.
MORE HEALTHY DRINK RECIPES TO TRY:
I hope you love this Carrot Mango Juice recipe as much as I do. Follow me on Instagram, Pinterest, or Facebook for more delicious recipe inspiration!