Peanut Butter Power Smoothie - A delicious creamy smoothie recipe packed with tons of protein and flavour. It will keep you full and powered up the entire day.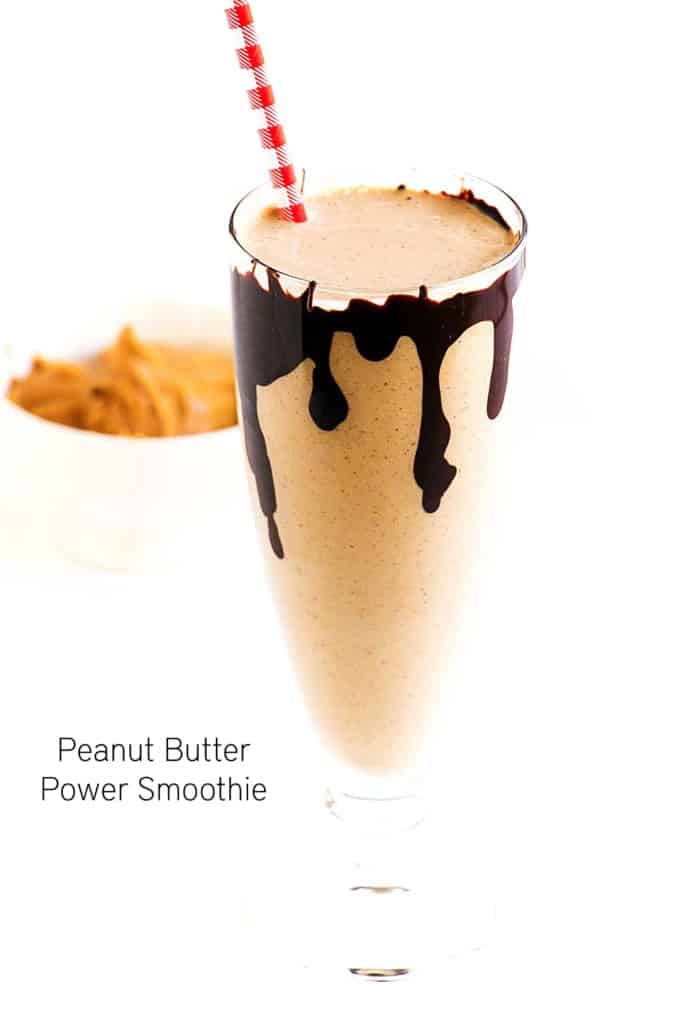 I went on a little vacation last week. My entire family went down to Durban and we spent most of our days lazing around on the beach, playing a little beach tennis and watching movies. Those are my favourite kinds of holidays, the kind where you get a chance to shut your brain off a little and do nothing but eat good food, spend time with your loved ones and RELAX. I must admit, in my mind I always think I am more the type of person to wake up early on holiday and go for a jog on the beach and spend the rest of the day doing all kinds of crazy adventurous activities. But somehow that never seems to happen, and maybe that's a good thing. I never seem t give myself any time of during normal "working times", so I suppose it is alright to laze around and do nothing for a couple of days every now and then.
But it is back to reality and seriously, it is back to eating healthy and trying to get back on track with exercising. I feel like I say this way to often, but I am really going to try this week. I am not one for starving myself or hectic diets, so I won't even try. But I am going to try and eat less sugar (you guys know I love me some cake), and also try to hit the gym at least 3 times a week. It's a small start but it is a start nonetheless.
First things first, this Peanut Butter Power Smoothie is the BOMB! I have been living on it this week because it really tastes like you're eating dessert and it also fills you up and suppresses cravings. It is packed with protein from the peanut butter and the chia seeds and is also vegan and refined sugar free. Plus it looks like a milkshake! Enough said right? It's a matter of chucking all the ingredients into your blender (I LOVE my Nutribullet) and then bam! you have a yummy dessert like smoothie.
Signup to get my free SMOOTHIE MADNESS ebook with 10 of my favourite smoothie recipes in.
Peanut Butter Power Smoothie
Ingredients
2

Banana's

frozen

¾

Cup

Peanut Butter

2

tsp

Chia Seeds

1 ¼

Cups

Almond/Skim Milk 2 tsp Honey

30

g

Dark Chocolate

for the glasses
Instructions
Melt chocolate and gently, using a teaspoon, drizzle a little down the sides of the glasses and place the glasses in the fridge until the smoothie is ready.

Place all the smoothie ingredients into your blender and blend until smooth.

Pour the smoothie into the cold glasses and serve.