A list of the best breakfast drinks recipes out there! From coffees, teas, juices, and smoothies - we've got them all!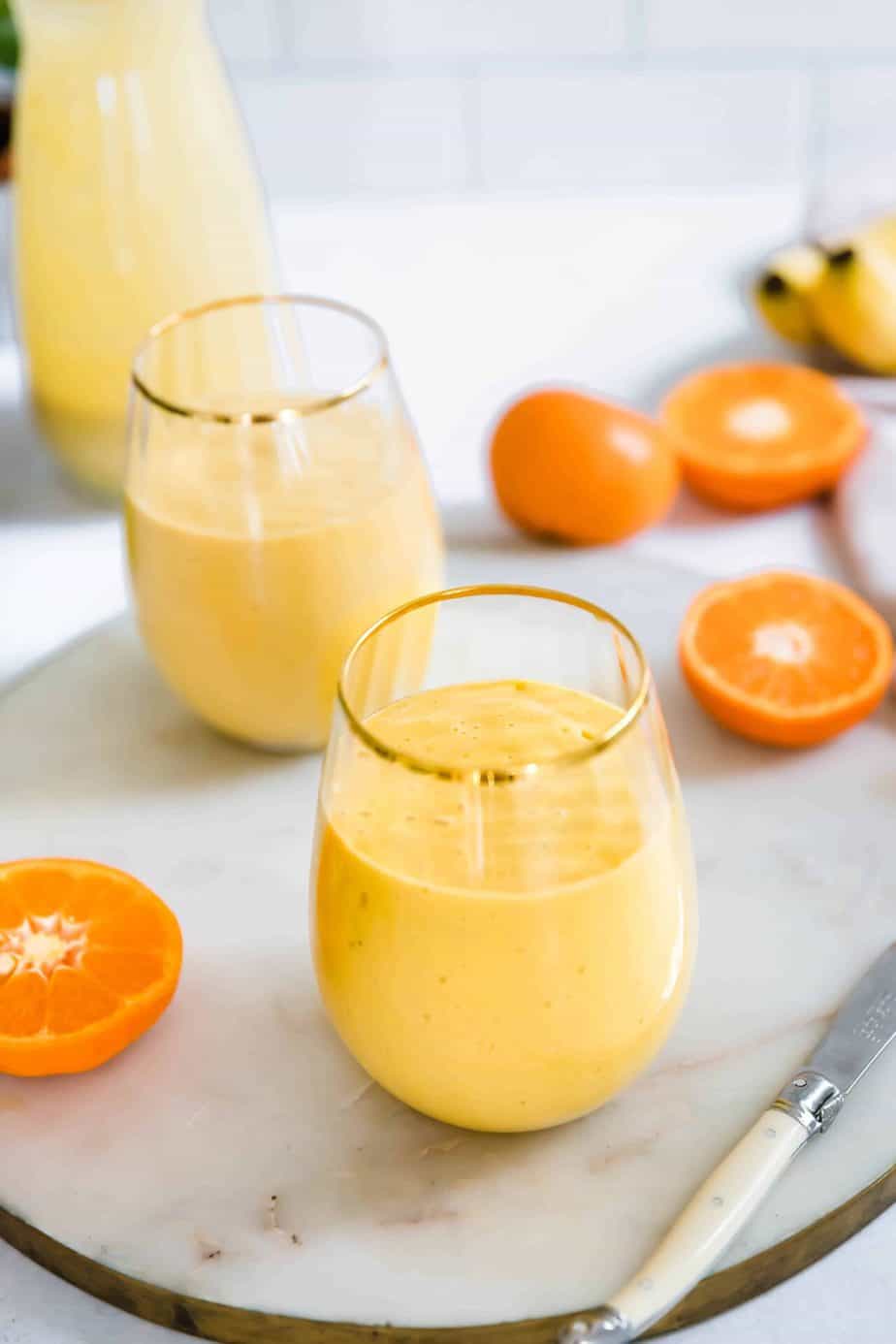 Breakfast Beverages For All To Enjoy
When deciding what to drink in the morning, we usually go for coffee, tea, or water. But there are a wide variety of options for breakfast drinks to start your day off with. We hope this list will provide you with some fresh inspiration with lots of tasty recipes to try out.
Breakfast is such an important aspect of a person's life for health and well-being. So spend some time creating a delicious breakfast beverage to nourish your body and soul this morning!
TYPES OF BREAKFAST DRINKS
Coffees:
A staple in so many lives, coffee is a very popular drink in the morning time. It is both delicious and provides you with a boost of caffeine to get you started for your day.
There are many different types of coffees to explore and enjoy with a wide variety of flavorings and toppings available.
If you are looking to cut down on your caffeine intake, check out my list of some delicious decaf coffee options!
Teas:
Many people also turn to tea in the morning to start their day off. Tea is similar to coffee in that it can be enjoyed in a variety of ways and with a vast selection of teas to try out the options are endless!
If you're craving tea and you are on the go, Starbucks has many great tea options available and you can find out more about them here!
Juices:
Fruit juices and vegetable juices have been a morning staple for centuries. If you are on a diet or trying to cut down on sugar, opt for vegetable juices.
Compared to fruit juice, they are lower in carbs and calories and fit into most diets. Experiment with different kinds of juice to boost your nutrient intake and discover new delicious flavors.
I have a list of Immune Booster Juice Recipes if you need some delicious inspiration!
Smoothies:
Smoothies are versatile and delicious! A quality breakfast smoothie can also double as a nutritious breakfast for when you don't have the time to eat a full, well-rounded breakfast.
There are so many flavor and ingredient options when it comes to smoothies so have fun trying out some new, interesting combinations!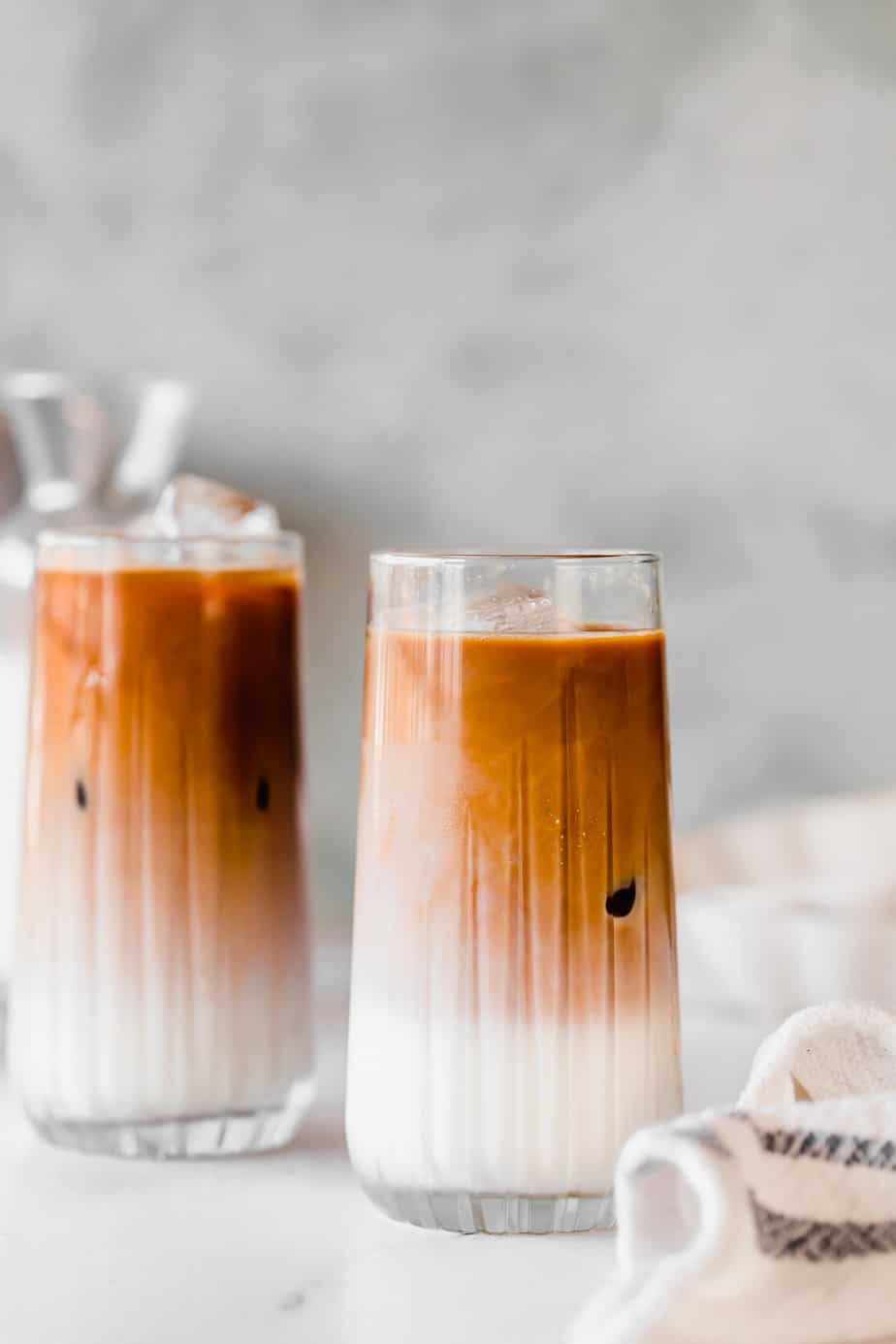 A list of 20 delicious Breakfast Drinks
Breakfast Juices:
1. CARROT & ORANGE BREAKFAST JUICE
This Orange & Carrot Juice is a refreshing and healthy juice recipe made with fresh oranges and fresh carrots. The perfect juice for breakfast or an afternoon pick-me-up that is packed with vitamins and minerals.
2. THE EARLY RISER: BEET, PINEAPPLE, CARROT, & LEMON JUICE
The Early Riser juice is made with beets, carrots, pineapple, and lemon to make a tangy and tart breakfast juice that will wake you up and keep you energized!
This delicious Super Detox Juice is a go-to juice for when you wake up in the morning feeling a bit tired or sluggish. It is packed with antioxidants, vitamins, and fibre, and made with health-boosting ingredients.
4. CARROT APPLE CELERY BREAKFAST JUICE
This delicious breakfast juice is a great way to build more nutrition into your daily routine! This recipe uses just a few ingredients but creates an amazing-tasting, nutrient-packed homemade juice.
5. Homemade Carrot and Beetroot Juice
This is an easy recipe for delicious Homemade Carrot and Beetroot Juice that is rich in nutrients and provides many health benefits. Drinking carrot beet juice is an easy and yummy way to include more vegetables into your daily diet and boost your health!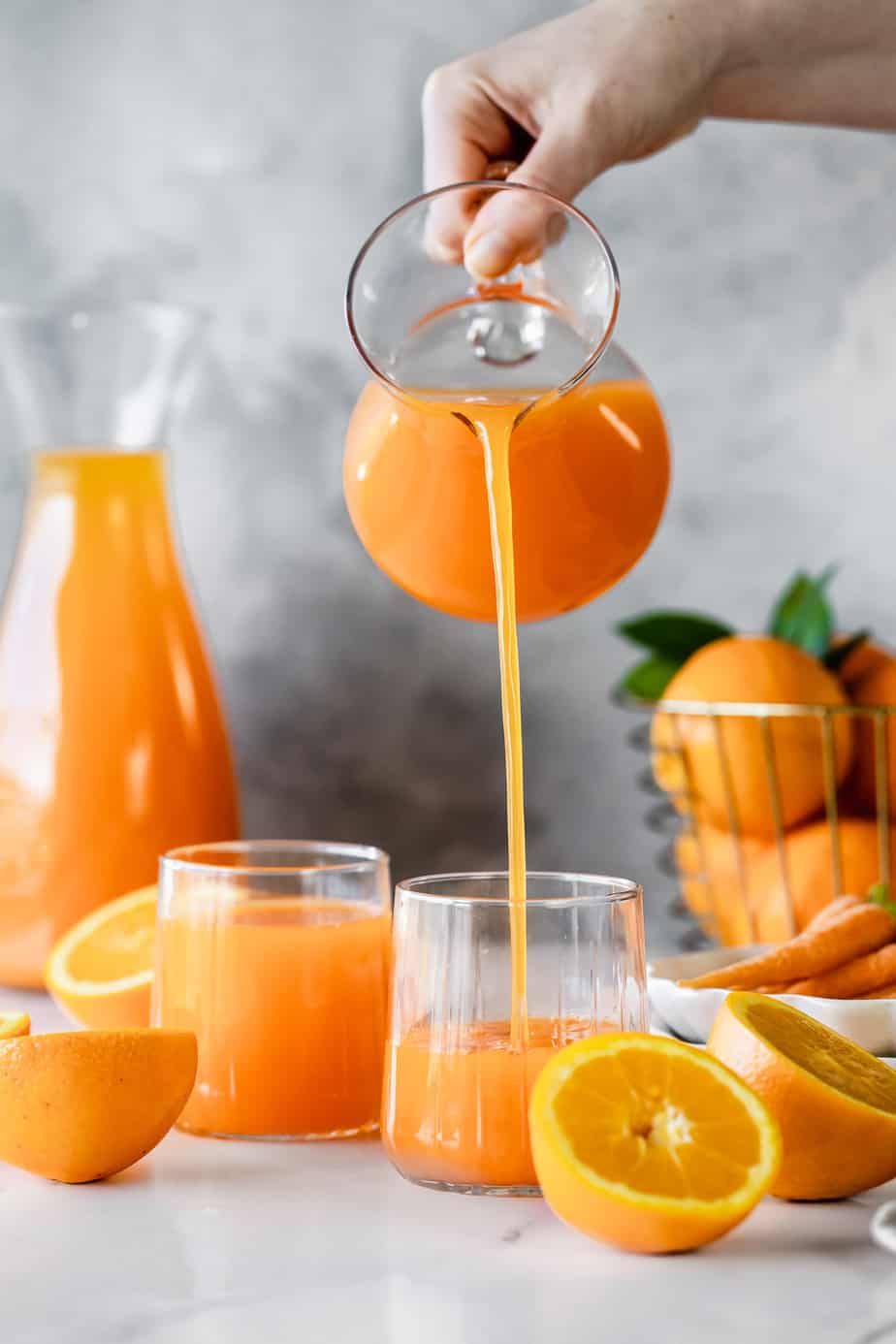 Coffee Beverages:
A creamy Oatmilk Honey Latte recipe that is cozy and easy to make. A homemade dairy-free latte that is lightly sweetened with honey and spiced with cinnamon. Healthier than a store-bought honey latte and way tastier!
7. ICED DIRTY CHAI LATTE RECIPE
An easy homemade Iced Dirty Chai Latte recipe that combines the delicious flavors of chai tea and coffee. This Starbucks copycat latte is a sweet, creamy, and refreshing pick-me-up for early mornings.
8. DECAF COLD BREW ICED COFFEE
This easy recipe is for a homemade Decaf Cold Brew Iced Coffee that tastes just as good as Starbucks. It is perfect for when you want a morning coffee but are limiting your caffeine intake.
This popular drink pairs espresso, milk, and chocolate for a deliciously rich sip. This warm coffee drink is perfect for those who like to start their mornings with a sweet beverage.
10. Iced Americano
An Americano with ice is made from espresso shots topped with cold water which produces a light layer of crema. This is then poured over ice before serving. The end result is a wonderfully rich, deep coffee drink that is a great way to get a cold, refreshing boost of caffeine. This classic coffee order is enjoyed by many every morning.
Smoothie Recipes for Breakfast:
11. EASY BANANA PEACH SMOOTHIE WITHOUT YOGURT
This Banana Peach Smoothie is quick and easy to make and the perfect on-the-go morning snack or breakfast. Made with frozen banana, fresh peaches and almond milk. Creamy, delicious and ready in 5 minutes.
12. CHOCOLATE ALMOND BUTTER BERRY SMOOTHIE (NO BANANA)
This luscious chocolate almond butter berry smoothie tastes like a creamy dessert! It is also jam-packed with nutrients and healthy fats to start your day off on a good note. This recipe has no bananas in it which is perfect for those who don't like bananas in their smoothies, or for people who are allergic to them.
13. IMMUNE BOOSTING BREAKFAST SMOOTHIE
This healthy Immune Boosting Breakfast Smoothie is made from delicious fresh fruit and a zingy kick of ginger. This easy smoothie recipe is full of health benefits and is a great way to boost your immune to prevent flu and colds.
14. THE BEST PINEAPPLE SPINACH SMOOTHIE
Kick your day off with a 5 ingredient healthy pineapple spinach smoothie. Made in only 5 minutes and packed with health benefits, this is a simple and delicious breakfast drink that can be enjoyed all year round.
15. CHOCOLATE ALMOND PROTEIN SMOOTHIE
Made with cocoa powder, bananas, and almond butter, this easy smoothie is thick, creamy, and protein-packed. This vegan Chocolate Almond Protein Smoothie is great as a filling breakfast that will keep you nourished and feeling satisfied for a long time.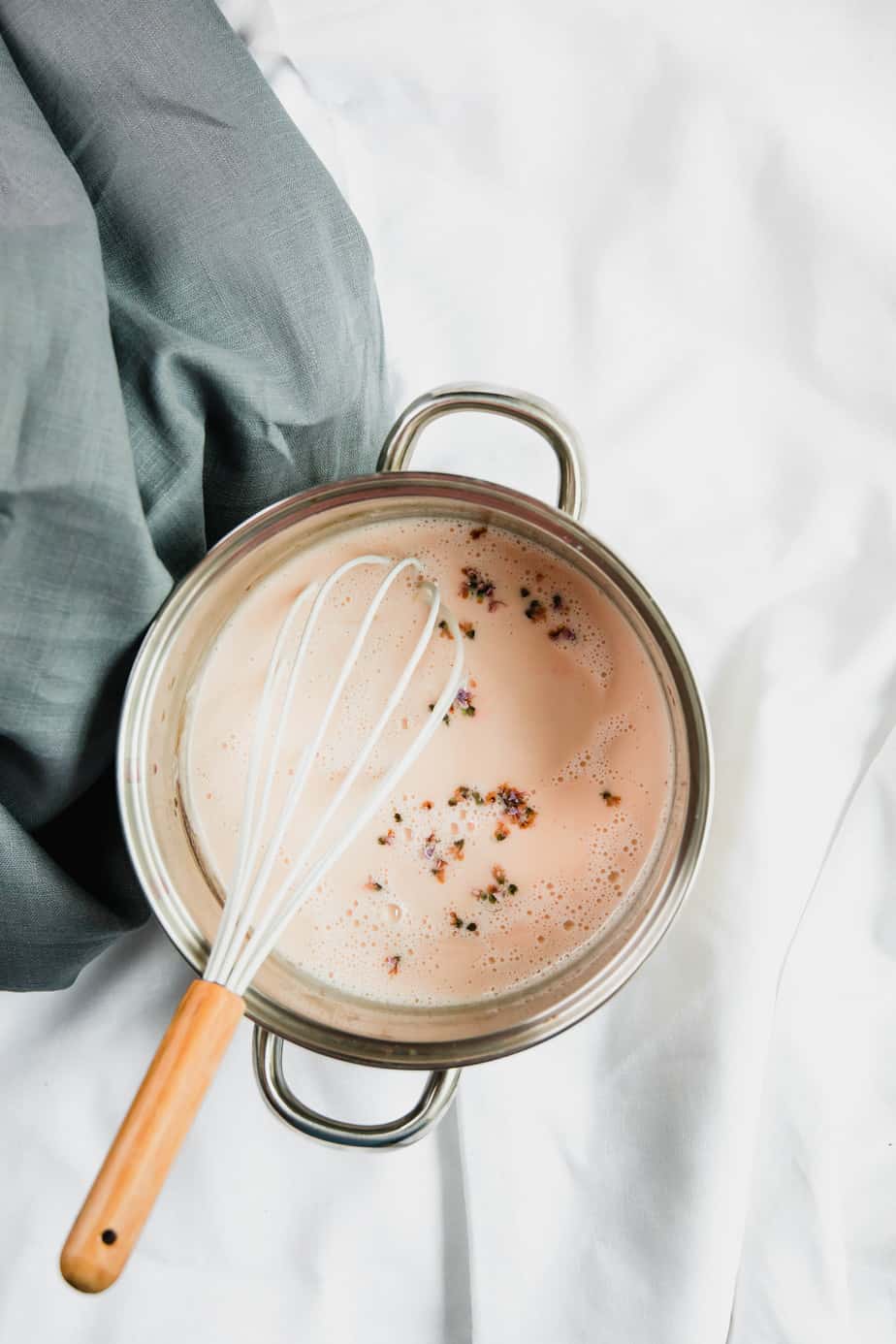 Tea-Based Drinks:
An easy recipe for a Cardamom & Rose Latte that is perfect for sipping on a cosy morning. This healthy tea latte is made can be enjoyed as is or served with Earl Grey tea or black coffee.
17. HOMEMADE ICED PEACH GREEN TEA
A simple recipe for a refreshing Iced Peach Green Tea recipe that is perfect for Summer days. This delicious and healthy drink is full of natural peach flavor from real fresh fruit. I love slowly sipping on this iced tea on a hot summer morning!
Earl grey tea, vanilla syrup, and milk come together to make a delicious London Fog tea latte, a Starbucks favorite and a perfect breakfast drink. The citrusy bergamot and hints of lavender in the earl grey are combined with creamy milk and a touch of sweet vanilla to create the most delicious, simple drink.
19. ICED PUMPKIN SPICE CHAI LATTE
An easy recipe for a tasty Homemade Iced Pumpkin Spice Chai Latte. This delicious drink combines pumpkin, espresso, milk, and chai tea spices to create the perfect drink for a Fall morning!
20. Easy Matcha TEA Lemonade (Starbucks Copycat)
A perfect refreshing pick-me-up, this delicious Matcha Lemonade is easy to make at home and tastes just as good as Starbucks! It is also rich in powerful antioxidants for a healthy start to your day.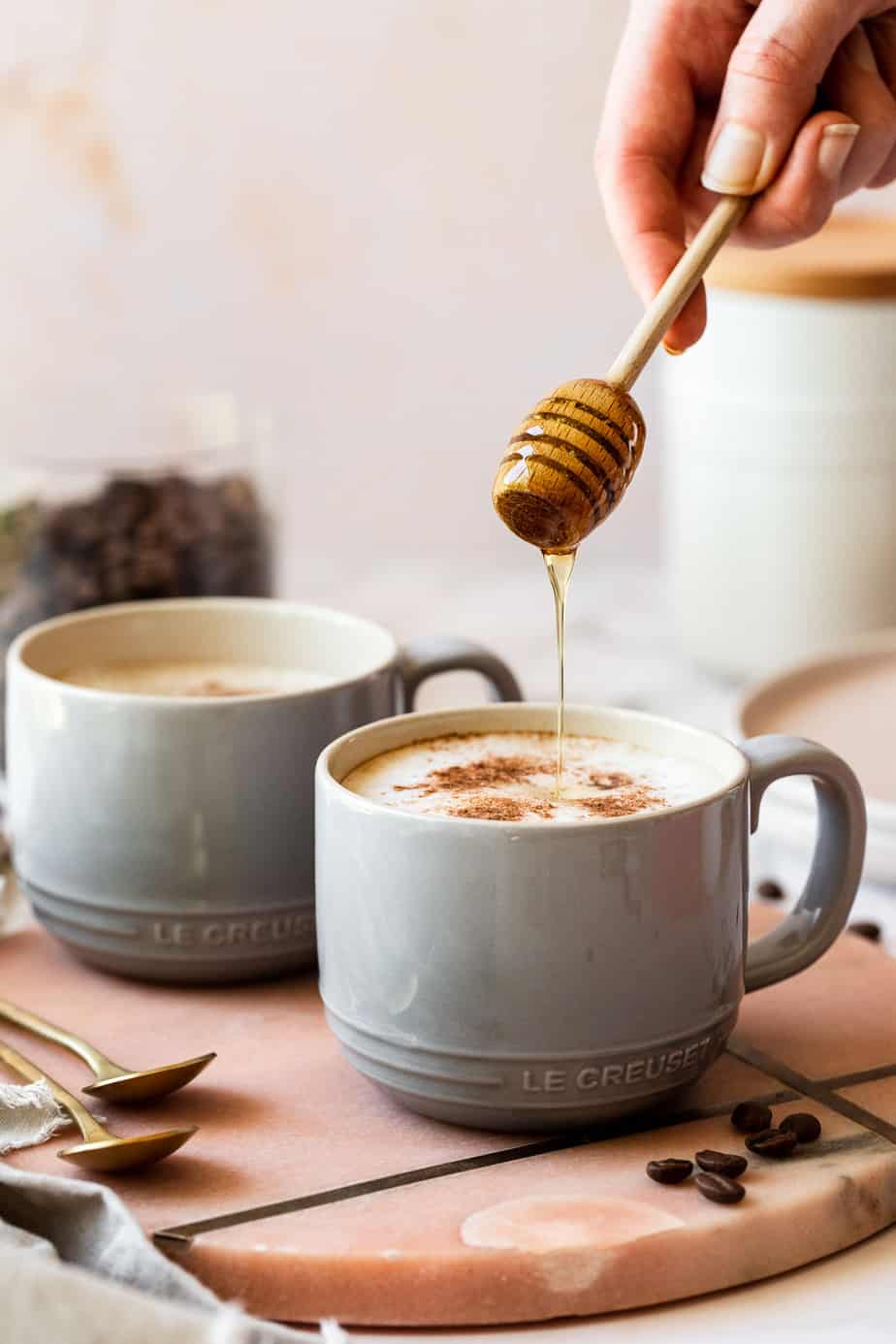 I hope you love this list of The Best Breakfast Drinks as much as I do! And if you want to see more of my delicious food inspiration, follow me on Instagram or Facebook.