This Banana Peach Smoothie is quick and easy to make and the perfect on-the-go snack or breakfast. Made with frozen banana, fresh peaches and almond milk. Creamy, delicious and ready in 5 minutes.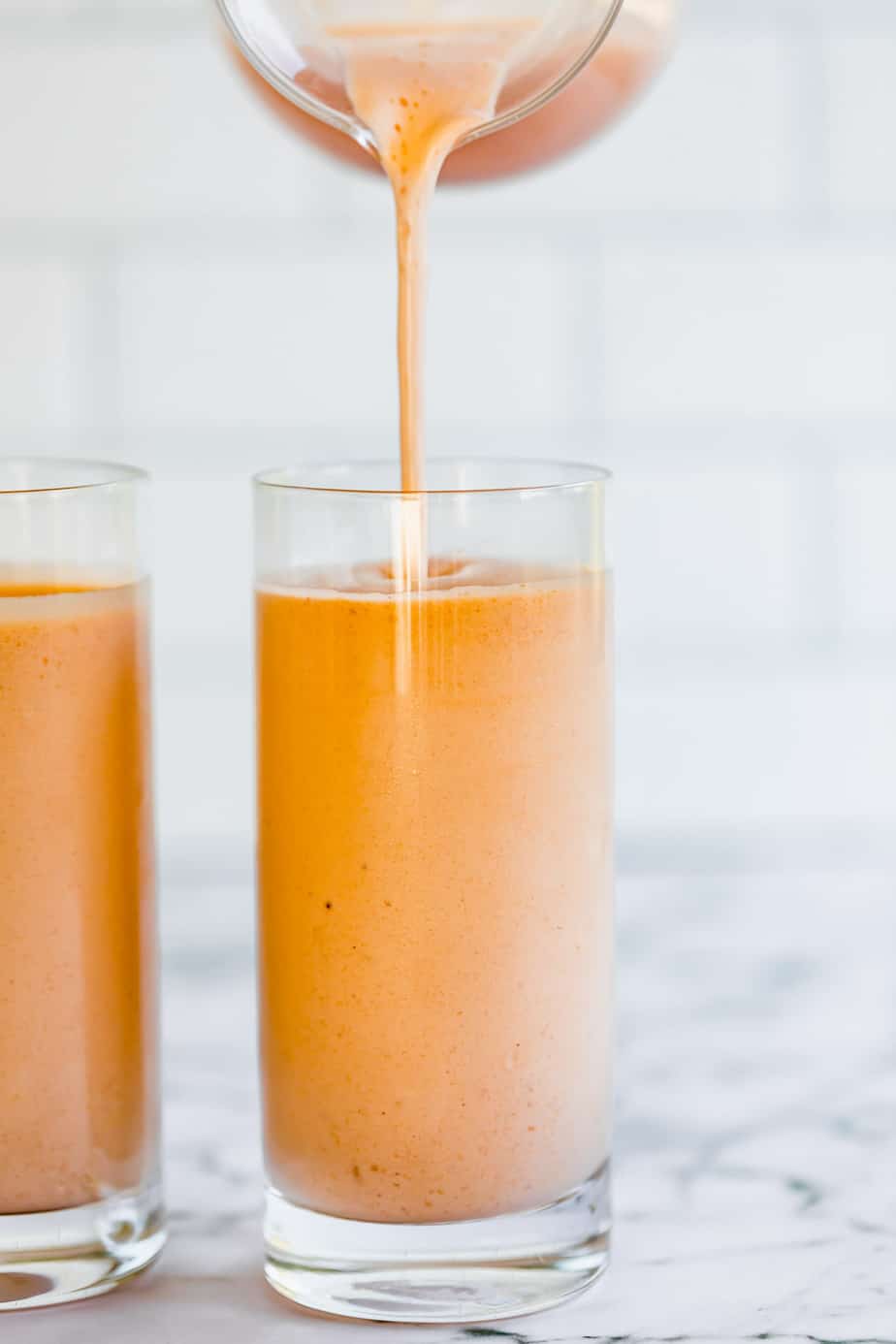 Jump to:
I love making smoothies in summer because they are almost a little more like dessert and so customisable. They are filled with nutrients and oh so easy and quick to make.
Why You'll Love this Banana Peach Smoothie
Ready in 5 minutes - Nothing beats a quick and easy breakfast recipe. This recipe is made in one simple step and ready in under 5 minutes.
Packed with peach flavor - If you love fresh peaches, then this peach smoothie with banana is a winner.
Vegan - Made with almond milk, this smoothie is pure vegan goodness yet still thick and creamy.
Creamy - Using frozen banana makes this peach and banana smoothie extra thick and creamy without the addition of yogurt.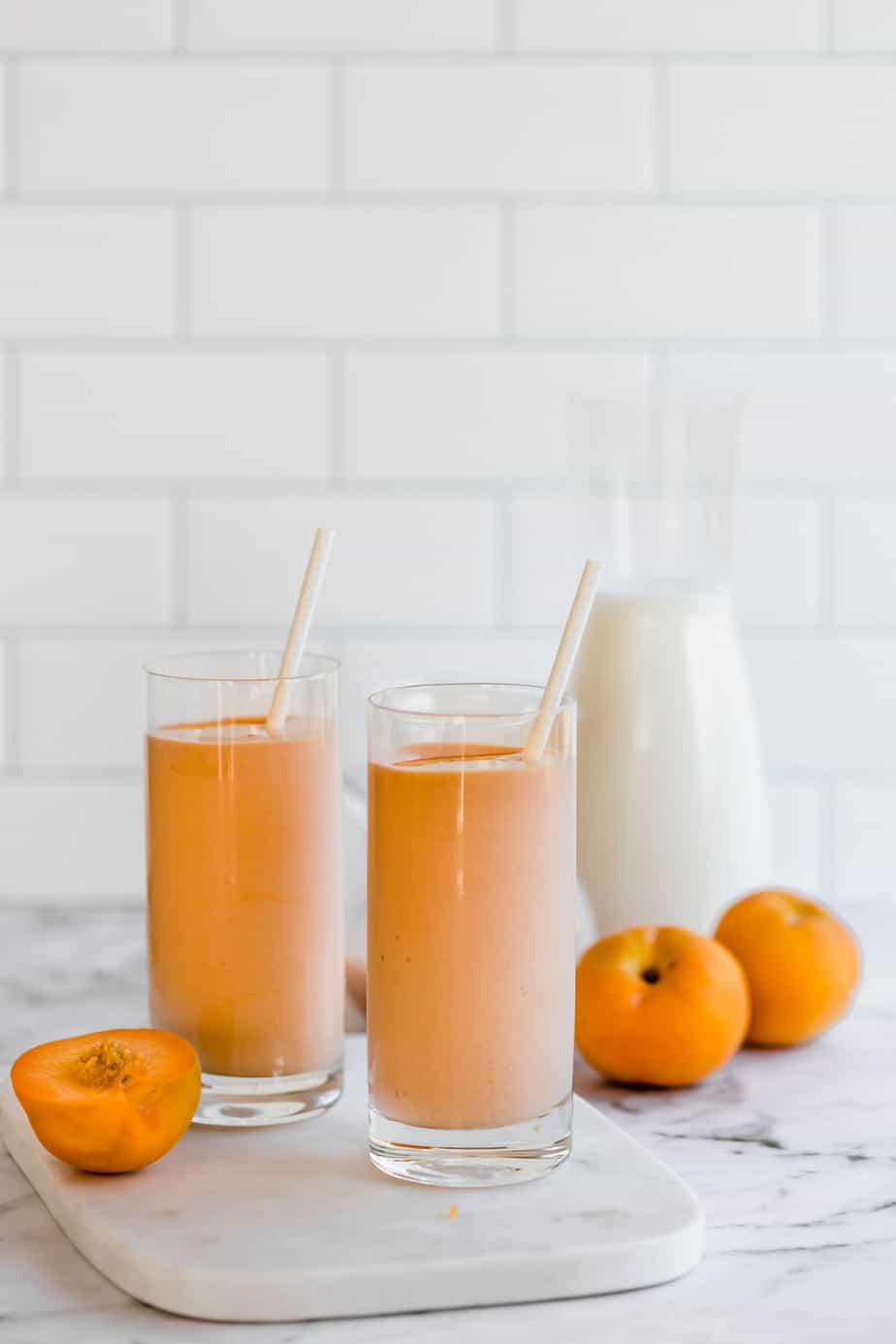 Ingredients:
Bananas: Frozen bananas are best. Simply peel and freeze them in a ziploc bag the night before and add them to any smoothie in the morning. This keeps any smoothie thick and creamy.
Peaches: For the best peachy flavor, use the sweetest, freshest peaches you can find.
Almond Milk: Substitute for oat milk or any other diary free option.
Maple Syrup: Added for a little extra dash of sweetness. Leave out or substitute with honey.
Vanilla Extract: This adds just a little extra dash of flavor to this delicious breakfast banana smoothie recipe.
How To Make A Banana Peach Smoothie
The best thing about making smoothies for breakfast or as a snack is how easy to make they are. All you need is a good blender and you're good to go. Smoothies can be ready in less than 5 minutes.
Step One: Place all your ingredients into the blender.
Step Two: Blend on high speed until creamy. Add more almond milk if desired.
Step Three: Enjoy!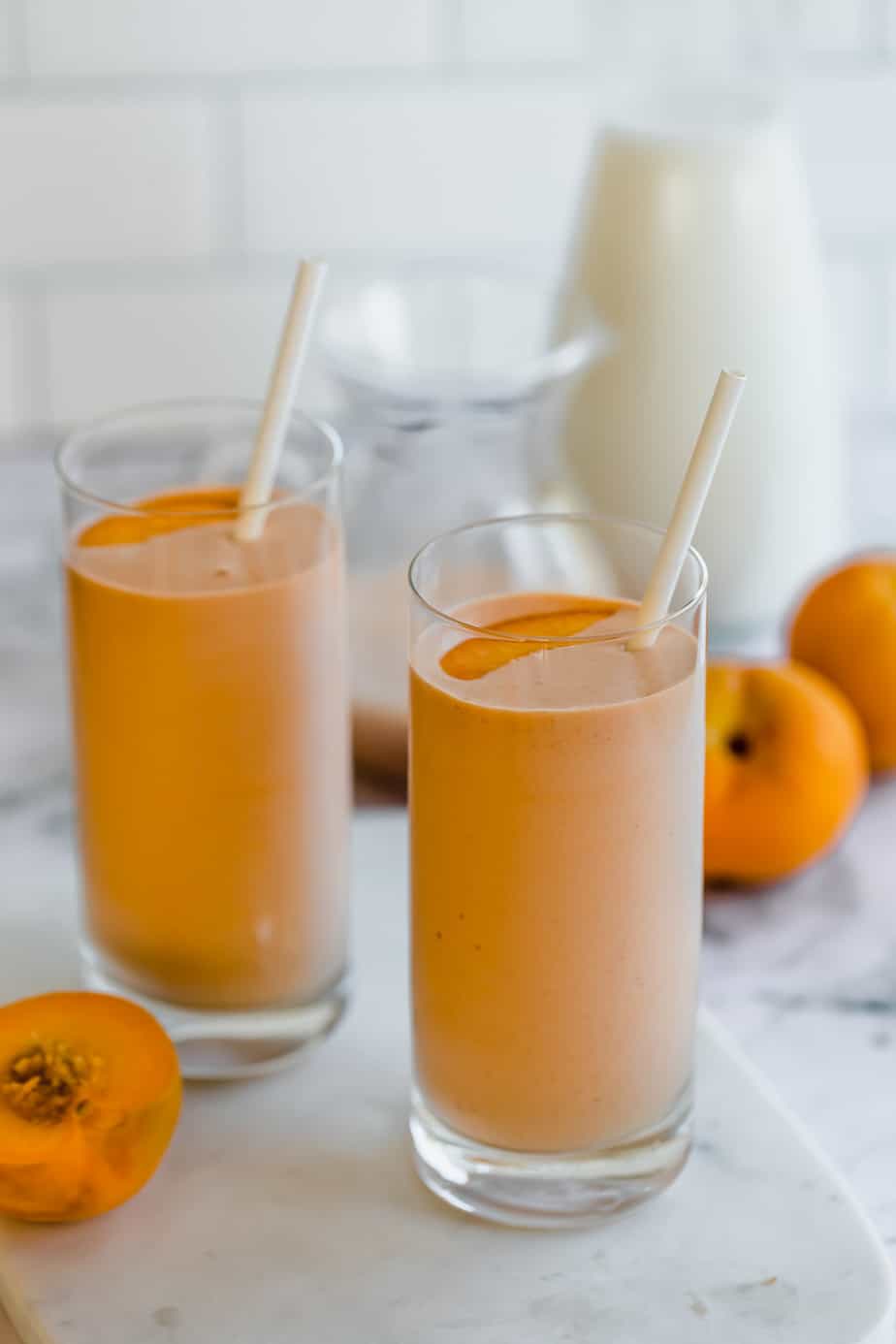 Smoothie Mix-Ins
Avocado - For extra creaminess try adding half an avocado to your smoothie recipe next time.
Seeds - Chia seeds and flax seeds are a great way to up the protein content of your smoothie and will also make your smoothie a little thicker.
Protein Powder - For a delicious high protein banana smoothie, add 2 scoops of vanilla protein powder to this banana peach smoothie recipe.
Baby Spinach - Want a little extra health kick? Try adding a handful of baby spinach to your smoothie.
Dates - For natural sweetness, add one or two medjool dates to your smoothie for a delicious naturally sweet smoothie.
Health Benefits Of Banana Peach Smoothie
- Packed with nutrients & antioxidants - Both peaches and bananas are filled with nutrients and antioxidants. Peaches contain Vitamin A, C, K and Potassium.
- May aid digestion - The fibres found in both bananas and peaches are a great addition to your morning smoothie as they help your digestive system work a little better.
- Improves heart health - Peaches may lower risk factors for heart disease. Essentially they are a great addition to your diet if you battle with high cholesterol.
- Immune support - Peaches and bananas are rich in immune boosting properties and can also help fight off certain types of bacteria.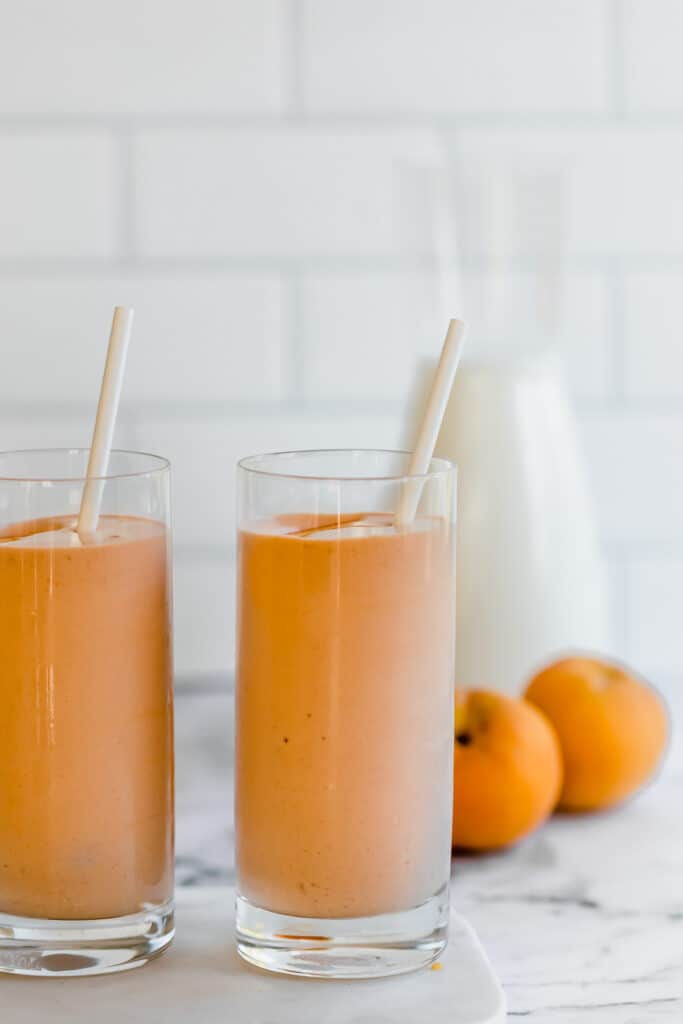 Expert Tips For Smoothie Making
Use frozen fruit: This is key to giving your smoothie that delicious creamy, thick texture that you want. Using frozen bananas will instantly up your smoothie game.
Use good quality peaches: Some peaches can taste a little bland so make sure to use ripe, good quality peaches for the most amount of flavor.
Add a little extra almond milk: If your blender gets stuck or your smoothie seems too thick, simply add an extra splash of almond milk to get the blender moving again.
Try a Thermomix: Thermomix smoothies are becoming increasingly popular so why not try make this banana peach smoothie in your Thermomix next time.
Frequently Asked Questions
Is a banana smoothie good for you?
Banana smoothies are packed with nutrients and antioxidants and have great immune boosting properties. They are high in fibre, potassium and Vitamin C.
Are banana smoothies good for weight-loss?
As part of a balanced diet, banana smoothies can be great for weight loss as they can be very filling, contain large amounts of nutrients and if combined with seeds or protein powder can also be a source of protein.
Should I peel a peach for a smoothie?
Peaches do not need to be peeled for a smoothie. This is totally a personal preference and I didn't peel the peaches for this banana peach smoothie. Make sure that you have properly rinsed the peaches before adding them.
What is the best way to freeze bananas for smoothies?
Firstly, always peel bananas before freezing them. Then break the banana into three pieces and place them in a ziploc bag in the freezer. This will make it easier for your blender to break them apart when blending.
More Smoothie Recipes You'll Love
Banana Peach Smoothie
Creamy, delicious and ready in 5 minutes. This easy to make banana peach smoothie without yogurt is the easiest breakfast or on-the-go snack.
Ingredients
2 Frozen bananas
2 Fresh peaches, chopped
1 Cup almond milk
1 teaspoon vanilla extract
1 tablespoon maple syrup
½ cup ice
Instructions
Place all the ingredients in a high powered blender and blend until creamy.
Divide between two glasses and top with fresh peach slices.
Notes
Use less almond milk for a thicker consistency,