A healthy Vitamin C filled mango banana strawberry smoothie made in only 5 minutes. With almond milk, frozen berries and sweetened with maple syrup. This smoothie has both vegan and gluten-free options.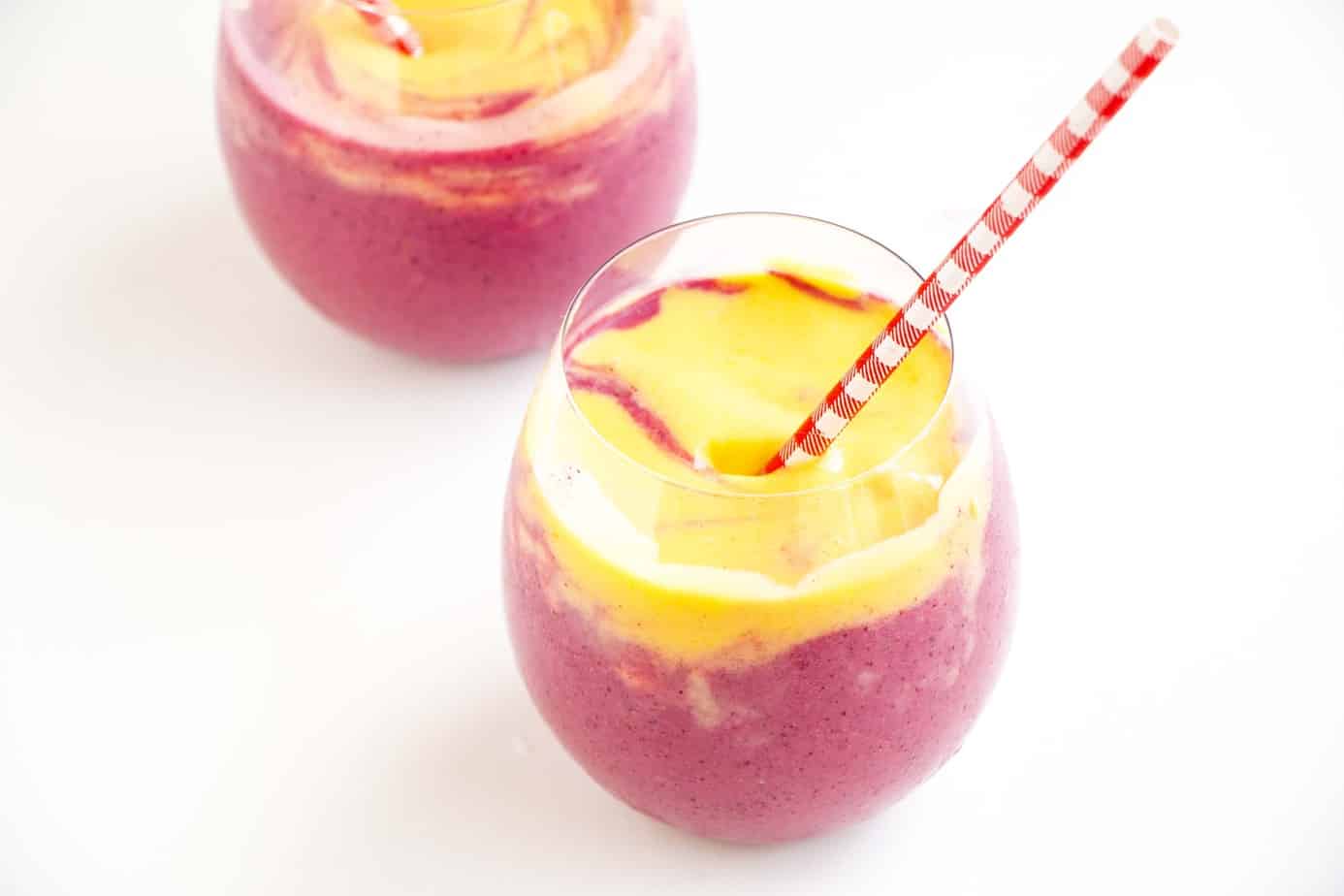 Jump to:
Why You'll Love This Mango Smoothie
Ready in 10 minutes: This smoothie may look beautiful and complicated, but this double-layered smoothie only takes a few minutes to whip up.
Packed with Vitamin C: This easy and healthy summer smoothie recipe is filled with vitamin c boosting properties.
Make it vegan: Using almond milk and coconut yogurt, this healthy smoothie recipe turns into an easy vegan smoothie instantly.
What You'll Need
Mango - Fresh or frozen mango chunks work here. For the best flavor, buy fresh mangoes the day before, cut them into cubes and place them in the freezer overnight.
Strawberries - Homemade frozen strawberries always taste a little less bland than store-bought. But either will work.
Coconut Milk - This adds a delicious creamy tropical flavor to this tropical smoothie. Feel free to substitute with almond or oat milk.
Yogurt - Use thick greek yogurt or for a vegan option, try coconut yogurt instead.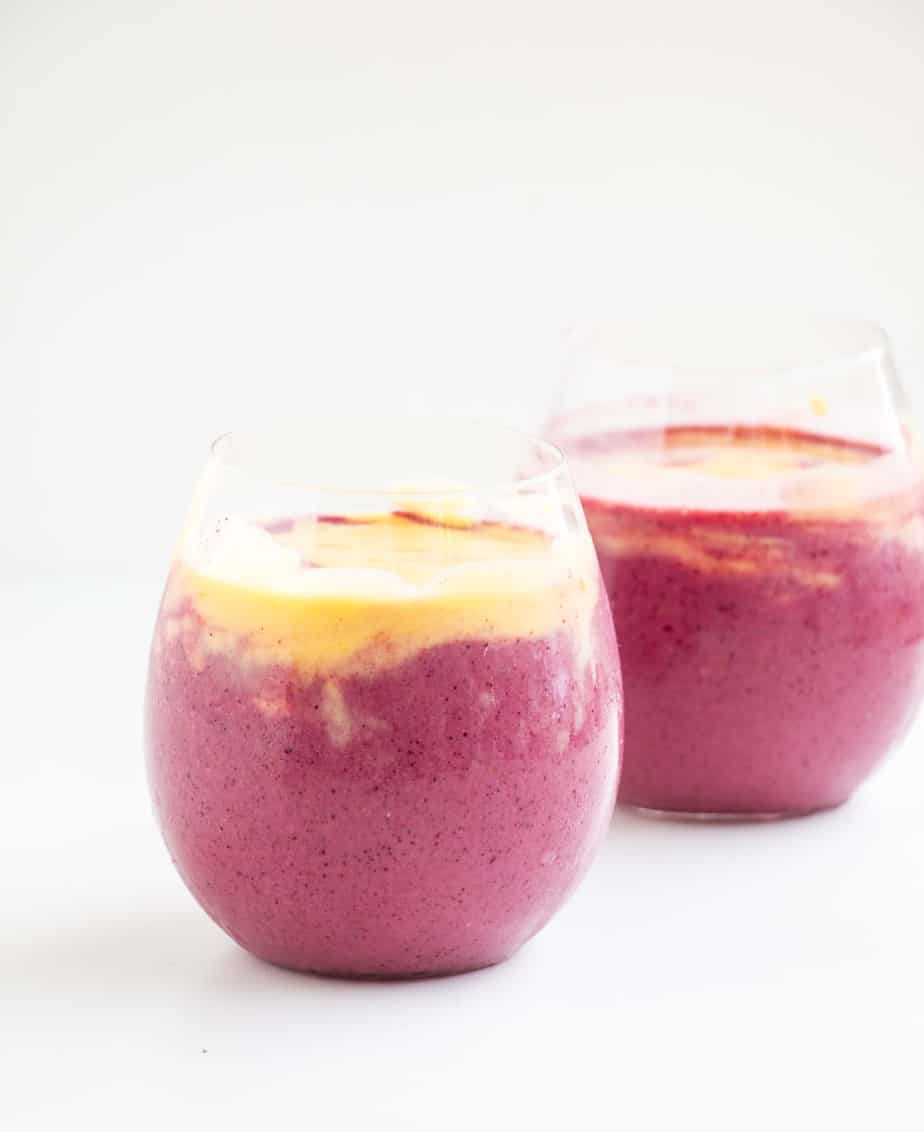 How To Make A Mango Strawberry Banana Smoothie
The best thing about smoothies is that they only take a few minutes to make and are oh-so delicious. This Mango Strawberry Banana Smoothie is no different.
Step One: Make the berry layer. Combine all the ingredients for the strawberry layer in a high-powered blender and blend until smooth.
Step Two: Make the mango layer. Add all the ingredients for the mango layer into a clean blender and blend until smooth.
Step Three: Carefully pour the mango layer over the berry layer or swirl it into the berry layer. Have a little fun here.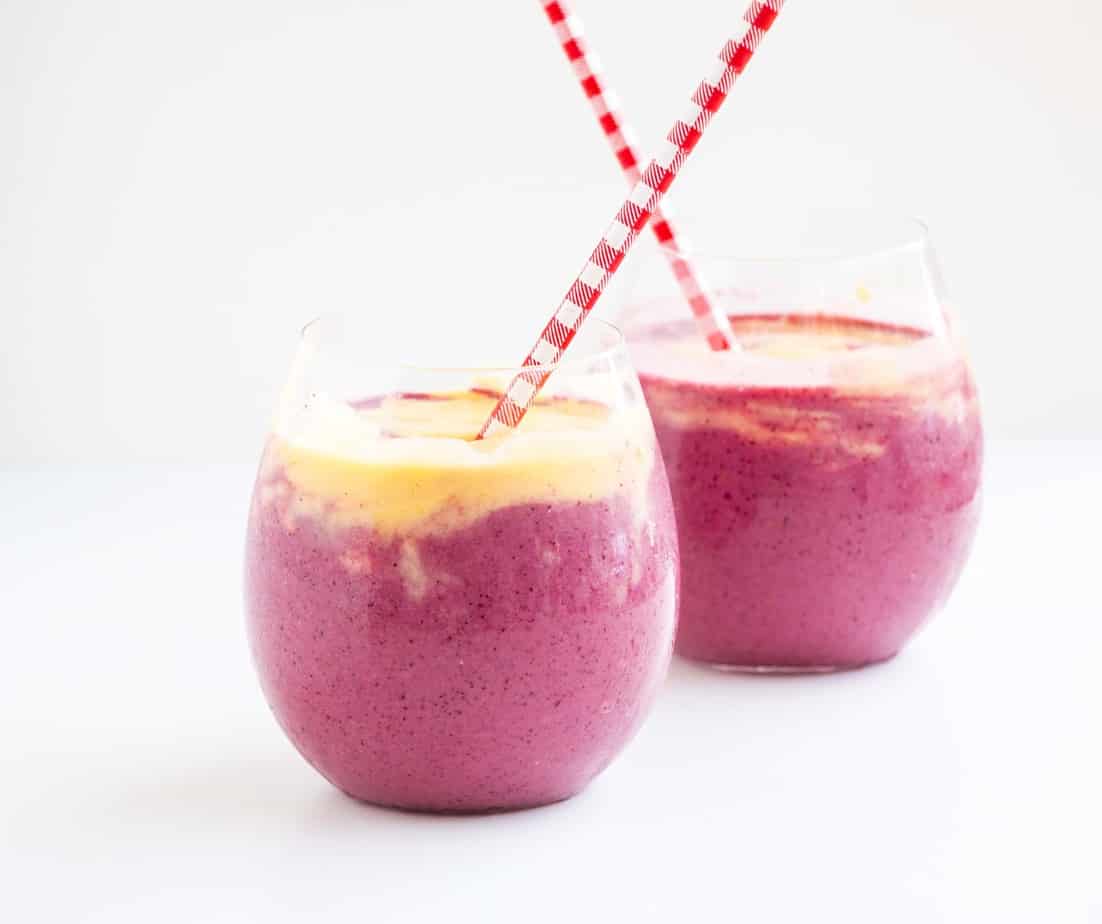 Mango Strawberry Banana Smoothie Benefits
High in Vitamin C - Both mangoes and strawberries contain large amounts of vitamin C, which is great for your immune system.
Anti-Inflammatory - Coconut milk has great anti-inflammatory properties and can even help prevent heart disease.
Aids in Digestion - Mango has large amounts of fibre, which is a great help for the digestive system.
Rich in protective antioxidants - Mangos are a great source of protective compounds with antioxidant properties.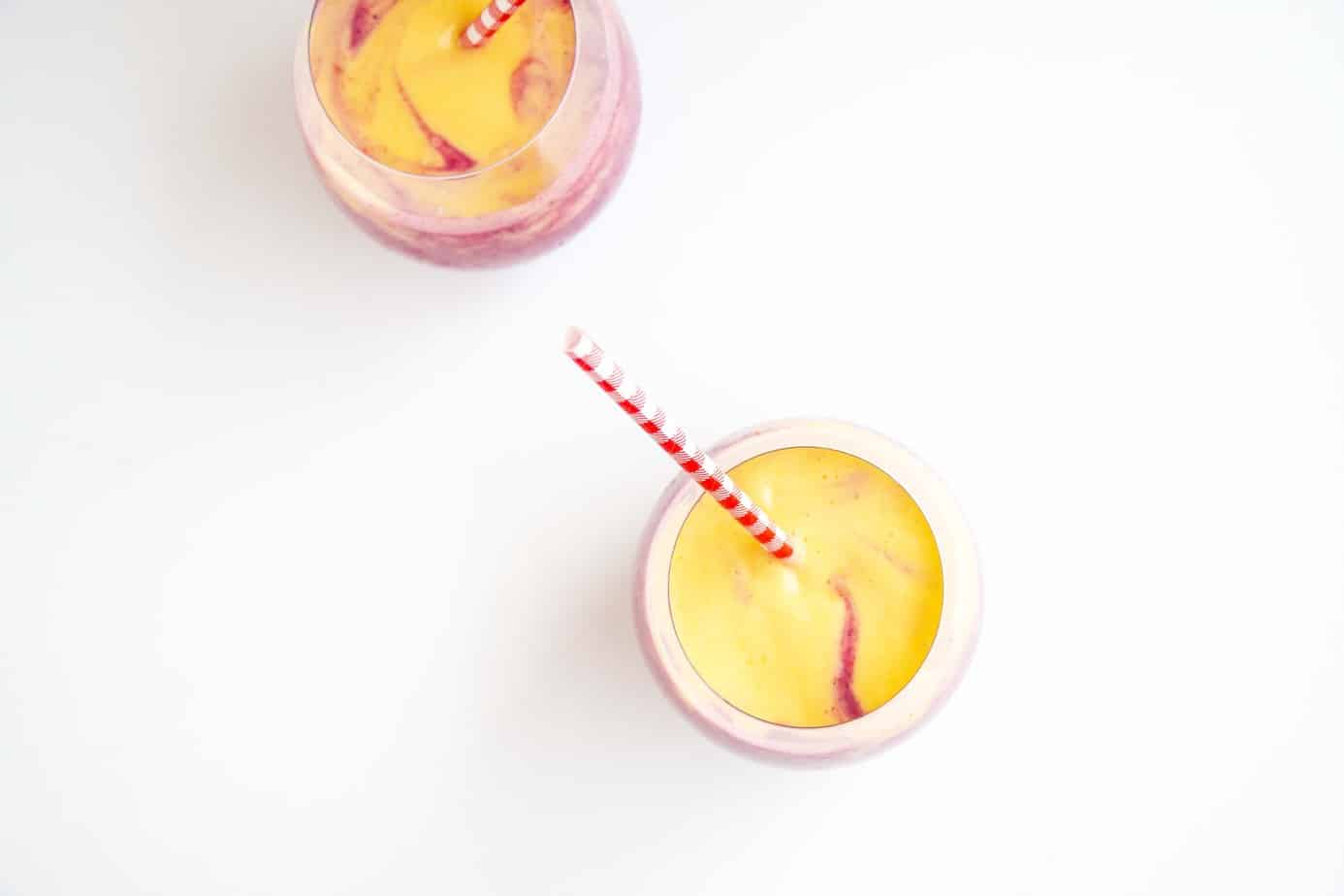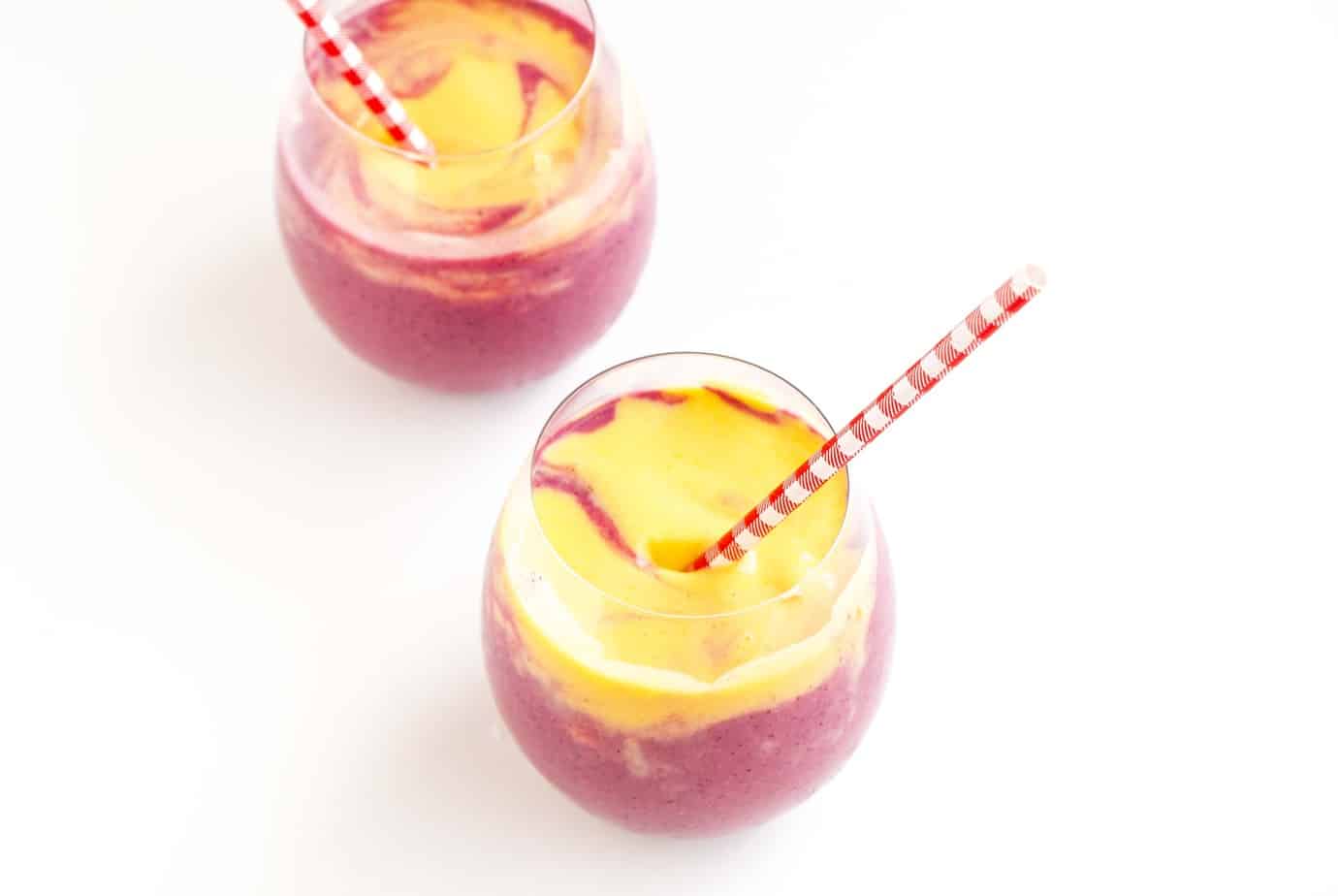 Tips For The Perfect Smoothie
Use good quality mango. The fruit is what gives this tropical smoothie its flavor. So making sure that the mango used is ripe and sweet will have a great impact on the taste of the smoothie.
Use frozen fruit. Using frozen fruit will ensure you have a delicious, creamy, ice-cream like smoothie. Using fresh fruits will give you a more watery, juice-like consistency.
Adjust your liquid. Start by adding only some of the liquid and add more until you reach the desired consistency. I prefer thicker smoothies, but everyone has their own preference when it comes to smoothies.
Don't let it stand. Drink it up right away. If you let it stand around for too long, the fruits will melt and possibly separate. For the most delicious results, make sure to drink it sooner rather than later.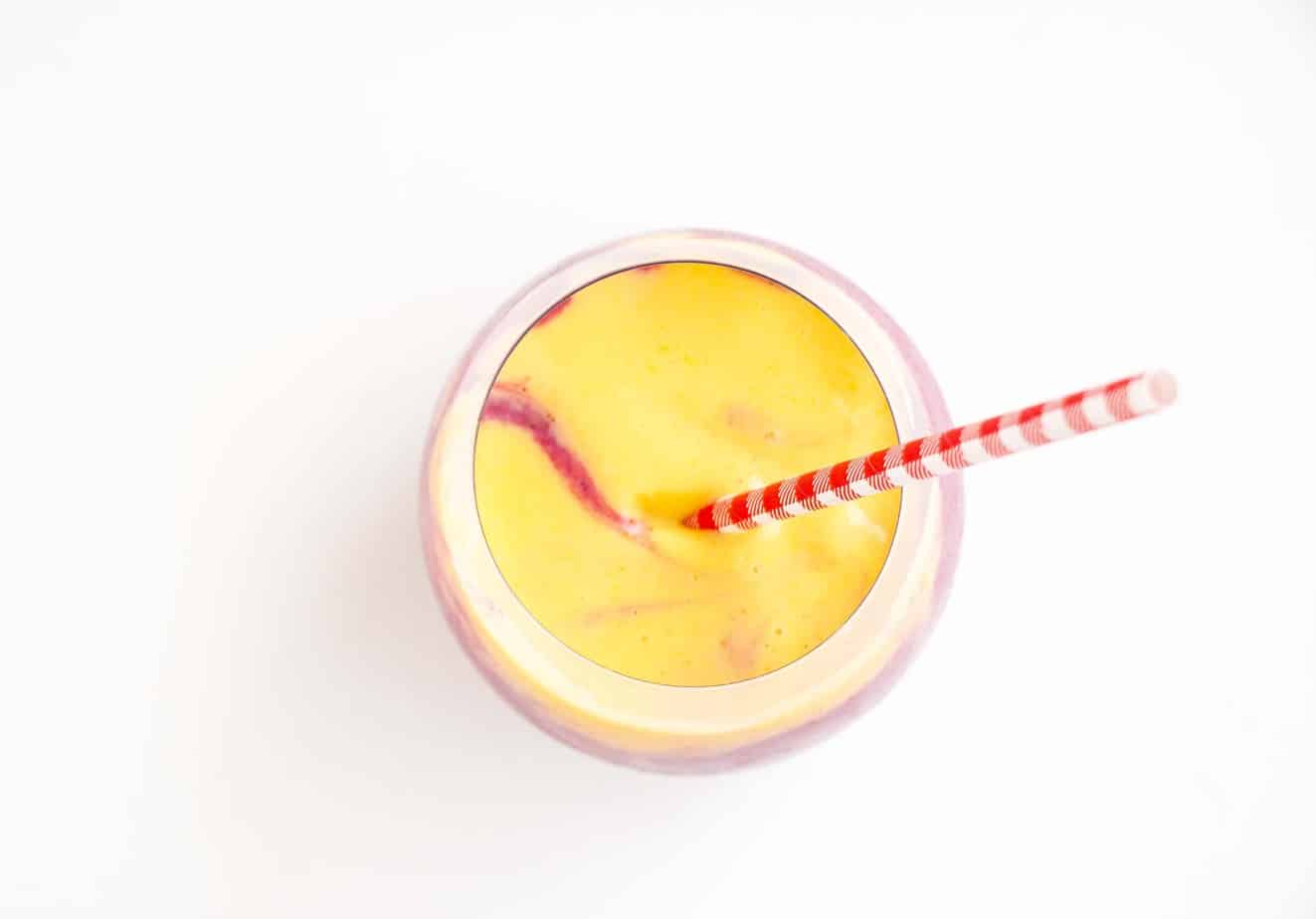 Substitutions & Variations
Coconut Yogurt: Instead of using thick greek yogurt, try coconut yogurt for a more tropical, vegan mango smoothie.
Pineapple: Add a little pineapple to your mango layer for an extra bit of tropical sweetness.
Chia Seeds: To thicken up the smoothie even more, add a teaspoon of chia seeds to the strawberry smoothie layer.
Protein Powder: For a high-protein mango banana smoothie, add a scoop of vanilla protein powder to either layer.
Honey: For added sweetness add honey or maple syrup to each layer.
Coconut flakes: Top this beauty of a smoothie with toasted coconut flakes for a little extra crunch.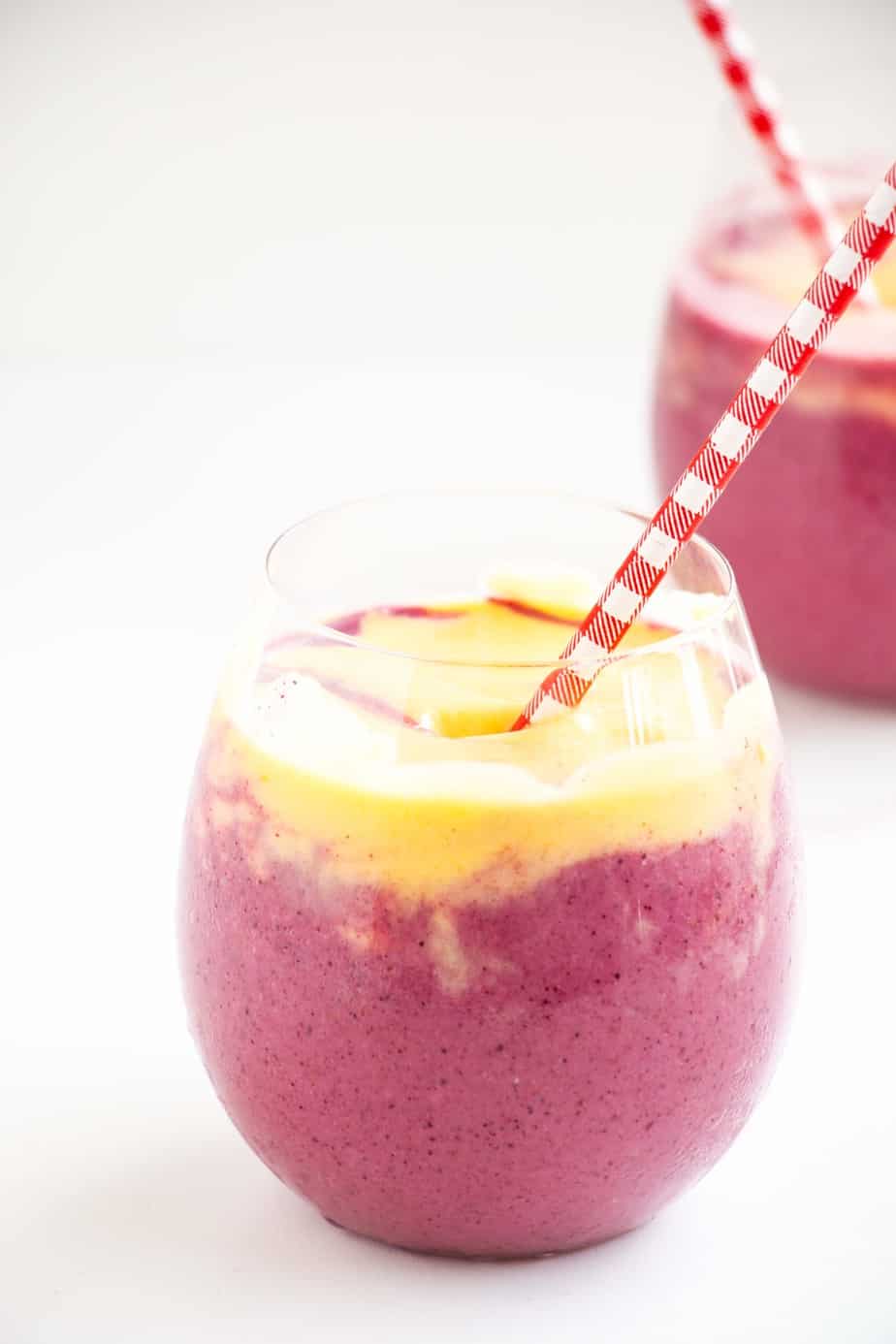 Frequently Asked Questions
Is it OK to drink smoothies every day?
Smoothies can be packed with nutrients that are vital to your diet. So drinking a healthy, well-balanced smoothie every day is definitely okay. Ensure that your smoothies include a variety of proteins, vitamins and minerals.
What is the best base for a smoothie?
Frozen bananas are typically the best base for a smoothie because they create an incredibly creamy texture. Other bases that work well are mangos, avocados and even cauliflower.
How do you thicken smoothies?
Using frozen fruit instead of fresh fruit will instantly thicken up your smoothie. To add more thickness, add a tablespoon of chia seeds or a pinch of xantham gum for a really thick and delicious smoothie.
I hope you love this Mango Banana Strawberry Smoothie recipe as much as I do. And if you want to see more of my food adventures, follow me on Instagram or Facebook.
Mango Banana Strawberry Smoothie
A delicious tropical style smoothie packed with vitamin C and whipped up in only 5 minutes.
Ingredients
For the strawberry layer
2 cups frozen strawberries
¾ cup almond milk
1 cup yogurt/coconut yogurt
2 tablespoon maple syrup/honey
For the mango layer
1 whole mango, peeled, chopped and frozen
1 frozen banana
¾ cup coconut milk
1 ½ tablespoon honey/maple syrup
Instructions
Place all the ingredients for the strawberry layer in a high powered blender and blend until smooth. Divide between two large glasses.
Clean blender and add all the ingredients for the mango layer in a blender and blend until smooth.
Carefully pour the mango layer over the strawberry layer and enjoy.