Mango Berry Smoothie -The perfect health kick that tastes absolutely delicious and is packed with vitamin C, antioxidants and is incredibly quick and easy to make.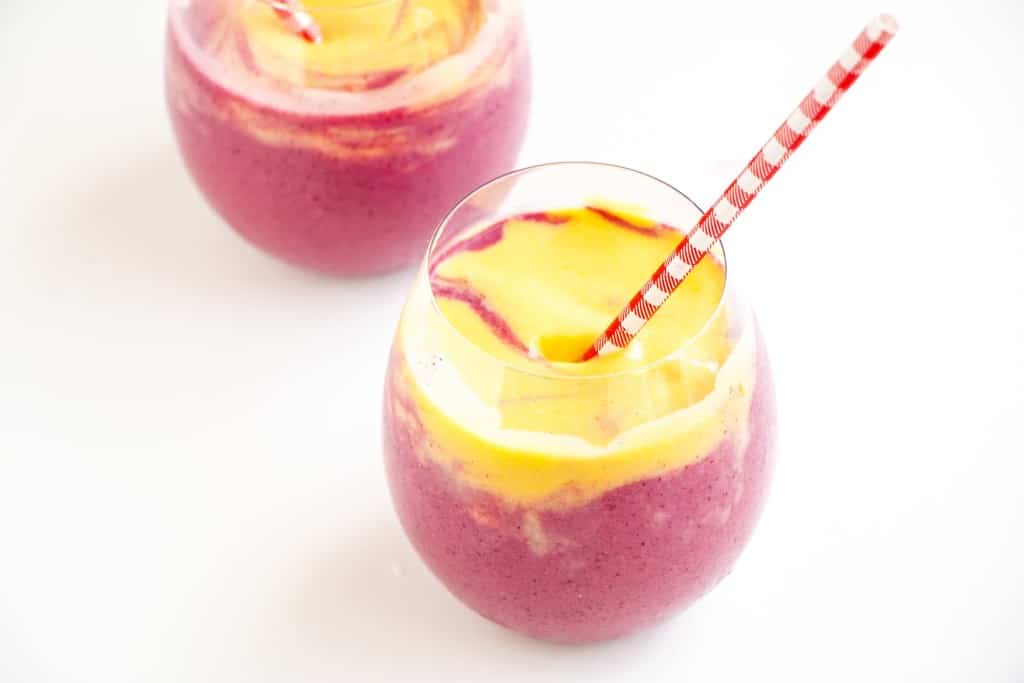 By now everyone knows I am a smoothie addict. I think I am even more so since getting a Nutribullet, because now I can't be lazy to make them. I used to always think aaarg now I have to put all the blades and parts together and the afterwards I have to clean the machine. Okay I know it really isn't THAT much effort, but it really felt like it every time I even just thought of making a smoothie. Now I have NO excuse, it really is as easy as chucking it all together, giving it a quick whizz and bam.
Some of my favourite smoothies so far has been these fabulous smoothies that I made that are pretty much dessert (without all the extra calories of course), such as the Vanilla Chai Smoothie, the Carrot Cake Smoothie or my absolute favourite, the Blueberry Muffin smoothie.... YUM!
The mango's are in full swing here in South Africa and I simply can't resist anything mango. As a child, my sister and I would eat mango's whole, just like that. I think we must've stained all our clothes with mango juice. So in other words I LOVE mango.
What better way to have mango than in a delicious smoothie, mixed in with a layer of berries! Honestly, this has been one of the most deliciously fresh smoothies I have EVER made. The tangy flavour from the berries are so perfectly balanced out with the sweet creaminess from the mango layer. So perfect!
This Mango Berry Smoothie pretty much tastes like a holiday on a tropical island. The coconut milk in the mango layer makes you feel as if you are lying on the beach somewhere far away on a tropical island with no worries other than working on your tan.  Yes a smoothie can do that to you!! 😉
P.S How cute are these paper straws? I'm busy gaining quite a collection of these little guys. (I might be slightly obsessed).
Mango Berry Smoothie
Ingredients
For the Berry Layer:
2

Cups

Frozen Berries

¾

Cup

Almond Milk

1

Cup

Yoghurt/Coconut Yoghurt

or even just coconut milk

2

Tbsp

Honey/Agave Nectar
For the Mango Layer:
1

Mango

peeled,chopped & frozen

½

Cup

Coconut ilk

1 ½

tbsp

Honey/Agave Nectar.
Instructions
For the Berry Layer:
Place all ingredients into your blender and blend until smooth.

Pour into glasses.
For the Mango Layer:
Blend all ingredients together until smooth.

Gently pour over berry layer.

Devour.
Love it? Why not Pin it? 🙂
OR Sign up to receive all the latest recipes straight to your email. Sign up HERE!