Kick your day off with a 5 ingredient healthy pineapple spinach smoothie. Made in only 5 minutes and packed with health benefits.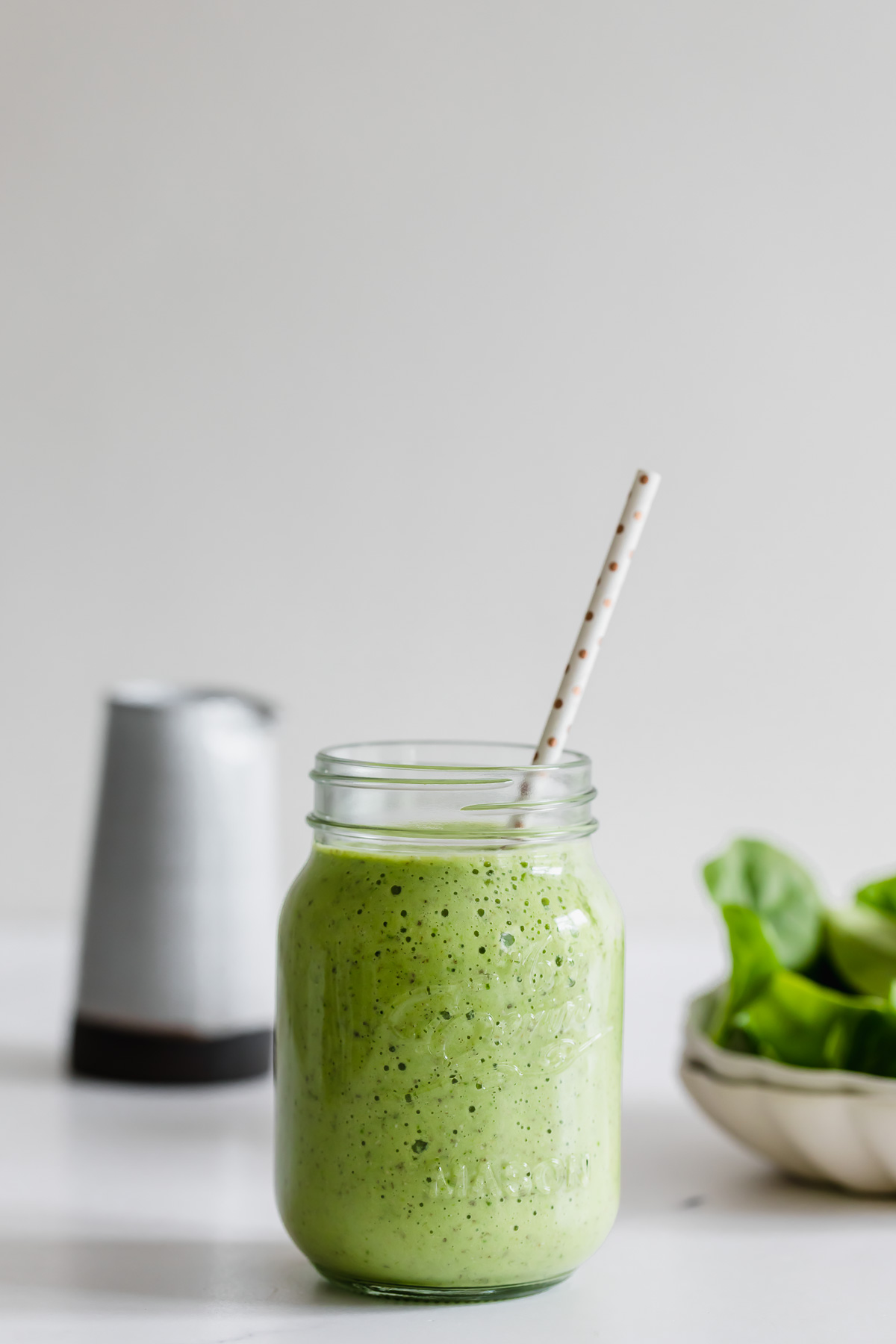 Pineapple smoothies have quickly become a favorite here on Baking Ginger. My Blueberry Pineapple Smoothie is a total hit all year long and with good reason, even if I may say so myself. But if you're looking for another delicious green smoothie recipe, you have to try my Detox Island Green Smoothie.
This Pineapple Spinach Smoothie is no different. Filled with nutritious ingredients and so easy to make any day of the week.
It's the perfect weekday snack or breakfast. Made with chia seeds to give it an extra protein boost and to thicken up the smoothie.
Why is this Pineapple Green Smoothie healthy?
Boosts hydration - all the goodness in the spinach helps give you an extra boost of hydration.
Great source of Vitamin K - Vitamin K helps keeps bones healthy and helps the body to heal wounds faster.
Helps your digestive system - Due to the high fiber content in spinach, this pineapple green smoothie will ease constipation and give your gut that extra boost it needs.
Iron - We all know iron is good for you and spinach is filled with iron goodness.
Decreases the risk of heart disease - This is a grand statement for a green smoothie. But the adding spinach into your diet has an immense effect of heart health.
Rich in protein - Chia seeds contain up to 17g of protein per 100g. Yes, please!
Vitamin C - Hello ALL of the vitamin C. Pineapples are packed with Vitamin C, which supports the immune system and keeps those bones healthy.
We could go on for hours about all the health benefits of this delicious pineapple and spinach smoothie.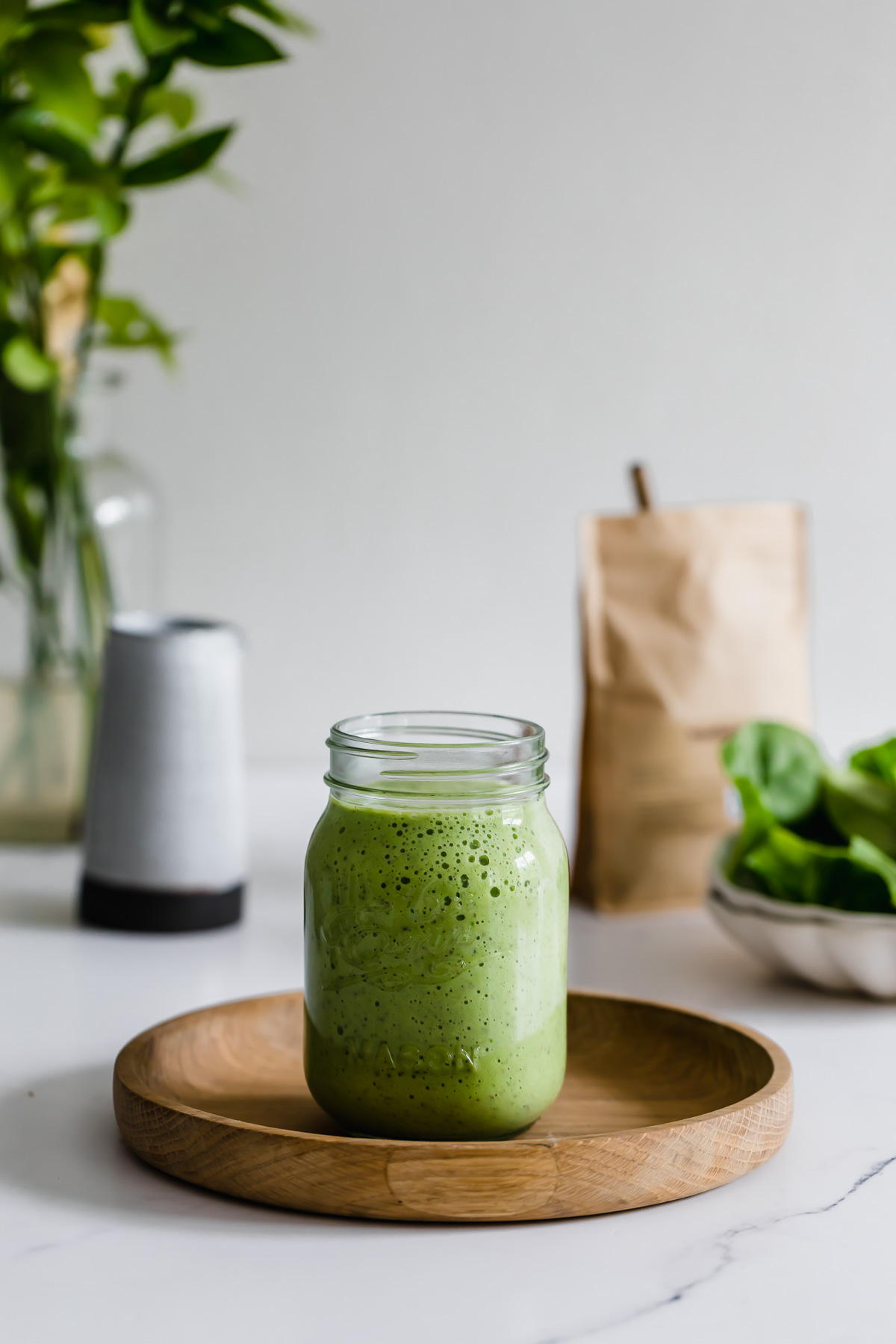 Why you'll love this recipe
5 Ingredients - Who doesn't love a recipe that doesn't require a thousand ingredients and multiple trips to the grocery store.
Customizable - Why stop at these 5 ingredients. Use frozen mango instead of pineapple. Or add a dash of vanilla extract for a different taste. My favorite thing is to add a scoop of my favorite vanilla protein powder to up the protein content even more.
Packed with all of the nutrition - Did I mention that this smoothie is beyond healthy yet? The combination of pineapples, spinach, chia seeds and bananas makes this smoothie a winner when it comes to a health boost.
Ingredients you'll need
Baby Spinach - I love adding baby spinach to EVERYTHING. It tastes good, filled with so many nutrients and is easy to add. Feel free to use kale or regular.
Bananas - Freeze bananas ahead of time to make it easier and creamier. The more ripe your bananas are, the sweeter your smoothie will be. So that's totally up to you.
Pineapples - Chop a small pineapple up into chunks and freeze overnight. Fresh pineapples can also be used. If you don't have pineapples lying around, try frozen mango pieces.
Chia Seeds - Chia seeds add a little protein and add to the thickness of the spinach pineapple banana smoothie.
Coconut Milk - Coconut milk is my favorite non-diary milk to use for smoothies because if it's texture and creamy taste. Oat milk and almond milk are great substitutes.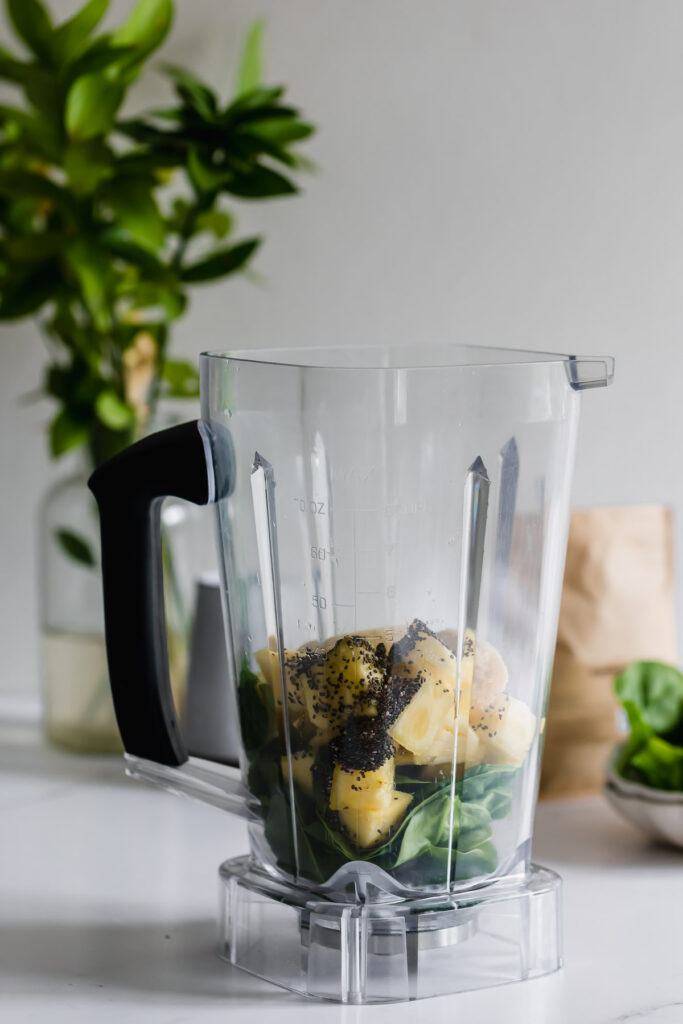 Tips for making this recipe perfectly
Freeze the fruit - Freezing your fruit in smaller chunks ahead of time makes sure that you always have a thicker creamier green smoothie. It also helps with meal-prep so that's a bonus!
Milk first - Add the coconut milk to the blender first for easier blending.
Adjust to your preference - Add a little more milk if you like a thinner, runnier smoothie. Or add some honey/maple syrup for a dash of extra sweetness. This recipe is nearly impossible to mess up so don't be afraid to play around a little.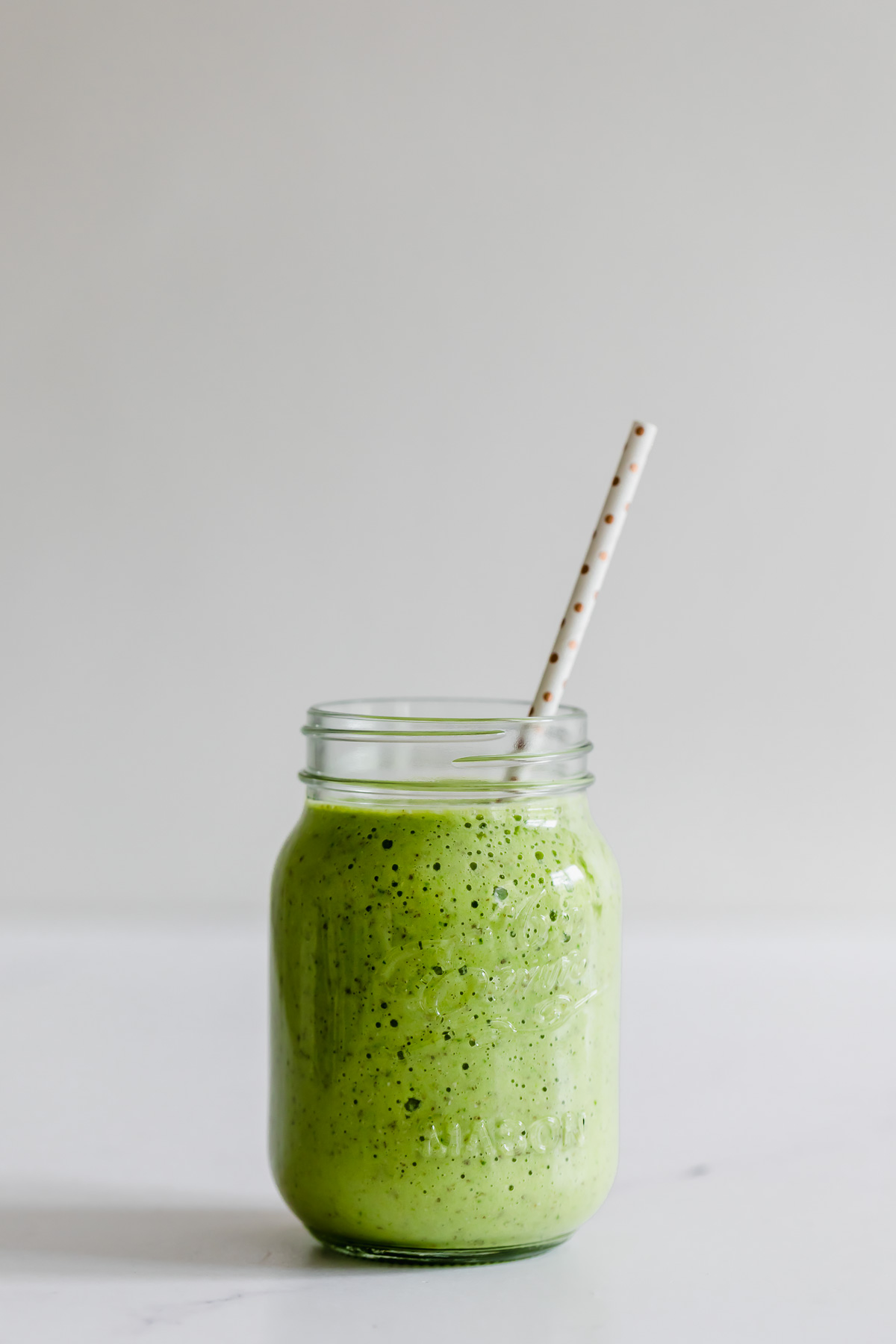 Is it okay to drink a green smoothie everyday?
Short answer, yes. Green smoothies are the perfect way to add a little extra nutrients to your day. Starting your day off with a Pineapple Spinach Smoothie can definitely only add value to your diet.
Make sure to include other meals that include healthy fats and proteins, but having a green smoothie every day definitely won't do any harm.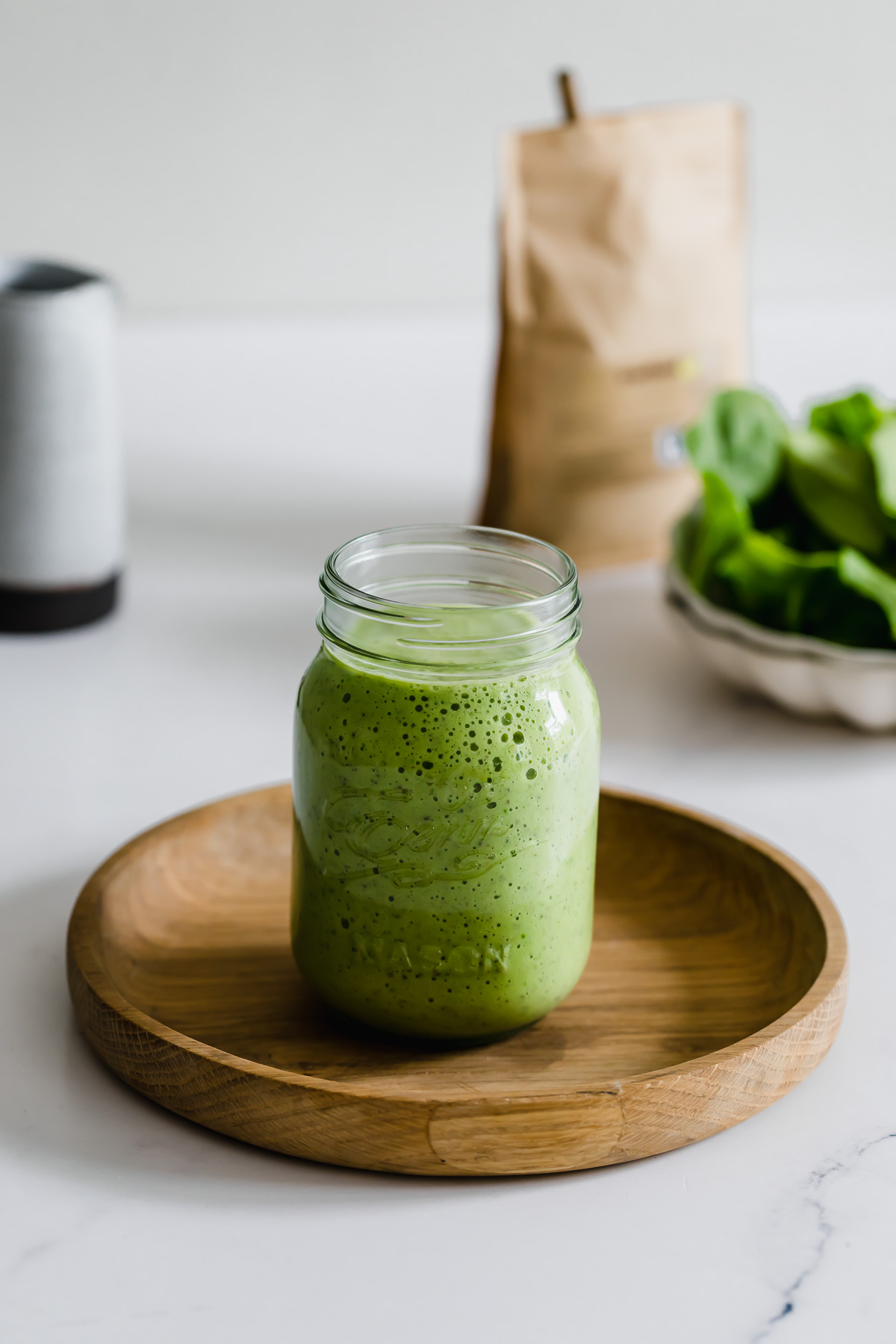 What is the healthiest green vegetable?
You guessed it. Spinach! Yay for this Pineapple and spinach banana smoothie. Spinach is packed with an insane amount of nutrients. One cup of raw spinach contains 56% of your daily Vitamin A needs plus more Vitamin K than you'll get from any other veg.
More delicious smoothie recipes: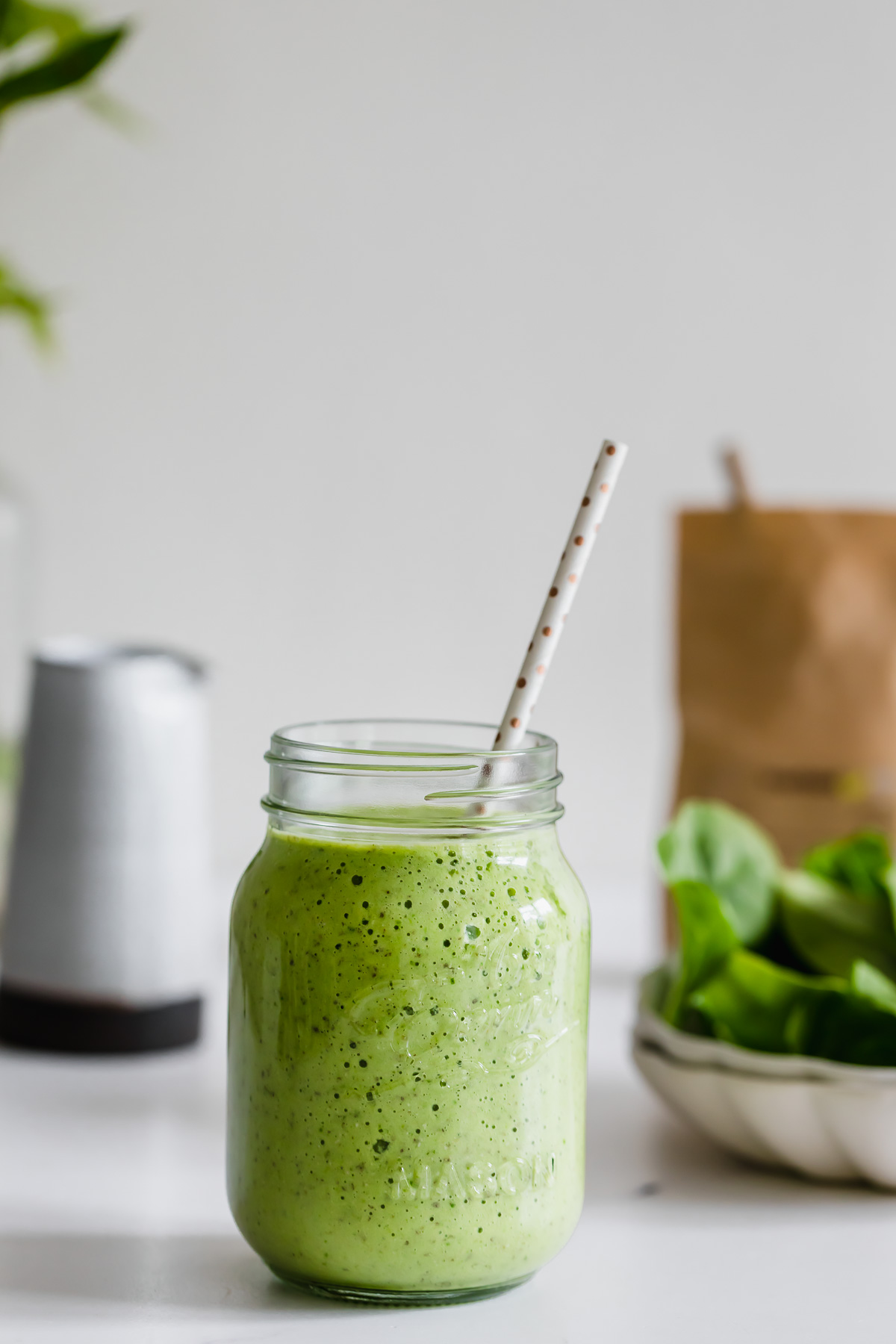 Pineapple Spinach Smoothie
The healthiest and easiest 5 ingredient smoothie that is delicious and packed with all if the nutrition.
Ingredients
1 frozen banana
1 small pineapple, cut into cubes and frozen
1 tablespoon chia seeds
2 cups baby spinach
1 cup coconut milk
Instructions
Place all the ingredients into a blender.
Blend until smooth.
Add more milk if desired.