A list of the best immune booster juice recipes to provide you with a boost of nutrients. These delicious drinks are full of vitamins and minerals to keep your body healthy and your immune system strong and supported.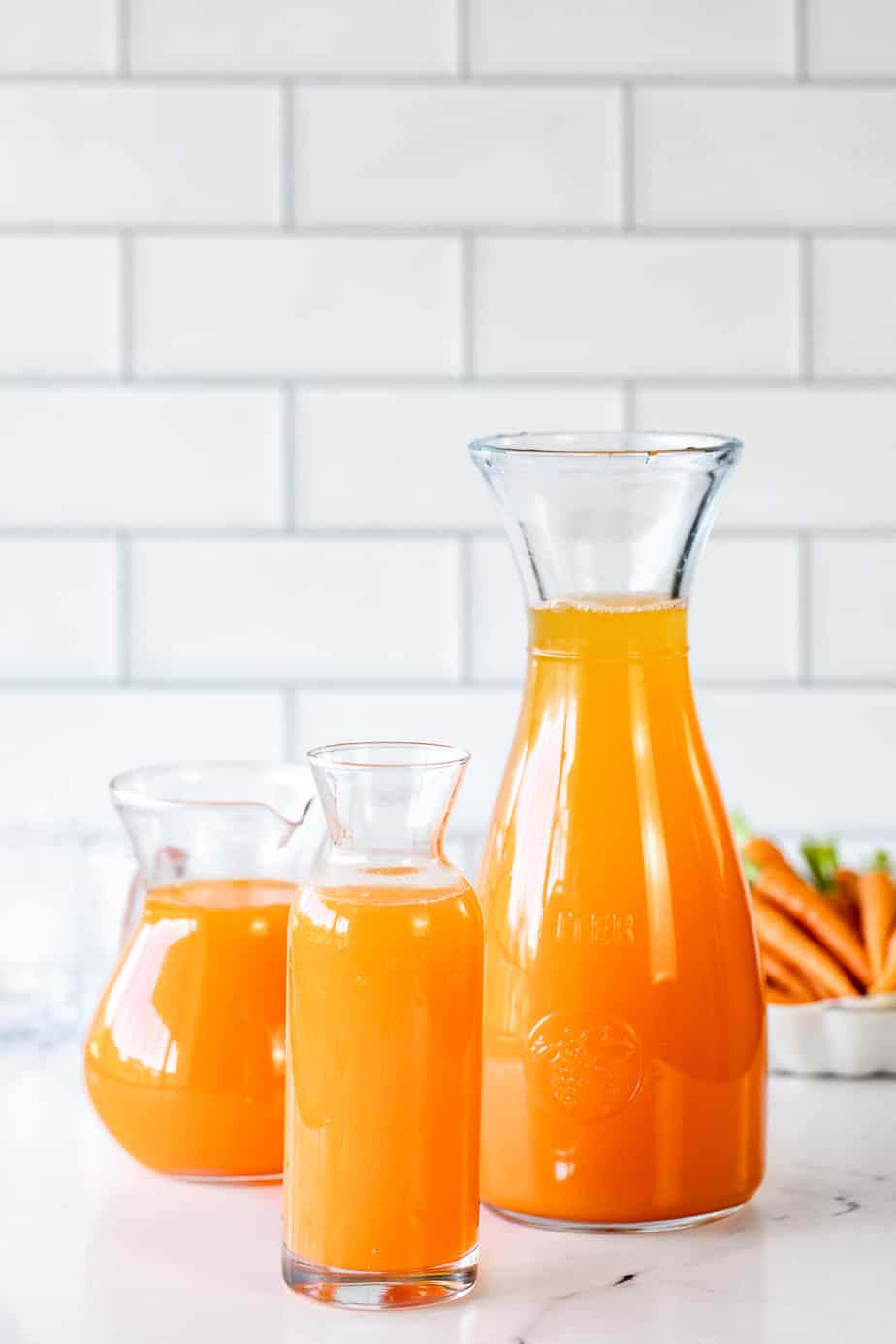 Jump to:
Boosting Your Immune System With Juice Recipes
Your immune system is a complex system that works to keep you healthy. It is constantly active, figuring out which cells belong in your body and which ones don't.
This means it needs a good dose of vitamins and minerals every day to keep its energy up to best support you. A great way to achieve this is with an Immune Booster Juice Recipe.
The following list of booster juice recipes is full of essential nutrients for maintaining your health or for fighting off viruses such as the cold or flu. Drinking fresh juice with no added sugars can be a great way to add extra vitamins and minerals to your diet.
If you are on a diet or trying to cut down on sugar, opt for vegetable juices (there are many included in the list below). Compared to fruit juice, they are lower in carbs and calories and fit into most diets. Experiment with different kinds of juice to boost your nutrient intake and discover new flavors.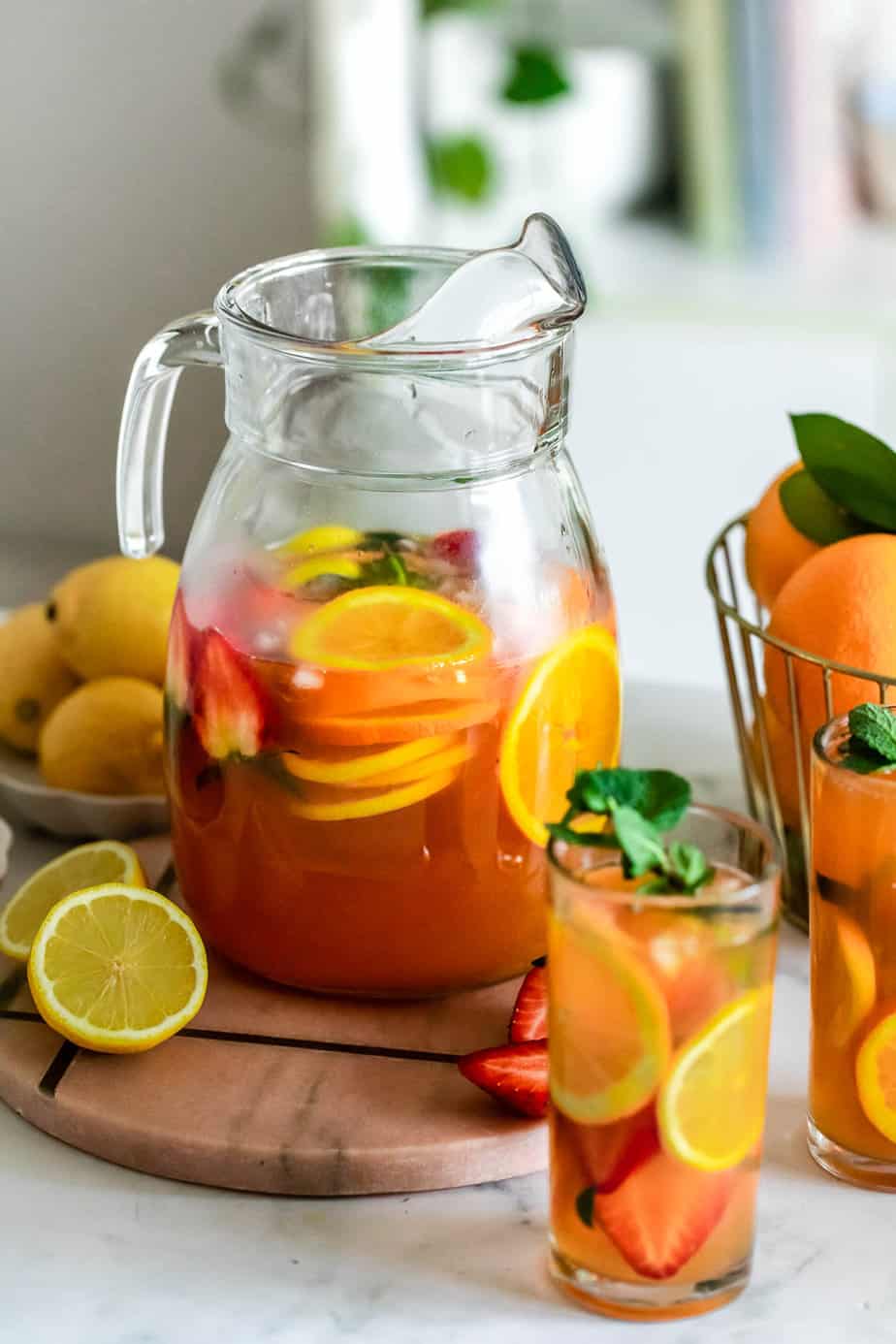 WHAT ARE THE HEALTH BENEFITS OF JUICING
There are many health benefits that come from drinking fresh juices because they add extra vitamins and minerals to your diet. Drinking immune-boosting juice is a great way to get nutrients from fruits and vegetables in a way that is easy to digest and supports the functionality of your immune system.
THE BENEFITS OF FRESH HOMEMADE JUICE:
High in vitamins and minerals
Contains antioxidants
High in fibre
Helps with digestion
Hydrating
Contains natural sugars for energy
If you want to learn more about juice cleansing, check out my Squeezed Juice Cleanse post.
10 Homemade Drink Recipes To Boost Your Immune System
This delicious Super Detox Juice is a go-to juice for when you are feeling a bit tired or sluggish. It contains lots of antioxidants, vitamins, and fibre, and is made with health-boosting ingredients.
This Orange & Carrot Juice is a refreshing and healthy juice recipe made with fresh oranges and fresh carrots. The perfect juice for breakfast or an afternoon pick-me-up that is full of vitamins and minerals to boost the strength of your immune system.
Whether you're under the weather or just committed to supporting your overall wellness, this bright and yummy immune-boosting juice is for you. Full of healthy ingredients that taste delicious.
Strawberries are full of nutrients and contain anti-inflammatory properties. This 3 ingredient strawberry juice recipe is super easy to make and so refreshing, and you only need three simple ingredients to make it.
This Immune System Booster Drink with Orange Carrot Juice is packed with vitamins to help boost your immune system. It's made without a juicer and can be easily made directly in a blender. Enjoy this juice in the morning for a boost or any time of the day.
This is an easy recipe for delicious Homemade Carrot and Beetroot Juice that is rich in nutrients and provides many health benefits. Drinking carrot beet juice is an easy and yummy way to include more vegetables into your diet and boost your health!
This Inner Glow Juice is made from sweet potatoes, carrots, apples, mandarins, and fresh ginger. It is packed with nutrients and leaves you feeling like you are glowing inside and out!
A refreshing and immune-boosting Carrot Mango Juice recipe full of nutrients and tropical flavor! This fresh homemade juice is made using a juicer or a blender and is ready in minutes to give your body and immune system a boost of health.
This healthy green juice is the perfect way to kickstart your metabolism, boost your immune system, and detox your body! Good Morning Juice contains kitchen staple vegetables and citrus and can be made in 5 minutes for a refreshing, healthy drink.
This healthy Immune Boosting Breakfast Smoothie is made from delicious fresh fruit and ginger. This easy smoothie recipe is full of health benefits and is a great way to boost your immune to prevent flu and colds. (Vegan option available).
Why Are These Juice Recipes Immune Boosting?
Contain lots of citrus fruits. Fresh juice made with oranges, lemons, and grapefruit gives a healthy dose of Vitamin C. This nutrient contributes to immune defence by supporting various cellular functions of the immune system. Vitamin C also supports barrier function against pathogens and protects the body from environmental stress.
Zinc fights viruses and bacteria. Zinc helps to activate cells that can destroy viruses and bacteria by breaking down their proteins. What a great tool to have in your virus-fighting tool kit — I recommend getting a good dose of zinc daily and many of these juice recipes have added zinc.
Honey can help your body fight bad bacteria. Research has shown that consuming honey increases cells that identify, build antibodies against, and kill microbes and microorganisms that are invading the body. So if you need to sweeten up a juice recipe, don't be afraid to add a drizzle of beneficial honey.
Nutrient-rich and naturally gluten-free. Fresh fruit juice adds vitamins and minerals along with fibre which is gluten-free and helps to keep your body healthy.
Cold and flu-fighting ingredients. Zinc and vitamin C supports your immune system and metabolism function, and has been shown to shorten recovery from a cold or flu.
RELATED POSTS: 10 REASONS TO LOVE BEETROOT JUICE & 10 REASONS TO DRINK CARROT JUICE EVERYDAY