What is a squeezed juice cleanse, the health benefits of it, and recipe inspiration. Juicing is a quick and convenient way to boost your nutrient intake as fruit and vegetable juices are packed with antioxidants, nutrients, and minerals.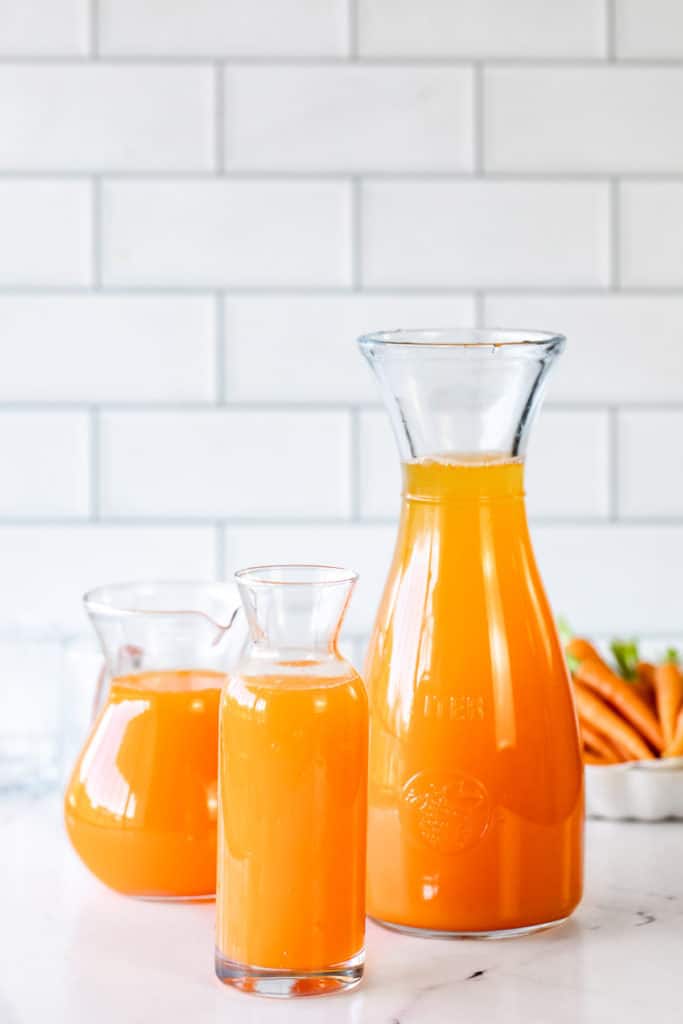 What is squeezed juice?
Freshly squeezed juice is made from whole fruit or vegetables that are pressed or squeezed to extract the juice. Juicing usually strips away most of the solid matter of the produce, including the seeds and pulp. Squeezed juices are 100% natural and are preservative-free and free of refined sugar. They do contain natural sugars from the fruit and vegetables that are pressed. Squeezed juices are therefore suitable for many diet types including keto, vegan, and gluten-free. The only diet not suitable for a juice cleanse is on which restricts fructose.
Check out this recipe for Orange & Carrot Juice for inspiration!
So how do I juice my vegetables & fruit?
There are normally two methods of juicing fruit and veggies. Option one is squeezing the juice out by hand, oe the second option is to use motor-driven juicers.
The two most common mechanical juicers are:
Centifrugal Juicers. Fruits and vegetables are ground into pulp through a high-speed spinning action with a cutting blade. The spinning also separates the juice from the solids.
Cold Press Juicers. Crush and press fruits and vegetables slowly to obtain as much juice as possible.
IS IT GOOD TO DRINK VEGETABLE OR FRUIT JUICE IN THE MORNING?
Fruit juice or vegetable juice or a combination of both is definitely a good beverage to drink in the morning. These juices all pack in far more nutrition than milk or coffee and come in a rainbow of colors and flavors to choose from. If you are on a diet or trying to cut down on sugar, opt for vegetable juices. Compared to fruit juice, they are lower in carbs and calories and fit into most diets. Experiment with different kinds of juice to boost your nutrient intake and discover new flavors.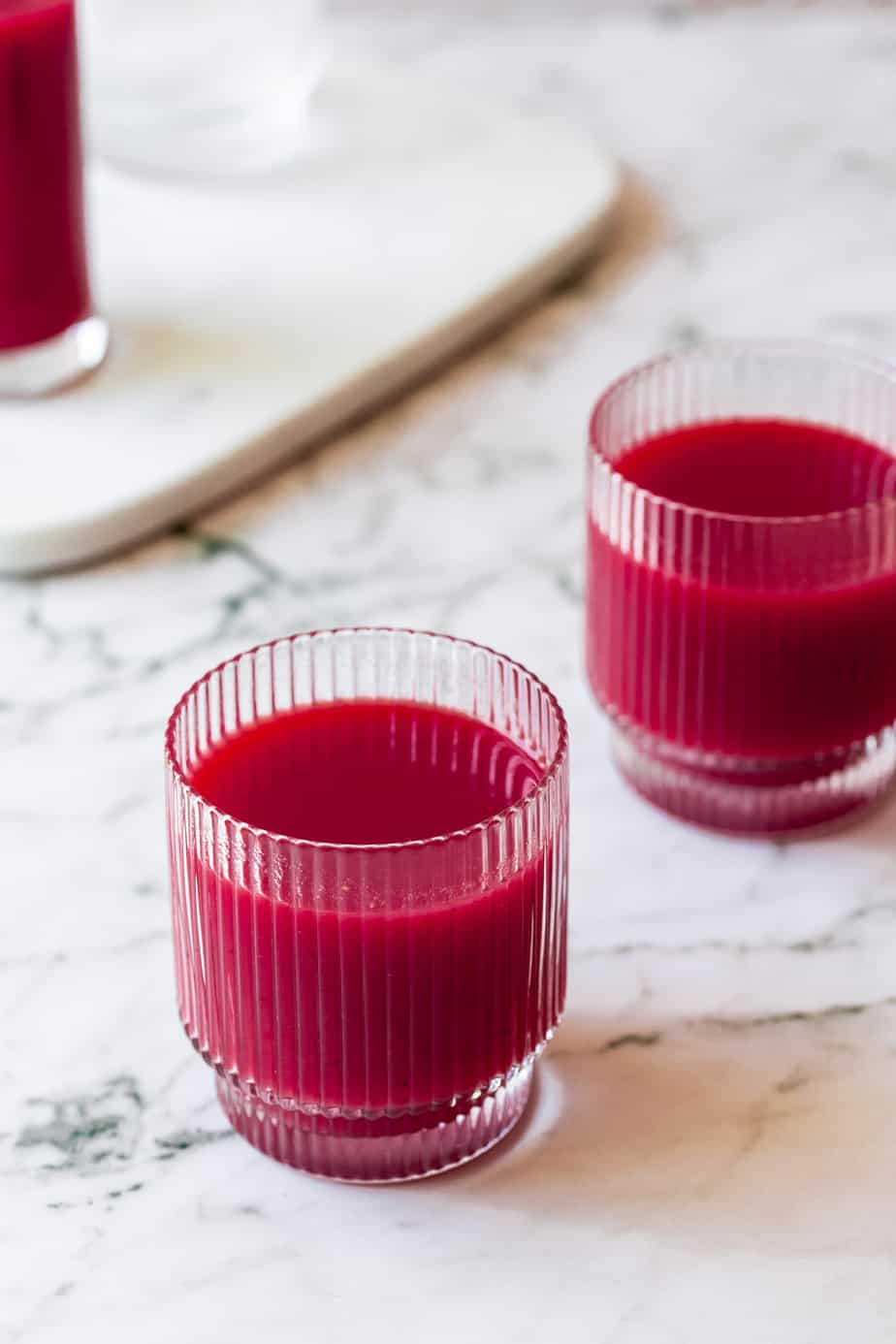 What does a squeezed juice cleanse do?
When on a squeezed juice cleanse, solid food is eliminated entirely and only juice is consumed for 3 days to several weeks. This is to cleanse bodies of toxins and to increase hydration and nutrition intake. Fruits and vegetables are full of vitamins, minerals, antioxidants, and plant compounds that can protect against diseases and improve our bodies wellness. Some weightloss may result from a juice cleanse - but it is a not a sustainable diet and should only be followed for a short period of time.
To explore more benefits of a juice cleanse, check out these posts:
What are the side effects of a juice cleanse?
Most juice cleanses involve consuming between 600 and 1000 calories each day from juices only. This can result in a severe calorie deficit and fast weight loss so it should not be sustained for more than a few days. Juice diets can lead to certain nutrient deficiencies in the long term, as juices lack many other important nutrients. Due to the lack of certain nutrients and food groups, along with the low calorie intake, many people experience headaches, fatigue, difficulty thinking, moodiness, diziness and hunger pangs while on a squeezed juice cleanse.
Some squeezed juice recipes to try: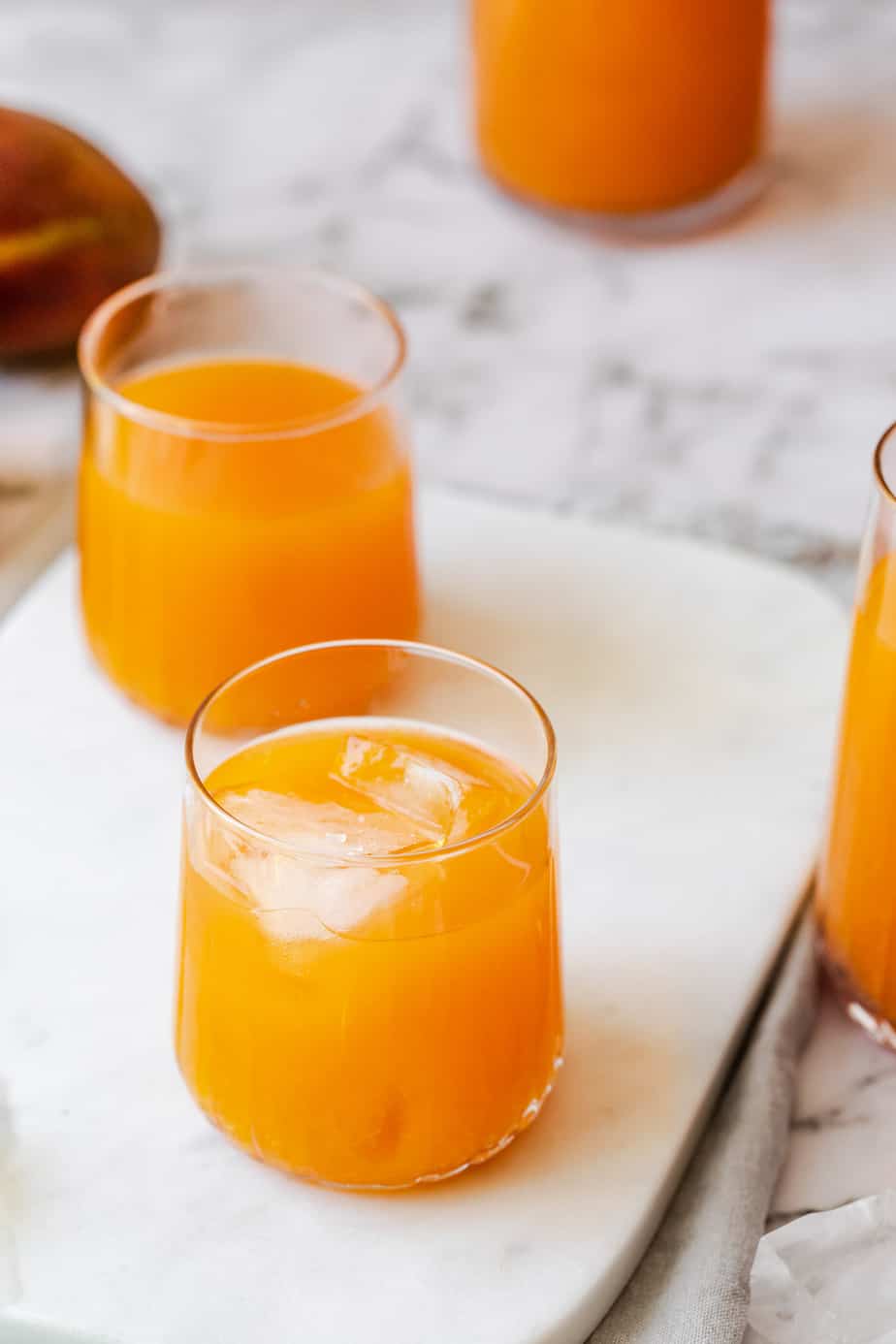 Carrot Mango Juice
This refreshing Carrot Mango Juice recipe is full of nutrients and tropical flavor! This fresh homemade vegetable juice can be made using a juicer or a blender and is ready in minutes.
Ingredients
2 mangos (equivalent to 2 cup of mango chunks)
2 cups chopped carrots
½ cup pineapple juice (optional)
Instructions
With a juicer:
To make this juice with juicer, add the prepared ingredients to a juicer, starting with the mango and then the carrot.
If adding pineapple juice, add it to the prepared juice.
Mix together and enjoy as is or serve with ice!

With a blender:
Place all the ingredients into a blender and blend until smooth, about 2 minutes.
The juice will have a thicker consistency and can be enjoyed as is or you can add a dash of water or extra pineapple juice and blend again.
Another option is to strain the juice through a nut milk bag or a fine strainer before serving.
Serve the juice as is or enjoy with ice.
Notes
Customize the juice. If there are any other fruits or vegetables you'd like to add, go ahead! I have added apples, ginger, and celery before and they all work perfectly.
Change the ratio. If you prefer more mango or more orange in your juice you can change the ratios of the recipe to suit your preference.
Use ripe fruit. The more ripe fruit is the sweeter it is due to natural sugars that develop, so use ripe fruit for this fresh juice recipe to ensure you have a delicious sweet juice at the end. If you feel you need a touch more sweetness to your juice you can add a teaspoon of honey or agave syrup.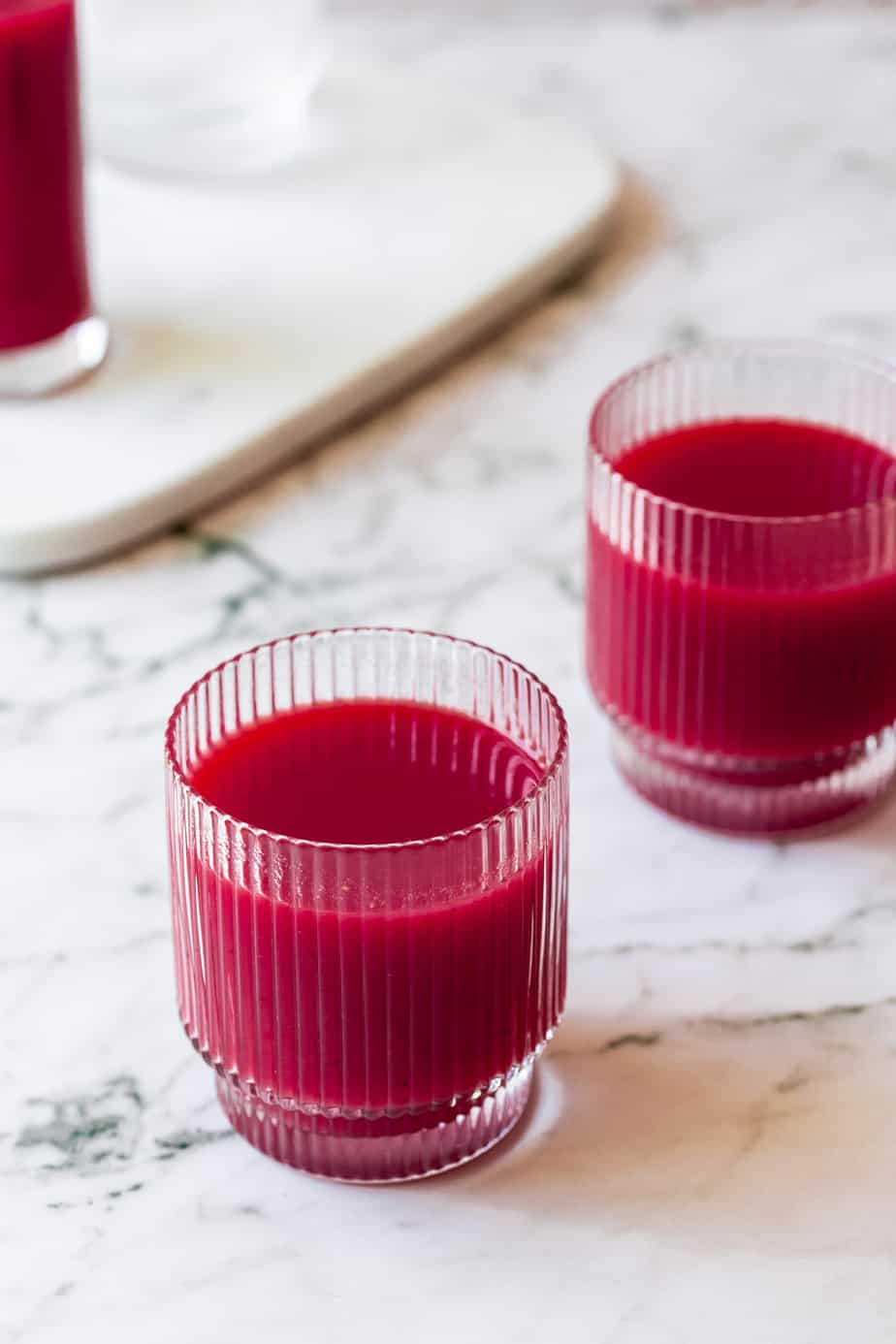 Homemade Carrot and Beetroot Juice
An easy recipe for delicious Homemade Carrot and Beetroot Juice that is rich in nutrients and provides many health benefits. Drinking carrot beet juice is an easy and yummy way to include more vegetables into your diet and boost your health!
Ingredients
2 beets, trimmed
4 carrots, trimmed
125ml apple juice (or more depending on preference)
Optional Add-Ins
Lemon juice
Lime juice
Fresh ginger
Fresh mint
Instructions
Prepare the vegetables by chopping the ends and tops off the fresh beetroots and carrots. Chop the vegetables into chunks suitable for your juicer
Add the prepared carrots and beetroots to a juicer and collect the juice.
Add the apple juice and adjust according to sweetness preference. Add any optional additions such as lemon juice, lime juice, or fresh mint.
Chill the juice and serve as is or enjoy over ice.
Notes
How Long Does Carrot Beet Juice Last in the Fridge?
This Carrot Beetroot juice is best enjoyed fresh, but it can last for up to three days in the fridge. It is best to store the fresh juice in an airtight container.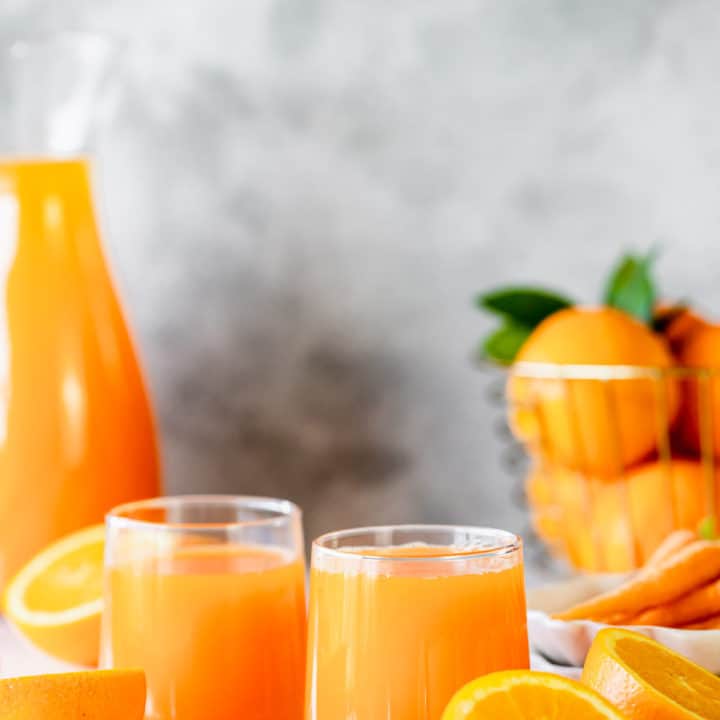 Orange & Carrot Juice
This Orange & Carrot Juice is a refreshing and healthy juice recipe made with fresh oranges and fresh carrots. The perfect juice for breakfast or an afternoon pick-me-up that is packed with vitamins and minerals.
Ingredients
8 medium carrots
8 medium oranges
1 knob fresh ginger (optional)
Instructions
Juicer Method
Cut the tops off the carrots and peel the oranges.
Place the prepared carrots and oranges in a juicer. Juice according to juicer instructions.
Once juiced, refrigerate or serve immediately.
Blender Method
Cut the oranges in half and juice them. Then pour the juice into your blender.
Trim the ends off your carrots and roughly chop them into 1-inch chunks. Add them to the blender.
Blend on high for about a minute. Then place a fine sieve or nut milk bag over a bowl/jug. Pour batches of the juice through the sieve/bag and allow the juice to strain.
Pour into serving glasses and enjoy immediately or place in the fridge for later use!
Notes
You can make this juice recipe a bit sweeter by using more oranges or adding fresh apples/apple juice. Or you could add celery to your juice to get even more vegetables in.
Storage Instructions
This Carrot Orange juice is best enjoyed fresh, but it can last for up to three days in the fridge. It is best to store the fresh juice in an airtight container/jar.
I hope you enjoyed this article about Squeezed Juice Cleanses. Follow me on Instagram, Pinterest, or Facebook for more food and health content.
More healthy drink recipes you may like: