This vegan 5-ingredient Turmeric Smoothie Recipe is made with fresh anti-inflammatory and detoxifying superfood ingredients that provide many health benefits. Made with pineapple, banana, and fresh ginger.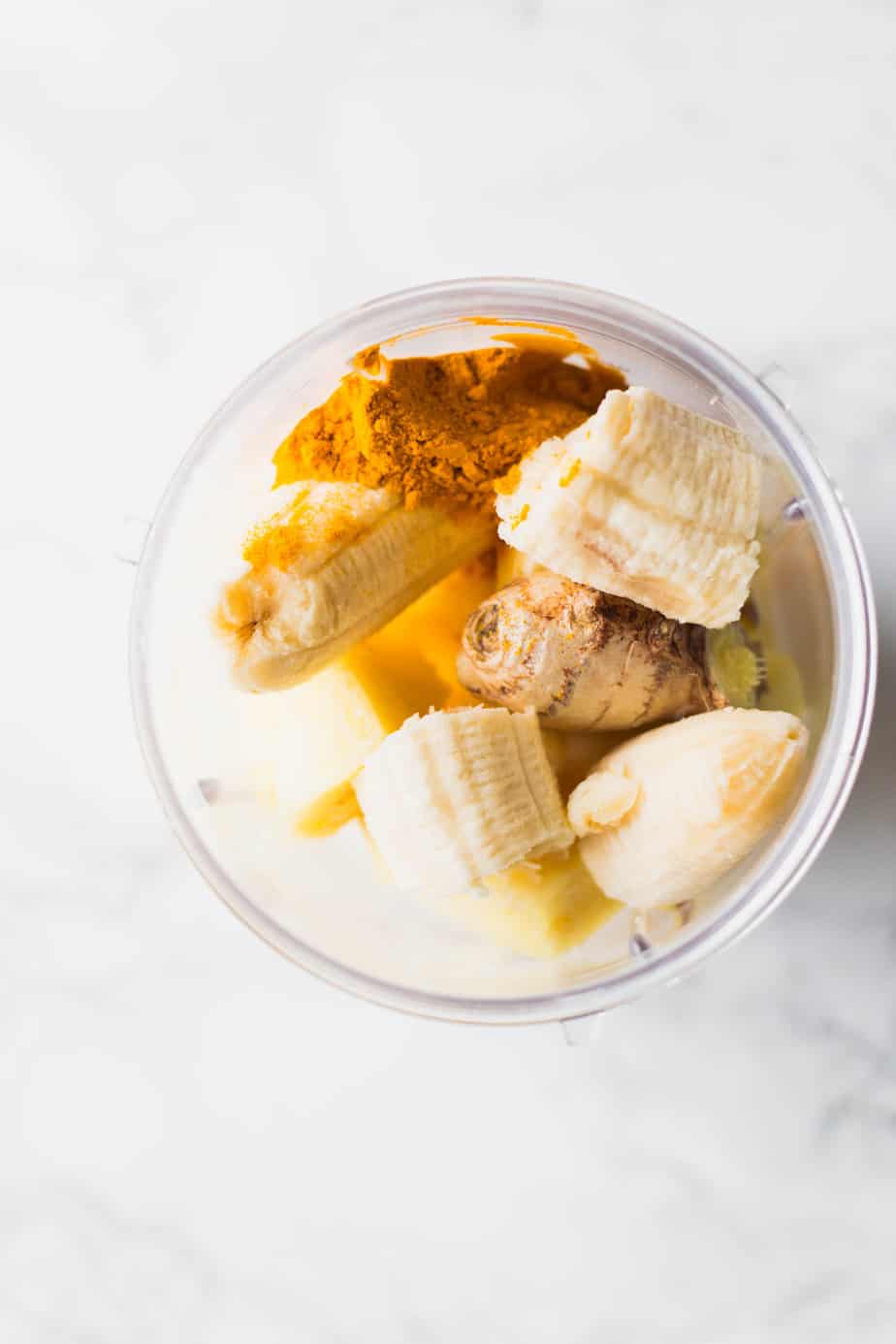 Why You Will Love This Golden Turmeric Smoothie
The idea of adding yellow, spicy turmeric powder to a smoothie might seem strange, but trust me - it is absolutely delicious and incredibly good for you. Turmeric powder is like magic dust! It is packed with antioxidants and has incredible anti-inflammatory properties. The flavor of turmeric is balanced out beautifully in this smoothie with all the sweet fruit and fresh ginger.
This smoothie is also incredibly creamy in texture from the banana and almond milk. Smoothies are so easy to make and this one is no exception - it's just 5 simple ingredients thrown in a blender. It's really easy to incorporate turmeric on a daily basis and totally worth the benefits! Check out my Creamy Coconut Turmeric Smoothie Bowl as well :)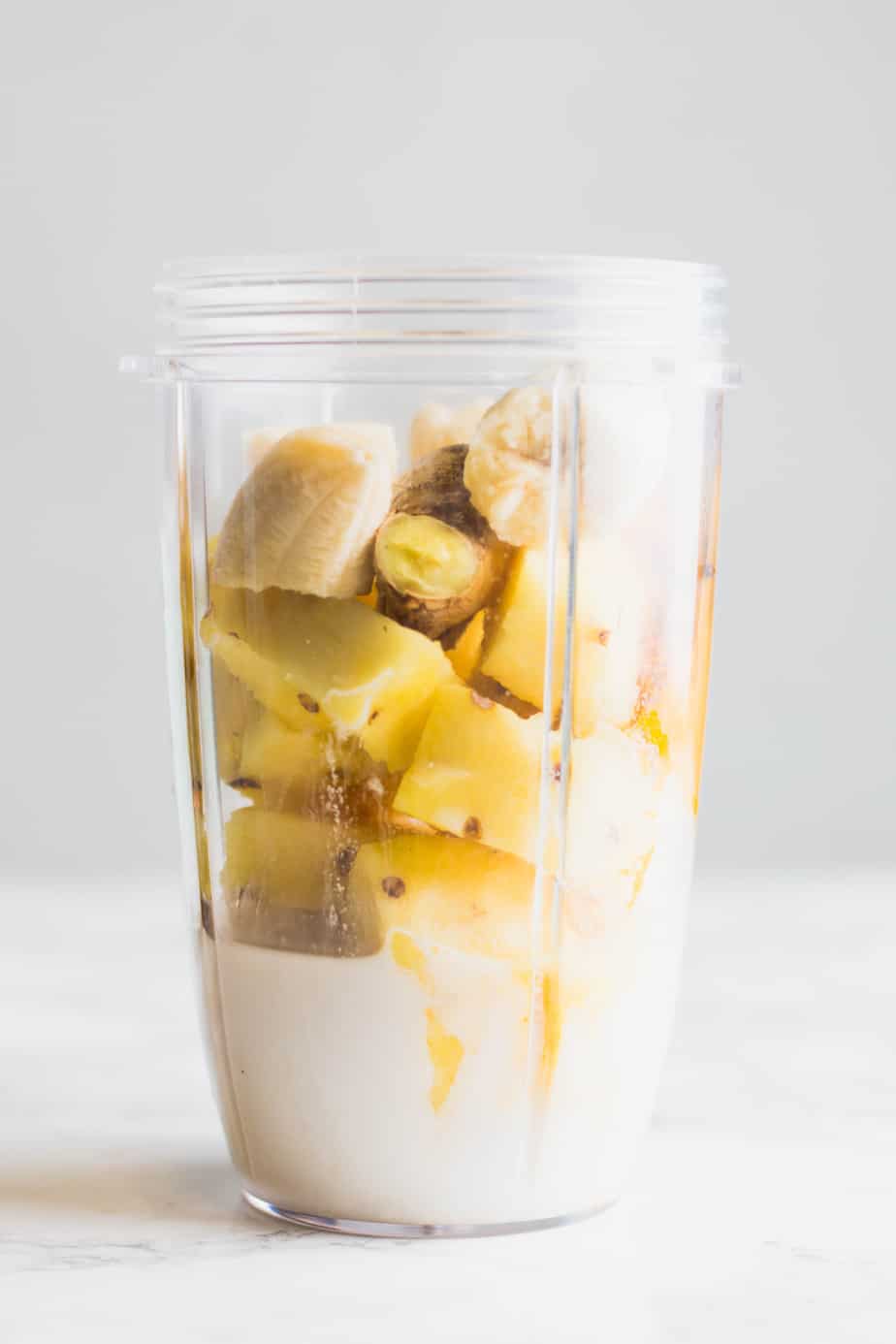 What You Need To Make A Healing Turmeric Smoothie
This smoothie is vegan, refined-sugar-free, gluten-free, and full of delicious tropical fruit flavors. The ingredients you will need to make it are:
A banana: Fresh or frozen to add lots of creaminess to the smoothie.
A small pineapple: Adds delicious flavor and nutrients.
Turmeric powder: The magic ingredient!
Fresh ginger: Add as much as you prefer
Almond milk: Or any milk alternative you prefer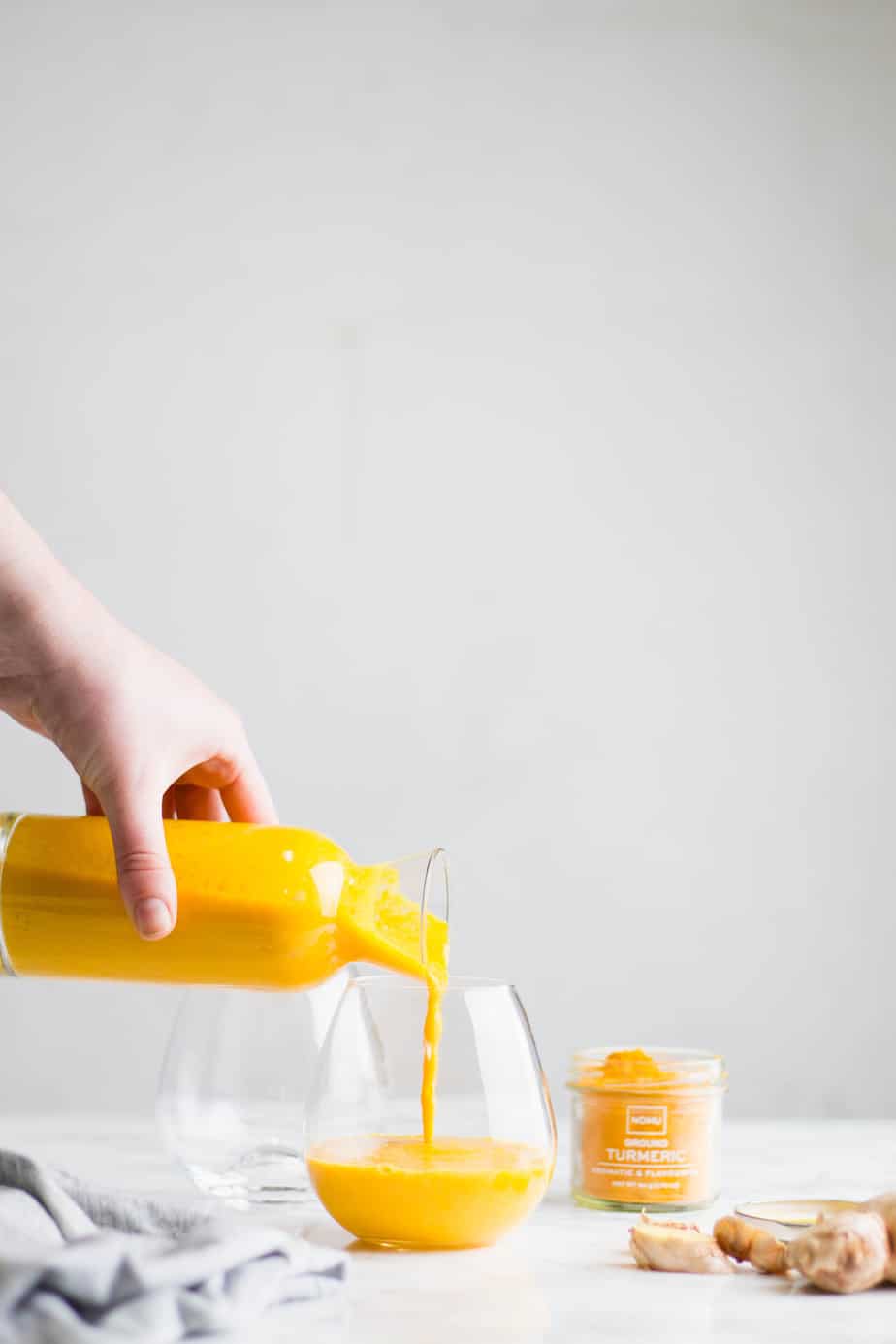 Can You Put Turmeric In A Smoothie?
You can use both ground turmeric powder or fresh turmeric root in your smoothies. This recipe uses turmeric powder as I find it easier to source and I know I will always have a stash of it ready to go. Properly stored turmeric powder will generally stay at its best quality for about 3 to 4 years, so it is definitely worth buying some to keep in your pantry. Do beware of spills though as turmeric can stain certain clothes and plastics.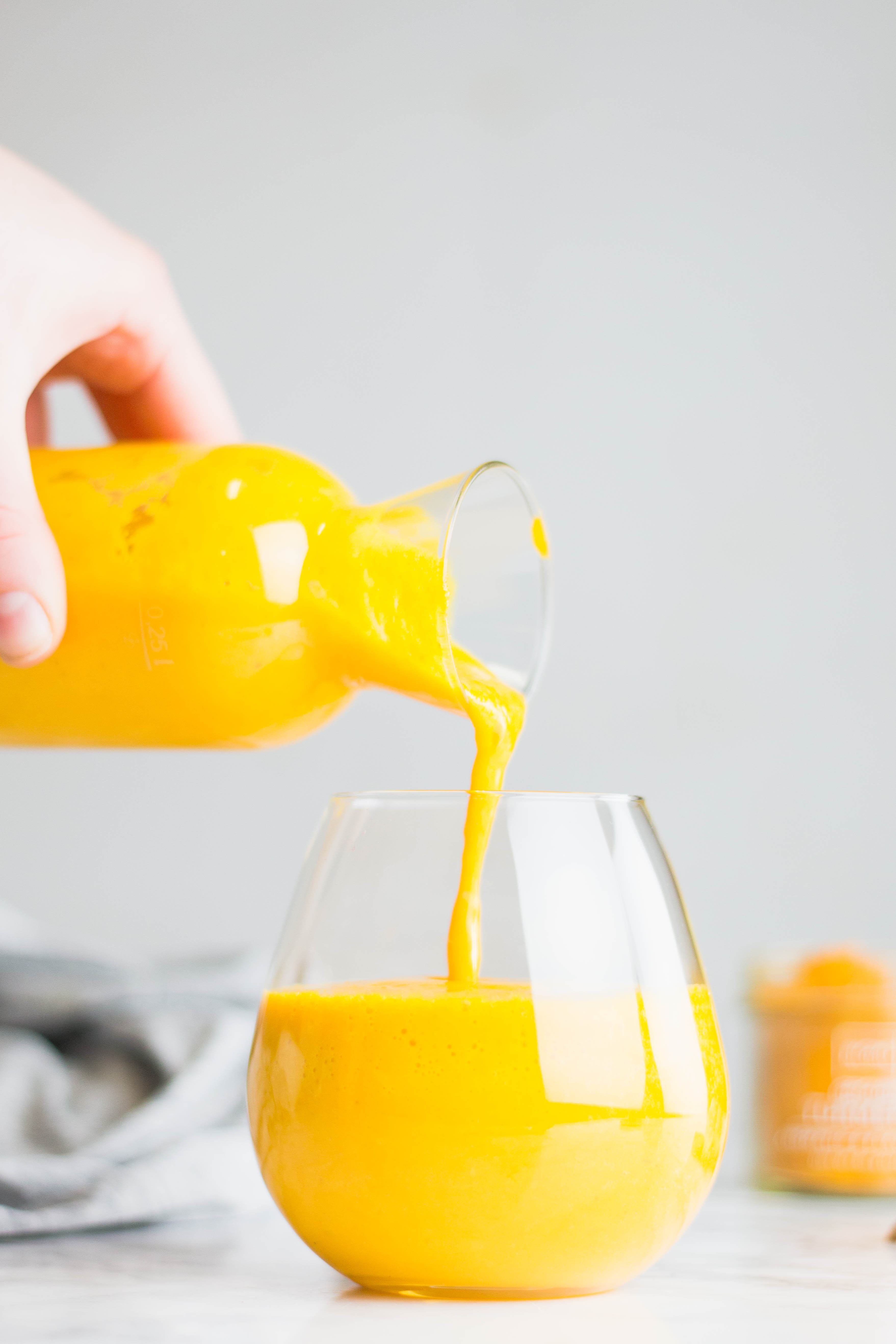 What Flavors & Fruits Go Well With Turmeric?
Turmeric is an aromatic and deep spice and so it needs bright flavors to go with it. Turmeric, therefore, goes nicely with fresh tropical fruits and often needs a kick of sweetness to balance it out. Ingredients like pineapple, mango, banana, carrot, orange, papaya, and ginger are great flavor combinations with turmeric.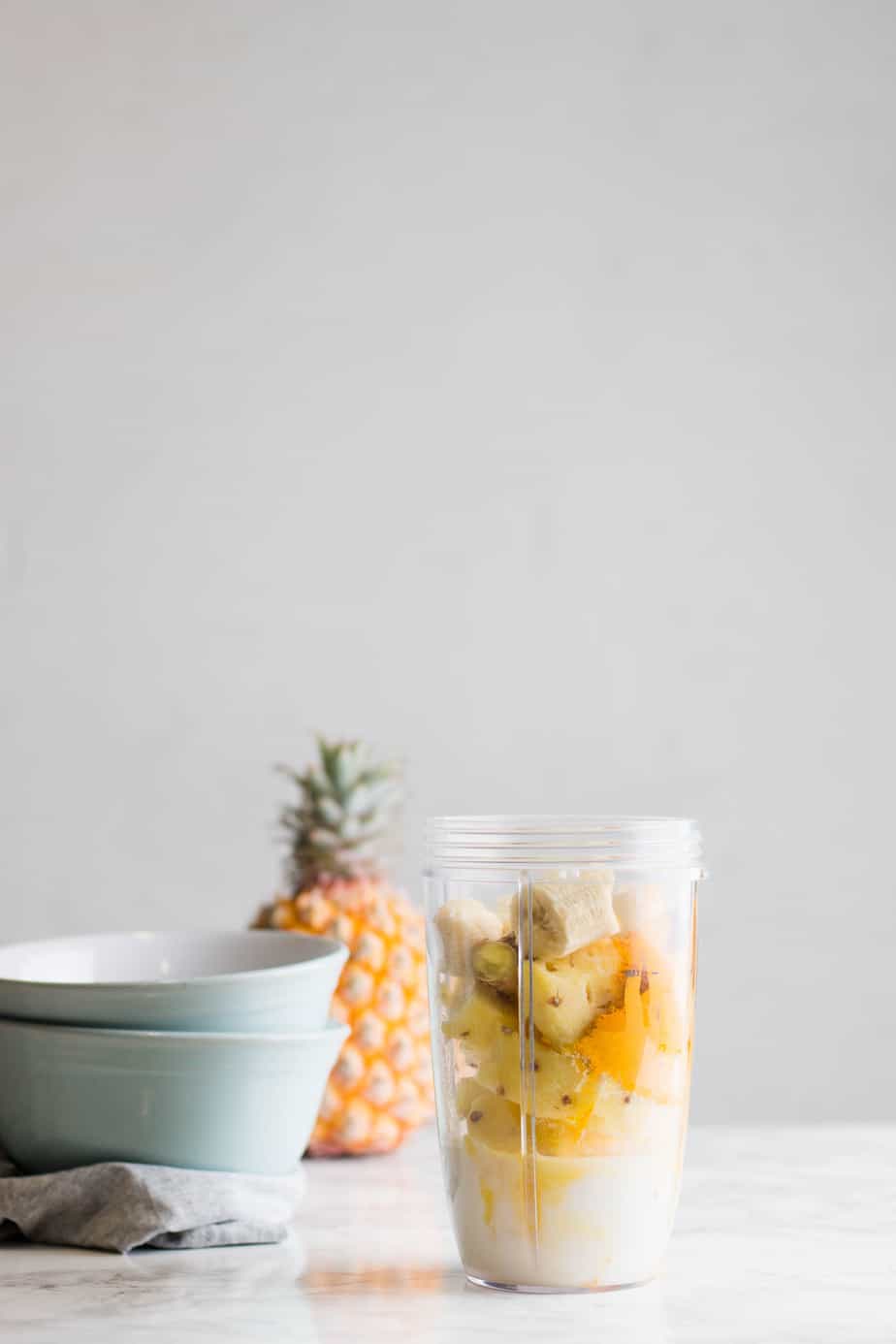 How To Make This Ginger Turmeric Smoothie Recipe
This healing smoothie recipe is so quick and easy to whip together which makes it a great healthy snack or breakfast option. All you have to do is add all the easy-to-prepare ingredients into a blender and then blend until smooth and creamy - which takes no time at all. If you prefer a thinner, runnier smoothie then blend in a dash more almond milk until your desired consistency is achieved. Pour the yummy smoothie into a serving glass and enjoy!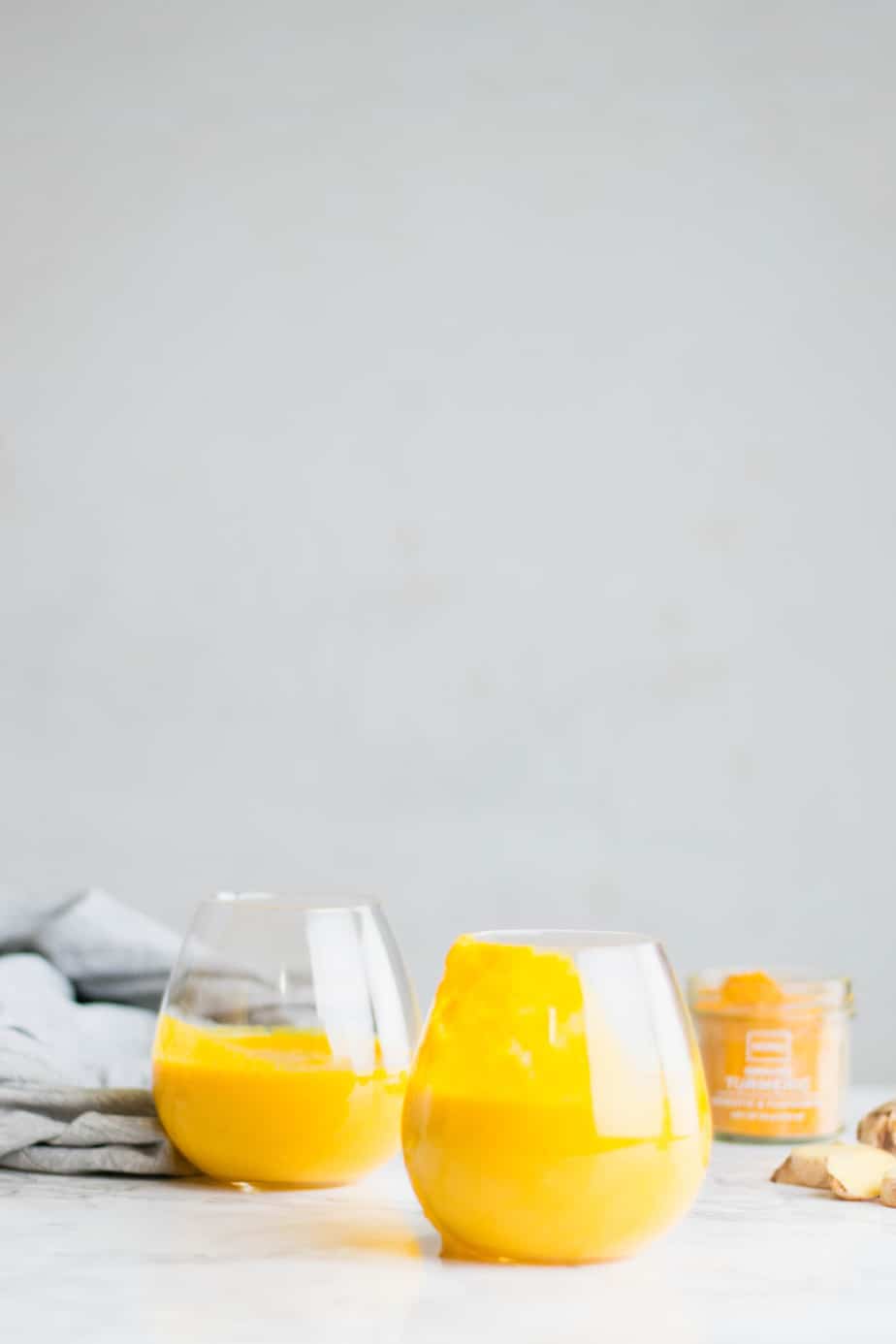 Optional smoothie add-ins
This Golden Turmeric Smoothie is very simple with just a few healthy ingredients, but it can easily be modified to add some extra protein, fibre, or nutrients to it. Here is a list of some nutritious ingredients you can add into this smoothie if you like.
Plant-based protein powder
Hemp seeds
Chia seeds
Plant-based collagen
Agave syrup (for extra sweetness)
Coconut or plain vegan yogurt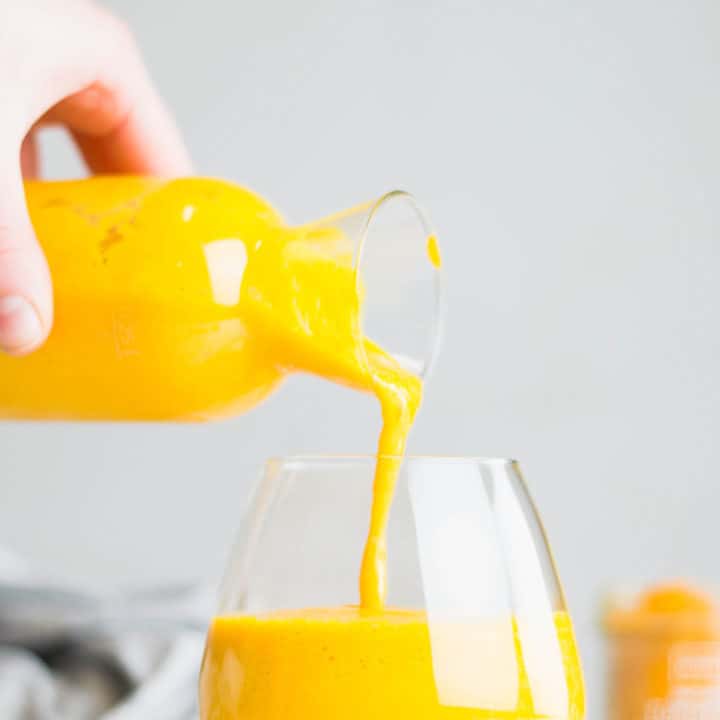 Turmeric Smoothie Recipe
This vegan 5-ingredient Turmeric Smoothie Recipe is made with lots of fresh anti-inflammatory and detoxifying superfood ingredients that provide lots of health benefits. Made with pineapple, banana, and fresh ginger.
Ingredients
1 banana (fresh or frozen)
1 small pineapple - peeled, cored, and chopped
1 ½ teaspoon turmeric powder
1 piece fresh ginger (according to preference)
¾ cup almond milk (or any other milk alternative)
Instructions
Place the smoothie ingredients into a blender.
Blend until smooth and creamy.
Pour into serving glasses and enjoy!
Notes
Add a dash of additional almond milk if you prefer a thinner consistency.
I hope you love this Turmeric Smoothie recipe as much as I do! And if you want to see more of my food adventures, follow me on Instagram or Facebook.
More Smoothie Recipes You May Like: