A list of some of the best Italian Cocktails out there! From traditional classics to modern favorites, this list has them all!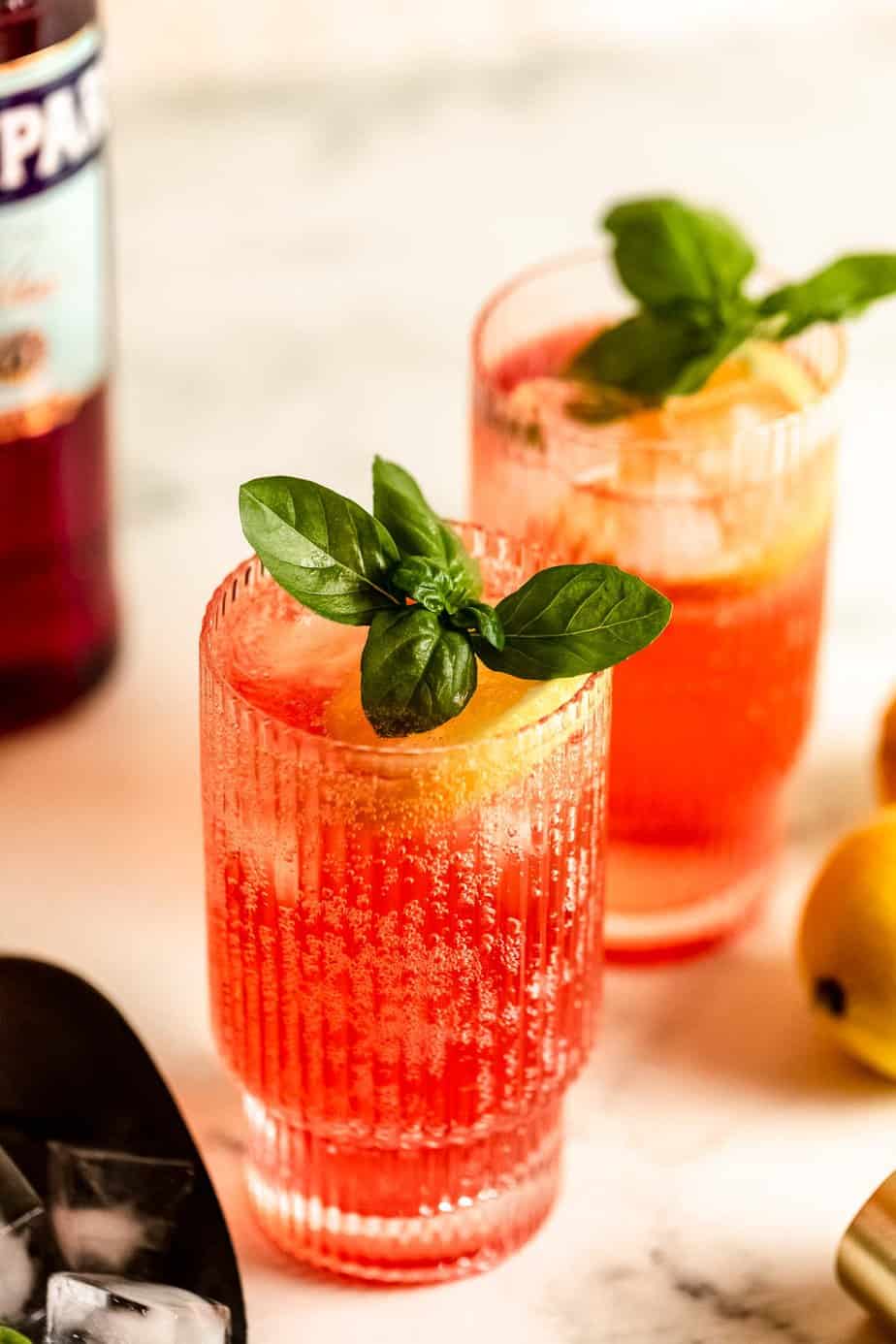 Popular Italian Cocktails
Everybody knows and loves Italian cuisine, but Italian cocktails can oftentimes be overlooked. But they shouldn't be, as the Italians have created many refreshing, well-balanced cocktails that are worth trying out.
Along with its delicious cocktail recipes, Italy has also been creating and producing classic well-loved cocktail ingredients for years. Montenegro Amaro, Aperol, Campari, prosecco, and limoncello are just a few Italian bar essentials that should be a part of everybody's liquor collection.
Some of the world's most beloved cocktails were born in Italy, from bitter and bubbly Negronis to sugary sweet Bellinis. This list will explore the best cocktails that Italy has to offer!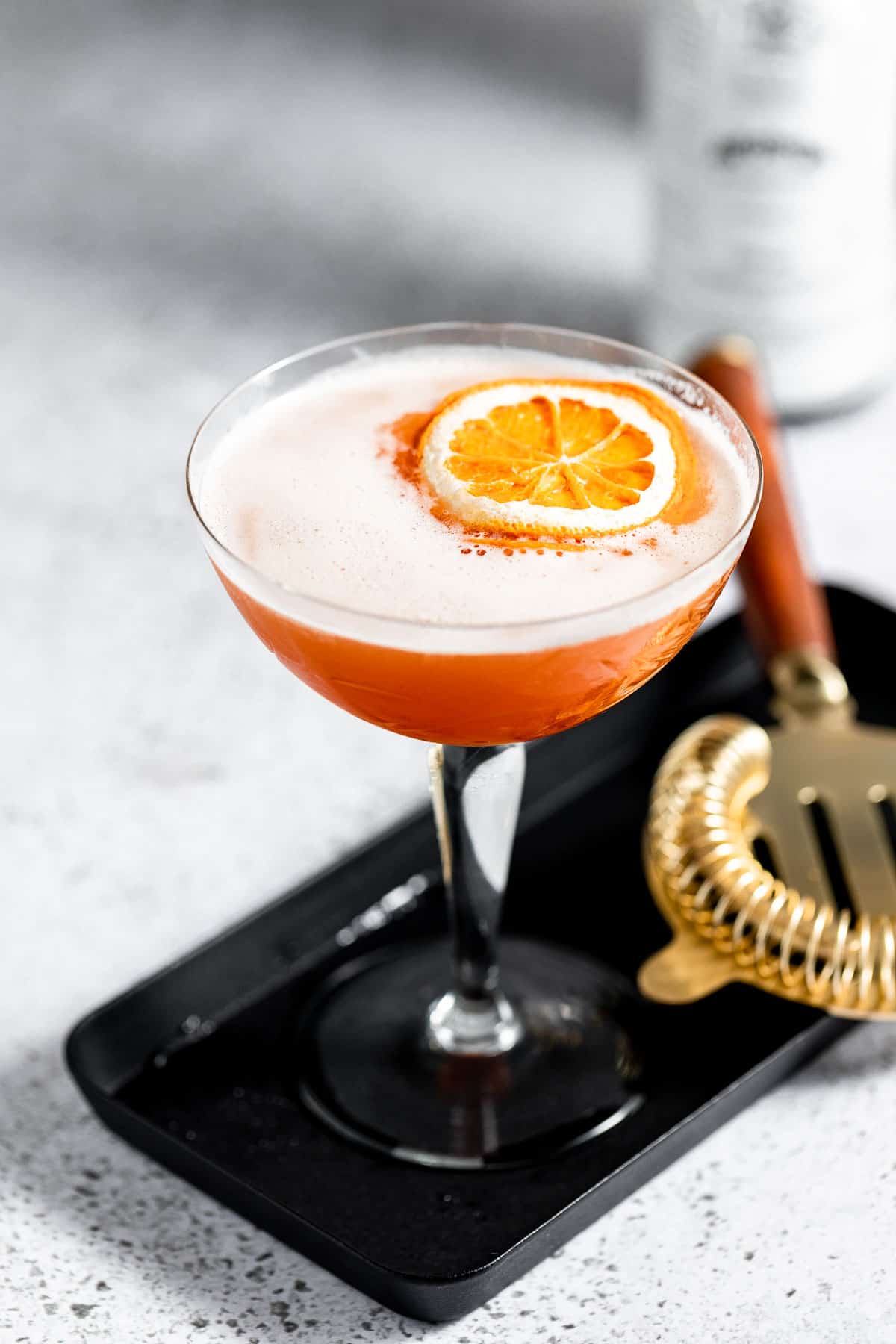 The 10 Best Italian Cocktails
Italian drinking culture is less about getting completely buzzed and more about time spent at the dinner table with friends. Therefore their cocktails are often a bit lower in alcohol, meaning it's easy to drink down a few.
In the list below we have a list of some of the best Italian cocktails that are worth a try. You can order these delicious cocktails at a bar or make them at home. Either way, you won't be disappointed!
If you love a whiskey sour or an Aperol spritz this Aperol Gin Sour cocktail will become your new favorite cocktail! This easy Aperol cocktail can be made in under 5 minutes and is not only beautiful but creamy and delicious. It is a great way to celebrate all the delicious flavors of Italy's much-loved aperitif, Aperol.
If you want to learn more about Aperol, check out our QUICK APEROL GUIDE
The classic Italian Bellini cocktail is a favorite for a reason. It is sweet, fruity, and full of bubbles. It is the perfect brunch drink but can also turn any occasion into a celebratory affair. This drink's main flavor profile is peaches, and in Italy, it's common to marinate the peaches in some wine before adding them to the glass which is a delicious touch.
Italians love their Campari and a Garibaldi is a delicious showcase of this where the red aperitivo liqueur is blended with orange juice. This sunset-colored drink is thick, tart, and bitter and an easy Italian cocktail to whip up that is sure to impress.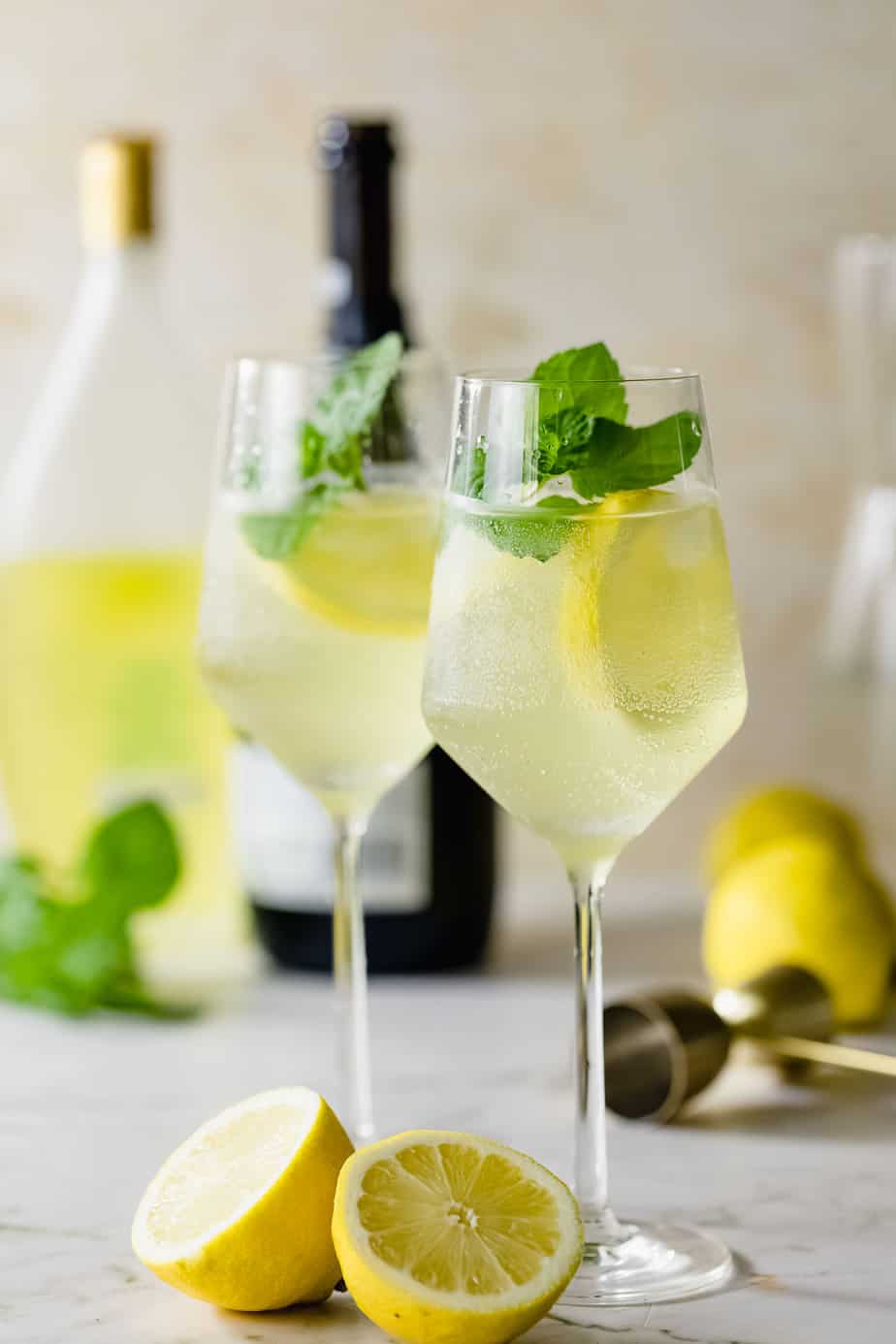 This easy Limoncello spritz is a refreshing summer cocktail made from Italian liqueur Limoncello, Italian sparkling wine Prosecco, and soda water. A simple 3 ingredient cocktail recipe that is bubbly, easy to make, and perfect for summer afternoons.
Love Limoncello? Then you will love our list of THE BEST LIMONCELLO COCKTAIL RECIPES!
The Americano is the oldest known Italian cocktail. It even pre-dates the Negroni! It dates back to the 1860s. The Americano is named so for being popular with American tourists. Starring Campari and vermouth, it is deliciously bitter, complex, and bubbly!
Looking for a refreshing and easy-to-make Italian cocktail? Try this Campari Spritz recipe! It is made with bubbly Prosecco, bitter Campari, and soda water. And this classic Italian drink is perfect for sipping on a hot summer day.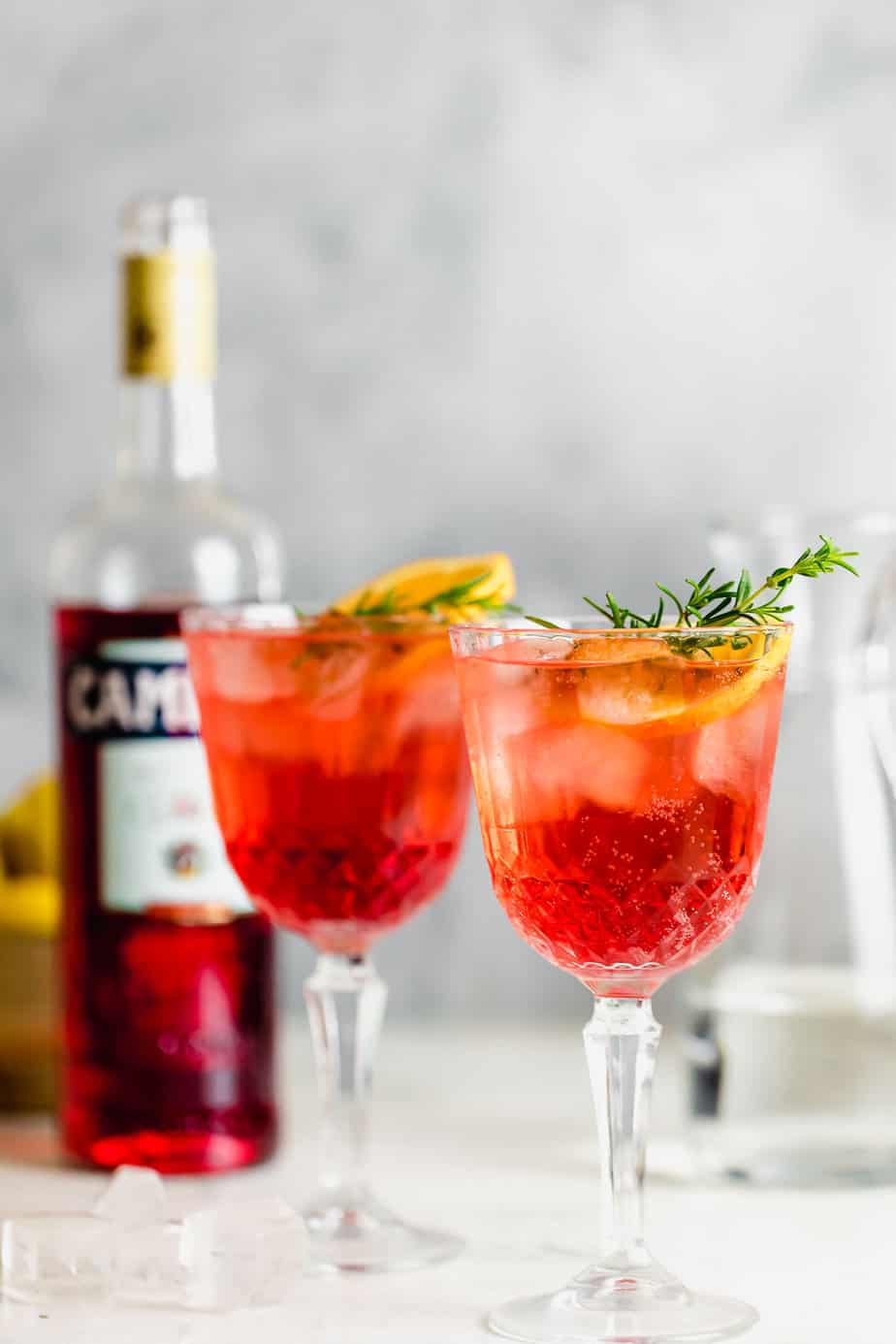 A Hugo Spritz Cocktail is a delightfully refreshing spritzer with fresh mint, lime, elderflower syrup, Prosecco, and sparkling water. Hugo cocktails are similar to mojitos, but they're not as strong. It's a clean, fresh cocktail that pairs well with most Italian dishes.
A Negroni is an Italian cocktail invented back in the 1920s. And this modern recipe takes the classic Negroni cocktail to the next level. It is a seemingly simple twist on a traditional Negroni where smokey mezcal is substituted for gin to create a drink that is a significant departure from the original. But is just as delicious!
An Affogato has almost everything we love about Italian cuisine — a scoop of gelato soaked served with a shot of espresso and a splash of amaretto. The perfect addition to take this bittersweet dessert into Italian cocktail territory is adding an ounce of a rich, dark rum or whiskey. It's the perfect way to finish off any meal!
A traditional martini is made with gin/vodka and vermouth. But the Limoncello Martini gives it an Italian twist by using limoncello and vodka. It is a refreshing and zesty drink that is easy to make and tastes as good as it looks! This lemon martini is the perfect balance of sweet and sour and is always a crowd-pleaser! I like to serve Limoncello Martinis for cocktail parties, as an aperativo or appetizer, or even just as a tasty drink to sip on during a late summer afternoon!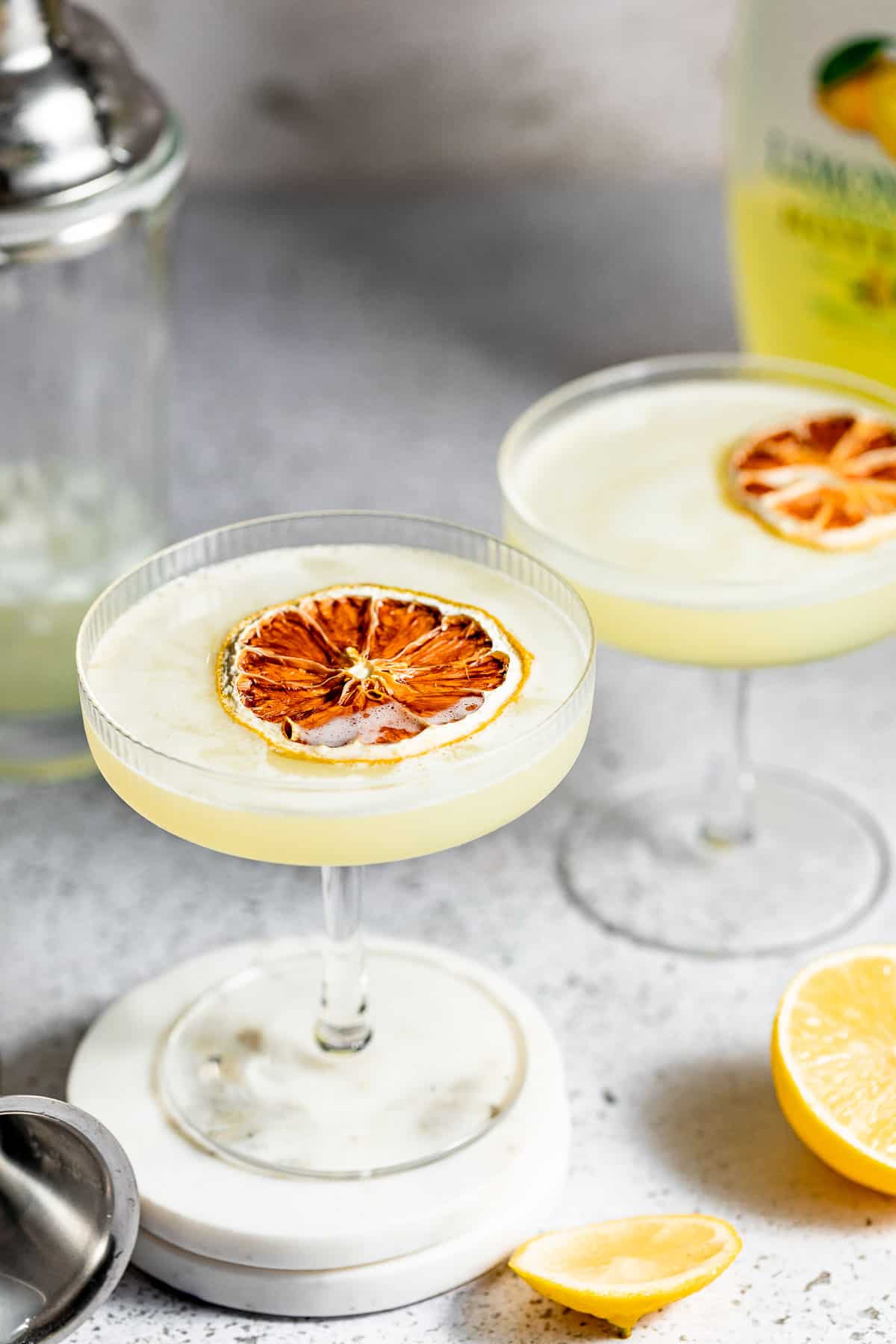 I hope you love this list of Italian Cocktails as much as I do! And if you want to see more of my food adventures, follow me on Instagram or Facebook.