A quick guide to what is Aperol and how to use it in cocktails. Everything you need to know about this popular and delicious Italian bitter drink!
Jump to:
So what exactly is Aperol?
Aperol is a bright, bittersweet apéritif liqueur with a low (11%) alcohol content. It has a vibrant orange hue and its name comes from apero, a French slang word for apéritif.
Aperol is an Italian bitter apéritif made of florals and fruits such as gentian, rhubarb, and cinchona, among other ingredients.
Aperol is well known as the star ingredient of the popular cocktail, Aperol Spritz, but can be enjoyed in many different ways in many different cocktails.
Want to make a delicious Aperol cocktail? Try our Classic Paper Plane Cocktail.
What is an aperitif?
Aperitifs actually act as a stimulant for the appetite and are drinks that are sipped on before a meal.
A highly popular concept in Europe, all sorts of different fortified wines, liqueurs, and alcohols, including Aperol, fall into the aperitif category.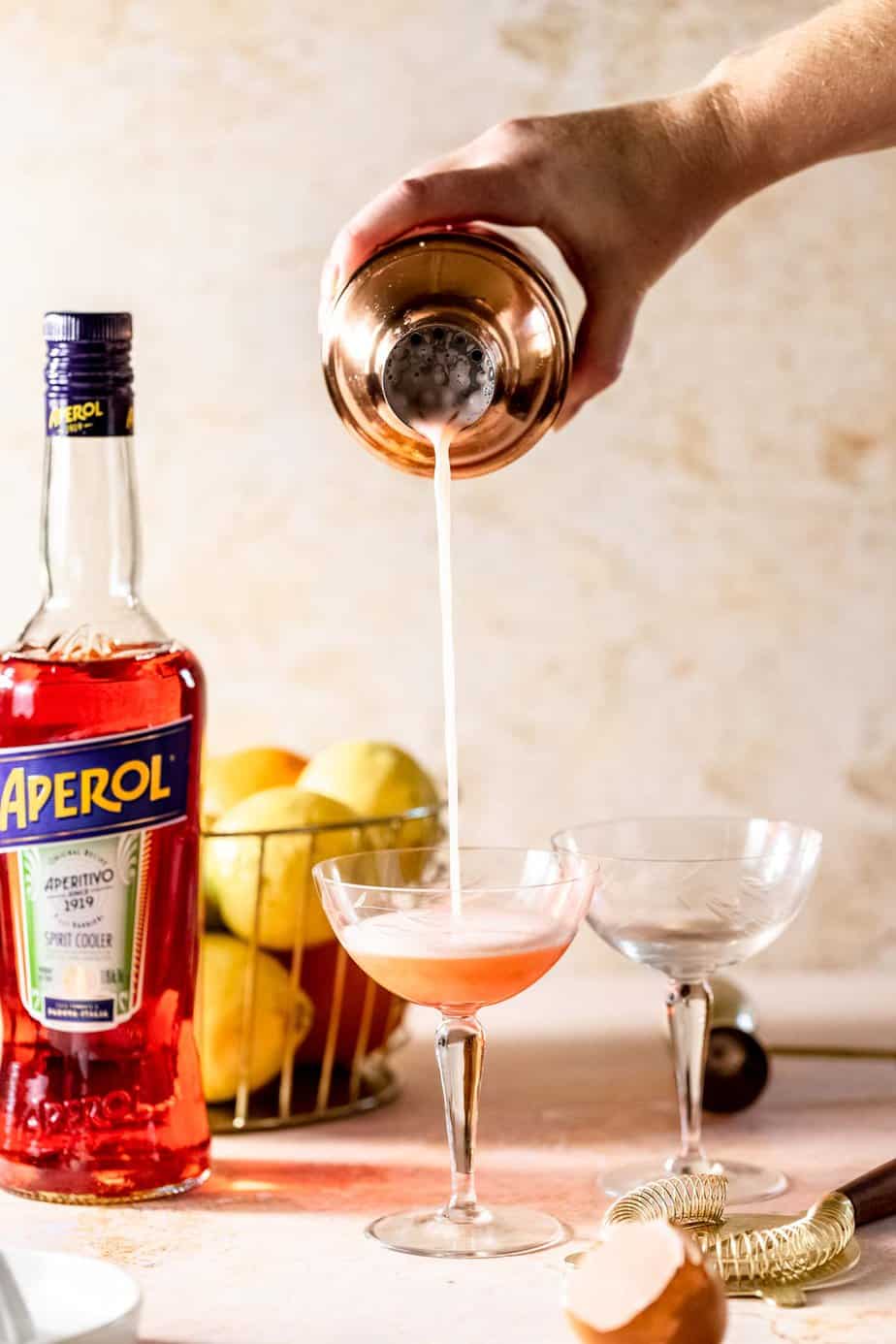 Where does Aperol come from?
Aperol was originally created in 1919 by Luigi and Silvio Barbieri in Padua, Italy. Aperol was not a particularly popular liqueur until the 1950s when the Aperol Spritz was created.
An Aperol Spritz is an aperitivo (a pre-dinner drink) that is made with three parts Prosecco to two parts Aperol and a splash of soda water. The cocktail is served in a large wine glass with plenty of ice and garnished with orange (or in Venice, a green olive).
What is Aperol made from?
Aperol's well-loved recipe hasn't changed since the drink's 1919 inception. How Aperol is made is kept top secret but some ingredients have been identified.
It is known that Aperol is made from citrus oil from both sweet and bitter oranges, rhubarb, gentian root, and cinchona bark. The other ingredients remain a mystery along with the ratios.
What Is the Difference Between Aperol and Campari?
Aperol and Campari are two liqueurs that are often mixed up. This may be because they are both brightly colored, Italian apéritifs sold in tall, glass bottles. They are also somewhat similar in smell and taste.
But besides these obvious similarities, there are some clear differences:
Color. You can tell the difference between Aperol and Campari by their distinct hues. Aperol has a bright orange hue where as Campari is a dark crimson red.
Taste. Though they have similar sugar content, Aperol is sweeter in taste than Campari, which has a distinctly bitter flavor profile that is essential to cocktails like the Negroni.
Alcohol content. Aperol has a low alcohol content (11% ABV), while Campari has a much higher alcohol content of nearly double that (20.5–28.5% ABV).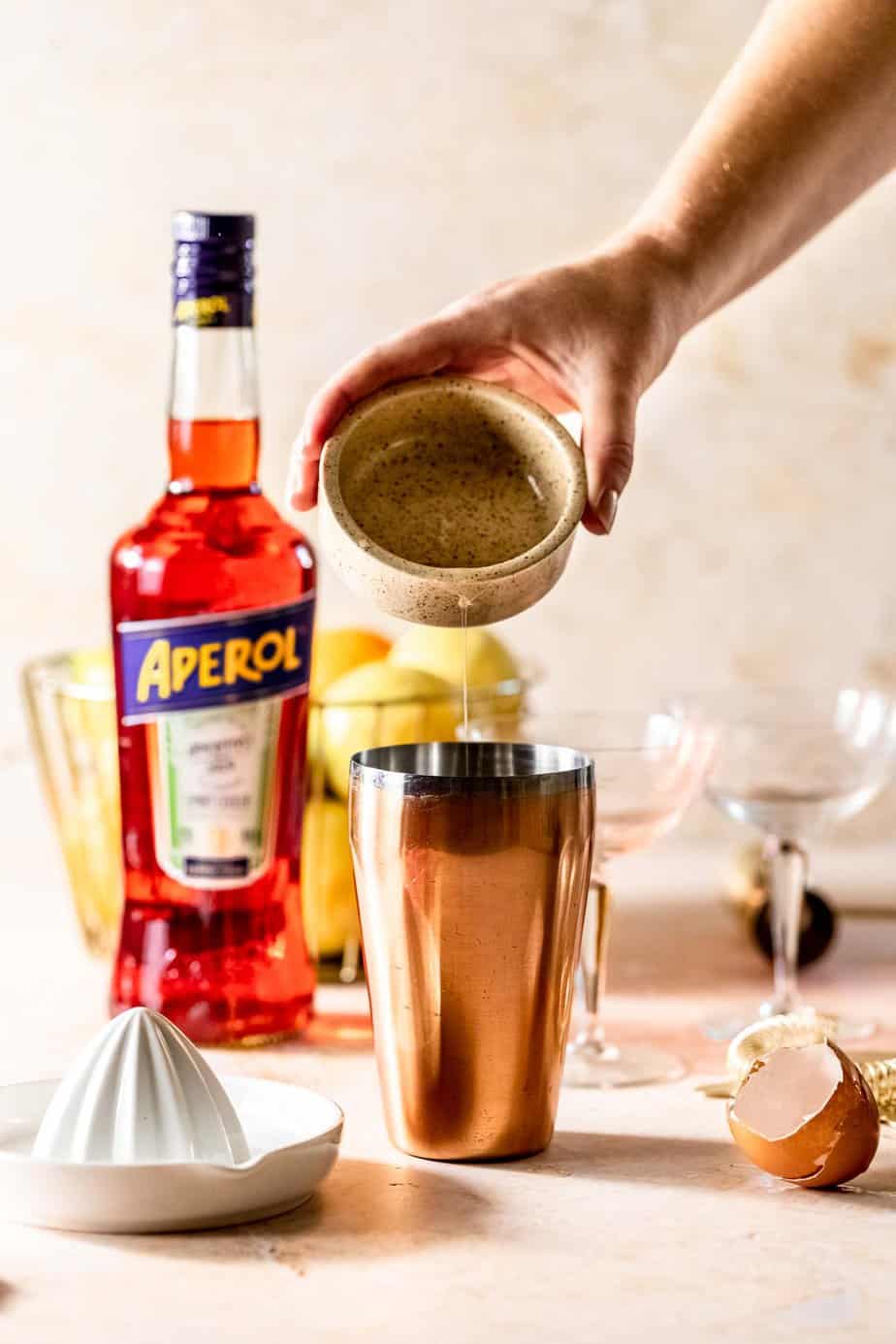 What does Aperol taste like?
Aperol is a sweet liqueur with a subtle bitter finish. It has strong flavors of bitter orange, rhubarb, and herbs.
Aperol is highly palatable and easy to drink as it is one of the sweetest Italian bitters. It also has a very low alcohol content which makes it an ideal drink for any time of the day.
Can Aperol be drunk alone?
Aperol does not need any mixer or ingredients added to it for it to be enjoyed. Its light, sweet flavor means that Aperol can be drunk alone or simply with ice.
Aperol makes a great drink to sip in its pure form without any harsh bite. So you can drink it straight as an aperitif. Or add a splash of soda water to tone it down and add some refreshing bubbles.
What can I use if I don't have Aperol?
There is nothing quite like Aperol on the market, but there are some substitutes that you can try to use to achieve a similar result. If you are looking for a substitute for Aperol, you can consider using Campari, Gran Classico Bitter, or Cocchi Americano.
These liqueurs contain similar flavors and aromas to Aperol and therefore can be used as a great substitute for your favorite aperitif cocktail recipes.
Some popular Aperol Cocktails:
Aperol Spritz. A classic cocktail from the 1950s that is light and bubbly, with hints of citrus and herbs. It is also known as the Spritz Veneziano.
The Paper Plane. A modern classic that is a highly popular celebration of Aperol! This bittersweet and tangy drink is a delicious balance between bourbon and amaro.
Negroni with Aperol. A classic negroni but with the Campari swapped out for Aperol to make a whole new delicious drink.
Naked and Famous. A classic modern drink that is perfectly balanced with smoky, citrus, bitter, and sweet. This cocktail contains Aperol, Chartreuse, Mezcal, and lime.
Aperol Sour. With its lively floral undertones, bright citrus notes and a frothy topping, Aperol Sour cocktails are smooth and refreshing beverages.
Check out my APEROL GIN SOUR COCKTAIL recipe for a creamy and delicious Aperol drink option!
I hope you love this guide to What Is Aperol. And follow me on Instagram or Facebook for even more food and drink inspiration!