Low Carb Alcoholic Drinks that are perfect for anyone on a low-carb or keto diet. You can still enjoy cocktail hour even if you are watching your carb intake!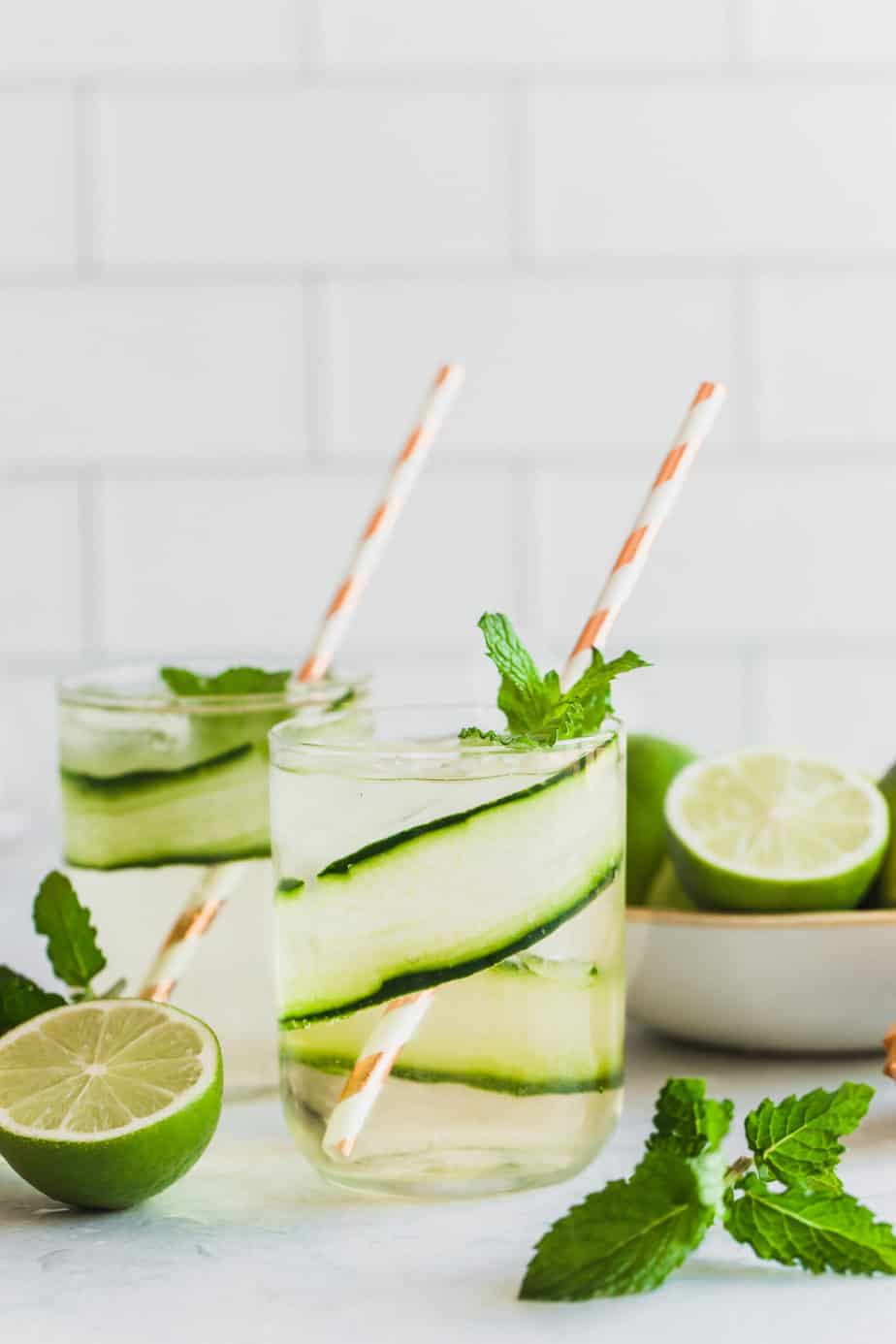 Jump to:
What Alcohol is Low-Carb?
Most plain liquors or spirits — like rum, tequila, vodka, and whiskey — don't contain carbs on their own. But when you start mixing them with juices, syrups, and mixers, that is when they are no longer low-carb drinks.
Other low-carb alcohol options include wine and champagne. And it is best to avoid any beer, coolers, and sugary cocktails as they are high-carb and high-calorie drinks.
| Alcohol type | Serving size | Total carb content |
| --- | --- | --- |
| rum | 1.5 oz (44 mL) | 0 g |
| vodka | 1.5 oz (44 mL) | 0 g |
| gin | 1.5 oz (44 mL) | 0 g |
| tequila | 1.5 oz (44 mL) | 0 g |
| whiskey | 1.5 oz (44 mL) | 0 g |
| red wine | 5 oz (150 mL) | 3.92 g |
| white wine | 5 oz (150 mL) | 3.90 g |
| beer | 12 oz (355 mL) | 12.80 g |
Low-Carb Cocktails and Mixed Drinks
Generally, the more sugar you have in a cocktail, the more carbs there will be in it. So to keep that number low, use low-carb mixers like diet tonic, soda water, and sugar-free or unsweetened juice when making cocktails for a person following a low-carb lifestyle.
A lot of classic cocktail recipes are packed with carbohydrates, but with a few simple substitutions and alterations, you can easily make a low-carb version of them all. There are lots of delicious low-carb cocktail options and below you can find a list of some of our favorites!
The Best Low-Carb Alcoholic Drinks
Below is a list of some great options for low-carb, keto-friendly cocktails that you can make at home to stay on track with your low-carb diet without sacrificing a cocktail.
A sugar-free take on a classic! This low-carb vodka cocktail is flavored with ginger, lime, and mint. It is so refreshing and full of flavor that it is impossible to tell that it has been altered to suit a low-carb lifestyle!
This tasty low-carb drink is easy to make with simple sugar-free ingredients. The lime, mint, soda, and vodka make this a perfect drink for summer days. And with just 2g net Carbs, it is a great option for those following a carb-conscious diet.
3. Liquor Shots or on the Rocks
If you are following a low-carb lifestyle, keep in mind that a shot of rum, vodka, gin, tequila, and whiskey all contain zero carbs. So a shot is a great go-to drink option! You can shoot it down, sip it slowly, or serve it over ice. And if you are looking for some shot recipe inspiration check out our list of THE BEST WHISKEY SHOTS and THE 10 BEST VODKA SHOTS!
If you are looking for a perfect low-carb nightcap or drink to satisfy your sweet tooth, I highly recommend a Keto White Russian. This delicious coffee cocktail has only 3g Net Carbs but is still sweet, rich, and creamy!
A refreshing drink that is packed full of flavor despite its simplicity. Simply use a sugar-free fizz, such as Diet Sprite or Sprite Zero Sugar to lower the calories and carb content in this delicious, bubbly mixed drink.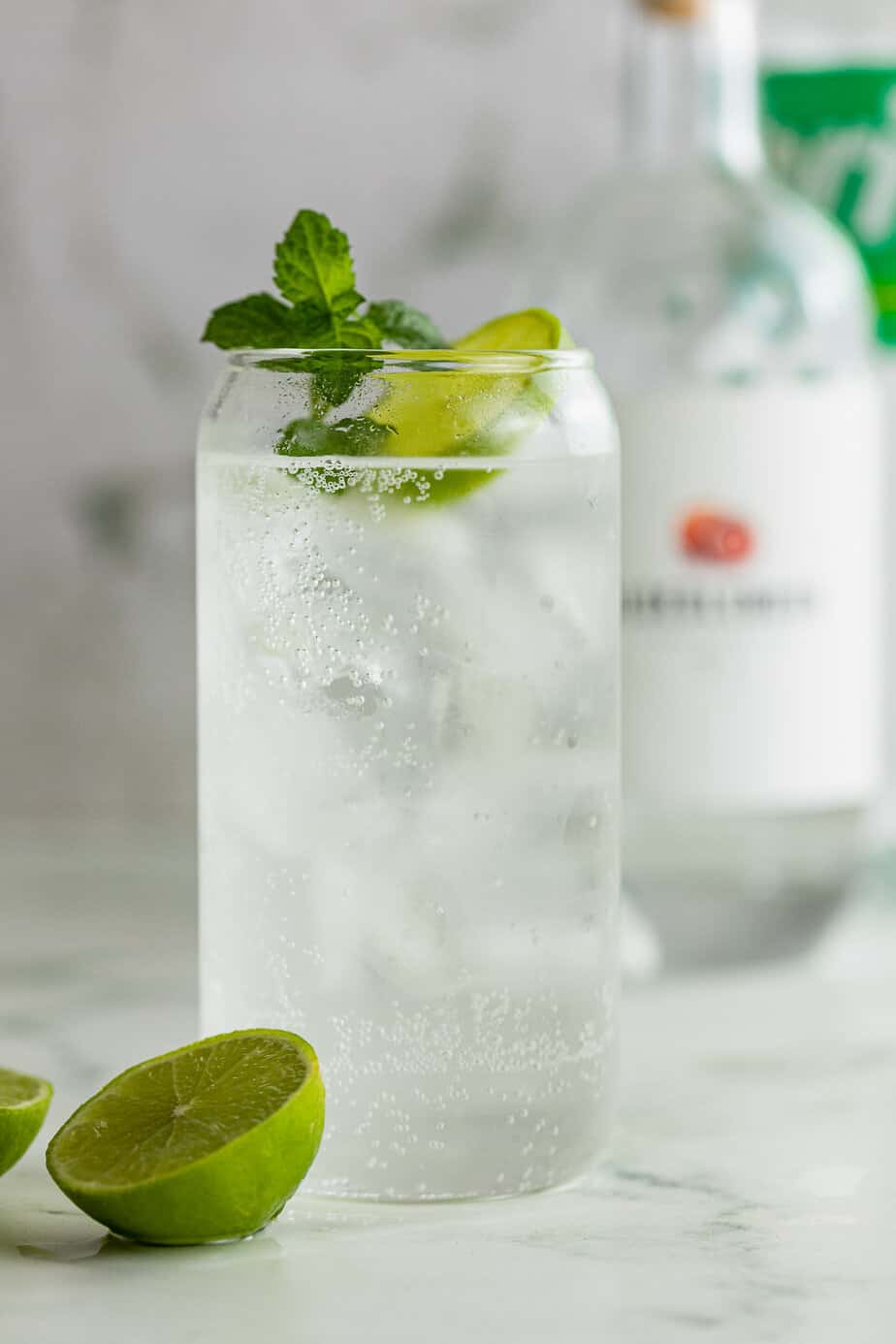 If you are watching your carb intake you will love sipping on this version of a Bloody Mary! It is a sugar-free recipe with tons of umami flavor. You can add all the rich, flavorful ingredients in a classic Bloody Mary – tomato juice, Worcestershire sauce, hot sauce, lemon juice, etc. – as long as you stick to specific measurements for each to keep the carb count low.
Lightly sweet and easy to make, you will want to enjoy this low-carb, sugar-free cocktail all year round. With just 4 ingredients and 2g net carbs per mimosa, it is a real treat! It is a bubbly and beautifully red cocktail that is packed full of raspberry flavor.
Sangria, which is a sweetened punch-like wine with lots of fruit, is a much-loved drink but it is also full of carbs. Luckily there are Low Carb Red Sangria recipes that have all the taste of the original but with only 3.8 carbs per glass. This is a great option for serving a crowd as you can make a big pitcher of it and enjoy it all night long.
This low-sugar margarita cocktail recipe is made with tequila, lime juice, and orange extract instead of the traditional Triple Sec or Cointreau orange liqueurs which have high concentrations of sugar. This way you get all the classic margarita flavor without any of the extra carbs!
This recipe for Bourbon Lemonade is perfect if you want to have a nice and light low-carb beverage. This sweet and tangy drink is ideal for sipping on a hot summer day and is made with just a few basic ingredients. All you have to do is make your own lemonade with a low-carb sweetener instead of sugar or buy a lemonade mix that is low-carb.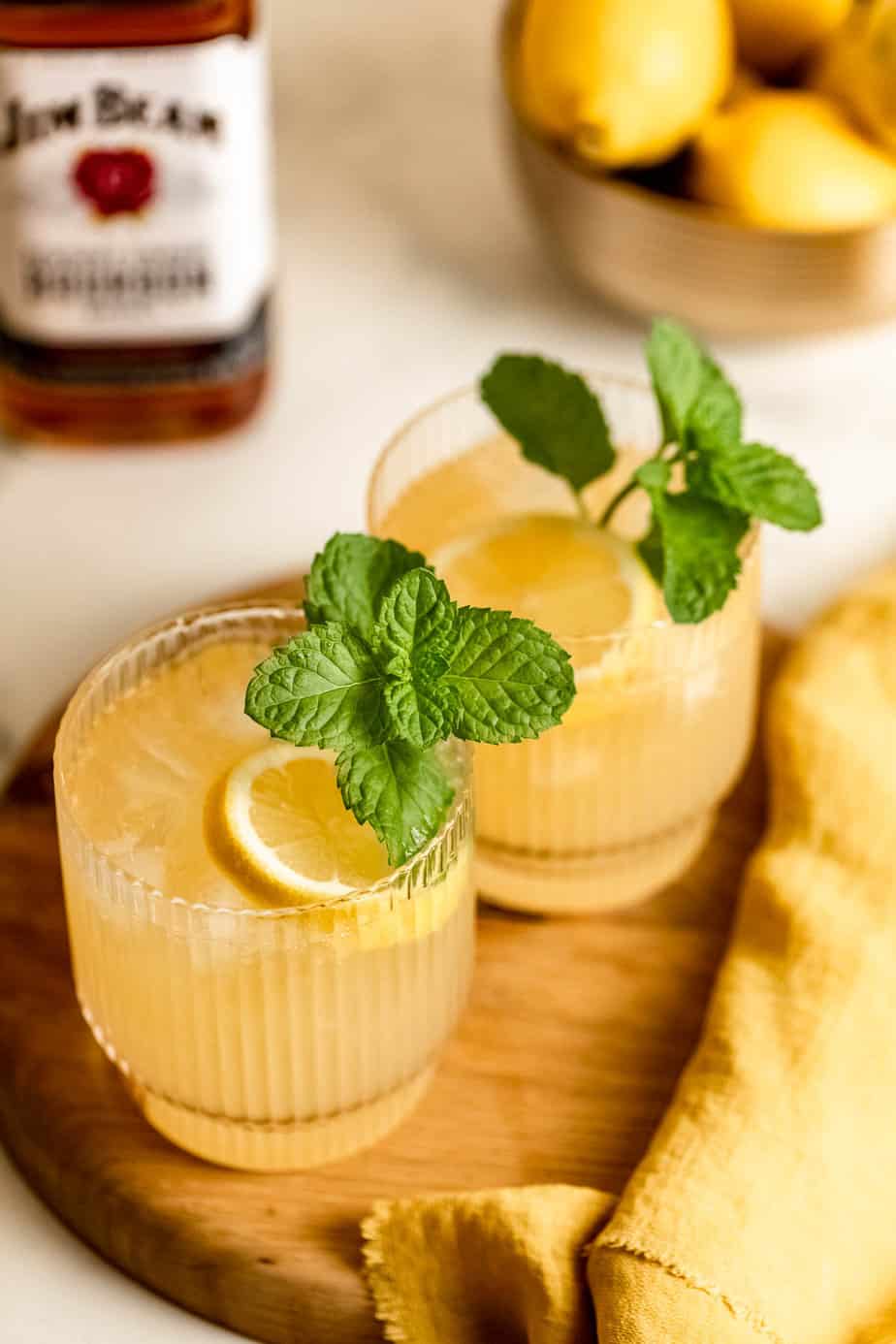 Nutrition and Low-Carb Alcoholic Drinks
Although there are plenty of low-carb, keto-friendly alcoholic beverages available or that you can make at home that doesn't mean they should be a regular part of your diet.
Low-carb drinks are full of "empty" calories. This means they supply you with calories but with little to no other essential nutrients such as protein, fiber, vitamins, or minerals.
Overindulging in alcohol can increase your risk of nutritional deficiencies and may also contribute to weight gain. Alcohol can also suppress fat burning and cause your body to store extra calories as fat tissue.
Excessive drinking may also contribute to other serious health conditions, including liver problems, cancer, and heart disease. So it is best to keep alcohol intake to one drink per day for women and two per day for men.
I hope you loved learning about Low Carb Alcoholic Drinks! And if you want some more delicious food inspiration, follow me on Instagram or Facebook.