The best Summer Whiskey Cocktails to enjoy for a refreshing happy hour! You don't need to put your whiskey away when the weather gets warmer - you can enjoy it all year round!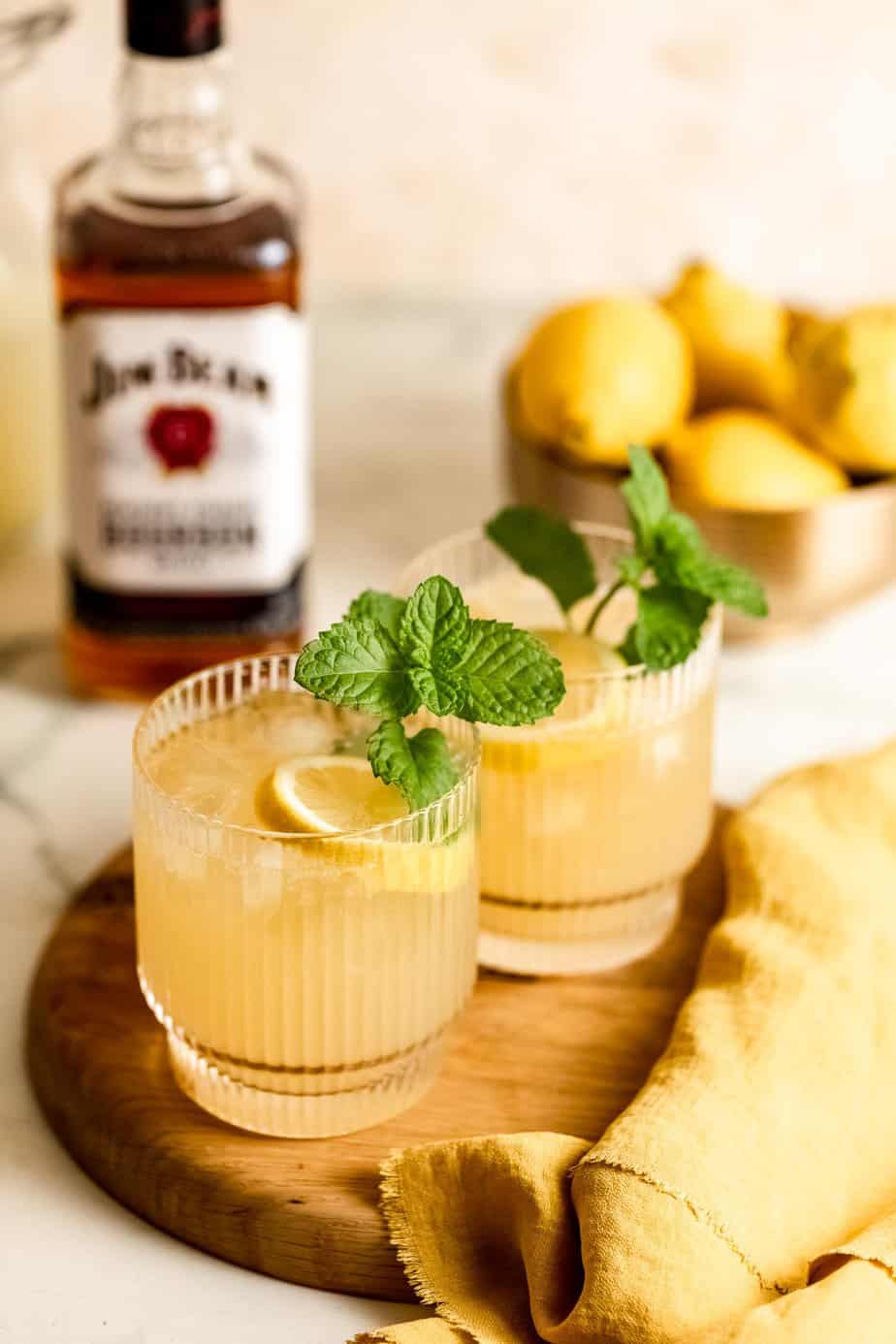 Jump to:
Whiskey Cocktails for Summer
Whiskey is a versatile drink that you can pair with many different ingredients. In fact, a good mixer can help its flavor shine. Known for its trademark dark flavor profile, whiskey makes a drink more complex, robust, and sophisticated.
Whiskey is aged in wooden barrels which gives this delicious distilled spirit a wide variety of deep flavors and aromas.
So although whiskey is often seen as a liquor that is best enjoyed straight or on ice, it is actually a perfect cocktail component. Whiskey can be the main ingredient in a cocktail or alternatively, you can use a small amount to add a hint of flavor to a drink.
Although often associated with cold weather, you can enjoy whiskey all year round. It is a tasty addition to many summer cocktails, both fruity and creamy! You can find some great examples in the list below.
To learn more about whiskey and how to best mix it, check out my What to mix with Whiskey guide!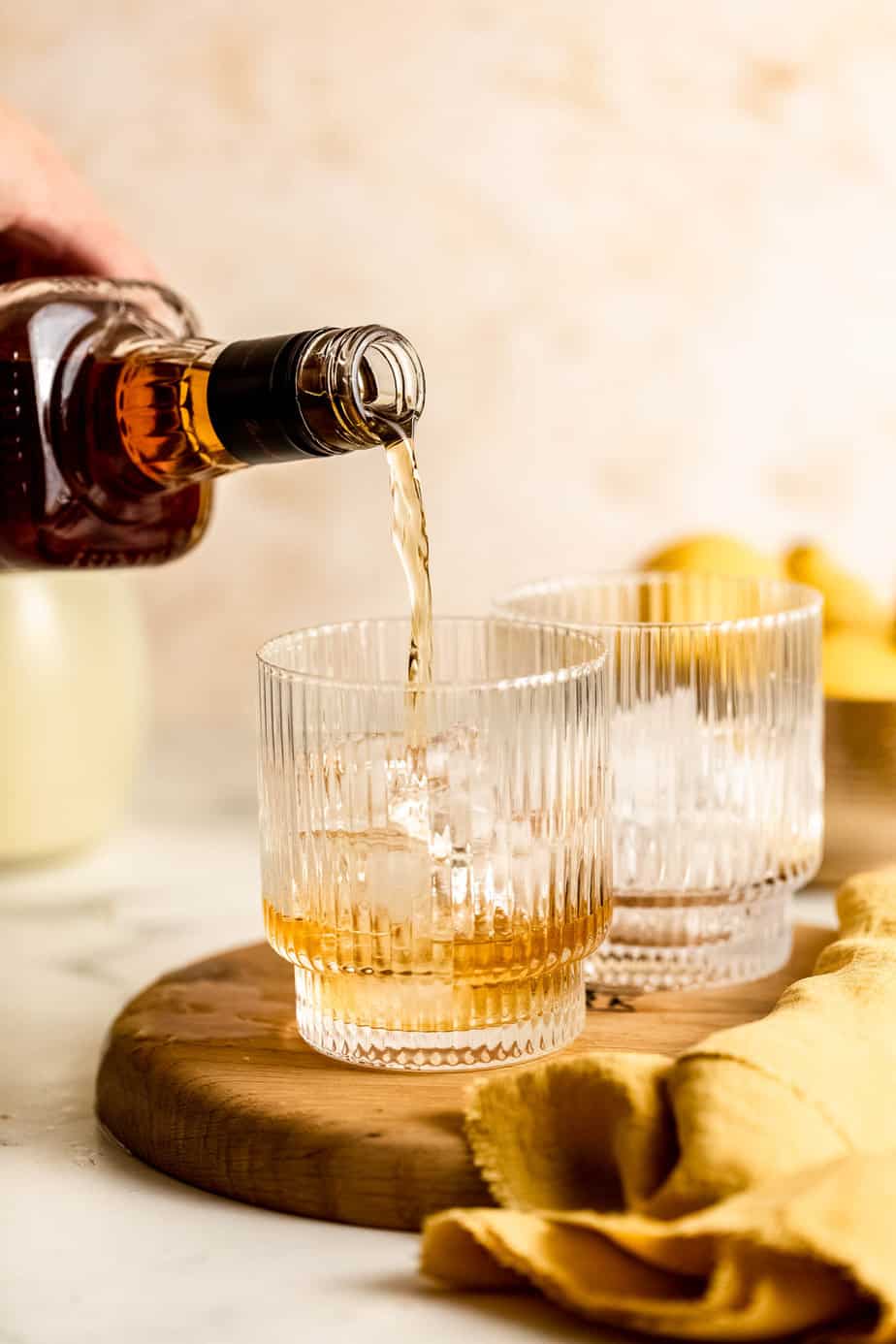 11 Easy Summer Whiskey Cocktails
Enjoy our diverse list of whiskey cocktails that are perfect for sipping on all summer long! There are bright, citrusy cocktails, sweet, fruity ones, and everything in between! You are guaranteed to find your new favorite Summer Whiskey Cocktail recipe here.
A refreshing combination of bourbon whiskey, muddled mint, and simple syrup that is delicious any time of the year. This signature drink of the Kentucky Derby was first recorded in an 1803 book as a "dram of spirituous liquor that has mint steeped in it, taken by Virginians of a morning."
The Mint Julep is traditionally served in a rocks glass or, preferably, in a silver julep cup. Since whiskey is the only liquid in the drink, it is best to use a good-quality bottle that you know you love the flavor of. A higher alcohol content bourbon— in the mid-80s or around 90— keeps the crushed ice from diluting the cocktail too quickly.
Traditionally when you think of tropical drinks, rum is probably the liquor spirit that comes to mind first. But with this delicious island-inspired drink the whiskey is combined with coconut rum to create a truly unique summer cocktail experience.
Along with refreshing pineapple juice, this Summer cocktail is served over lots of ice with cherries for a truly tropical experience! The Nutty Hawaiian drink is a poolside winner.
This easy cocktail recipe for Bourbon Lemonade is perfect if you want to have a nice and light beverage during the warmer months. You can make a batch of this sweet and tangy beverage in minutes with just a few basic ingredients.
This is one of the easiest summer drinks you can whip up in seconds and it is ideal for sipping on a hot summer day. Simply combine the whiskey with the lemonade, serve it in a glass filled with ice, and then garnish with mint and lemon wedges.
This Bourbon Peach Smash is a cocktail full of flavor! With the rich, dark flavor of the whiskey and the herbal note of mint combined with the freshness of a peach! Easy to make, and a must for the late summer peach season!
The smash cocktail is icy, refreshing, and great for using seasonal fruits, like peaches, and fresh herbs. This whiskey summer cocktail recipe only uses 5 ingredients, so it's super simple and quick to make. This is a great drink to serve at a summer get-together and is simple enough to double the recipe to serve a crowd.
During the summer, we all need a way to get our caffeine fix without having a hot cup of coffee. This is where cold brew coffee and iced coffees are the answer! Coffee-based cocktails have been gaining popularity, and so the cold brew whiskey cocktail was born!
The sweet vanilla and caramel notes of the bourbon complement the dark flavors of the coffee. And a splash of dark maple syrup adds a sweet note. Adding a splash of orange liqueur brightens the cocktail and adds a refreshing orange note for the summertime.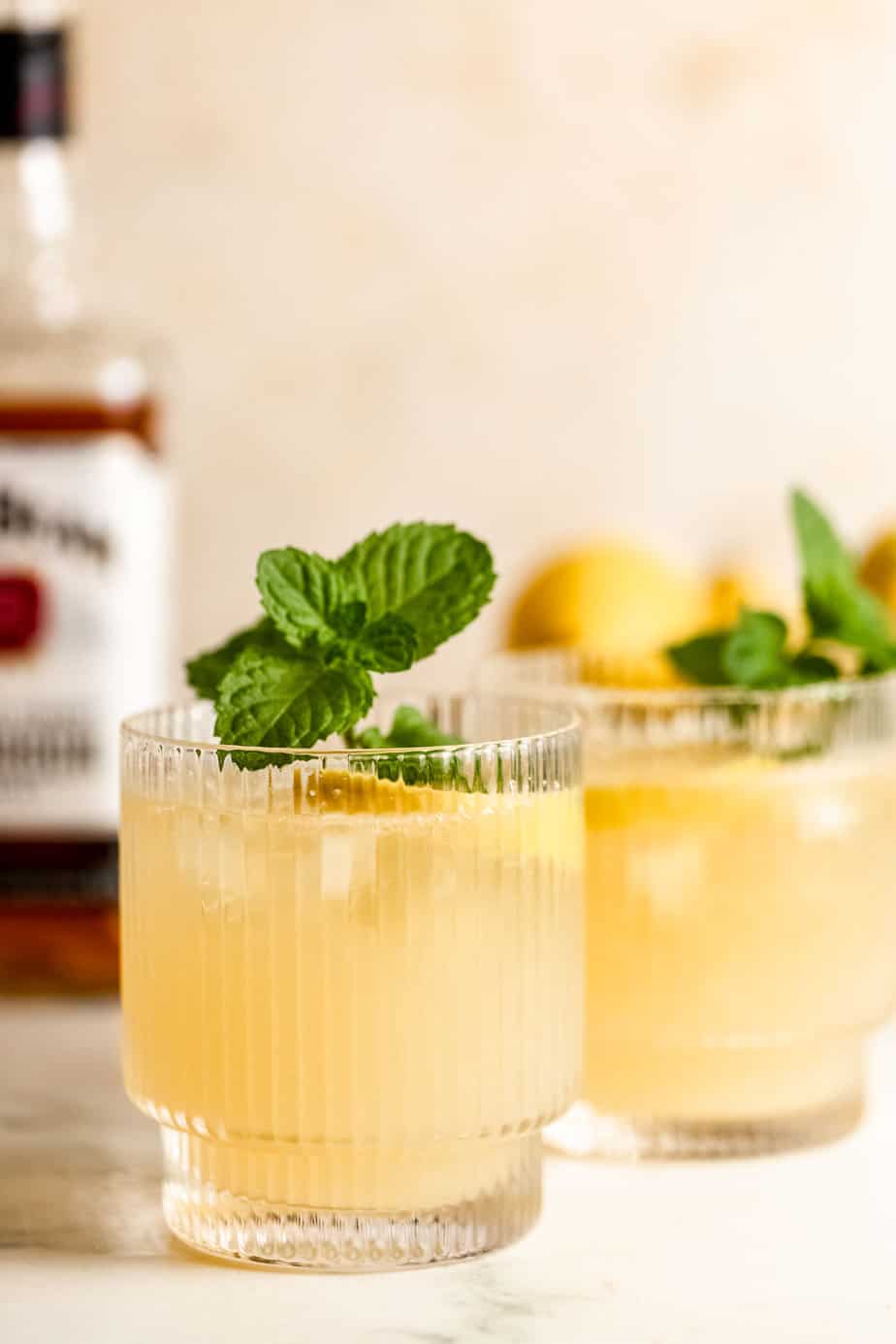 A cocktail made with spirits and citrus juices usually can be classified as a "sour". And this makes them a delicious option for summer nights, with bright citrus notes and the perfect combination of sweet and sour.
This whiskey cocktail combines ginger, lemon, and honey with whiskey to make a tasty and well-rounded drink. A classic Gold Rush cocktail is a simple delight on a warm day!
There is nothing more refreshing on a hot summer day than a frosty glass of iced tea. The Bourbon Strawberry Iced Tea is a mellow summer sipper for when you are craving something tall, cool, and easy to drink. 
To make it, you simply muddle strawberries with lemon juice, shake with ice, bourbon, and simple syrup, pour over lots of ice with unsweetened tea, and it's done. Some extra berries and mint make for a striking optional garnish.
A delicious summer cocktail that combines Irish whiskey with lemon juice, simple syrup, elderflower liqueur, and cucumber. A truly refreshing way to quench thirst on hot days!
This cocktail is both floral and refreshing - everything you want in Summer. And with its burst of aromatics and the cooling touch of cucumber, it makes a convincing case that whiskey is indeed a summer drink.
The Algonquin cocktail is a like a whiskey martini with a tasty tropical flair. It features rye whiskey with dry vermouth which is paired with pineapple juice to create a refreshing, light cocktail that is a perfect way to enjoy whiskey during the heat of summer.
An Algonquin cocktail demonstrates how well the unusual duo of whiskey and pineapple can work. It marries the two distinct flavors to create a complex beauty of a cocktail.
While this drink may look like the average whiskey highball, it has a couple of twists to the classic cocktail that makes it interesting and perfect for summer. A premium whiskey is a wonderful background for the sparkling citrus cocktail that you can make in minutes.
The great thing about this whiskey and soda drink is that you can make it as strong as you like. If you're looking for a casual happy hour drink, you can add a little more soda; or if you want the bourbon to take center stage, lessen the ginger ale for more of a kick.
A Royal Flush Drink is a fruity whiskey cocktail that whiskey lovers and even non-whiskey drinkers will enjoy! It is easy to make, tasty, and well-balanced.
This tasty drink perfectly pairs sweet-tart cranberry flavor with the vanilla, brown sugar, and oaky notes of Crown Royal Whiskey. This is combined with fruity peach schnapps to make a unique and interesting way to drink whiskey. It is complex and sophisticated, not overly sweet.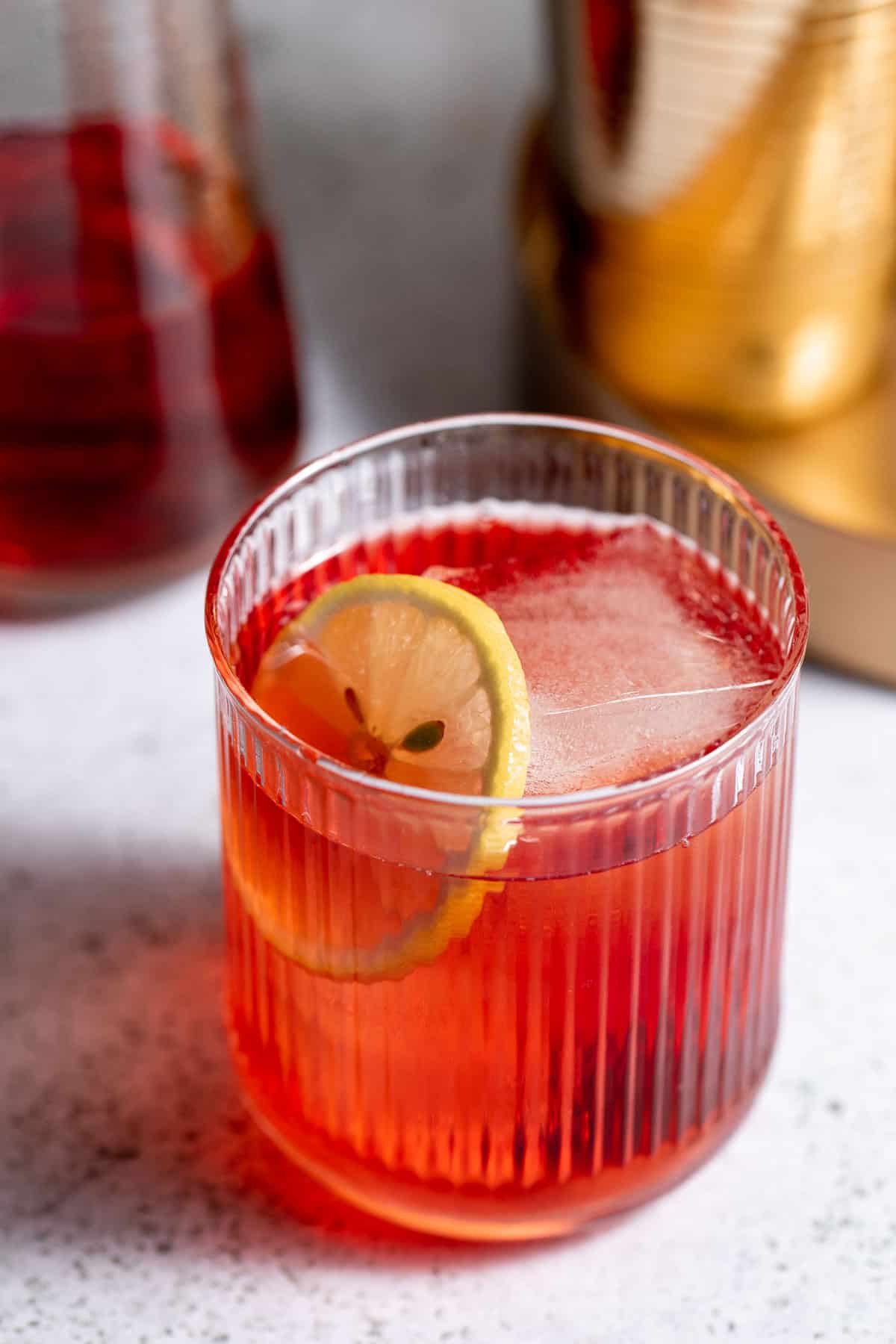 WHAT ARE THE DIFFERENT TYPES OF WHISKEY YOU CAN USE FOR COCKTAILS?
Bourbon - The most famous American whiskey, this type of whiskey is made with at least 51% corn. It's typically sweeter, traditionally distilled in Kentucky, and has a sweet and smoky flavor profile.
(We've got a whole post about What To Mix With Bourbon for you to check out!)
Scotch - The Scottish have been making whisky for at least 500 years and have carefully refined their craft to produce a flavorful and complex whiskey. Scotch is made from barley, commonly refined in Scotland, and it has a peaty flavour. This type of whiskey is commonly spelt without the "e" when referring to Scotch whisky. This is the traditional spelling in Scotland and helps to differentiate it from other whiskeys
Irish - Most Irish whiskies are blended, combining several malt or grain whiskeys such as corn, barley, and rye. Modern-day Irish whiskeys are usually triple distilled using column stills. This produces a smooth and subtle whiskey.
Japanese - Japanese whisky makers have been heavily influenced by Scotch producers, hence the use of the same spelling ("whisky"). These highly refined whiskies with a smooth flavor are blended whiskies made in Japan.
Rye - Whiskey producers make this type of whiskey from rye grain. Made in the United States and has a strong, spicy flavor of rye. It is also often quite dry.
Moonshine - This slang term is used for any strong spirit that is produced illicitly. But in the United States, moonshine is often used to describe corn whiskey that is not aged or aged for a short period of time. Most moonshine whiskeys will have a mash containing 80% or more corn, and this combined with its short ageing period produces a harsh whiskey with an extremely strong flavor.
I hope you love this list of The Best Summer Whiskey Cocktails as much as I do. And if you want to see more of my food adventures, follow me on Instagram or Facebook.