This delicious almond milk iced coffee is vegan, refined sugar-free and so easy to make. The best almond milk coffee recipe and a delicious, healthier alternative to Starbucks.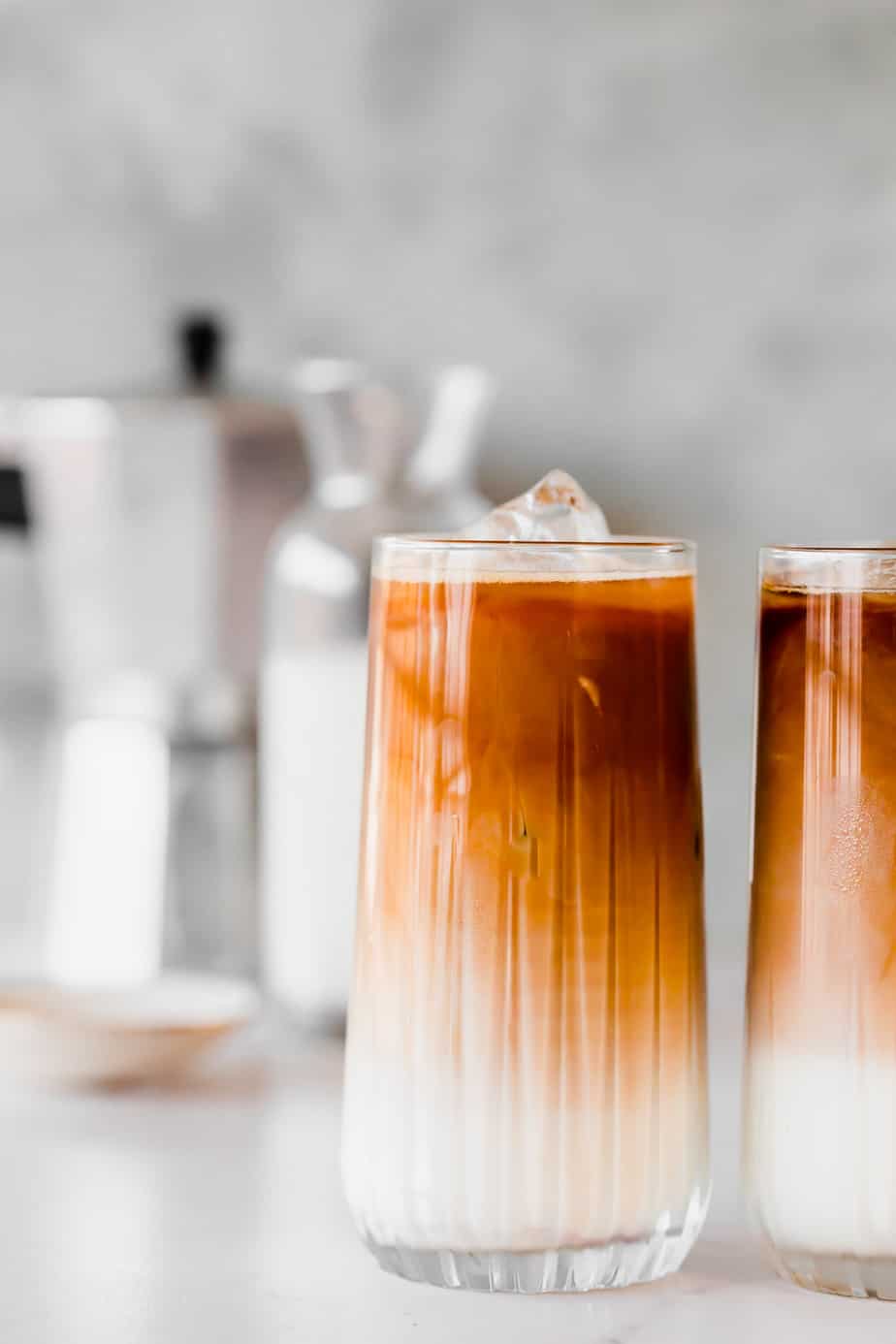 What is an Almond Milk Coffee?
Almond Milk Coffee, hot or cold, is a delicious and easy coffee beverage. Whether you use a Nespresso or even instant coffee, this almond milk latte never disappoints.
Almond milk coffee is a combination of coffee and almond milk. Any type of coffee can be used along with any flavor or type of almond milk.
Almond Milk Coffee is a great alternative to regular lattes or cappuccinos if you are looking for a delicious dairy-free, low-calorie alternative. Almond milk is completely plant-based, yet still creamy with a slightly nutty flavor which complements the flavor of coffee perfectly!
Looking for more almond milk coffee inspiration? Try my Honey Almond Milk Cold Brew recipe.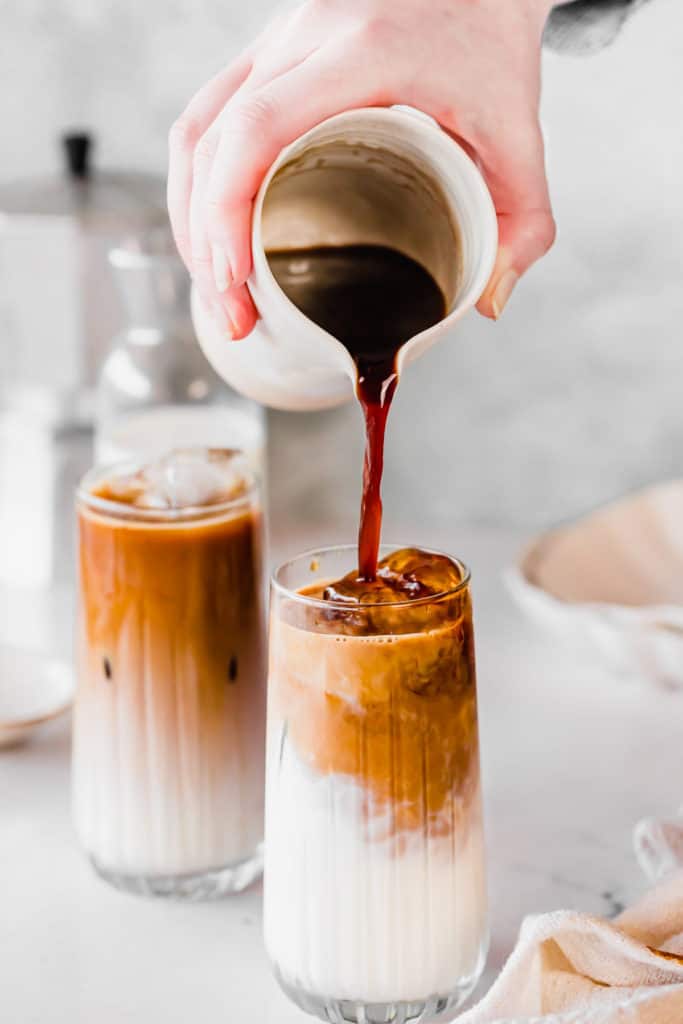 Almond Milk Benefits
Almond milk is a popular non-dairy milk alternative and there are many benefits to drinking almond milk. It is a creamy but healthy plant-based milk that is low in calories and high in nutrients.
Dairy-Free
Almond milk is a fantastic milk option for anyone trying to cut back on dairy or for those following a vegan diet.
Almond milk is a delicious plant-based drink made mostly from almonds and water.
Low in Calories
Almond milk is a tasty but low-calorie milk option. With around only 40 calories per 100ml, this vegan milk is perfect for sticking to your macros.
High in Vitamin E
Almonds contain large amounts of Vitamin E. Adding almond milk to your coffee is a great way to boost your Vitamin E intake.
Vitamin E is very important for healthy skin and it helps to support your immune system.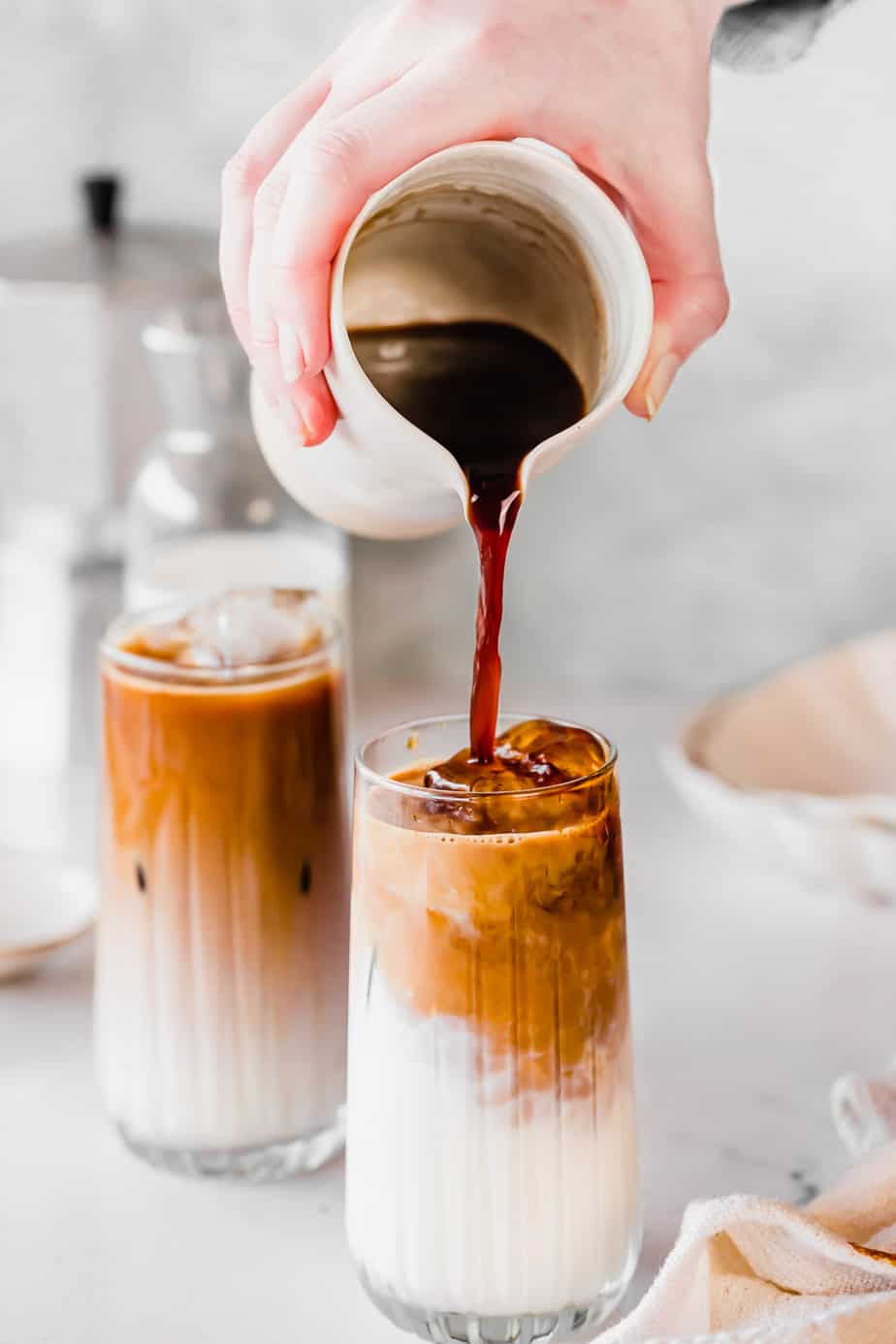 Ingredients you'll need
Shot of espresso - I used a shot of Nespresso but you can easily substitute it with any other espresso of your choice or strong black coffee.
Xylitol - You can substitute for any other sweetener, or skip the sweetener for a more bitter almond iced coffee.
Vanilla Extract - This is what sets this iced coffee recipe apart from the rest. Trust me, you'll love the sweet vanilla flavor combined with the coffee and almond milk!
Almond Milk - Use your favorite kind or alternatively you could also use any other milk substitute instead. I love a little oat milk in my iced coffee every now and then.
Almond Milk Coffee Variations and Add-Ins
Vanilla Syrup
Chocolate Syrup
Caramel Syrup
Sweetener
Ice Cream
Whipped Cream
Melted Chocolate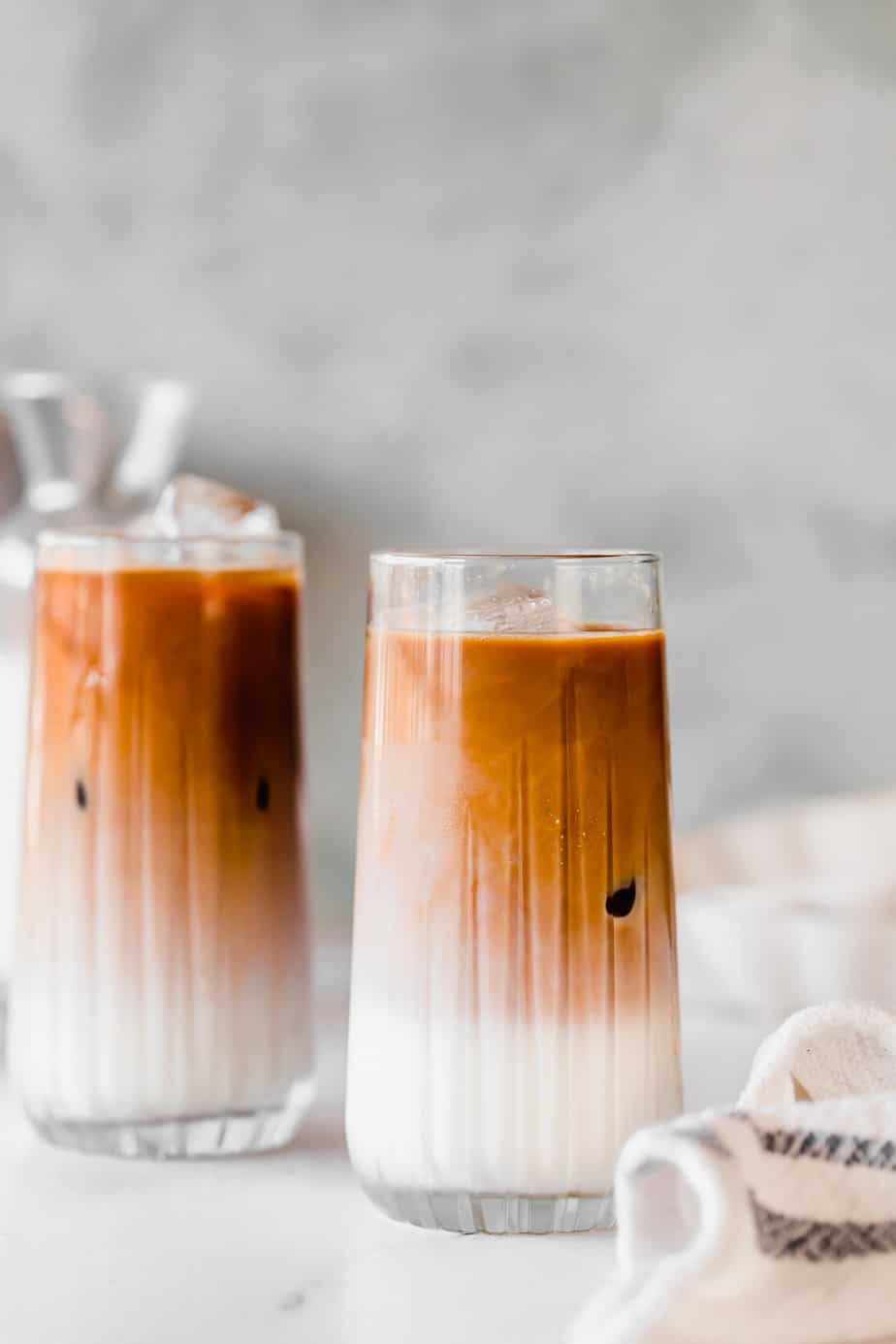 How To Make Almond Milk Coffee
Almond milk coffee can be made using a Nespresso machine, instant coffee or any espresso maker. Follow the simple instructions below to make your coffee!
Step One
Make a double shot of your favorite espresso.
Step Two
Froth ½ cup almond milk.
Step Three
Stir sweetener (optional) and vanilla extract (optional) into the espresso and top with the frothed almond milk.
How To Make An Almond Milk Iced Latte With Hot Coffee
This Nespresso Iced Coffee is literally the easiest drink to make. All you have to do is make a shot of your favorite Nespresso, add the xylitol, and vanilla extract and stir well.
Then fill a glass with ice, add almond milk, and top with the espresso shot. And that's it - the best-iced coffee recipe made in under 5 minutes!
You can also make my Caramel Mocha Iced Latte recipe using your Nespresso.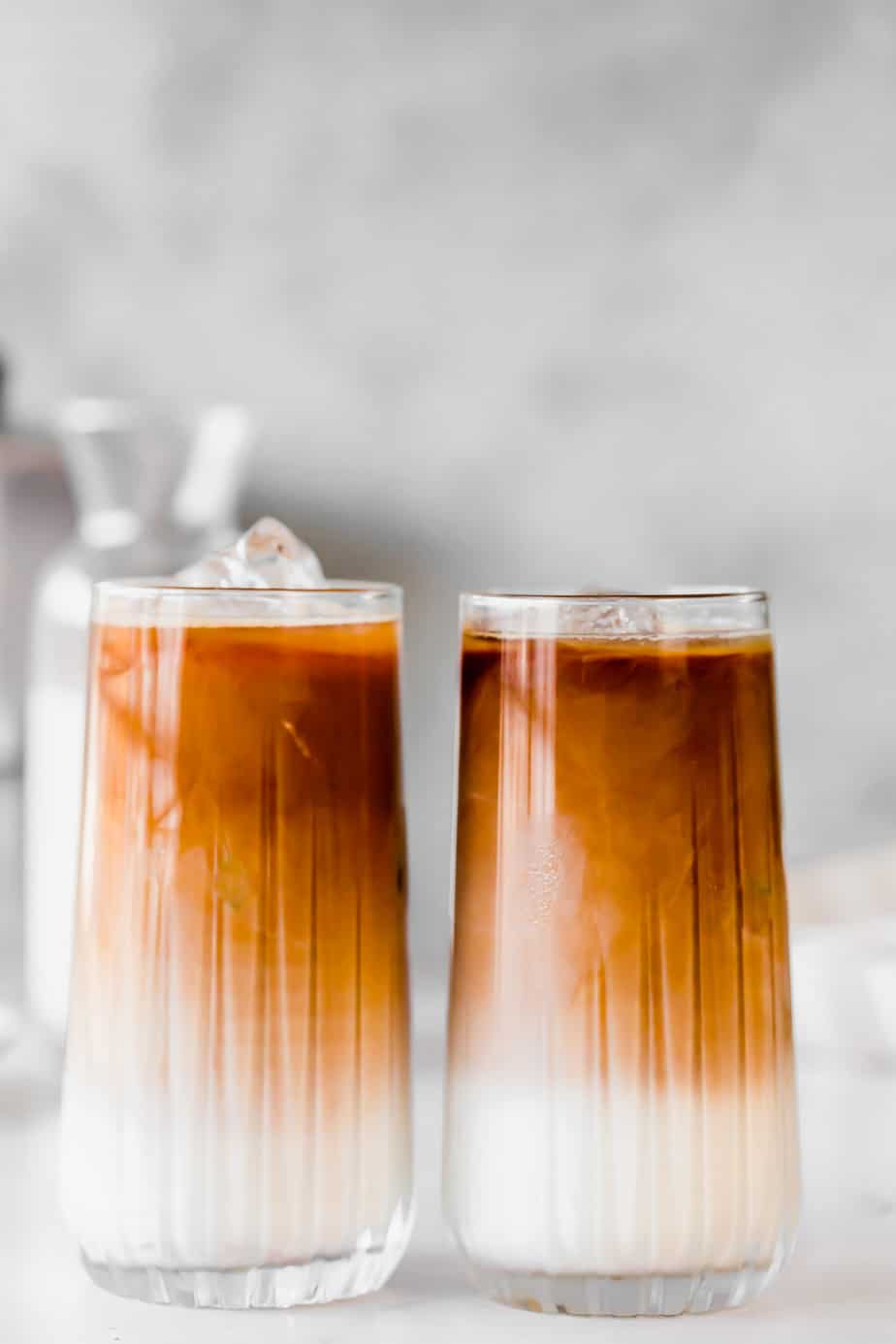 Which Iced Coffee Is The Healthiest
This almond iced coffee recipe is definitely one of the healthiest iced coffee recipes out there. It's basically just coffee and almond milk with a little extra flavor.
Not only is it a super easy iced coffee recipe but also incredibly low calorie and it is completely free of any refined sugar. For another milk-free coffee recipe, try my easy-to-make Iced Americano.
Is Iced Coffee Good For Losing Weight?
This vegan iced coffee is a great way to beat any cravings while trying to lose weight. Not only is it a low-calorie beverage, but coffee is also known to increase your metabolism. So it's the perfect mid-afternoon pick-me-up or a great early-morning kick starter.
Other Non-Dairy Milk Options For Coffee
Soy Milk - Soy milk is made from soybeans and is a great dairy-free option for cereals or other uses. It can be used in coffee but has a slight aftertaste.
Oat Milk - Oat milk is a fantastic creamy option for coffee and has a slightly sweet taste.
Coconut Milk - Coconut milk will change the taste of the coffee but works great in iced lattes. Coconut milk can make iced lattes very creamy and delicious.
Macadamia Milk - Macadamia milk is similar to almond milk but is slightly thicker and a tad bit sweeter. Also a great option for hot and cold coffees.
So what more could a person want? Well, maybe a delicious Chewy Biscoff Cookie to go with your Iced Coffee.
More delicious coffee recipes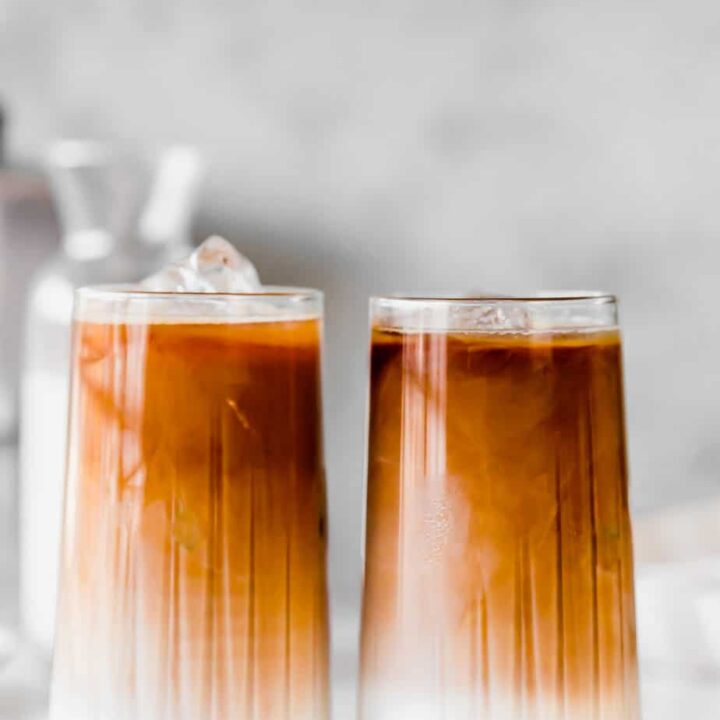 Almond Milk Iced Coffee
A delicious vegan, easy iced coffee recipe made with almond milk and vanilla extract.
Ingredients
1 Shot Espresso
2 teaspoon Xylitol (or any other preferred sweetener)
½ Cup Almond Milk
½ teaspoon Vanilla Extract (optional)
1 Cup Ice
Instructions
Make the espresso and stir in xylitol/sweetener and vanilla extract while hot.

Allow the coffee mixture to cool for a few minutes.

Fill a serving glass with ice cubes.

Add almond milk and top with the prepared espresso.

Enjoy immediately.
Notes
Almond Milk Coffee Variations and Add-Ins
Vanilla Syrup
Chocolate Syrup
Caramel Syrup
Sweetener
Ice Cream
Whipped Cream
Melted Chocolate
I hope you love this Almond Milk Iced Coffee recipe as much as I do. And if you want to see more of my food adventures, follow me on Instagram or Facebook.