Made with only a few ingredients, this Caramel Mocha Iced Latte is the perfect Starbucks copycat summer drink! A delicious iced coffee recipe with caramel syrup, coffee and oat milk.
Why Make A Caramel Iced Latte
There is nothing better than an iced latte, I've almost always got my Almond Iced Coffee on hand. This summer my new favorite is this Caramel Mocha Iced Latte with Oat Milk. Not only is it quick and easy to make but it is beyond delicious. With a delicious caramel syrup and a homemade chocolate simple syrup you won't go wrong with this iced latte recipe.
I love having this iced latte in the afternoons to give me a little pick me up and to satisfy those sweet cravings. The best part is that no fancy ingredients are needed and you can easily change it up and adjust the ingredients to what you have on hand.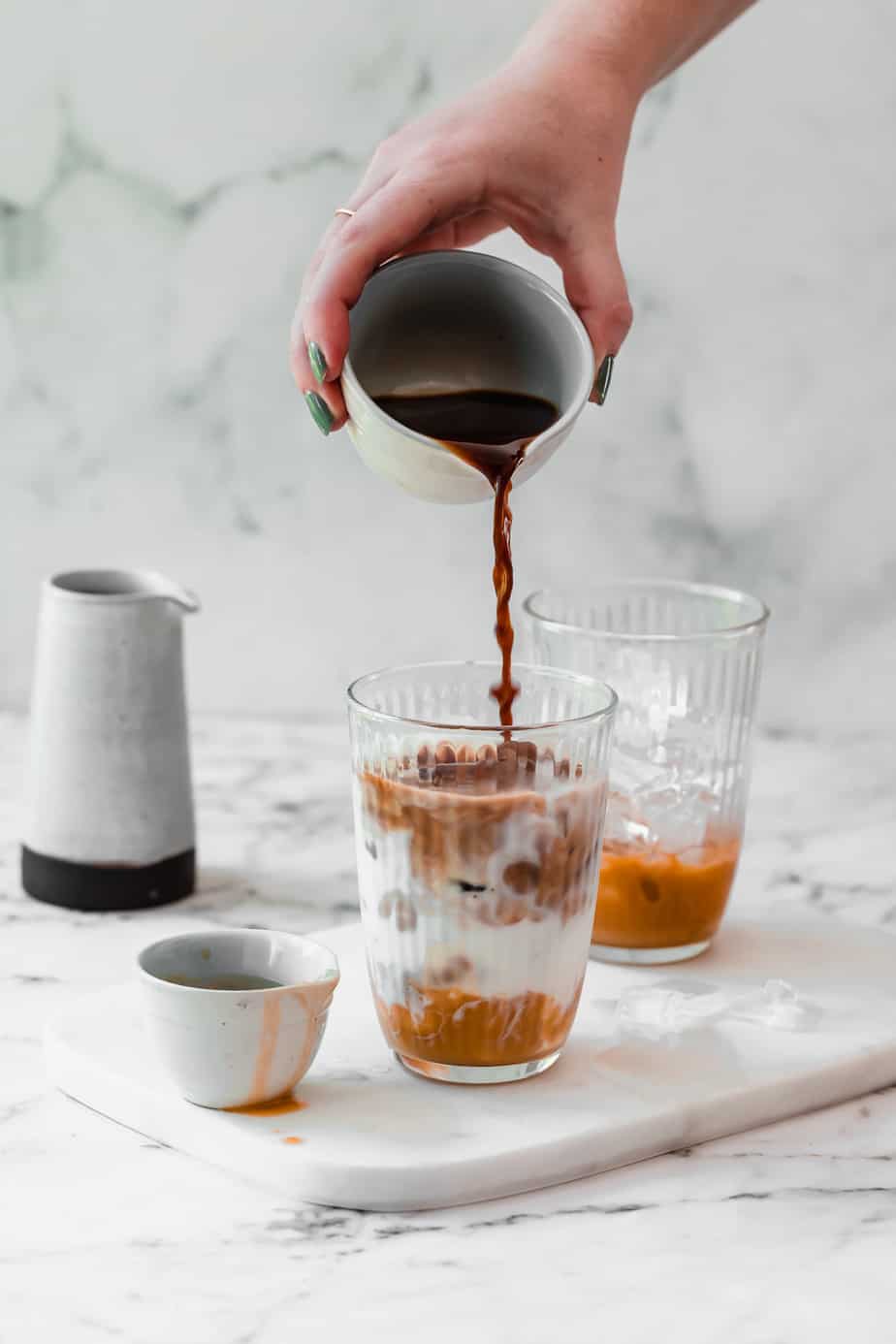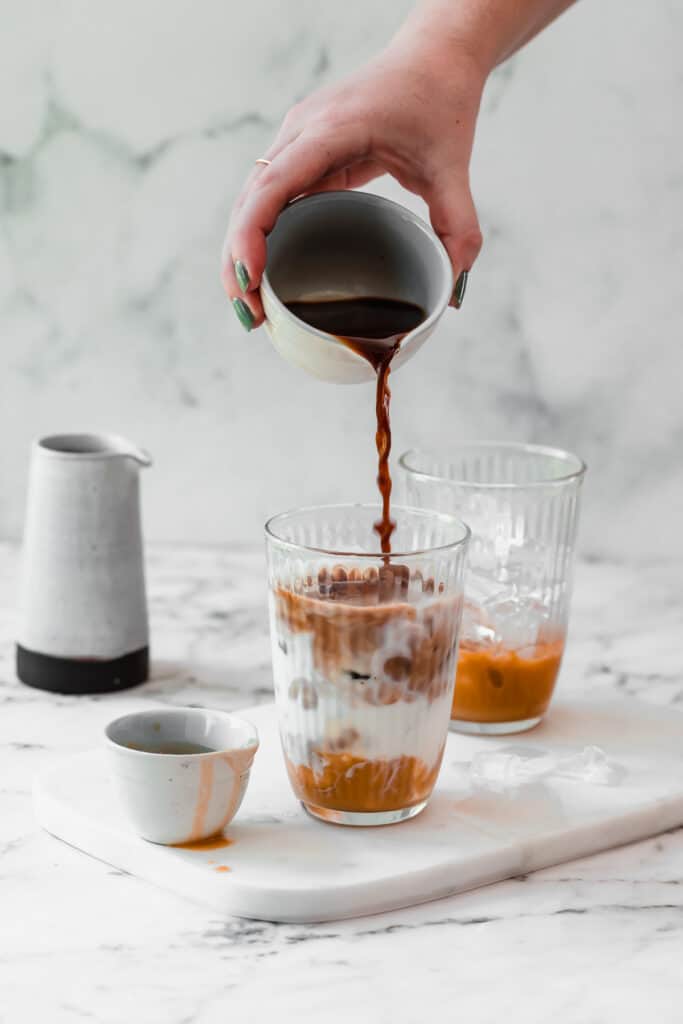 What Is In A Starbucks Caramel Iced Latte
Coffee - Whether you're using your favorite Nespresso pod or instant coffee, this recipe works with any type of coffee. I've even made it with decaf coffee in the evenings.
Caramel Syrup - Use store bought caramel syrup or make your own. For a sugar free alternative, use a sugar free caramel syrup.
Cocoa Powder - To make the chocolate simple syrup use a high quality cocoa powder for the best taste.
Sugar - Swop the sugar out for sweetener for a sugar free iced latte.
Oat Milk - I'm oat milk obsessed right now (hello oat milk latte), but feel free to make this caramel iced latte with almond milk or any other milk.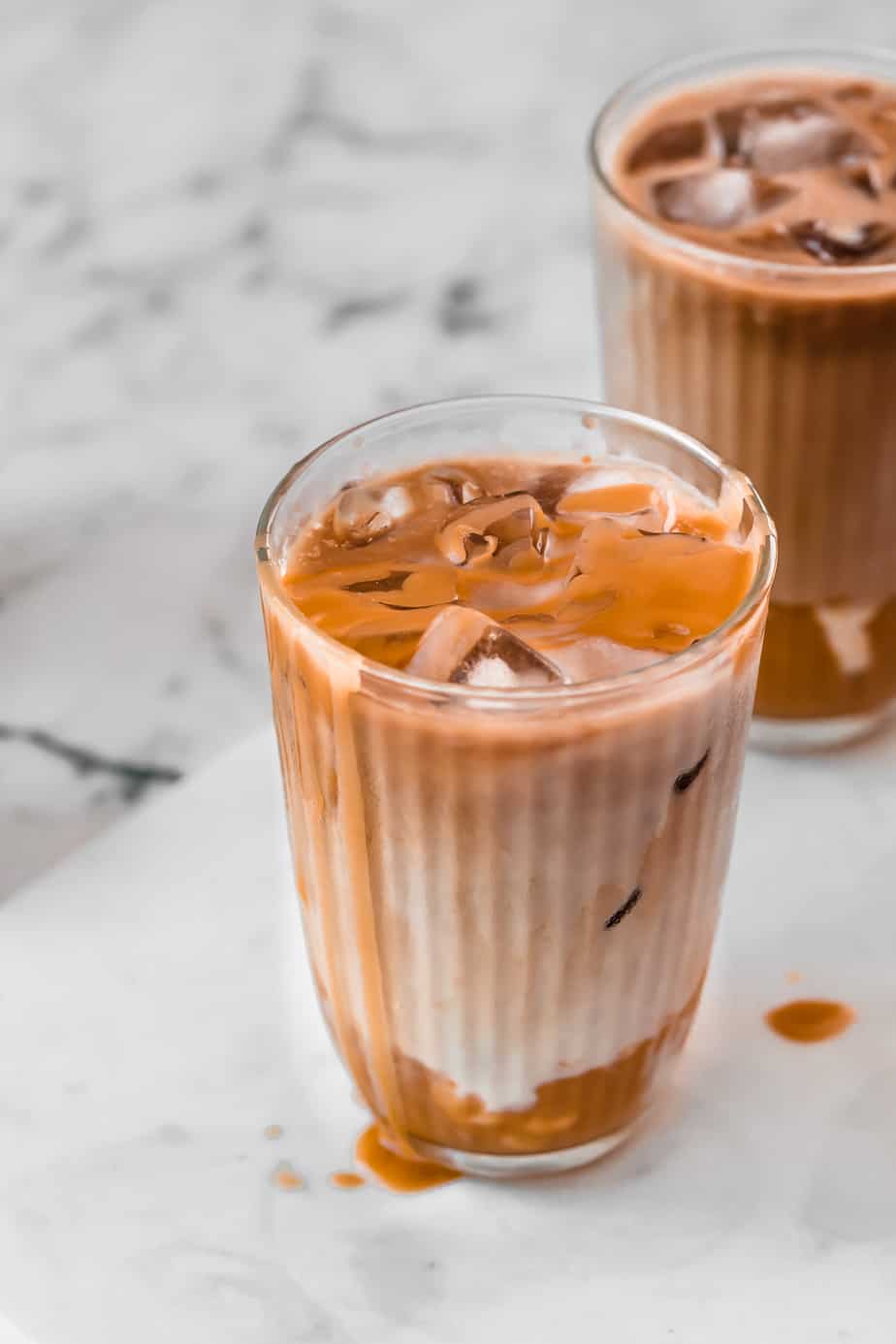 How To Make an Iced Mocha Latte with Caramel
This is an incredibly easy homemade iced mocha latte recipe to make. To start, all you need to do is add the water, cocoa powder and sugar to a pot and let that simmer for a little. This will make up your chocolate simple syrup.
Once the chocolate syrup is ready, all you need to do is put the drink together.
I start by pouring a little caramel syrup at the bottom of my glass. Not only does it look pretty but I love that little sweetness at the end.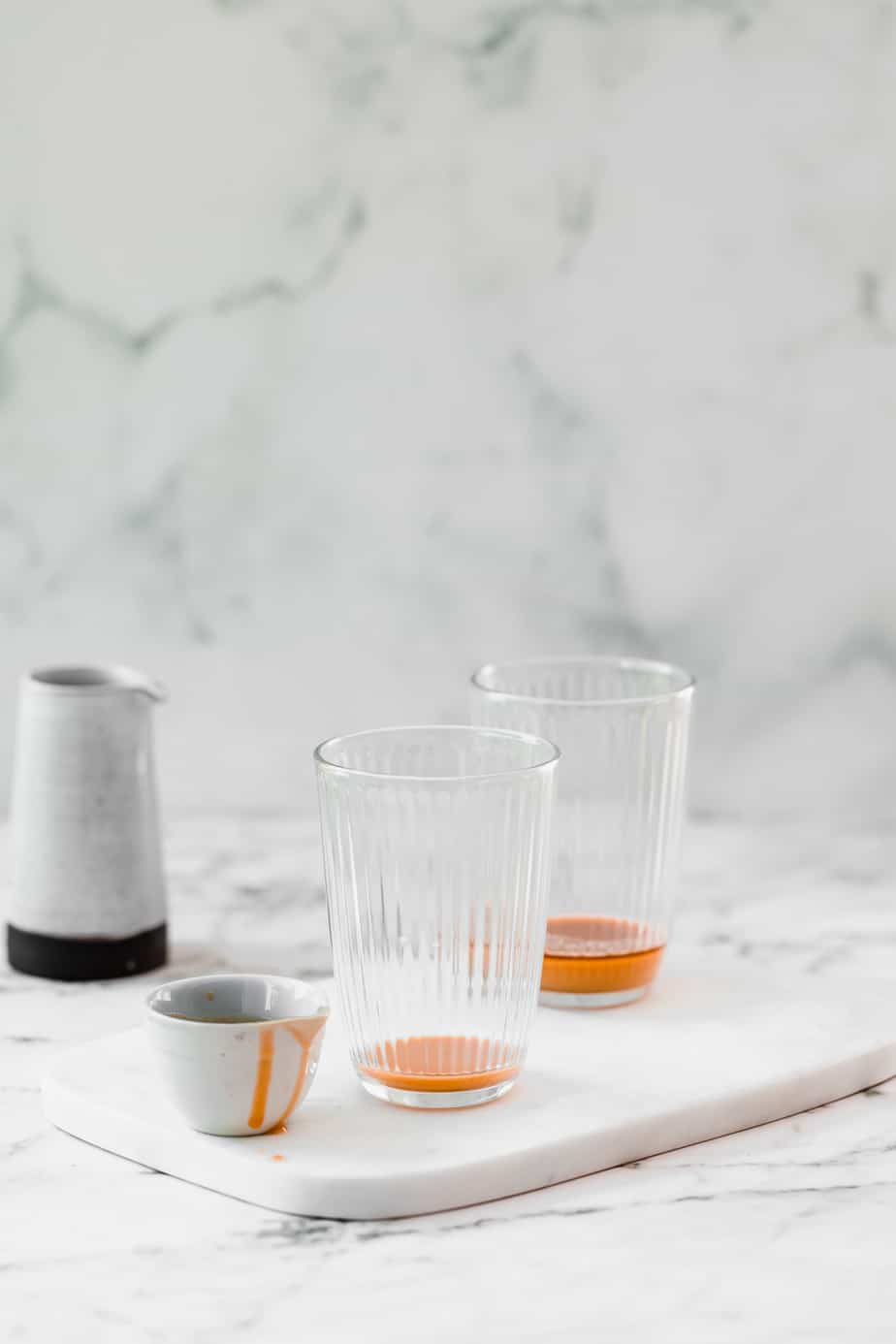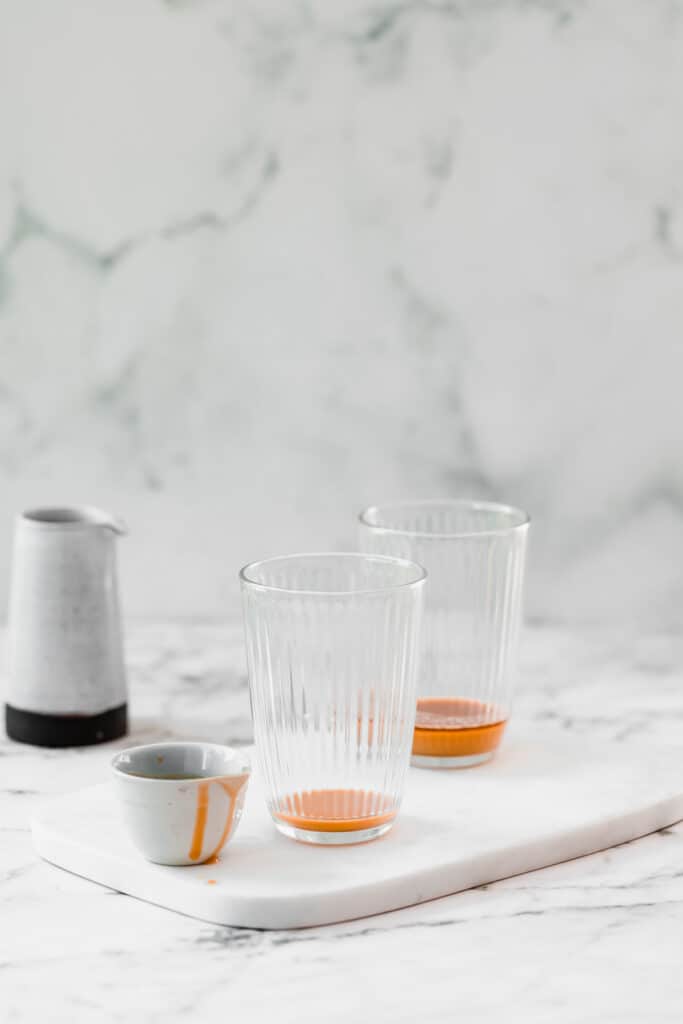 Then add in your ice cubes. You'll want to fill your glass to the top with ices cubes for the most delicious summer drink.
Once your glass is filled with ice cubes its time to add your milk of choice. I love using oat milk but almond milk is definitely another favorite of mine.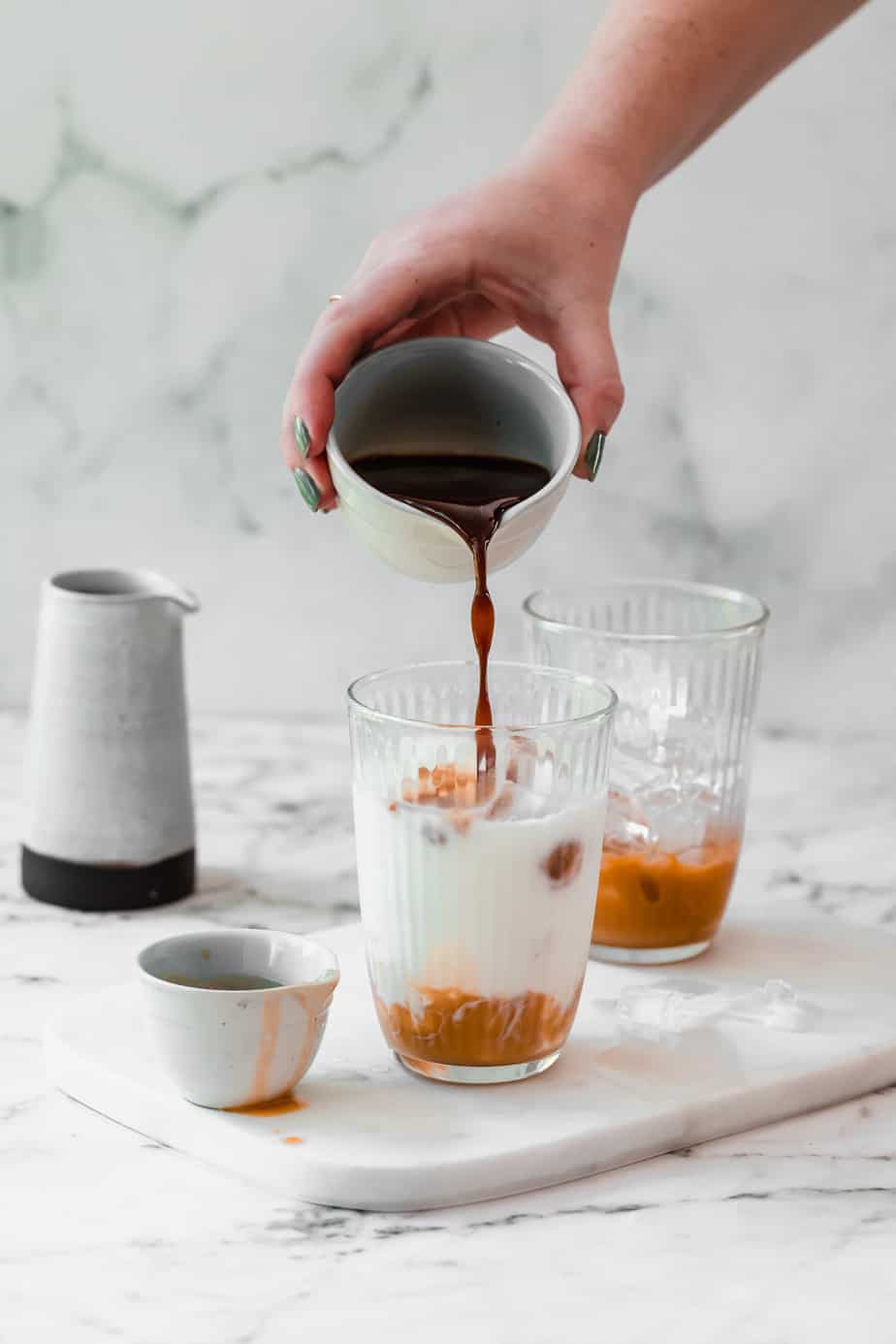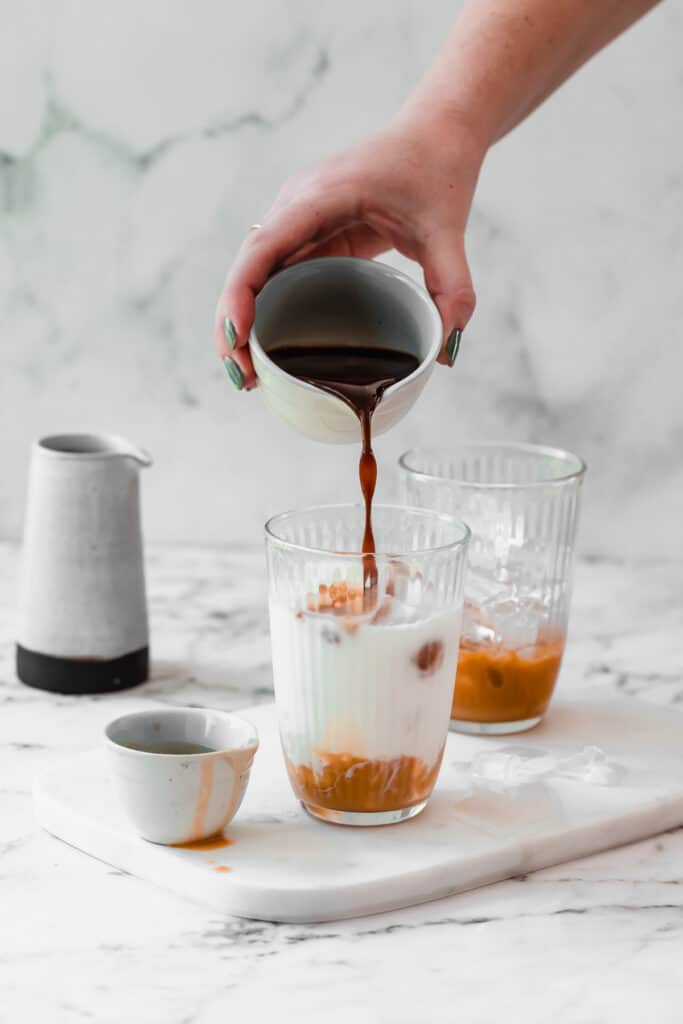 Then I'll combine my coffee and chocolate syrup and pour that into the glass as the final step. Drink as is or give it a stir. Yummy!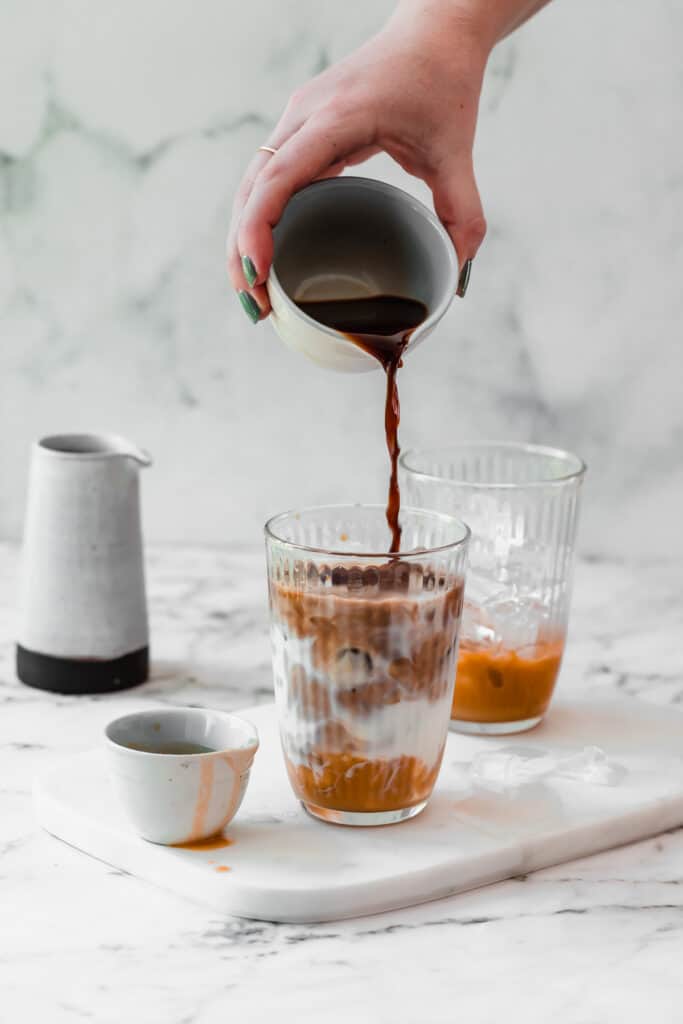 How To Make an Iced Latte Using Nespresso
Making a caramel mocha iced latte using your Nespresso machine is super easy. The hardest part is choosing your favorite Nespresso pod. To use your Nespresso machine for this iced latte recipe, simply add the pod to your machine and select a single or double shot.
Don't let the coffee run into your prepared glass as that will heat up your glass and melt your ice. Rather place a small cup or jug under your machine and allow the coffee to run into that instead. Then add your chocolate syrup to your Nespresso coffee and you're ready to go.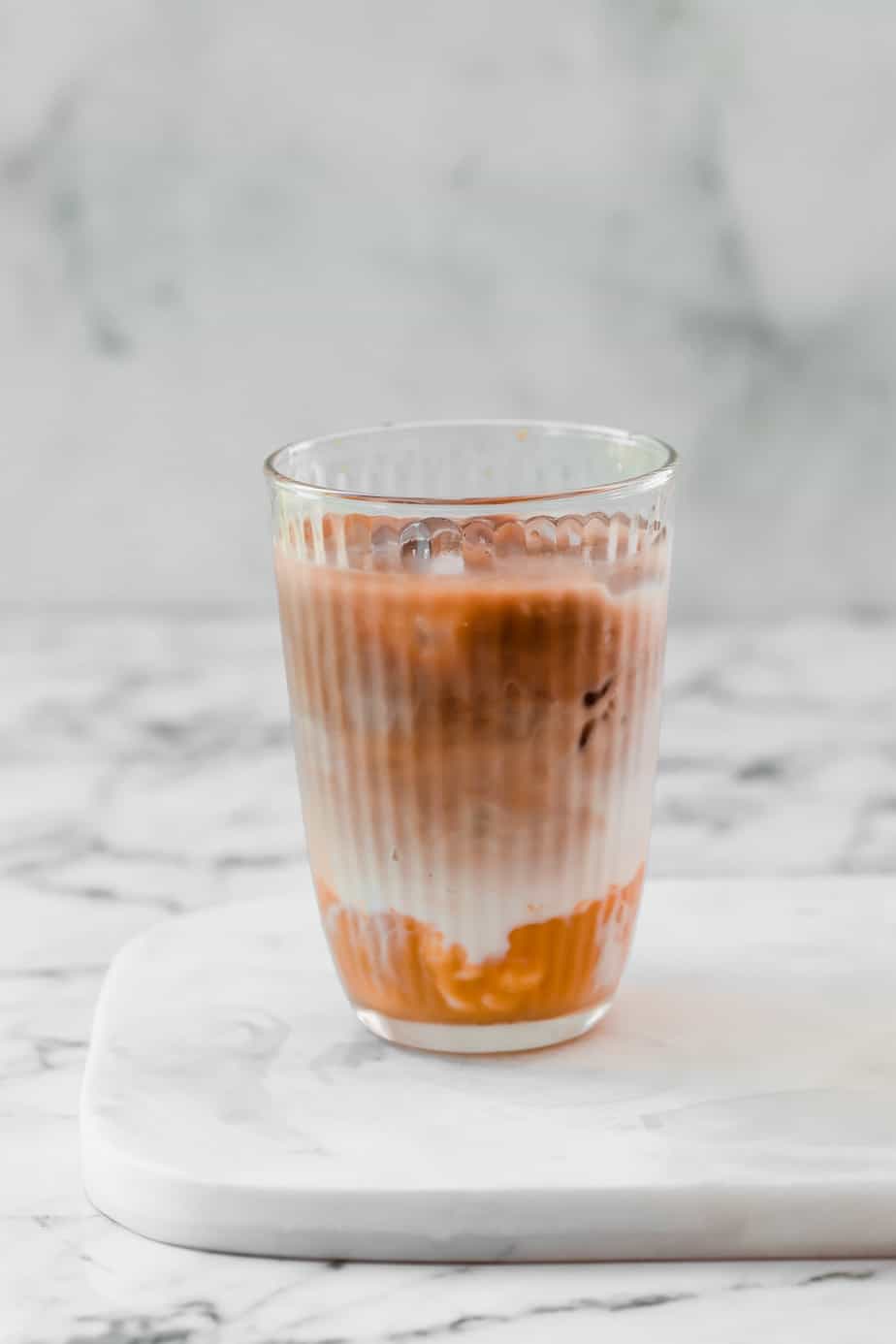 How To Make an Iced Latte Using Instant Coffee
Using instant coffee for iced lattes has become my go-to. It's just so much easier than using a french press or espresso machine. I simply add two teaspoons of instant coffee into a small jug and top it with 125ml of boiling water. I will then add the chocolate simple syrup, give it a stir and allow it to cool slightly before adding it to the rest of the drink.
Best Milk Alternatives For Caramel Mocha Iced Latte
Oat Milk
Almond Milk
Coconut Milk
Whole Milk
Soy Milk
Is An Iced Caramel Latte Sweet
This Caramel Mocha Iced Latte Recipe can be quite sweet but the sweetness level is completely adjustable. To make the recipe less sweet, simply use less caramel syrup or use a sugar-free syrup and a sugar alternative for the chocolate simple syrup.
What Is The Difference Between Iced Mocha and Iced Latte
Generally an iced latte is made with coffee, ice cubes and milk, sometimes sweetener is added. Whereas an iced mocha has chocolate syrup added to it. Mocha is a combination of coffee and chocolate.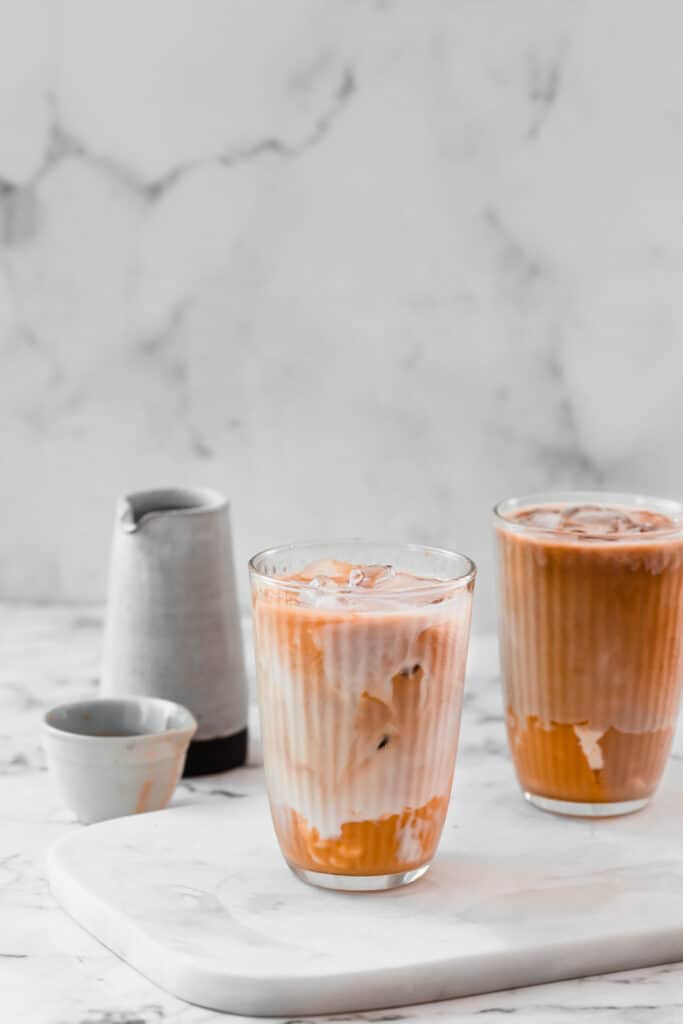 More Coffee Inspired Recipes
Caramel Mocha Iced Latte
A delicious easy to make caramel mocha iced latte recipe with a homemade chocolate syrup and topped with almond milk.
Ingredients
¼ cup cocoa powder
¾ cup water
½ cup granulated sugar (or sweetener)
125ml espresso/coffee
250ml oat milk (or any other milk)
1 tablespoon Caramel syrup
Ice cubes
Instructions
In a small saucepan over medium heat, add the cocoa powder, water and sugar. Bring to a simmer.
Allow to simmer for 10 minutes, stirring occasionally, then remove from heat and store in jar.
Add 2 tablespoon of the chocolate syrup to 125ml hot coffee and stir. Allow to cool.
Meanwhile, place the caramel syrup in the bottom of a tall glass and fill the glass with ice cubes.
Add the chocolate coffee mixture and stir.
Top with extra caramel syrup if desired.
Notes
To cool off your coffee faster, add a block of ice to the coffee/chocolate mixture.
Stir the caramel syrup into the oatmilk before adding the coffee to ensure a more even flavor.