These easy to make Biscoff Butter Cookies are the best cookies ever! These chewy cookies are made with biscoff spread and only take a few minutes to whip up. All the delicious speculoos flavors you could ask for!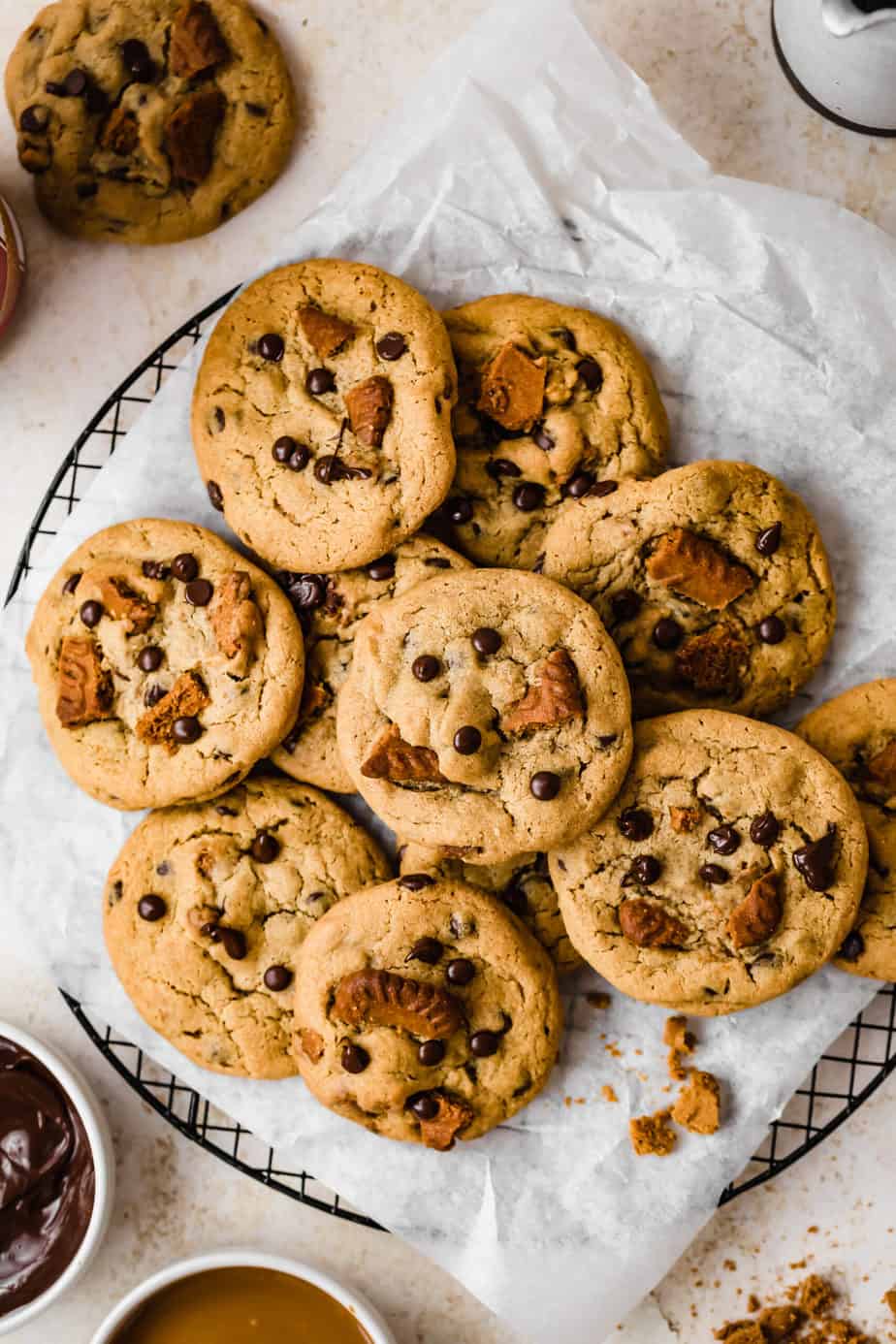 Jump to:
Why Make Cookie Butter Biscoff Cookies
With the heavenly cinnamon-y, brown sugar flavor of speculoos and the ooey gooey texture of chocolate chips cookies, you can't go wrong with these Biscoff Butter Cookies.
They are super easy to make - With only a few ingredients and one bowl, you could easily whip these brown sugar cookies up in under 15 minutes.
They are packed with flavor - With speculoos spread, cinnamon and ginger, these lotus inspired biscuits don't dissapoint.
Make them ahead of time - Make the batter ahead of time and freeze it until you're ready to make them. Then simply pop them in the oven for freshly baked Biscoff cookies.
They bake in 10 minutes - Once you've whipped up these brown sugar cookies, they only need 10 minutes to bake.
Ingredients You'll Need
Lotus Biscoff Spread: This is the backbone of the recipe and delicious flavor. You can easily buy Biscoff Spread on Amazon or make your own. I love this recipe for homemade biscoff spread.
Butter: Use room soft/room temperature butter to make sure you have the right batter consistency and stick to unsalted butter for best results.
Sugar: Granulated sugar and light brown sugar are both used in this easy recipe. The brown sugar adds to the Biscoff flavor and also gives the cookies their yummy chewy texture.
Egg: Ensure your egg is at room temperature to ensure it doesn't cool down the batter or doesn't incorporate well.
Vanilla Extract: Use the best quality vanilla extract you can find for the best flavor. Vanilla paste or vanilla pod seeds can also be used.
Baking Soda: Ensure you have correctly measured the baking soda. Spoon and level.
Salt: To balance the sweetness of the sugar and the Biscoff spread.
All-Purpose Flour: I recommend weighing your flour or spooning it into the cups as opposed to scooping the flour with the cups as this can result in an inaccurate amount of flour.
Chocolate Chips: Semi-sweet chocolate chips or chopped chocolate can be used. Alternatively, substitute for nuts or white chocolate chips.
Spices: I added ground ginger and cinnamon for an extra warm flavor.
How To Make Biscoff Butter Cookies
Step One: Combine the butter, biscoff spread and both sugars together. Cream until lighter in color and fluffy.
Step Two: Add the egg and vanilla and continue mixing.
Step Three: Add the flour, baking soda, ground cinnamon and ground ginger. And mix until just combined.
Step Four: Fold in the Biscoff cookies and chocolate chips.
Step Five: Roll the batter into balls and bake for 10 minutes.
Variations
The best thing about this cookie recipe is that you can easily change it up a little each time. Here are a few ideas:
White chocolate: Swop the chocolate chips for white chocolate chips, or add both for extra decadence.
Nuts: Add chopped pecans for an extra nutty flavor. I love the texture it adds to these chewy speculoos spread cookies.
Extra biscoff spread: Yes, you heard right. Add extra biscoff spread, either in the batter or melt a little in the microwave and drizzle it over the top. You won't regret it.
Salt: Add a dash of salt flakes either in the batter or after the cookies have baked for a delicious sweet and salty taste.
Expert Tips
Don't Skimp On Creaming: When creaming your butter and sugar make sure to cream it together for as long as possible. I like creaming my butter and sugar for at least five minutes. It honestly makes a massive difference to the texture.
Use Room Temperature Ingredients: Make sure your butter and eggs are at room temperature. Using cold ingredients can result in a lumpy batter and can also cause your ingredients to separate or not combine properly.
Don't Over-Bake: For that perfect chewy texture, make sure not to overbake your biscoff butter cookies. They will look a little under baked when you remove them from the oven, but they will set up as they cool.
How To Store & Freeze
To Store: Place baked and cooled cookies in an airtight container for up to 5 days. They can also be placed in the refrigerator in an airtight container.
To Freeze Batter: Roll batter into balls and freeze on a baking tray, then place the frozen balls in a ziploc bag. When you want to bake them, pop the frozen balls onto a baking tray at room temperature for at least an hour then bake for 10 minutes.
To Freeze Cookies: Freeze cookies in an airtight container or ziploc bag for up to 3 months. Remove them from the freezer and leave out overnight or pop them in the microwave for 20 -40 seconds for delicious warm biscoff cookies.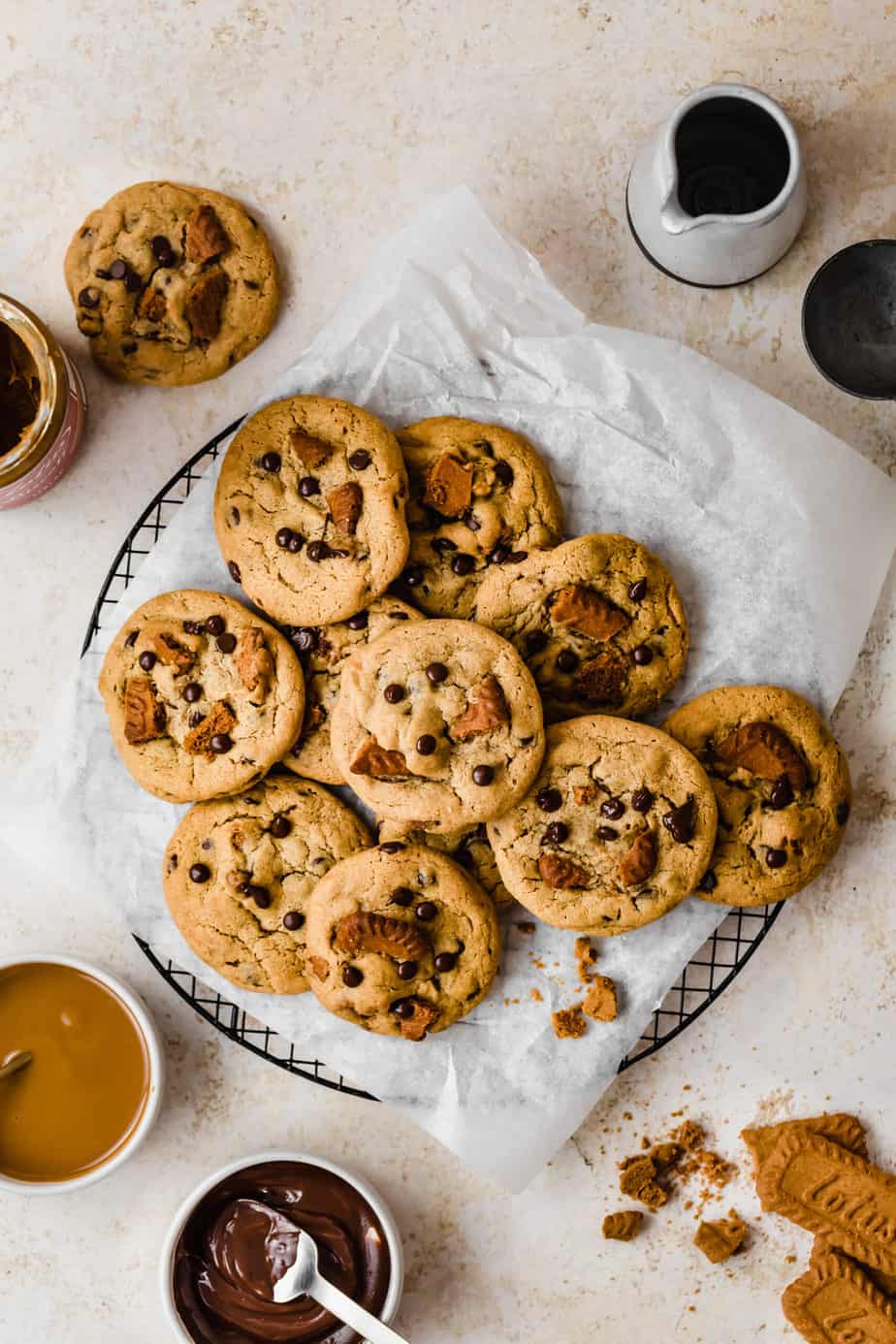 FAQS
What is the flavor of Biscoff cookies?
The flavor of biscoff cookies is caramel with warm spices. Think brown sugar and cinnamon. Biscoff cookies use a unique blend of warm spicwes, including cinnamon and ginger.
Why did my cookies spread too much?
There are two main reasons that cause cookies to spread, butter and flour. If your butter is too sot, it can cause the cookies to spread more than they should. The second thing could be that your flour wasn't measure accurately. The best way to measure your flour is by weighing it out with a kitchen scale. If using cups, make sure to spoon the flour into the cups and level it before adding to your batter.
Can I make these cookies eggless?
Yes, definitely. Simply replace the egg with a flax egg. Combine 1 tablespoon ground seed with 2 tablespoon of water. Let the mixture sit for a few minutes before adding it to the butter.
Chewy Biscoff Butter Cookies
These easy to make Biscoff Butter Cookies are the best cookies ever! These chewy cookies are made with biscoff spread and only take a few minutes to whip up. All the delicious speculoos flavors you could ask for!
Ingredients
125g butter, softened
125g Biscoff Spread (or homemade cookie butter spread)
50g granulated sugar
100g light brown sugar
2 teaspoon vanilla extract
1 egg
1 teaspoon baking sida
1 teaspoon salt
1 teaspoon ground cinnamon
½ teaspoon ground ginger
100g lotus biscoff biscuits, roughly chopped
100g chocolate chips
190g all-purpose flour
Instructions
Preheat the oven to 350ºF and line a baking sheet with parchment paper.
These easy to make Biscoff Butter Cookies are the best cookies ever! These chewy cookies are made with biscoff spread and only take a few minutes to whip up. All the delicious speculoos flavors you could ask for!
Scrape down the sides of the bowl and add the egg and vanilla extract. Continue to mix.
Add the dry ingredients to the bowl and mix until just combined.
Fold in the biscoff biscuits and chocolate chips.
Roll the dough into balls and bake for 10-12 minutes.
Notes
*To make sure the cookies are perfect, combine the dry ingredients in a separate bowl before adding it to the wet ingredients.
*Use an oven thermometer for an accurate temperature, built in thermometers are often inaccurate.