Make your favorite Starbucks Honey Almond Milk Cold Brew at home in under five minutes. This easy 3-ingredient dairy-free iced coffee is made with almond milk and sweetened with a drizzle of honey.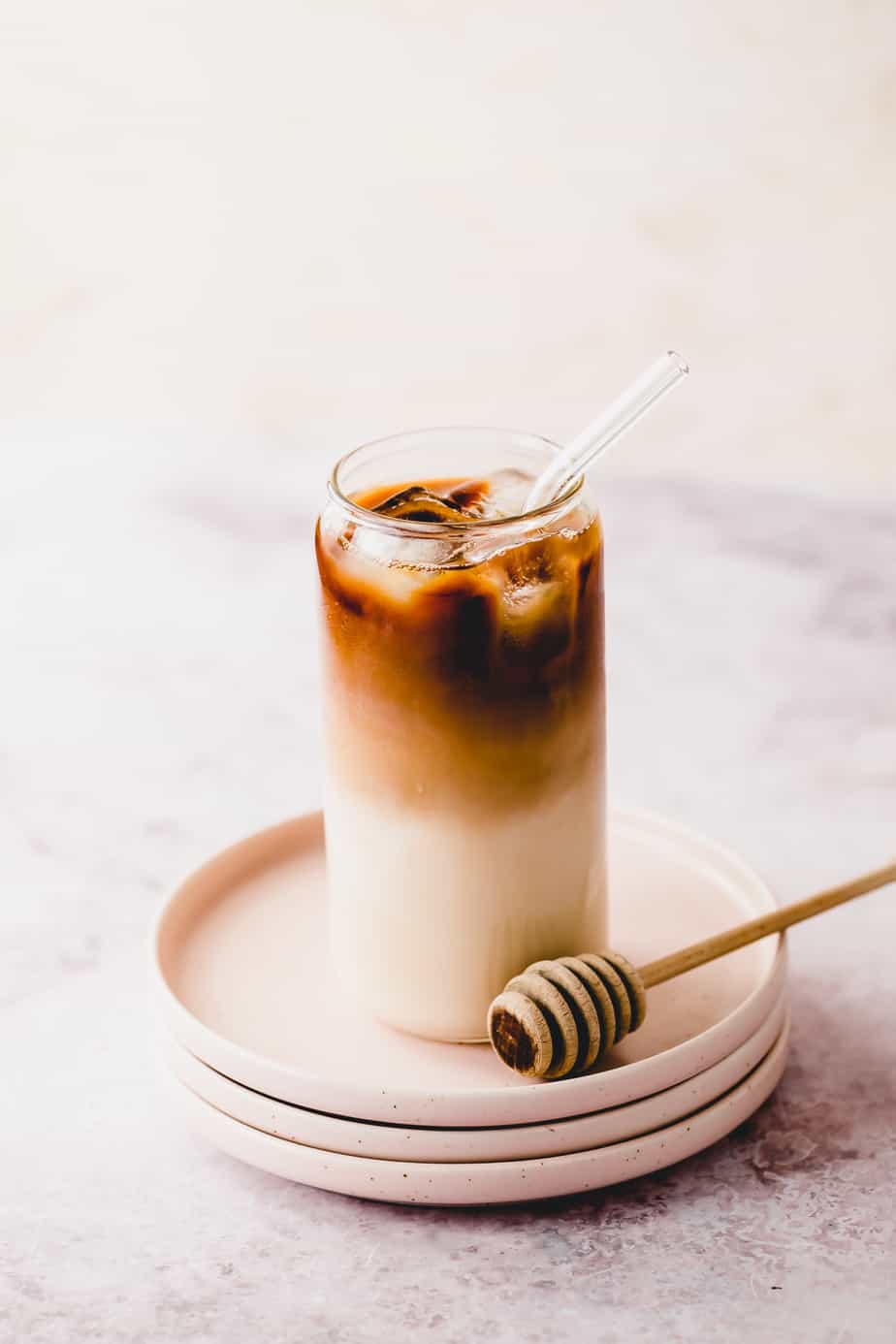 Jump to:
Almond Milk Cold Brew with Honey
We all love a delicious Starbucks drink, from Iced Americanos to pistachio lattes. But nothing beats a refreshing cold brew. This Starbucks copycat recipe is the ultimate go-to summer iced coffee drink.
This delicious beverage is made using only three simple ingredients. It is a tasty, homemade honey cold brew recipe that is super easy to make and takes less than five minutes of your time.
For this recipe, you can use store-bought cold brew or make your own cold brew at home (find instructions in the post). The delicious cold brew is topped off with a drizzle of honey for sweetness and served with lots of ice.
Why You'll Love This Cold Brew Iced Coffee
Only 3 ingredients - This recipe is made using just three ingredients that are easy to find. All you need is cold brew, almond milk, and honey.
Quick and easy - You can make this cold brew recipe in under 5 minutes.
Cheaper than Starbucks - Making your own homemade honey almond cold brew is definitely much cheaper than ordering it from Starbucks. Plus, you can make a glass in under five minutes without leaving your house.
Versatile - This easy homemade cold brew recipe can be made with oat milk or any other dairy-free milk of your choice.
Looking for a decaf version? Check out my Decaf Cold Brew Iced Coffee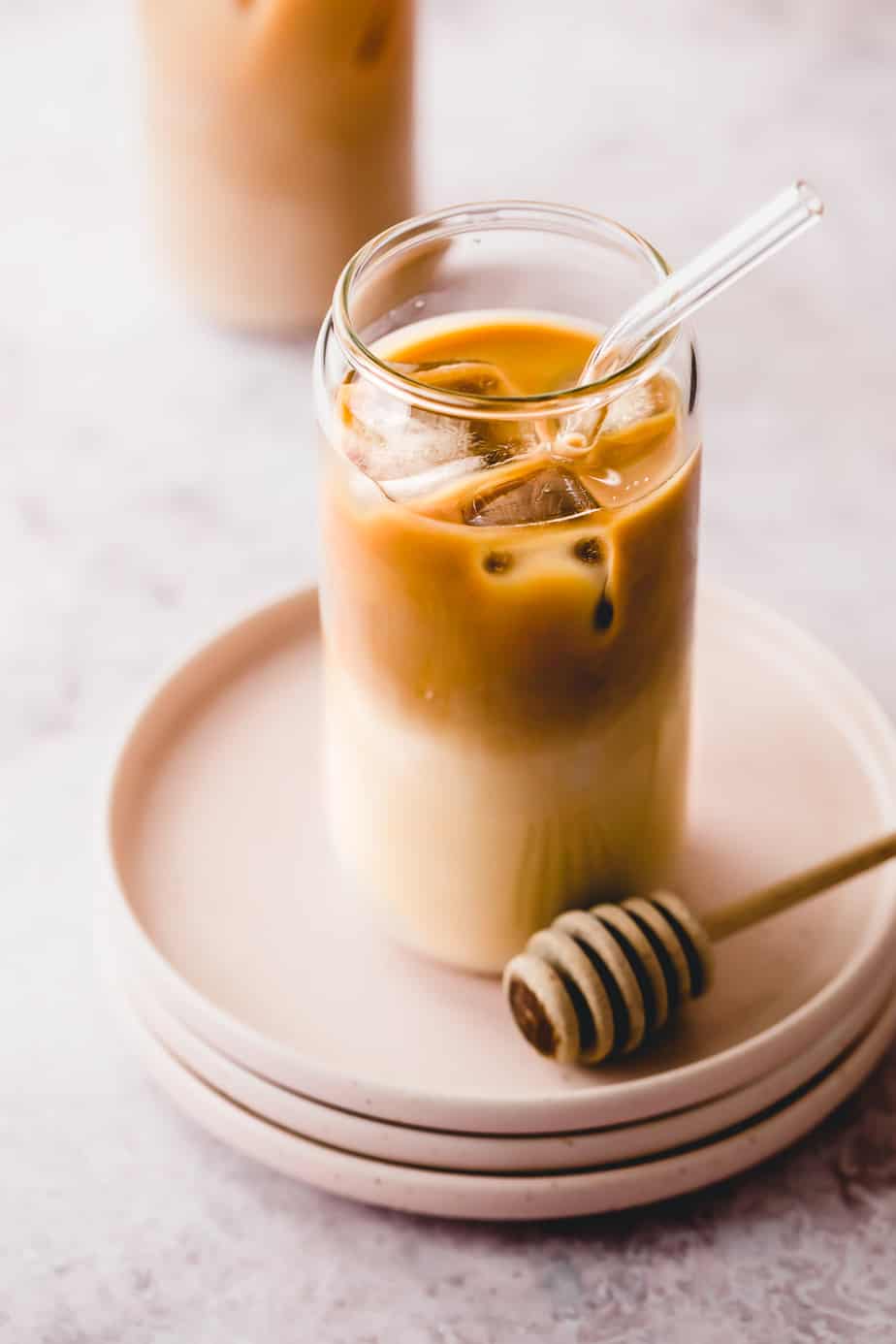 Ingredients and Substitutions
Cold Brew - Use your favorite brand of store-bought cold brew or make your own homemade cold brew.
Honey - This is what adds the distinctive taste and sweetness that this drink is known and loved for. You can substitute the honey with maple syrup or granulated sugar for a sweet almond milk cold brew alternative.
Almond Milk - Almond milk is one of my favorite dairy-free milk options and works perfectly for this iced coffee. Use plain almond milk and not vanilla for the most authentic Starbucks flavor. But feel free to rather use any other non-dairy milk alternative that you prefer best, such as oat milk or coconut milk.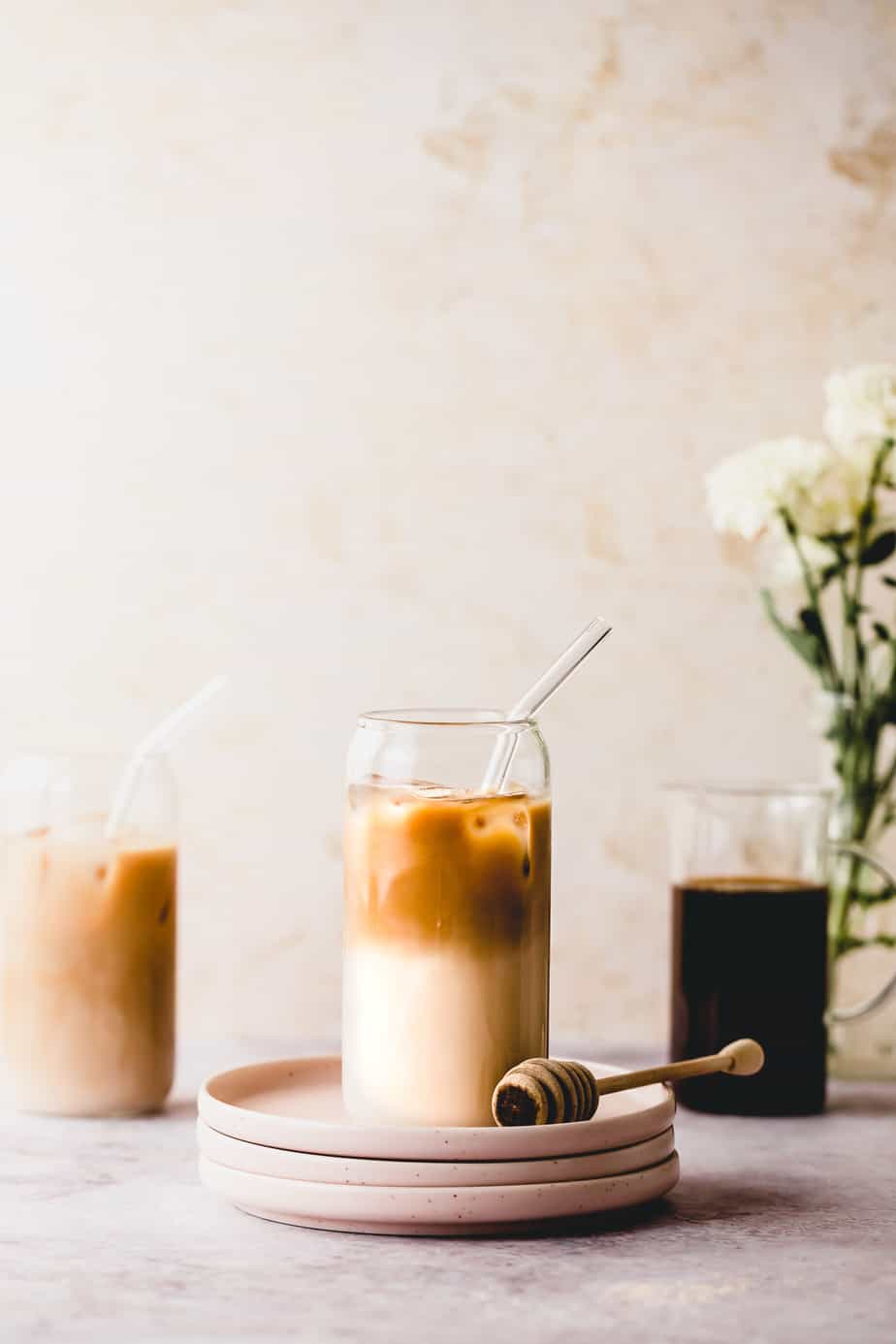 How To Make A Starbucks Honey Almond Milk Cold Brew At Home
This recipe has only three ingredients. It's super easy to make and faster than a drive to Starbucks.
Step-by-step Instructions
Step One
Add a little hot water to the honey to melt it slightly.
Step Two
Fill a glass with ice and add the melted honey mixture.
Step Three
Fill the glass with your favorite cold brew and top with almond milk.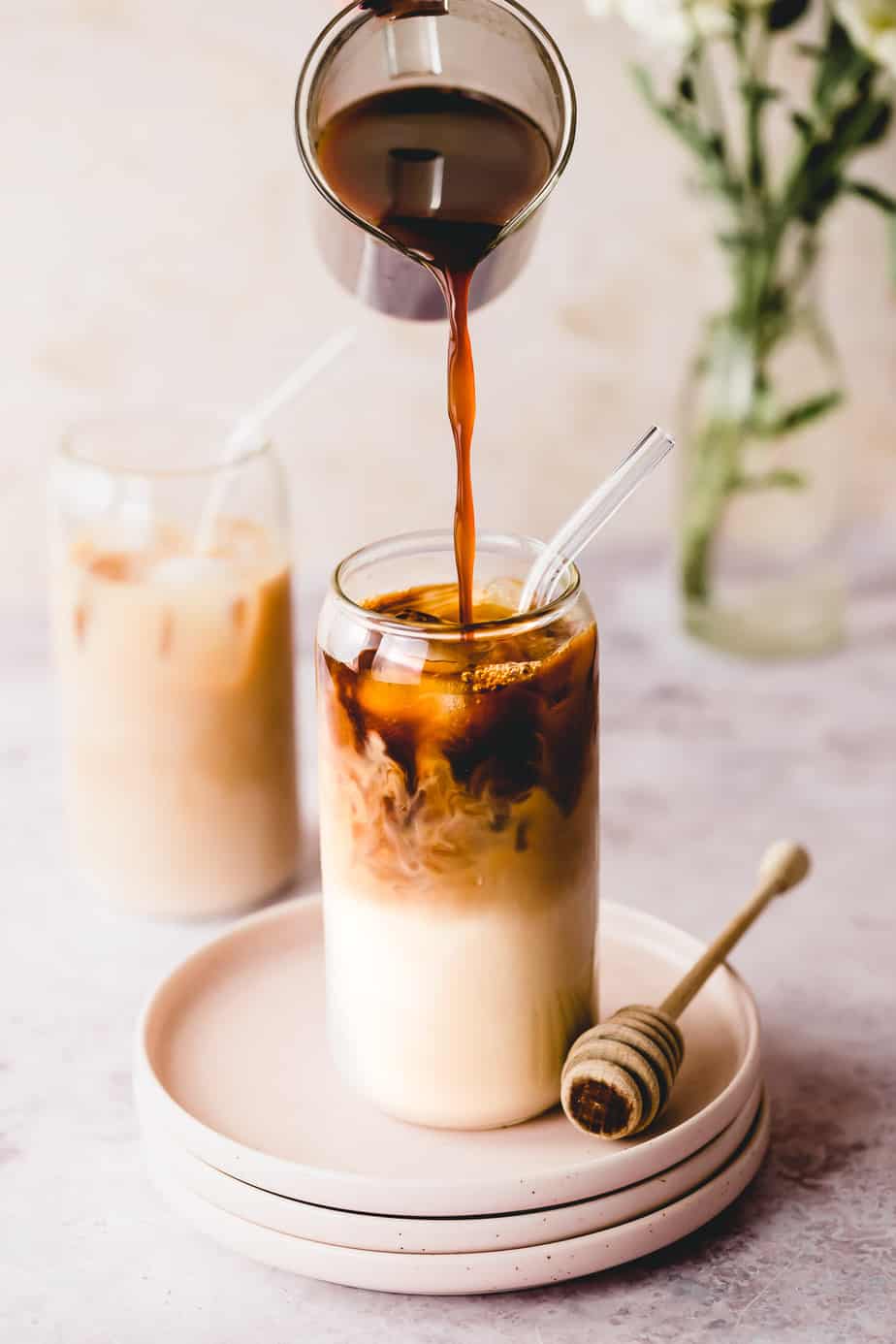 Easy Homemade Cold Brew Coffee Recipe
Cold brew coffee is the perfect summer drink for a coffee lover like me. Make a large batch of it at home and store it in the fridge for a week's worth of delicious iced lattes.
All you need is 1 cup of finely ground coffee (use your favorite) and 4 cups of filtered water.
Step One
Place the coffee grounds in a large mason jar and gently pour the water over the coffee grounds. Gently stir the mixture to ensure all the coffee grounds are wet.
Step Two
Close the jar and place it on the countertop overnight. Ideally, you want it to sit for about 14-24 hours. The longer you leave it, the stronger the coffee will be so it totally depends on your own taste.
Step Three
Use a nut milk bag to strain the coffee. You can repeat this more than once to ensure no granules are left. Pour the mixture back into the jar and store it in the refrigerator for up to a week.
Storage Instructions
Store any leftovers in the fridge for 3-5 days. Strain out any ice before storing it to prevent the coffee from getting watered down. Fill a glass with ice and pour in the coffee when ready to enjoy again.
Honey Almond Milk Cold Brew Variations
Vanilla cold brew - Add a teaspoon of vanilla extract to your honey almond milk cold brew coffee for a subtle vanilla flavor.
Spiced honey almond milk cold brew - For a spicy version of your favorite cold latte, add a sprinkle of cinnamon on top.
Honey almond milk nitro cold brew - For a delicious carbonated version, replace the cold brew coffee with nitro coffee.
Non-Dairy Milk Options For Cold Brew
Oat milk - For a sweeter, creamier option, try oat milk. My oat milk lattes are a favorite on the blog!
Soy milk - Slightly more bitter, but still delicious. Add an extra drizzle of honey for more sweetness.
Coconut milk - Use coconut milk for a delicious honey and coconut-flavoured iced latte.
Macadamia milk - One of my ultimate favorites. This sweet and creamy nut milk is the perfect substitution for this honey cold brew latte.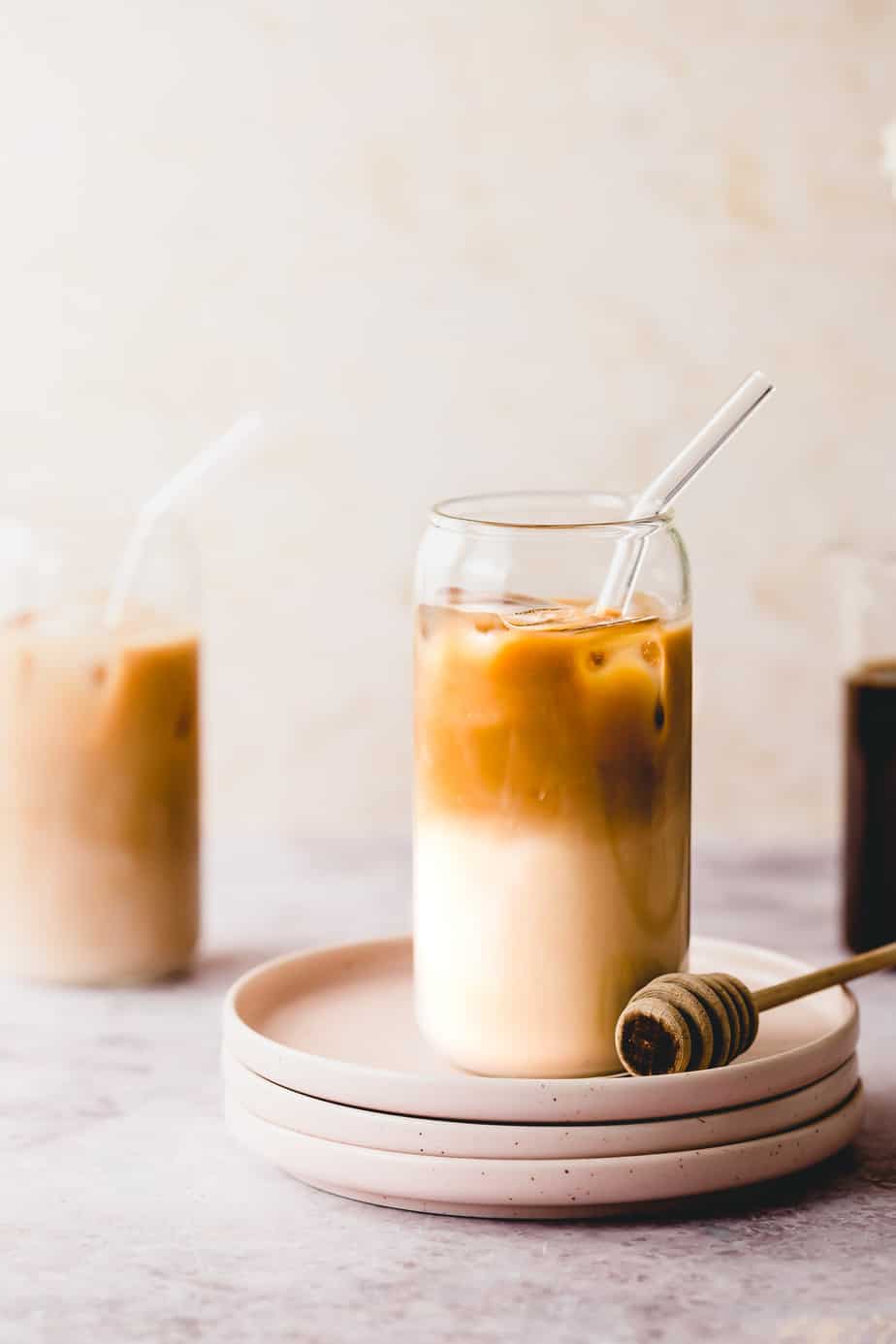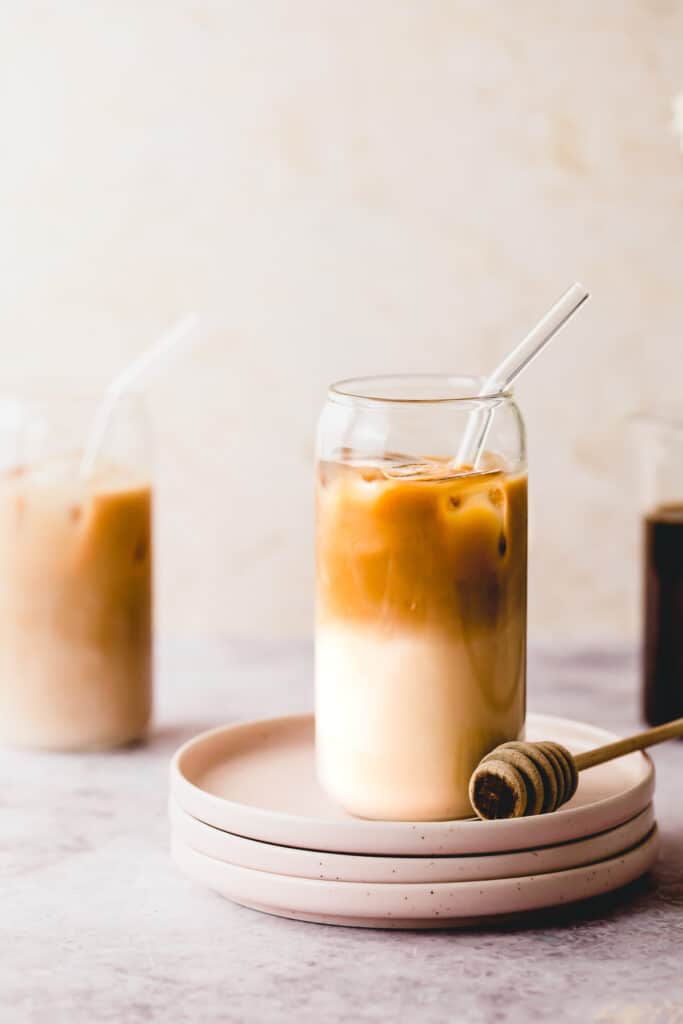 Frequently Asked Questions
Is almond milk good in cold brew?
Almond milk pairs perfectly with cold brew coffee. The sweetness from almond milk combines well with the lower acidity of cold brew coffee. Almond milk works well with nitro coffee too.
Does almond milk curdle in cold brew?
Almond milk may curdle in cold brew coffee. Simply give your cold brew coffee a stir to fix the curdled milk.
What does cold brew do to coffee?
Cold brew has a smoother and sweeter taste than regular coffee. Because it isn't exposed to high temperatures, the coffee has less acidity and therefore is less bitter.
Is cold brew healthier than hot coffee?
Cold brew coffee is just as healthy as hot coffee. It is made by steeping coffee grounds in filtered cold water overnight and contains the same amount of caffeine as hot coffee.
How many calories are in the honey almond milk cold brew?
The Starbucks honey almond milk cold brew recipe has 50 calories in a Grande 16 oz cup.
Honey Almond Milk Cold Brew
This easy Starbucks copycat recipe can be made in under 5 minutes. With only a few simple ingredients this sweet iced latte is a delicious summer drink.
Ingredients
1 tablespoon honey
1 tablespoon hot water
1 cup cold brew
¼ cup almond milk
Ice cubes
Instructions
In a small jug combine the honey and hot water.
Fill a glass with ice cubes and add the honey mixture and cold brew.
Top with almond milk.
Notes
- Add more almond milk for a milkier cold brew coffee.
- Add a sprinkle of cinnamon for a spicy honey almond cold brew coffee.
I hope you love this Honey Almond Milk Cold Brew recipe as much as I do! And if you want to see more of my delicious food adventures, follow me on Instagram or Facebook.