This easy Blueberry Chia Seed Pudding is the ultimate 5 ingredient for breakfast or a snack. Vegan, packed with protein and keto friendly. Made with fresh or frozen blueberries, this chia pudding recipe is a delicious meal-prep option.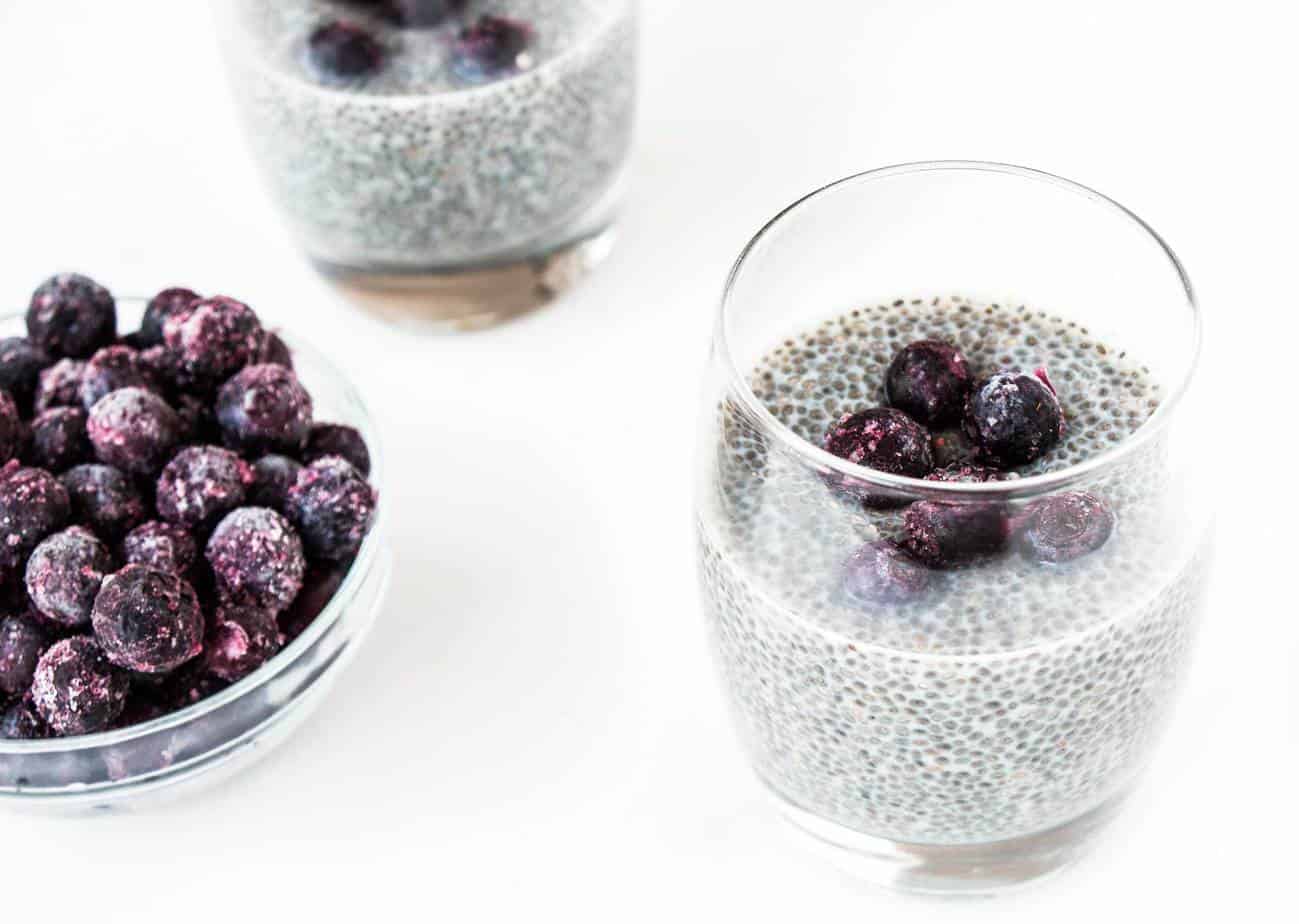 Blueberry Chia Seed Pudding
There's nothing to hate about this easy chia blueberry pudding recipe. Made with only 5 simple ingredients and filled with all the blueberry goodness, you definitely can't go wrong. I'm always a fan of anything blueberry. Blueberry muffins, blueberry smoothies and even blueberry cocktails and now blueberry chia puddings.
The best thing about this chia breakfast pudding is the fact that you can make it the night before. Simply pop all the ingredients you need into a jar, give it a good shake and leave it in the fridge overnight. Nothing like having breakfast ready for you when you wake up.
Ingredients you'll need
Blueberries - Fresh or frozen blueberries work. I always have a bag of frozen blueberries in the freezer to use whenever that craving strikes.
Chia seeds - These protein-packed little guys are going to be your new favorite.
Vanilla extract - For a dash of extra flavor add good quality vanilla extract to your chia seed pudding.
Sweetener - Dependent on your dietary requirements, you could use different options. Maple syrup and xylitol are my top favorites for vegan options.
Almond milk - Substitute almond milk for coconut milk or oat milk. Both options are delicious.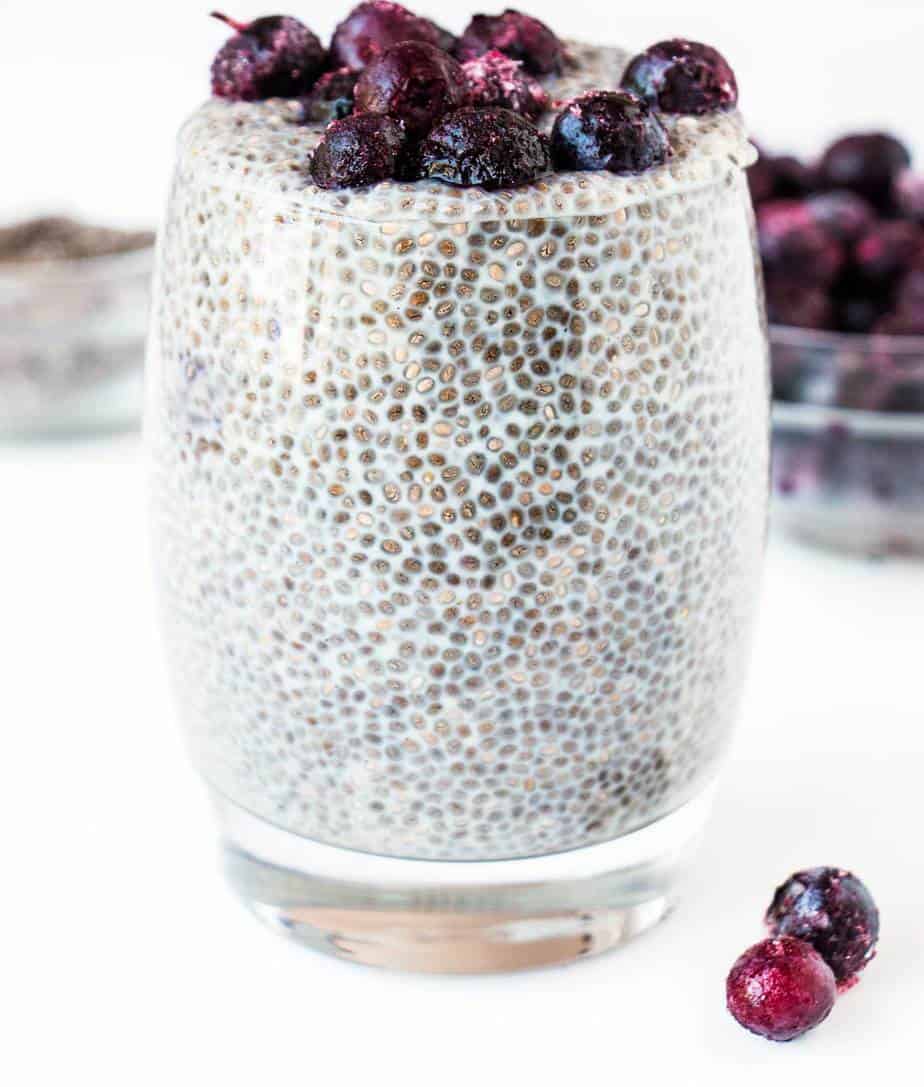 How to make blueberry chia seed pudding
In a jar or mixing bowl, combine the almond milk, sweetener and vanilla extract. Give it a whisk, or a shake if you're using a jar.
Add the chia seeds and whisk again.
Pour half the mixture into a glass or jar, add a couple of blueberries then add the remaining chia seed pudding.
Top with more blueberries and enjoy.
Why is chia pudding good for you?
Packed with protein - Chia seeds contain 17g of protein per 100g so a pretty great way to add a little extra protein into your diet.
High in Omega-3s - Gram for gram, chia seeds contain more Omega-3s than salmon.
Filled with amazing nutrients - Everything from magnesium to fibre, chia seeds are packed with a large number of nutrients. You can read a little more about chia seeds here.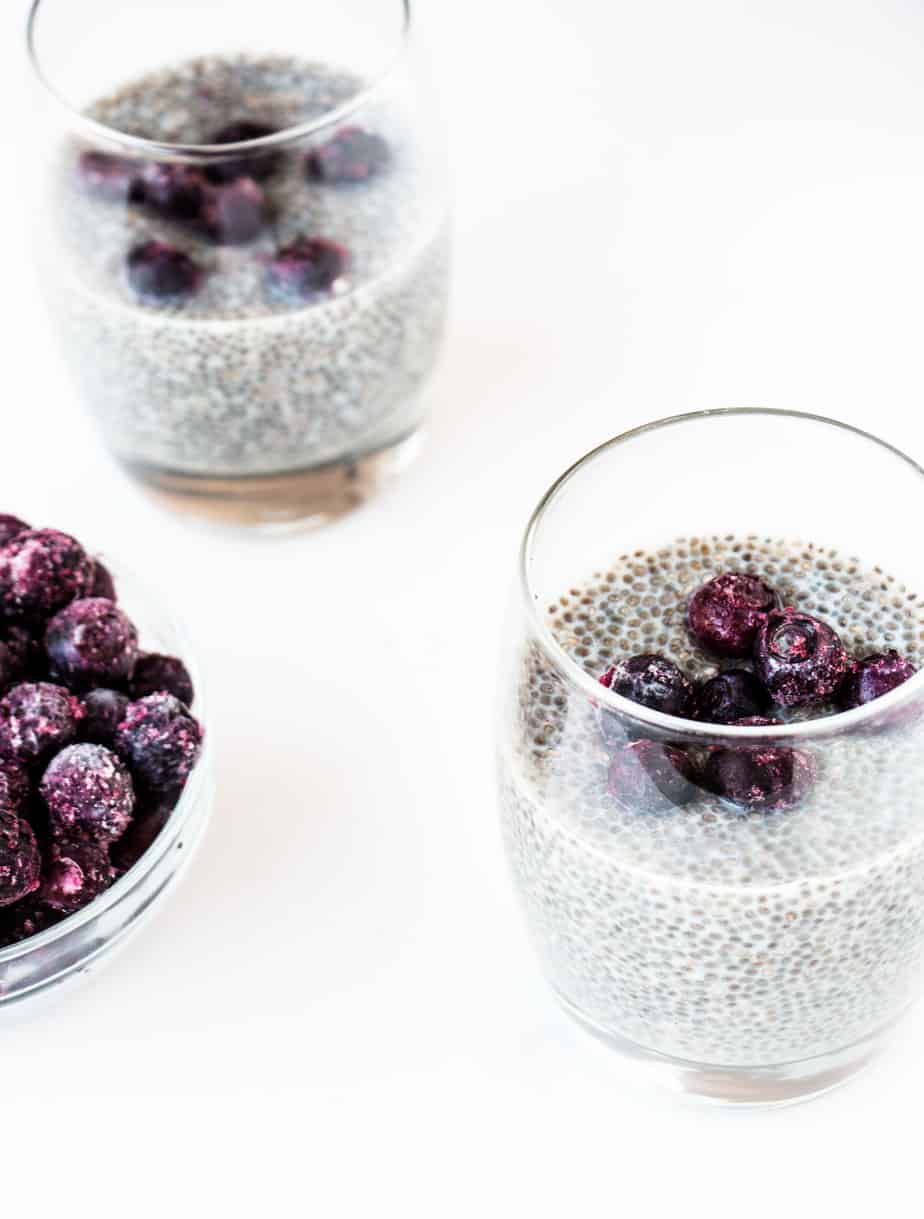 Is chia seed pudding good for weight loss?
Low in calories and high in protein, chia seed puddings can aid in weight loss as they may make you feel fuller for longer. Adding chia seed puddings to your diet can be a great way to curb cravings and give you something healthy to indulge in.
Are chia seeds keto?
This blueberry chia seed pudding is the perfect keto breakfast. With only 2 net carbs, chia seeds are ideal for any keto diet. The fibre in chia seeds can also be beneficial to anyone following a strict keto diet that is struggling with digestive issues.
Variations for this recipe
Toppings - Add crushed nuts or coconut flakes for a little extra flavor.
Sweeteners - Maple syrup gives a deliciously distinctive taste, but stevia, honey and xylitol are all great options too.
Fruits - No need to limit yourself to blueberries, this easy chia seed pudding can easily be adapted by using any other fruit. I often use strawberries instead.
Nut butters - For extra flavor and protein try adding a drizzle of your favorite nut butter.
More chia pudding recipes
Vanilla Blueberry Chia Pudding
This easy 5 ingredient chia pudding is the perfect vegan, protein packed breakfast or snack.
Ingredients
4 tablespoon Chia Seeds
2 tablespoon Sweetener (Xylitol or Maple syrup)
2 teaspoon Vanilla Extract
¾ Cup Almond Milk
½ Cup Frozen/Fresh Blueberries
Instructions
In a small mixing bowl, combine the almond milk, vanilla extract and sweetener.
Add the chia seeds and whisk until fully incorporated.
Add half the chia seed mixture to a glass or jar, then add ¼ cup blueberries.
Add the remaining chia seed mixture and top with remaining blueberries.
Refrigerate for at least 2 hours or overnight.
I hope you love this recipe for Blueberry Chia Pudding. And follow me on Instagram or Facebook for even more food and drink inspiration!