A diverse and tasty collection of easy Side Dishes for BBQ Chicken that will take your summer barbeques to the next level! So if you are looking for recipes and ideas for what serve with BBQ chicken - look no further.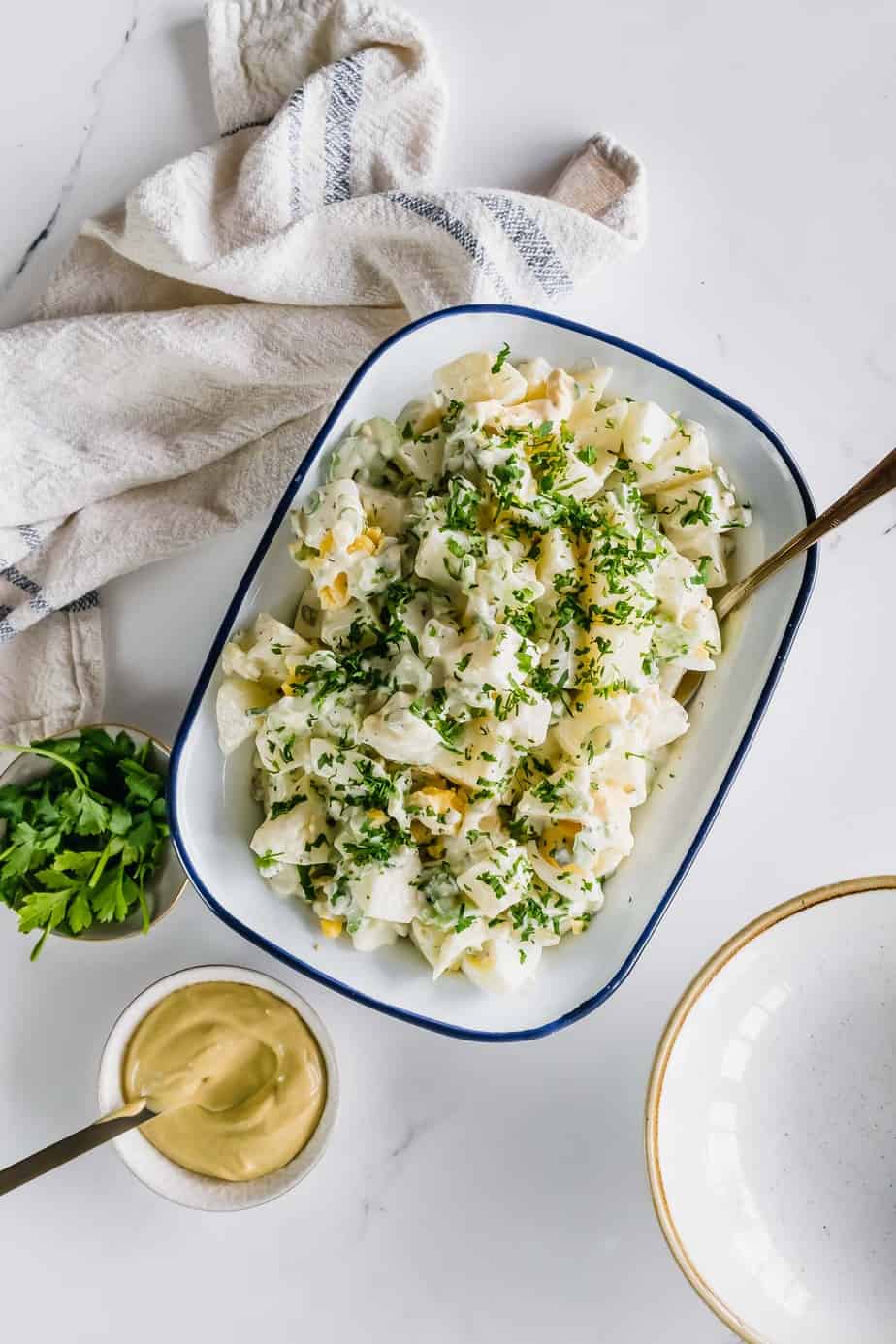 BBQ Chicken With Sides
Everyone loves the summertime and outdoor cooking. And BBQ chicken is a classic, favorite barbeque option. But the best meals are always surrounded by a variety of complementary side dishes.
When it comes to pairing side dishes with BBQ chicken, there are many options to explore! From healthy to indulgent, the recipes ideas to serve with smokey, grilled chicken are endless.
I suggest combining sides with different flavors and textures to have a balanced and varied barbeque spread. And if you are hosting a BBQ this summer, there are loads of side dishes that can be made in advanced and doubled in size to serve a crowd.
Jump to: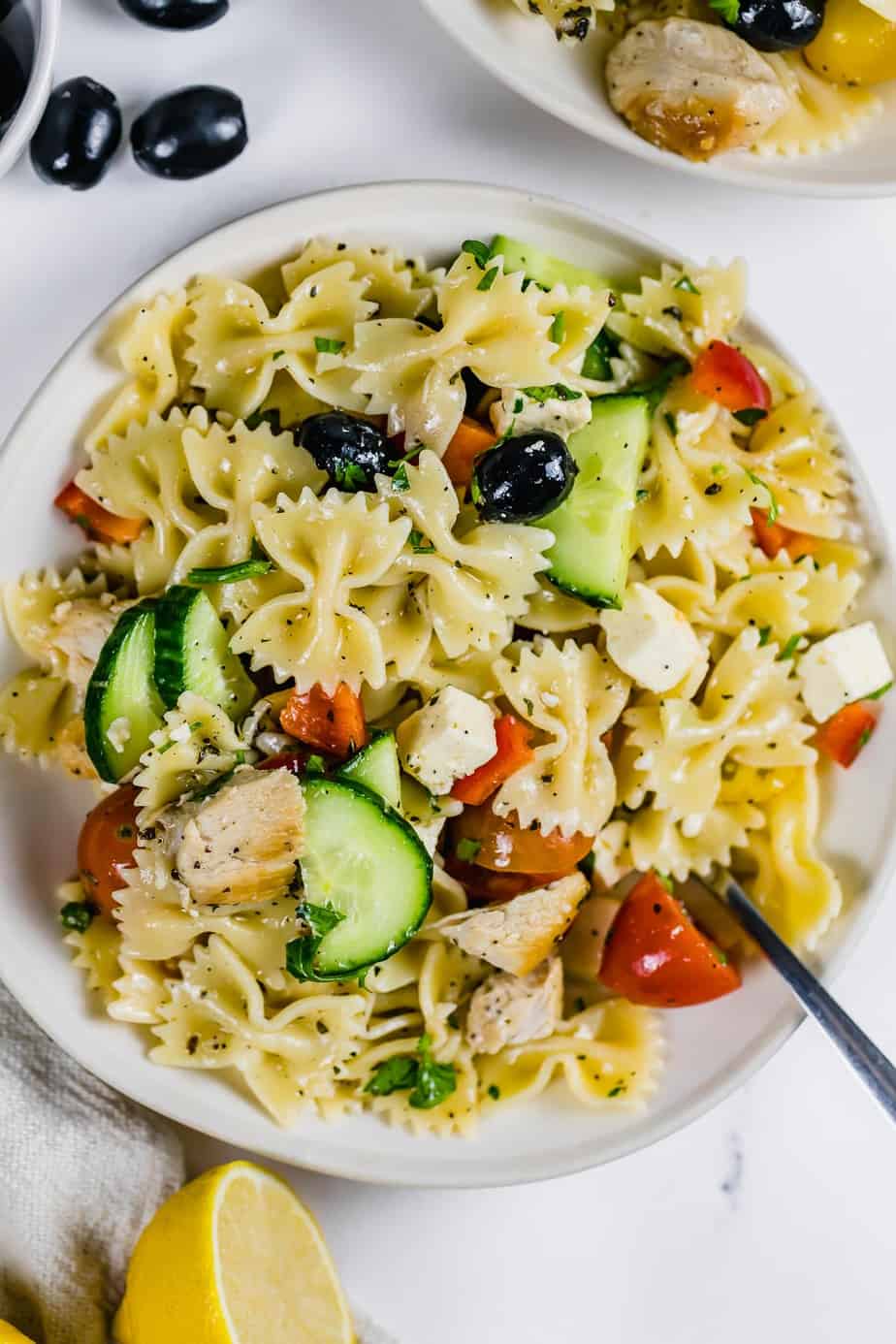 Side Dishes To Serve With BBQ Chicken
Classic BBQ Chicken Side Dishes
This classic creamy potato salad recipe is super simple to make. With an old fashioned potato salad recipe dressing and hard boiled eggs, this recipe is a winner. Plus, the potatoes and eggs are boiled in one pot, so much easier!
Baked beans are a BBQ classic must-have. This delicius version combines beans, bacon, onion, molasses, mustard, ketchup, brown sugar, and Worcestershire sauce for that classic baked bean flavor. You can make this side in a crockpot or on the stovetop.
This greek pasta salad is a classic pasta salad recipe that is fresh and hearty. Made with fresh tomatoes, cucumber, olives, parsley, and feta - it is the perfect one-bowl summer recipe.
Every barbeque needs coleslaw! It is a great make-ahead side option that everyone loves. And you can adapt this delicious creamy, cabbage coleslaw to your exact preferences.
Baked macaroni and cheese doesn't have to be complicated with layers of ingredients to be the soul-warming side dish you crave. A classic homemade baked macaroni and cheese is a favorite crowd pleaser!
Healthy Sides For BBQ Chicken
This Vegan Avocado Broccoli Pesto Pasta is easy to make and its creamy sauce is packed full of fresh flavor and healthy ingredients. A tasty pasta dish that can be made in just 20 minutes!
Full of healthy ingredients, this tasty and nutritious salad is destined to be a hit at your next BBQ. It is light, refreshing, and full of flavor. Plus, it is allergy-friendly making it a great salad for almost everyone!
This Jalapeno Hummus is super creamy and packed with delicious fresh jalapeno flavour. This homemade hummus recipe is easy to make and is perfect as a dip or a spread on healthy bread as a spicy, simple side dish for BBQ chicken.
Why not try a healthy spin on a classic coleslaw this summer BBQ. Turn healthy vegetables into a colourful, vibrant coleslaw! With a little help of a food processor this delicious Rainbow Slaw with Lemon Garlic Tahini Dressing can be ready in just 10 minutes.
The perfect summer side dish to serve with your BBQ protein, then this pineapple salsa is bright, vibrant, and packed with flavor. Made with pineapples, jalapeno, tomatoes, red onions, and bell peppers, this tasty and crunchy side is a great healthy option that is the perfect pair with any smoky or spicy dishes.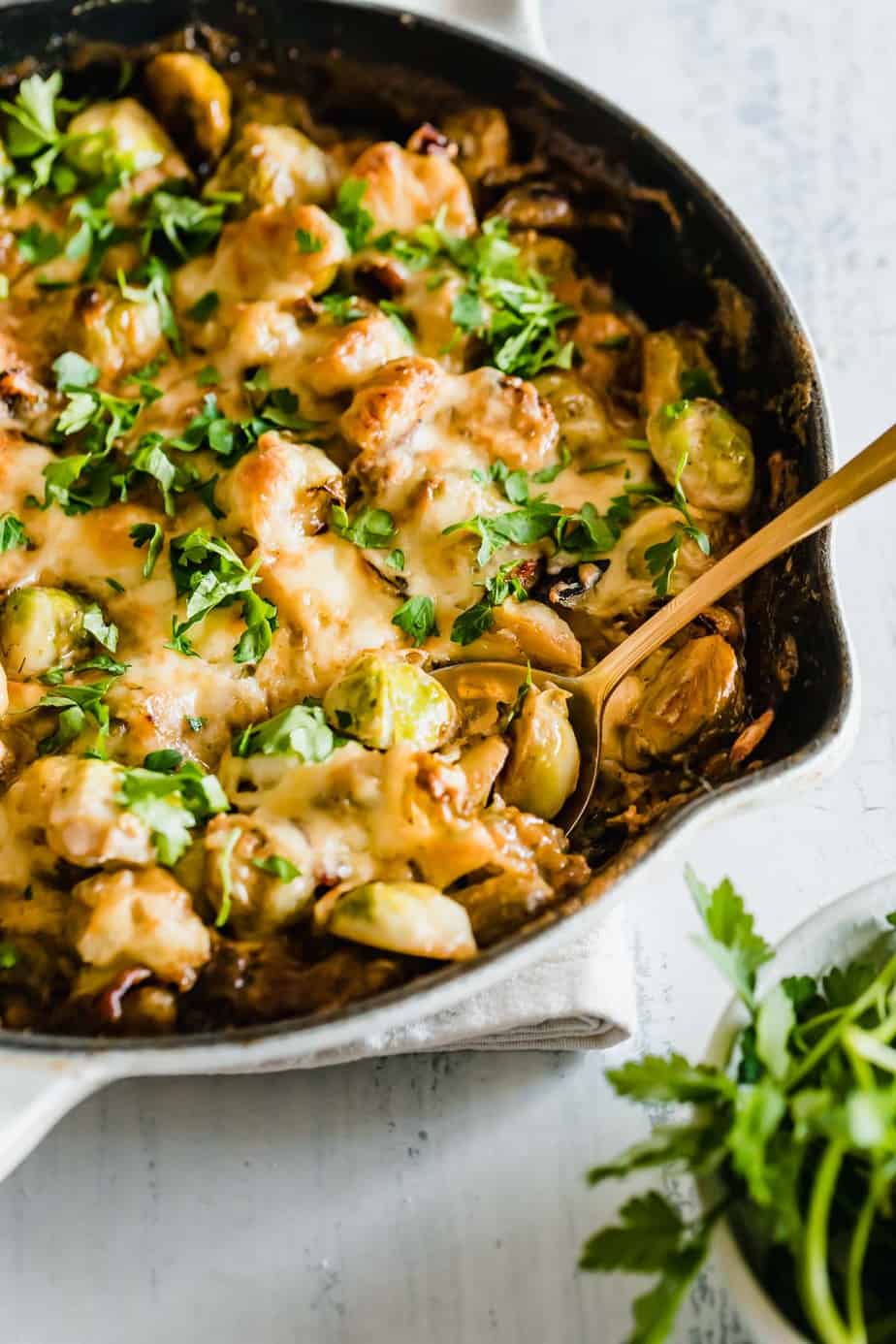 Keto Side Dishes for BBQ Chicken
Roasted asparagus topped with mozzarella cheese and smothered in garlic? Yes please! This keto side dish is the perfect indulgent companion to juicy grilled BBQ chicken this summer.
Keto Brussels Sprouts with Bacon & Cheese is a warm, vegetable side dish that will leave everyone wanting more! Crisp sautéed brussels sprouts and smokey bacon are oven-baked in a creamy garlic sauce topped with cheese.
A slice of this delicious keto bread is what your BBQ spread needs! Made with flaxseed, coconut flour, and lots of cheese, this loaf takes 50 minutes to bake, but only 15 to prepare. The spicy jalapeno flavor combines perfectly with the bacon's saltiness and the richness of the various cheeses.
A keto diet twist on a classic side dish! This delicious green bean casserole is also gluten-free, and every bite packs a delicious punch of cheesy, herby flavor that everyone will enjoy.
A delicious salad option to serve with BBQ chicken. This satisfying salad is full of flavor and pairs wonderfully with grilled protein as a delicious keto-friendly meal. And the best part is that it is incredibly quick and easy to make!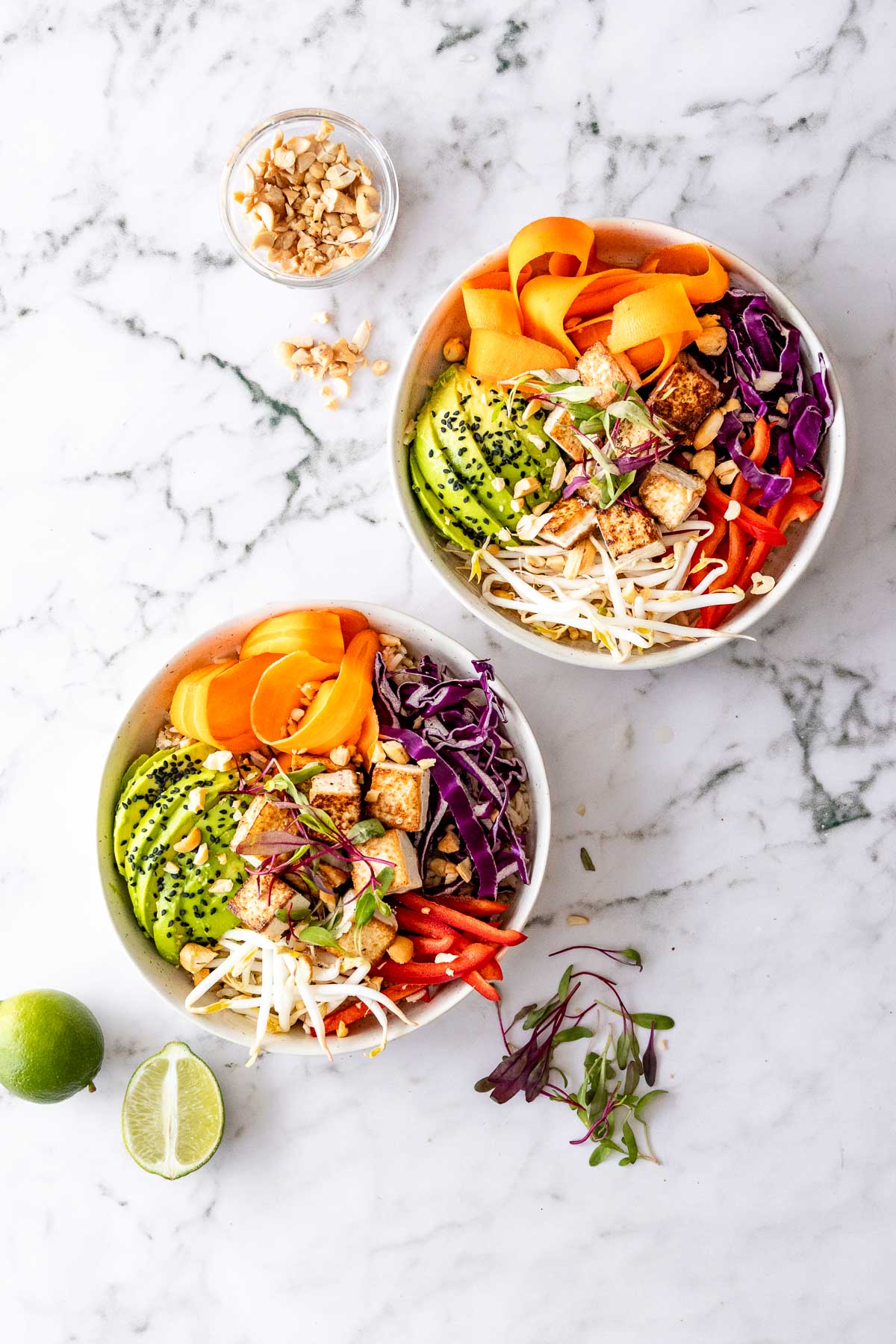 Vegetable Sides For Chicken BBQ
Ditch your deep fryer in favor of this quick and easy recipe for Crispy Baked Onion Rings. These are the perfect crunchy and savory side to serve at your next barbeque!
Oven Baked Potato Wedges are the perfect recipe for a side dish that tastes amazing but requires very little preparation. This cost-effective side dish for BBQ chicken is full of flavor but still lets the grilled BBQ flavor of the chicken shine.
An easy to make crockpot recipe takes creamed corn to the next level. Ditch the canned corn and try this make ahead crockpot recipe. This slow cooker side dish recipe is a delicious, creamy BBQ side dish.
Heirloom tomatoes are also packed with way more flavor and less acidity than conventional tomatoes. And when combined with feta cheese and fresh basil, and then a drizzle of Italian dressing on top, there will be nothing but empty plates at your barbeque.
Cooked until they become charred and have an almost-caramelized flavor, these grilled ears of corn are perfect with any BBQ meat, like chicken. The minced garlic, thyme, and parsley butter spread makes for a fragrant taste that's packed with flavor.
I hope you enjoy these recipes for Side Dishes for BBQ Chicken! And if you want to see more of my food adventures, follow me on Instagram or Facebook.
If you are looking for more vegetable side dish ideas, check out my post 20 EASY VEGETABLE SIDE DISHES or WHAT TO SERVE WITH FISH TACOS (EASY SIDES)!
Chicken Dishes You May Like: