Make a delicious Midori Sour cocktail with this step-by-step guide. Made with premium Midori melon liqueur, freshly squeezed lemon juice, and simple syrup, this sweet and tangy cocktail is perfect for those hot summer days.
With expert tips on how to achieve the perfect frothy texture and garnish the cocktail for maximum visual appeal, this recipe is sure to impress your guests. Serve it over ice and enjoy the refreshing taste of this bright green cocktail.
What Is Midori?
Originating in Japan, midori is a vibrant green liqueur with a sweet melon flavor. The Japanese word "midori" means "green," which is appropriate given the liqueur's vivid hue. It is prepared from a mixture of neutral spirits and Japanese muskmelons, which gives it its distinctive flavor.
Since its 1964 debut in Japan, midori has gained popularity as an ingredient in cocktails, especially in the US. Its vivid green hue makes it an eye-catching ingredient in drinks and is frequently used to give cocktails a sweet and fruity flavor.
Check out our list of 10 Delicious Midori Cocktails!
What's In A Midori Sour?
Midori: Midori is a sweet melon-flavored liqueur that adds the unique flavor and bright green color to the midori sour.
Lemon Juice: Freshly squeezed lemon juice is used to balance out the sweetness of the Midori with a sour and citrusy flavor. Adjust the lemon juice based on your own preference. Add a little more for a more sour taste.
Simple Syrup: Simple syrup adds the sweetness to this midori cocktail. It is made up of equal parts of sugar and water.
Egg White (Optional): Egg white gives a sour cocktail its distinctive frothy and creamy texture. Substitute with aquafaba for a vegan version.
Ice: Ice is added to the cocktail shaker to chill the ingredients and dilute the cocktail slightly. The amount of ice used can vary depending on personal preference.
Garnish: A common garnish for a Midori Sour is a maraschino cherry, which is placed on top of the foam. Some recipes may also call for a slice of lemon or a wedge of honeydew melon to garnish the cocktail.
How To Make A Midori Cocktail
STEP ONE
Fill a cocktail shaker with ice.
STEP TWO
Add the Midori and fresh lemon juice along with the simple syrup to the cocktail shaker. Shake vigorously for 15 seconds. If using egg white, add the egg white before shaking.
STEP THREE
Strain the cocktail into an ice filled glass and garnish.
Recipe Variations
Spicy Midori Sour
For a delicious spicy twist add a small amount of jalapeno or another hot pepper to the cocktail shaker. Make sure to strain the cocktail carefully to remove any bits of pepper. We also love making Aperol sours so make sure to give that a go too.
Midori Margarita Sour
Swap out the lemon juice for lime juice and add a splash of orange liqueur like Cointreau or Triple sec to create a Midori Margarita Sour. Salt the rim of the glass for a classic margarita touch.
Midori Sour with Ginger Ale
This is one of my favorite variations. Use ginger ale instead of simple syrup to create a spicy, refreshing twist on the classic midori cocktail.
Midori Sour with Blue Curacao
For a blue twist on this classic green cocktail, add a splash of Blue Curacao to the recipe. Blue Curacao is an orange-flavored liqueur that adds a slightly bitter note to the sweet Midori Sour. Another delicious blue drink is our Irish Trash Can Drink.
Midori Sour with Champagne
Nothing tastes as good as Champagne or prosecco in a cocktail. Try our Limoncello Spritz cocktail or add a splash of champagne to the Midori Sour recipe. This variation is perfect for celebrations or special occasions.
When To Serve a Midori Sour
Parties and Gatherings: The bright green color and sweet flavor of a Midori Sour make it a popular choice for parties and gatherings, particularly during the spring and summer months. The cocktail is a refreshing and eye-catching addition to any bar or cocktail menu.
Happy Hour: A Midori Sour is a perfect choice for a happy hour or after-work drink. The combination of sweet and sour flavors is a great way to unwind after a long day, and the vibrant color of the cocktail is sure to put a smile on your face.
Brunch: The fruity and refreshing flavor of a Midori Sour makes it a great choice for a brunch cocktail. It pairs well with many brunch dishes, such as eggs Benedict or pancakes, and the bright green color is a fun and festive addition to any brunch table.
Summer BBQs: A Midori Sour is a great choice for a summer BBQ or cookout. The sweet and fruity flavor is a refreshing complement to grilled meats and veggies, and the bright green color is a fun and playful addition to any outdoor party.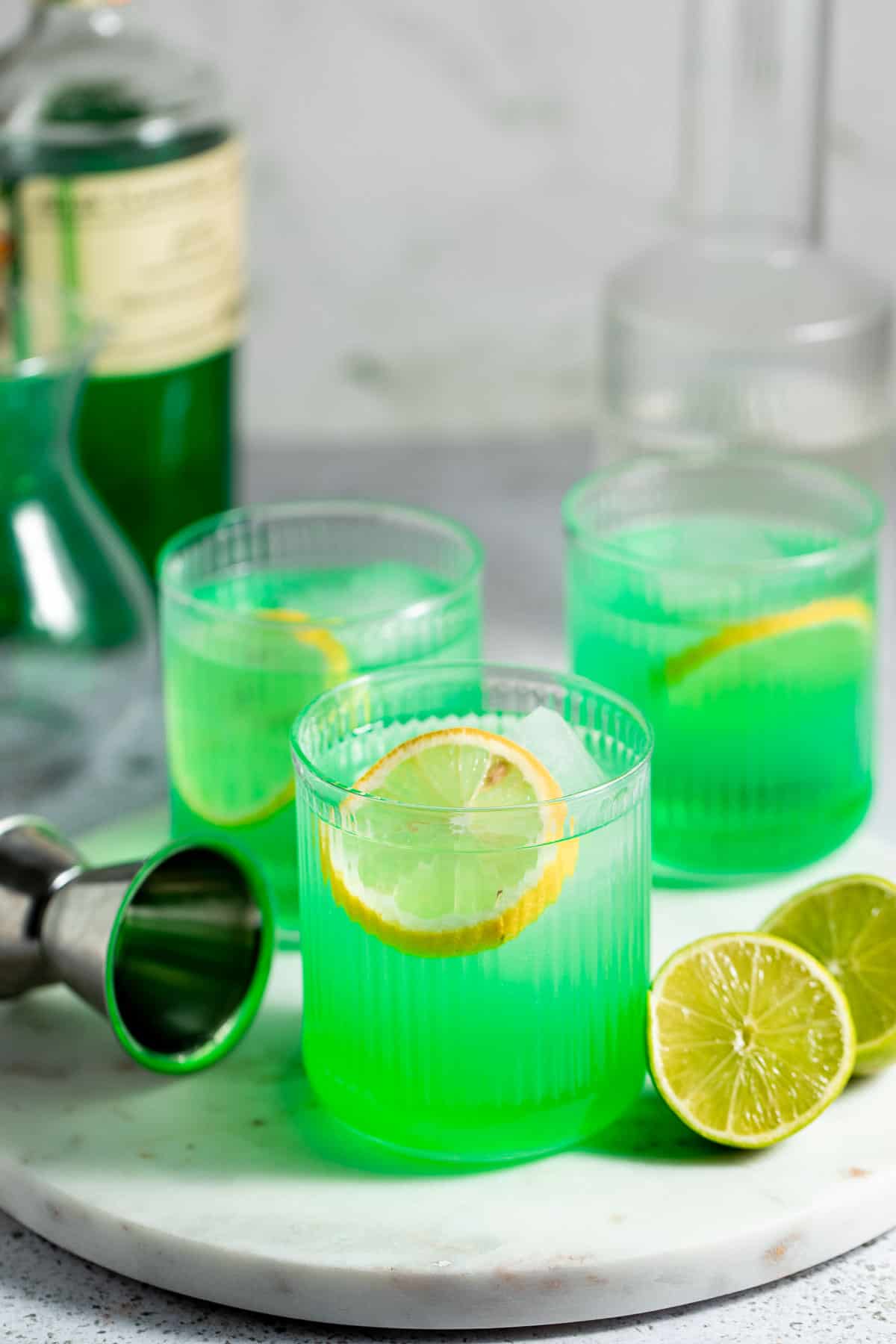 Expert Tips
Fresh lemon juice
Freshly squeezed lemon juice is essential for a great Midori Sour. Avoid using bottled lemon juice, as it may contain preservatives that can affect the flavor of the cocktail.
High-quality ingredients
Use high-quality ingredients, including a premium Midori melon liqueur, fresh lemon juice, and homemade simple syrup, to ensure the best possible flavor.
Shake it up
Shake the cocktail vigorously for at least 10-15 seconds to ensure that the ingredients are thoroughly mixed and the cocktail is chilled properly.
Experiment with egg whites
Adding egg whites to the cocktail can create a frothy texture that adds a silky mouthfeel to the cocktail. However, it's important to shake the cocktail vigorously to properly emulsify the egg whites.
Choose your garnish
A maraschino cherry or a slice of lemon is a classic garnish for a Midori Sour. The garnish adds a pop of color and a touch of sweetness to the cocktail.
Keep it cold
A Midori Sour is traditionally served over ice, which helps to balance the sweetness of the cocktail and adds a refreshing touch.
Adjust the sweetness
If you find the cocktail too sweet, adjust the amount of simple syrup to your taste. Similarly, if you prefer a more sour cocktail, add a bit more lemon juice.
More Delicious Cocktail Recipes
Midori Sour
A refreshing melon flavored cocktail that can be made in under 5 minutes.
Ingredients
2

ounce

Midori

1

ounce

Simple Syrup

1

ounce

Lemon Juice

½

ounce

Lime Juice

Soda Water

to top
Instructions
Fill a glass with ice and add the midori, lemon juice, lime juice and simple syrup. Stir to combine.

Top with soda water and garnish with fresh lemon slices.
Nutrition
Calories:
237
kcal
Carbohydrates:
45
g
Protein:
1
g
Fat:
0.1
g
Saturated Fat:
0.01
g
Polyunsaturated Fat:
0.01
g
Sodium:
17
mg
Potassium:
64
mg
Fiber:
0.1
g
Sugar:
42
g
Vitamin A:
9
IU
Vitamin C:
15
mg
Calcium:
7
mg
Iron:
1
mg
Tried this recipe?
Let us know how it was in the comments below
Tag us on Instagram!
We love seeing people make our recipes. Mention @baking_ginger