Easy Raspberry Buttercream Recipe
A delicious fresh buttercream that is perfect to frost any cake or cupcake. This Easy Raspberry Buttercream is simple to make and has a beautiful natural colour and flavour.
Raspberry is such a delicious flavour and it works incredibly well in this easy buttercream recipe. This frosting is guaranteed to take whatever you are baking to the next level! It is sweet, slightly tart and tangy, fruity, and very rich and creamy.
Uses For This Raspberry Buttercream
This delicious Easy Raspberry Buttercream is the perfect topping and filling for anything and everything!
It goes perfectly on top of cupcakes, it is smooth enough to frost and fill cakes, and it pairs well with so many different flavours.
I've used it to frost my Healthy Chocolate and Raspberry Cupcakes, Soft Vanilla Cake, and Zesty Citrus Cupcakes and it worked super well each time!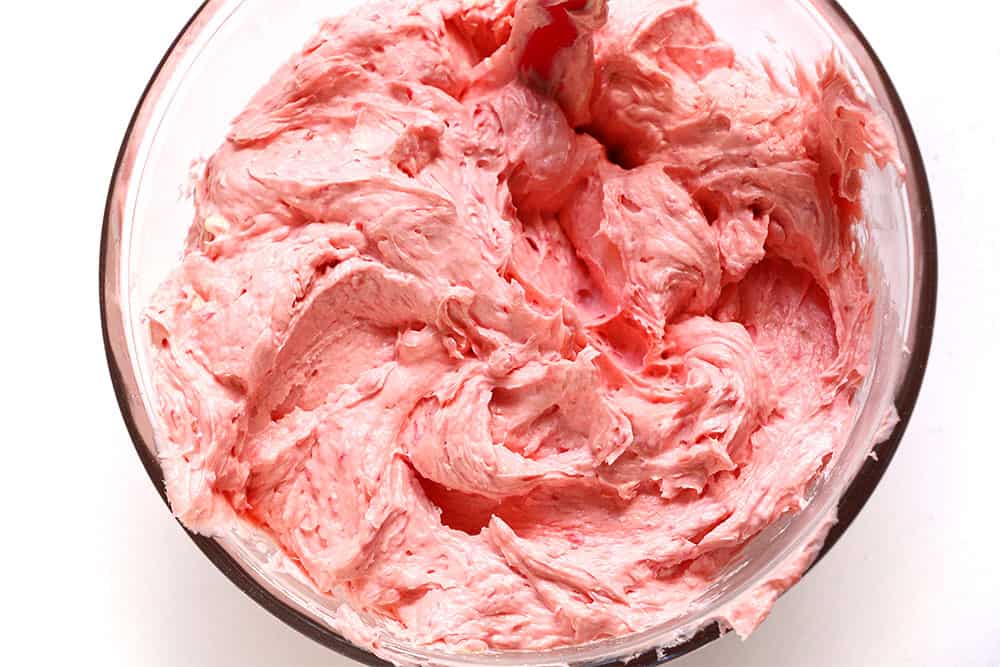 What Are the Main Ingredients in Fresh Raspberry Frosting?
Butter. Buttercream frosting starts with butter. It should be good quality and room temperature. (A helpful Tip: You can bring butter to room temperature by microwaving it at five-second intervals until it reaches room temperature.)
Powdered sugar. Powdered sugar is what makes buttercream frosting stiff enough to pipe and makes it sweet. You can add more powdered sugar to this recipe to make the buttercream stiffer or less if you want it to be looser. (A Helpful Tip: If your powdered sugar has lumps in it which occur from moisture, sifting it first will ensure a smooth buttercream.)
Raspberries. The key ingredient to all the yummy flavour in this frosting so be sure to use ripe, good quality fruits. (A Helpful Tip: If you do not have fresh strawberries, you can use frozen ones. Bring them to room temperature first though by leaving them in the refrigerator for at least four hours.)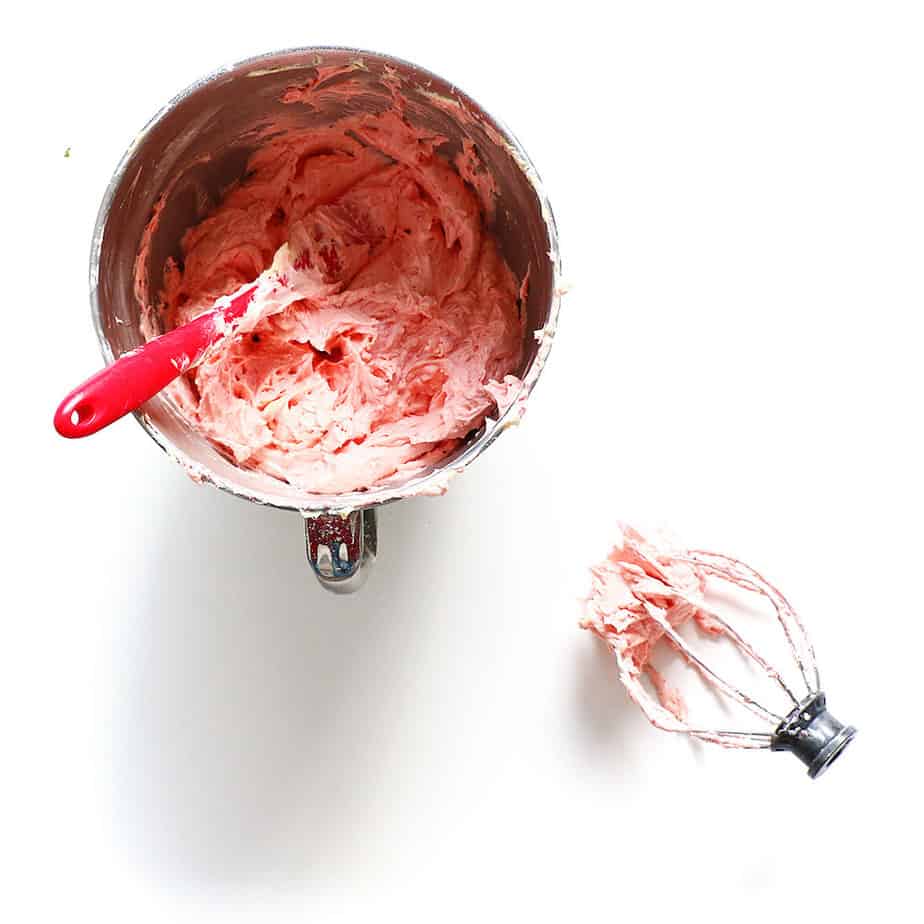 Does Raspberry Frosting Need to Be Refrigerated?
How To Store Frosting
You can leave raspberry buttercream on the counter for up to three days. If you aren't using the frosting right away, store it in an airtight container and keep it in the fridge for up to a week or in the freezer for up to a month.
Bring the frozen frosting to room temperature by placing it in the refrigerator overnight and then leaving it on a counter for a few hours. You will then need to re-whip it before using.
Easy Raspberry Buttercream
Ingredients
2

Cups

Butter

room temperature

4 ½

Cups

Powered Sugar/Xylitol

sifted

1

Cup

Raspberries

2

tsp

Milk/Almond Milk

1

tsp

Vanilla
Instructions
Using the paddle attachment, cream the butter until becomes lighter in colour (about 7min).

Add in the the powdered sugar a little at a time and then change to the whisk attachment and whisk the mixture on high speed until light and fluffy.

Add the vanilla, milk and raspberries and continue to whisk. The raspberries will start breaking apart and create a beautiful colour.

Whisk until everything is well incorporated and smooth.

Use as a filling or to frost cakes.
If you give this recipe a try, let me know what you think of it over on my Instagram. I'd love to hear your thoughts 🙂
More Raspberry Recipes You Might Like: