Soft Vanilla Cake with Raspberry Buttercream - A delicious vanilla cake recipe that is easy to make and is perfectly moist and soft. Filled and topped with a delicious and creamy raspberry buttercream.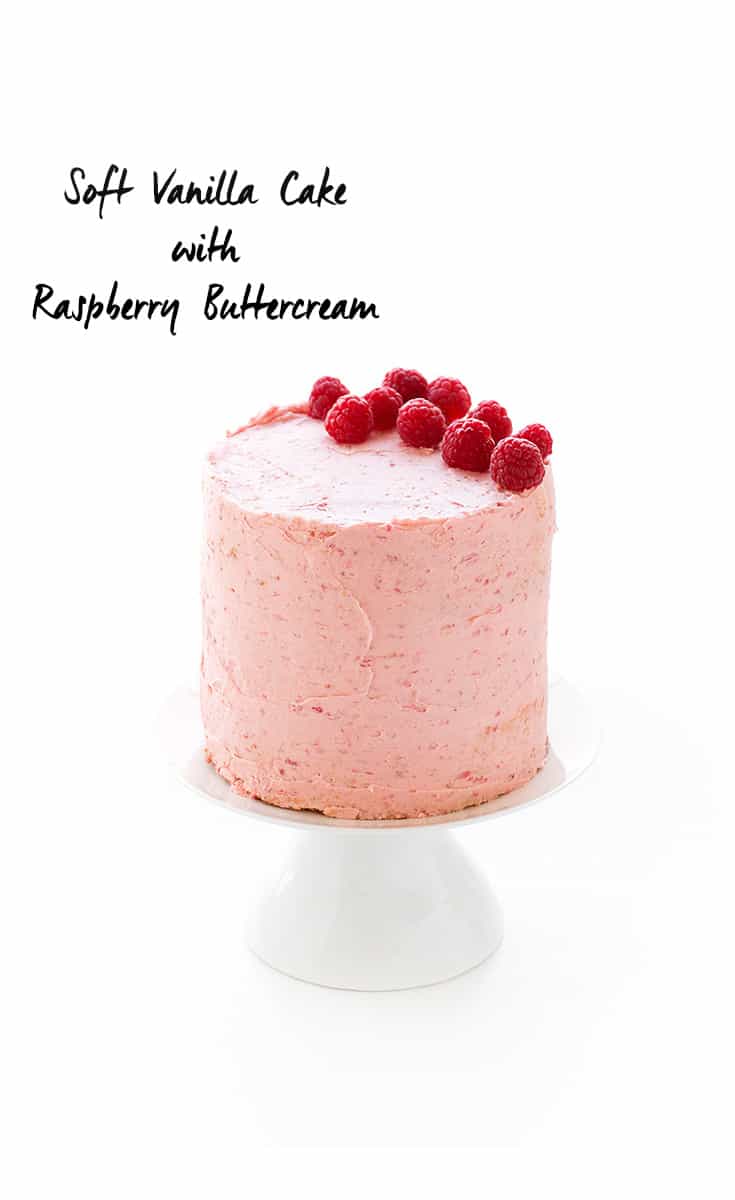 Raspberry and vanilla cake
After making that simply delicious Easy Raspberry Buttercream I just had to make something perfect to go with it. I chose to make a simple vanilla cake because I love how the soft flavours of the vanilla cake complement the tangy sweet raspberry buttercream.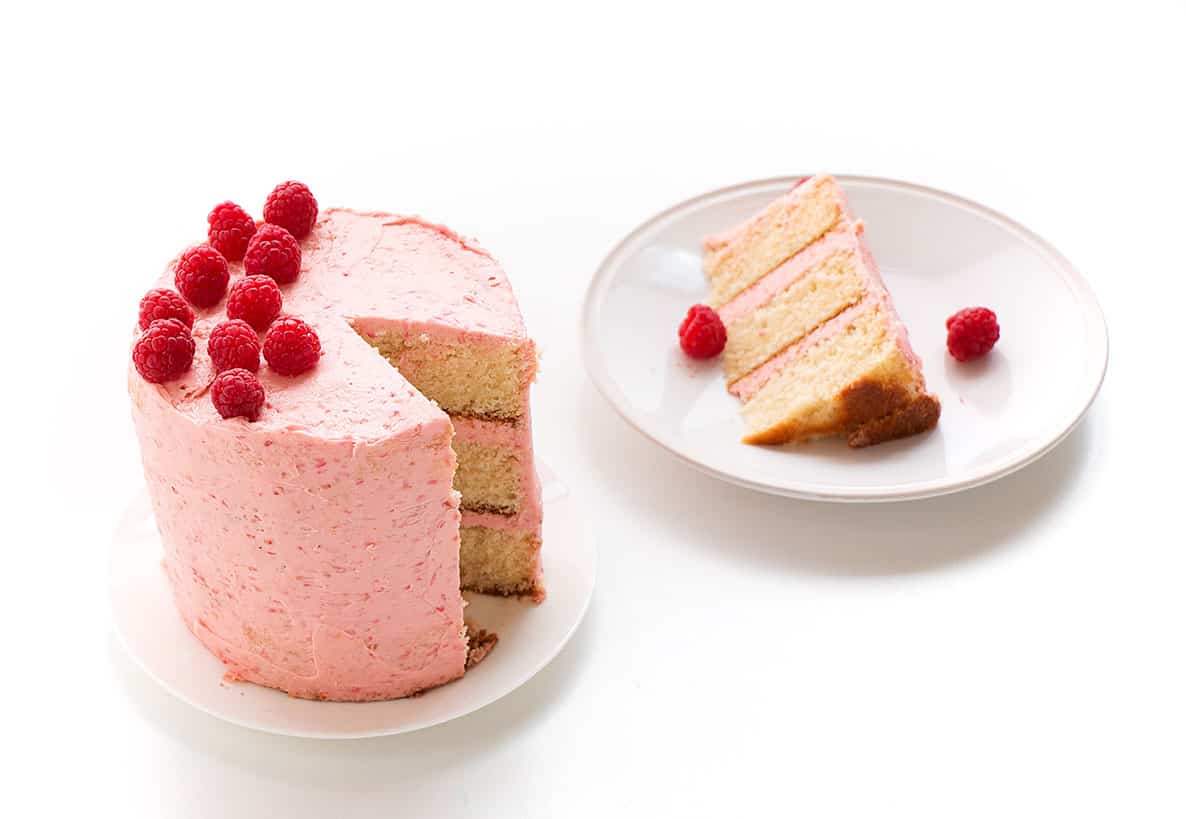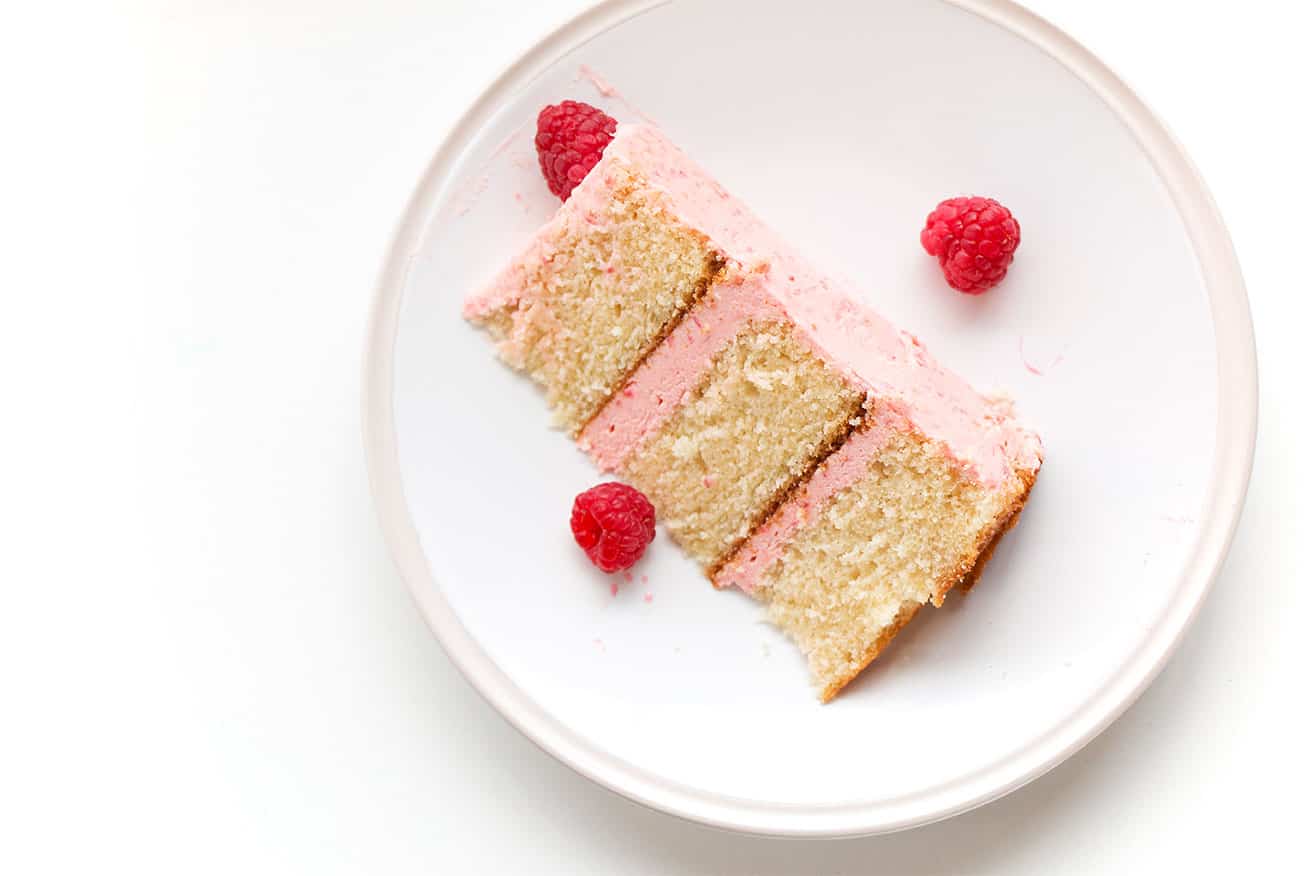 My perfect cake is normally one where the cake itself is not incredibly sweet but then has a perfectly sweet and creamy frosting and filling. That is how a cake should be.
And that is exactly how this cake is. The vanilla cake is moist, soft and has a beautiful subtle flavour.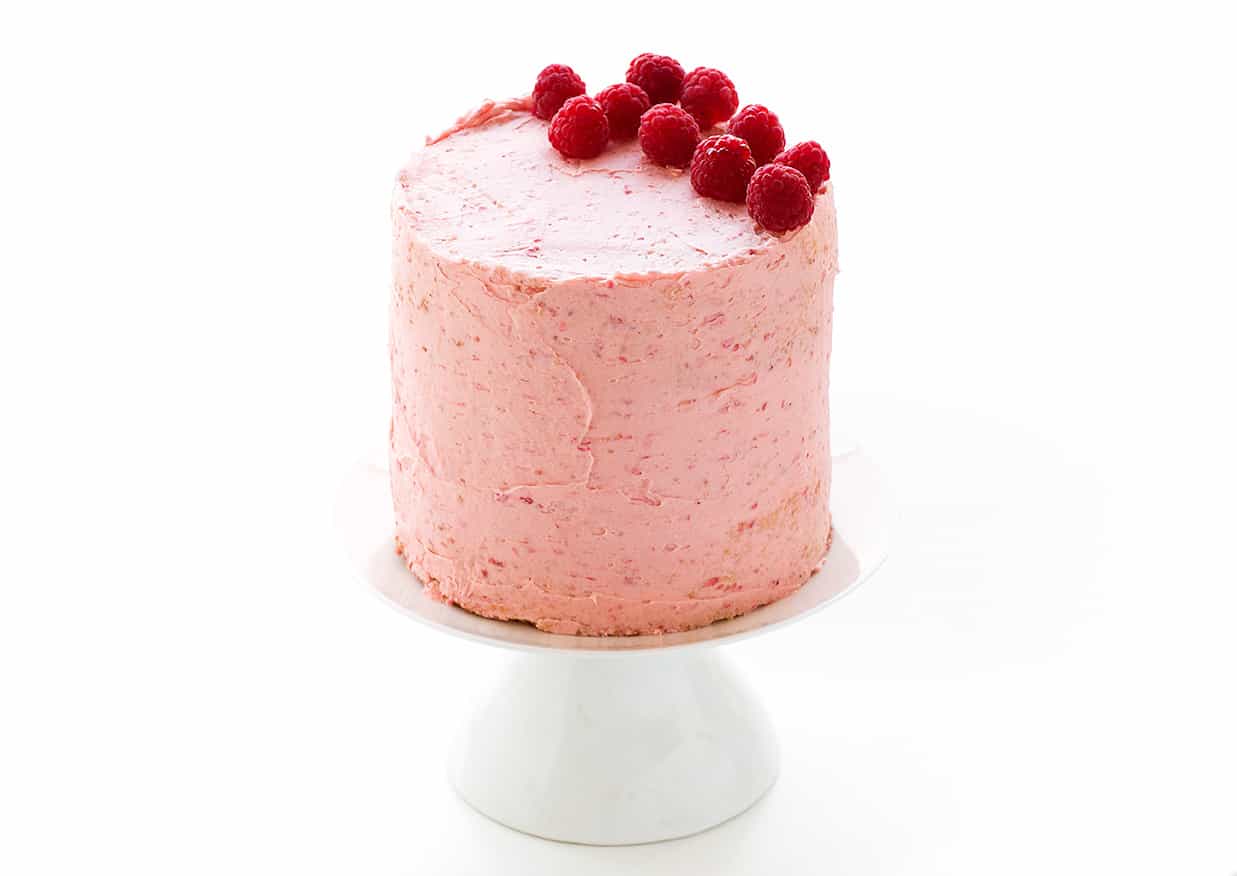 Why you'll love this layered and frosted cake
This Soft Vanilla Cake with Raspberry Buttercream is also super duper easy and quick to whip up. The cake itself takes barely 15 minutes to make and only bakes for about 20 min. How quick and easy is that!
It truly is my go-to cake every time I have to make something quickly for someone's birthday or some other occasion. It also goes perfectly with just about any filling and frosting.  
This time I used 3 small 15cm round cake tins because I LOVE a tall cake. It just looks so beautifully majestic.
But if you wanted to, you could opt for two larger cake pans instead. I then baked them all at the same time, and placed them on a wire rack to cool down while I made the buttercream and then gently spread the icing over the cake with a palette knife (I seriously love the Cake Boss range, so sturdy and beautiful). Easy right?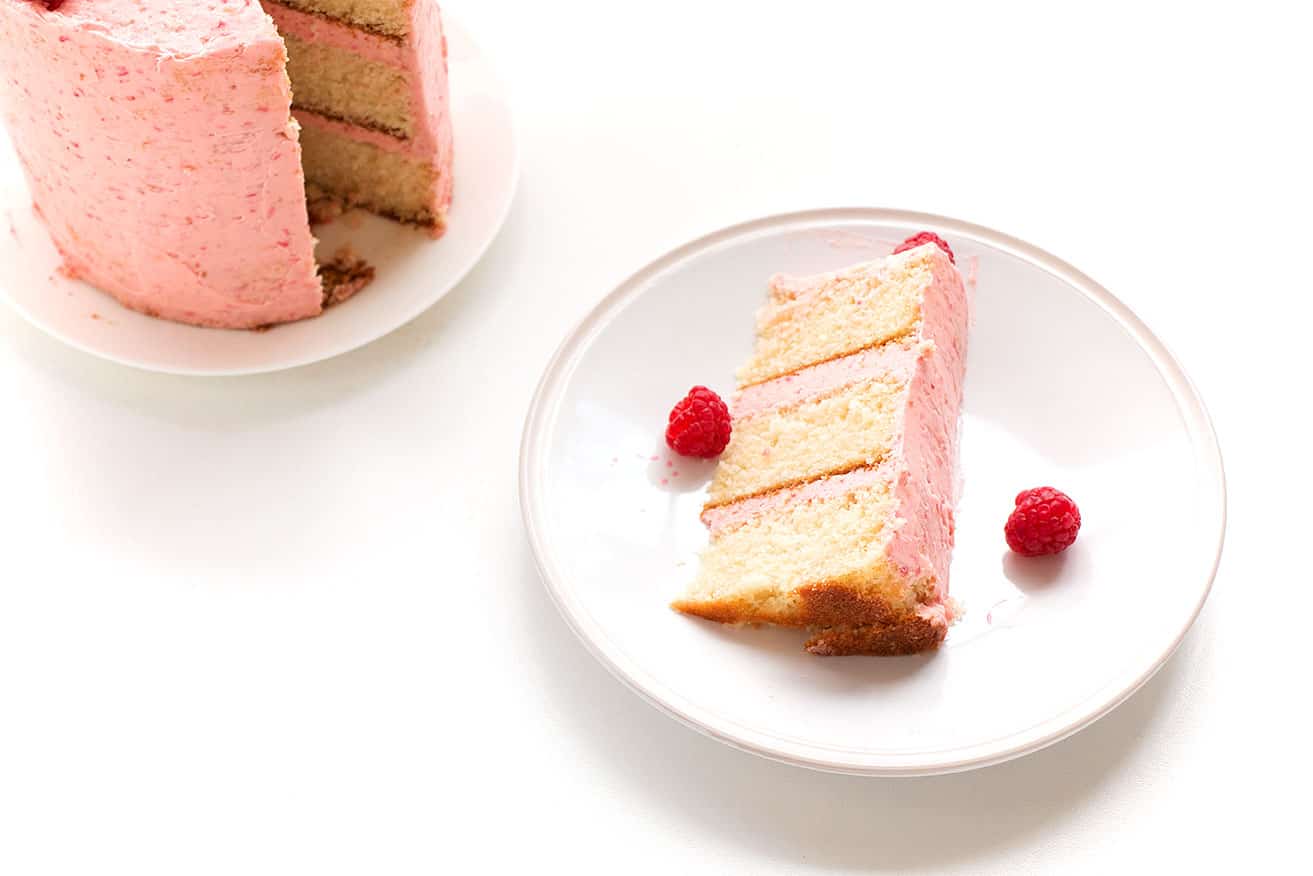 Creamy raspberry buttercream frosting
The Easy Raspberry Buttercream is so yummy! Oh my goodness. It is sweet, tangy, creamy and fluffy.
I love how beautiful the colour is as well without having any food colouring in at all. All of that beautiful colour is naturally so from the raspberries. How awesome is that right?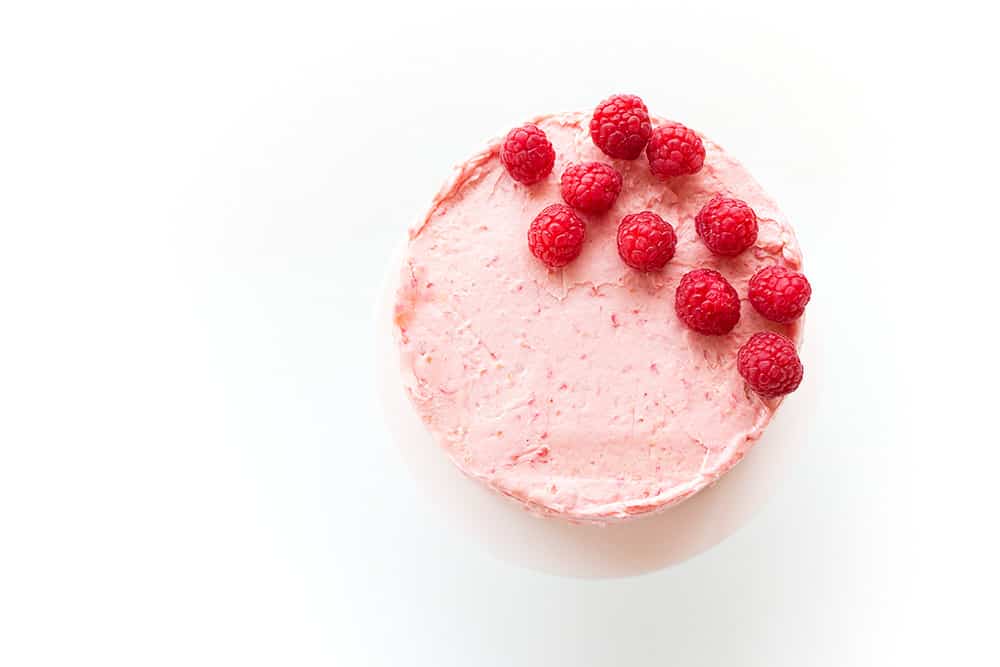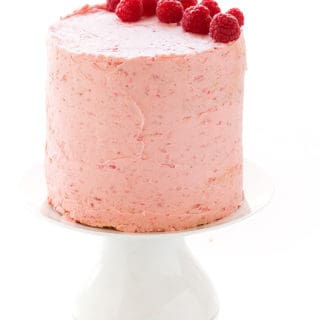 Soft Vanilla Cake with Raspberry Buttercream
Ingredients
For the Cake:
1 ½

Cups

Sugar

3

Cups

Cake Flour

Pinch

of Salt

4

Eggs

4

teaspoon

Baking Powder

1

Cup

Milk

1

Cup

Oil

3

teaspoon

Vanilla
Instructions
For the Cake:
Preheat the oven to 180ºC/350ºF.

Cream the oil, sugar and egg together until lighter in colour.

Add in the vanilla, milk and salt.

Once combined, soft in the cake flour and baking powder and mix until just combined.

Line 3 6inch Cake Tins with baking paper and spray lightly with non-stick spray.

Divide the batter between the three cake tins and bake for 20-25min or until golden brown.
Assemble:
Place one layer of cake on a

cake board

and spread a little buttercream over it, place the next layer of cake on the frosting and do the same with that layer.

When all 3 layers are stacked, using a palette knife, apply a thin layer of the buttercream around and on top of the cake. Use the palette knife or

cake scraper

to create a smooth look.

Top with fresh raspberries.