If you're not sure what to mix with gin besides some tonic water, find some easy and delicious inspiration here with our list of the best mixers for gin! Gin is a versatile drink that can be paired with many different options and a good mixer can help its flavor shine!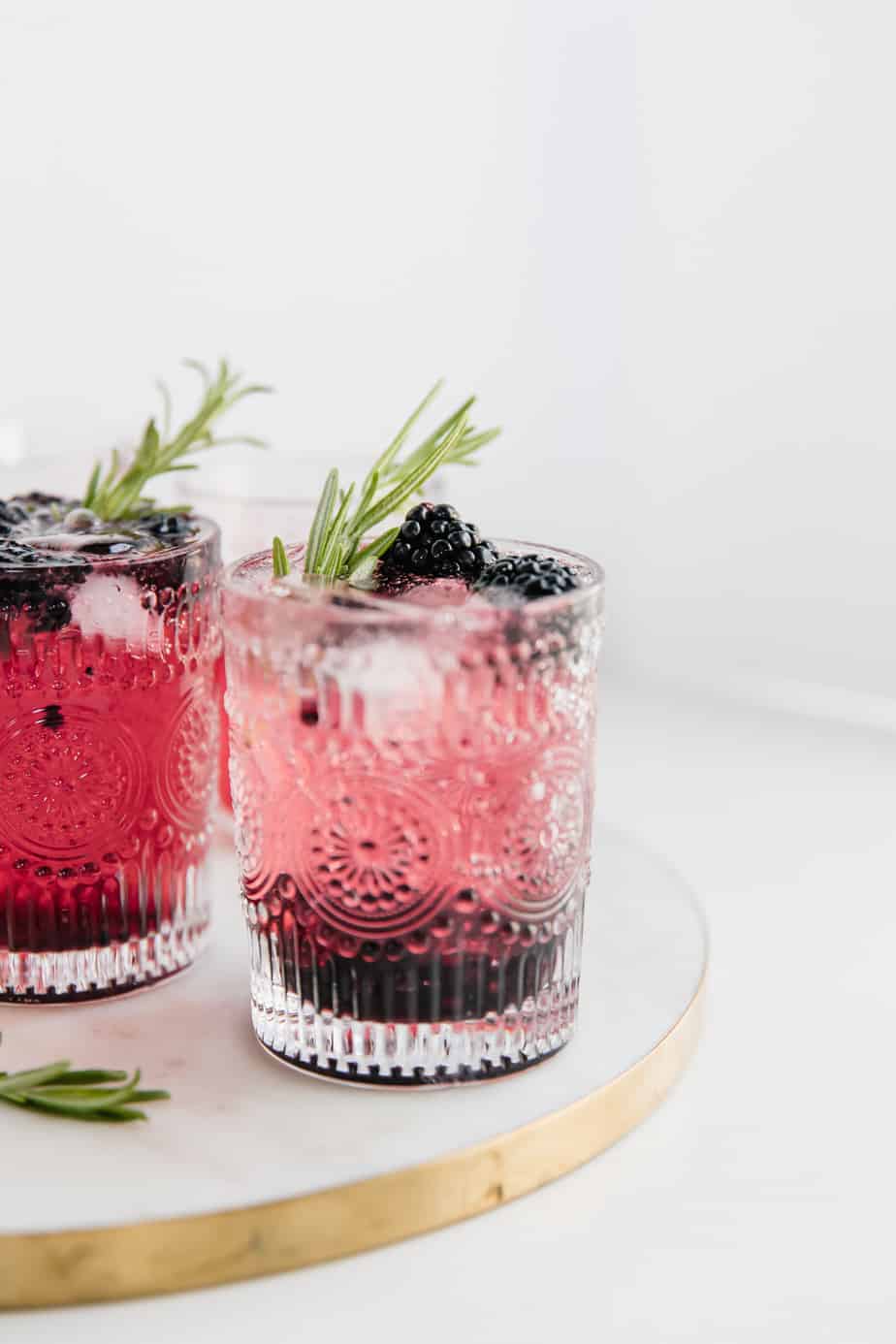 Jump to:
What to mix with gin
Gin is a clear, distilled alcoholic drink that derives its flavor from juniper berries and other botanical ingredients. Originally, gin was created by monks and alchemists as a medicinal liquor across Europe. Since then it has become a widely popular drink of choice for many.
There are many different types of gin to choose from these days. From classic New London Dry to new-school craft gins, to global gins from Japan, India, or Scotland that are flavored with their own native botanicals.
So it's safe to say, there is definitely a gin out there to suit all tastes. And once you've figured out which gin you love to drink, you'll probably want to find something to mix it with.
Luckily, there is a never-ending list of gin-based cocktails to try. As well as a wide range of mixers that work well with gin. The beauty of gin is that there are so many styles and botanical blends available that you can find a flavor profile and pairing for just about any palate.
If you are looking for some non-alcoholic gin inspiration - check out our list of 10 EASY GIN MOCKTAILS!
How to pair gin and mixers
Juniper berries are present in all gin and they give gin a pine-like flavor. So although pairing well with juniper is the only hard and fast rule to mixing gin, there are a couple of other things you should take into account when choosing a gin mixer.
Which botanicals are used in the gin you're drinking is a key consideration for pairing your gin well. You'll want to pick a mixer that will enhance rather than clash with them.
Gin has complex flavors ranging from floral to spiced, which means not every gin pairs as well with every mixer on the market. So you may want to do some taste tests to find your ideal combination!
DIFFERENT TYPES OF GIN
London Dry Gin - With a strong juniper taste this type of gin is definitely the most popular gin at the moment.
Plymouth Gin - This gin is even dryer than London Dry Gin and has a slightly spicier flavor.
Old Tom Gin - With added licorice, this type of gin is slightly sweeter than your typical gins.
Genever Gin - Originating in The Netherlands, this gin is sweet and aromatic and is often used in cocktails that are richer in flavor.
What are the best mixers for gin?
From syrups to juices to vermouths, there are so many mixer options for gin. Below are some of our ultimate favorites that are all worth a try!
Gin & Soda Water
We all know and love gin and tonic water - but don't miss out on gin and soda water too! The clean and faintly mineral fizz of soda allows a flavorful gin to shine without overpowering it the way a tonic might.
So by mixing gin with plain soda water, you can fully experience all the delicious flavors of the gin. With the added bonus of a nice amount of bubbles on the palate. So if there is a specific gin you particularly love, soda water is a great mixer option as it won't mask any of its flavors.
Although it is also fun to try different flavored soda water with your gin! Soda water comes in practically endless flavors these days, so you have a myriad of options for flavor without worrying about any extra calories or sugar.
Gin & Grapefruit
Grapefruit has an intensely concentrated acidity and a faint bitterness that pair especially well with many types of gin. Particularly if the gin itself has grapefruit among its botanical notes - which many do.
If you're keen to try out this refreshing gin mixer but you are worried about the tartness of the drink, try salting the rim of your glass. The salt will help to tone down the grapefruit's inherent bitterness.
If you enjoy this flavor combination, then you have to try out this delicious gin cocktail recipe: PINK GRAPEFRUIT GIN COCKTAIL WITH ROSE WATER
Gin & Vermouth
The pairing of gin and dry vermouth in the classic Martini cocktail goes back at least a hundred years. Vermouth, which is an aromatized wine, plays well with the botanicals found in gin). Together they create one of the cleanest classic cocktails out there.
A classic gin and vermouth martini is so simple to make. Take 50ml of gin and 15ml of dry vermouth, stir and strain into a glass. Pop in a slice of lemon or an olive as a garnish and you're ready to enjoy.
Gin & Earl Grey Tea
Known as Royal Tea, the combination of gin and floral Earl Grey tea is an unexpected but delicious pairing. The botanicals in both ingredients play off each other perfectly. And who doesnt love a boozy hot beverage on a cold day?
Cool a strong pot of Earl Grey in the fridge to mix with your gin to create a truly special and flavorful alcoholic iced tea. You can sweeten the tea cocktail with honey or simple syrup if desired, and garnish with fresh mint or lavender and berries for a delightful drink reminiscent of an English garden.
Gin & Pineapple
Sweet, acidic, and zingy, pineapple doesn't have to just be exclusive to tropical drinks. A complex gin can stand up to and complement pineapple's intense flavor. And it's a great gin drink option for anyone with a sweet tooth or who is new to the strong flavor of gin.
The citrus elements in gin really come to the forefront when combined with bright pineapple flavor. And together they create a stunning, well-balanced mixed drink that is perfect for summertime sipping!
If you want to give this tasty flavor pairing a try, then you have to check out this easy gin cocktail: PINEAPPLE, GIN, & GINGER BEER COCKTAIL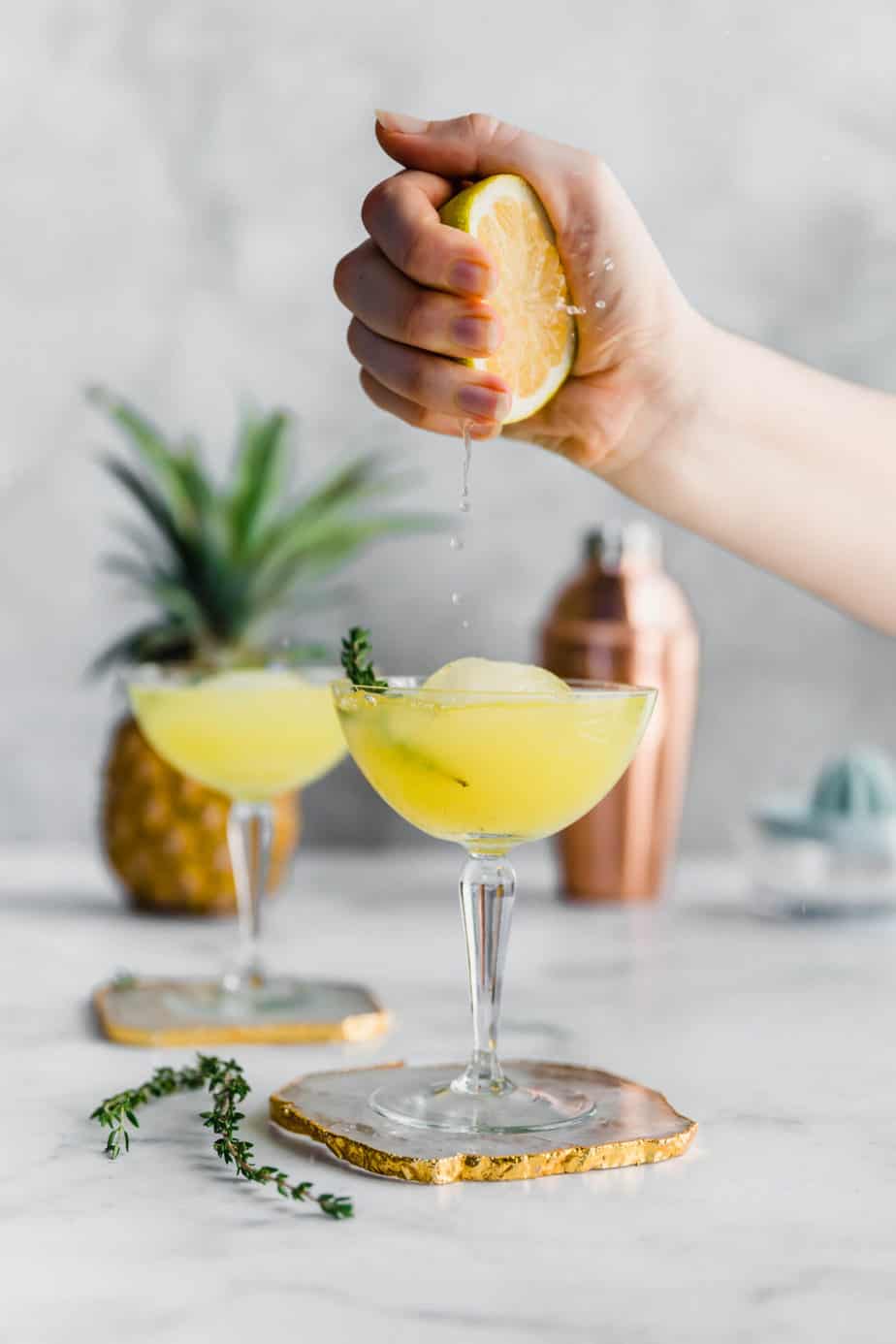 Gin and Lime
Lime juice, lime cordial, and even bitter lime, are much loved gin mixers. Lime and gin is a combination that is hard to beat. This refreshing mixed drink is best served chilled over ice and you will get a bright bitter, citrusy, botanical taste explosion. The combination of lime, gin, and simple syrup is a classic cocktail called A Gimlet. Make it super easy by creating a delicious Gin and Sprite cocktail.
Use fresh lime juice if you can, but if you can't there are plenty bottled versions available too. Lime is a very sharp flavor so most suggest using a 2:1 or even 3:1 gin-to-lime ratio and is then often sweetened with a simple syrup or liqueur.
For a fun, fruity twist on this flavor combination, check out our BLACKBERRY LIME GIN & TONIC.
Gin & Lemon
Gin goes fantastically well with citrus, which is why a traditional G&T is always garnished with lime or lemon. Lemon juice, lemon cordial, lemonade, or even bitter lemon, are all wonderful gin mixers.
If you have a sweet tooth, lemonade should be your go-to mixer, but if you're looking for something simple, citrusy, and bitter, go for lemon juice. Bitter lemon is a great choice for those who don't particularly enjoy the taste of tonic as it goes well with most gins, particularly, of course, citrus-led ones.
For a well-balanced lemon gin cocktail recipe, check out our LEMON AND HONEY GIN AND TONIC. You won't be disappointed!
Gin & Cucumber
An often featured botanical in gin itself, this simple ingredient adds a hint of grassy sweetness that isn't overly sweet. Cucumber is also a natural hydrator, which makes it a welcome addition to any long Summer drink.
Muddle a few slices in a G&T for a refreshing hot-weather classic, or even just peel a long ribbon of cucumber and use it to garnish a gin and soda. This will be enough to impart the delicate and complementary cucumber flavor into your gin drink.
Looking to try this pairing out? We have a simple and delicious CUCUMBER GIN & TONIC COCKTAIL recipe for you that you will love!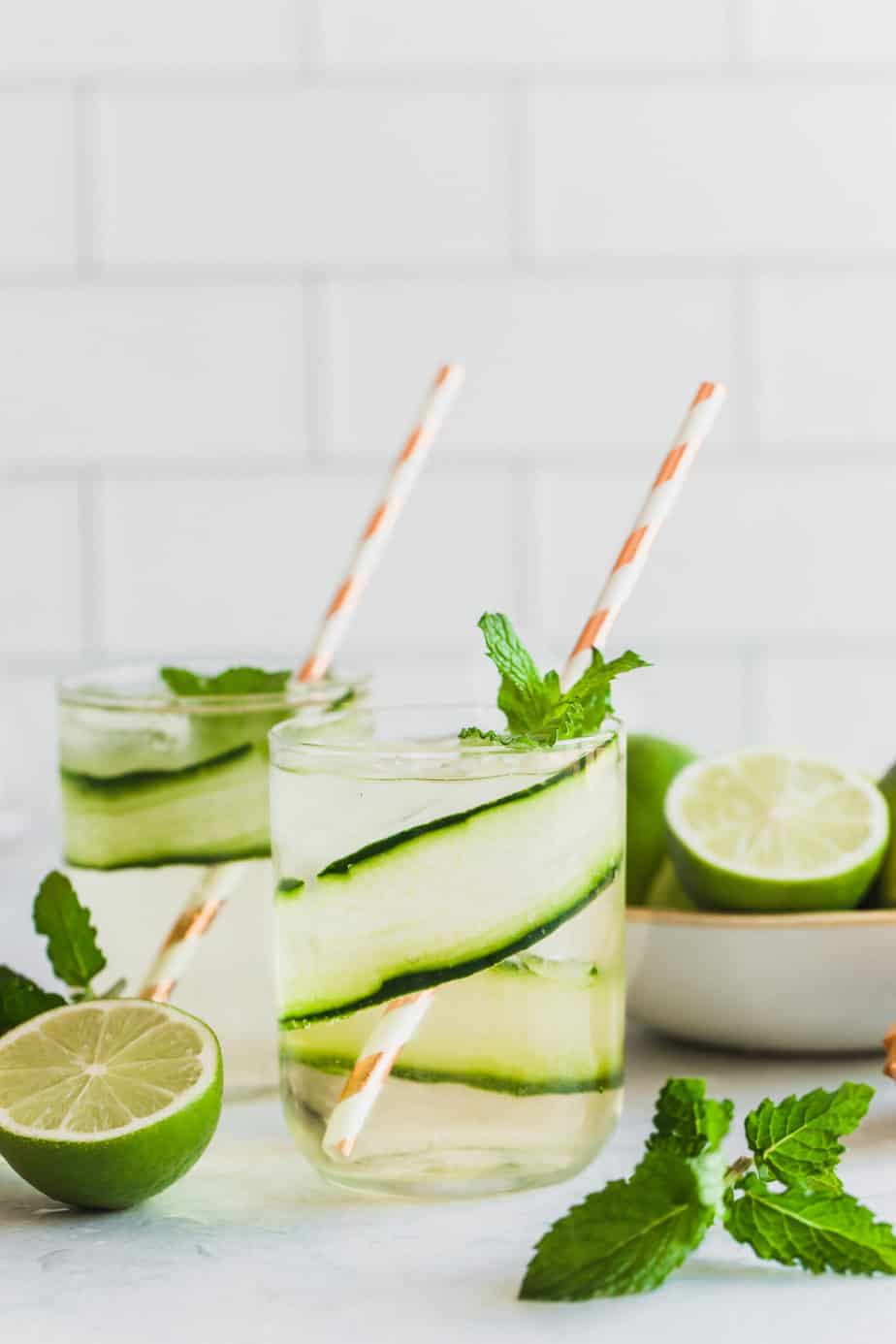 I hope you love this list of The Best Mixers For Gin as much as I do. And if you want to see more of my food adventures, follow me on Instagram or Facebook.