This Banana & Almond Butter Smoothie Bowl is deliciously creamy and decadent, while still nourishing your body with healthy ingredients. A satisfying & healthy breakfast or snack that can be made in minutes! (Vegan, gluten-free, and refined sugar-free)
This post was made in collaboration with Granny Goose.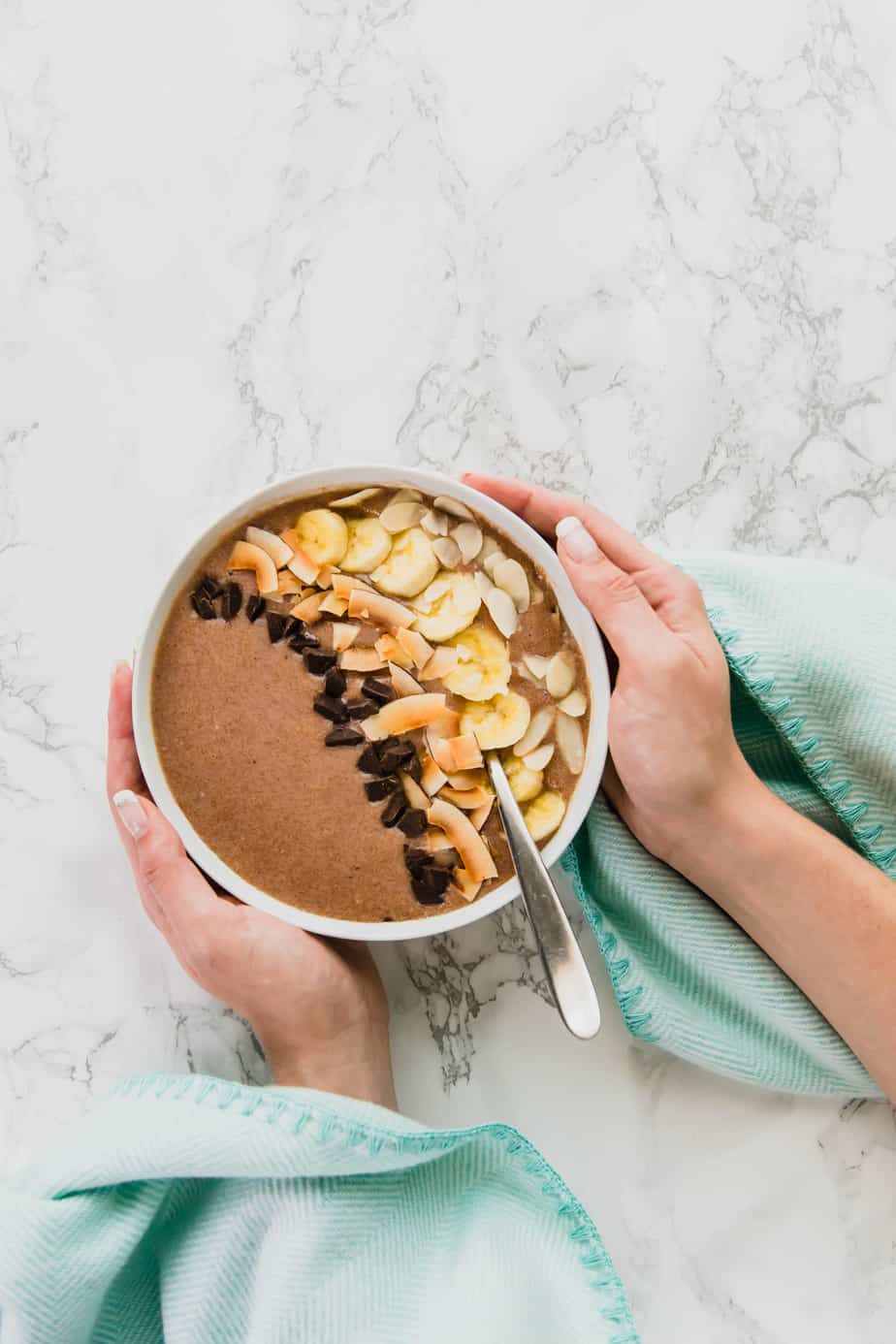 Why You'll Love This Smoothie Recipe
This Almond Butter Smoothie Bowl is the ultimate healthy indulgence, it will be your new favorite go-to recipe for a healthy vegan breakfast or snack. Banana & nut butter is a classic flavor combination that everyone loves - children and adults alike! So this smoothie recipe is always a winner, especially with the addition of cocoa powder which makes the smoothie rich, chocolatey, and decadent.
I also added chia seeds to this easy smoothie recipe. Chia seeds give a delicious thick texture to smoothies - plus they add a ton of protein and nutrients. Nut butter also adds a lot of protein, along with healthy fats. This combination of high protein ingredients and healthy fats makes this smoothie ultra-satisfying and keeps you feeling full for a long time.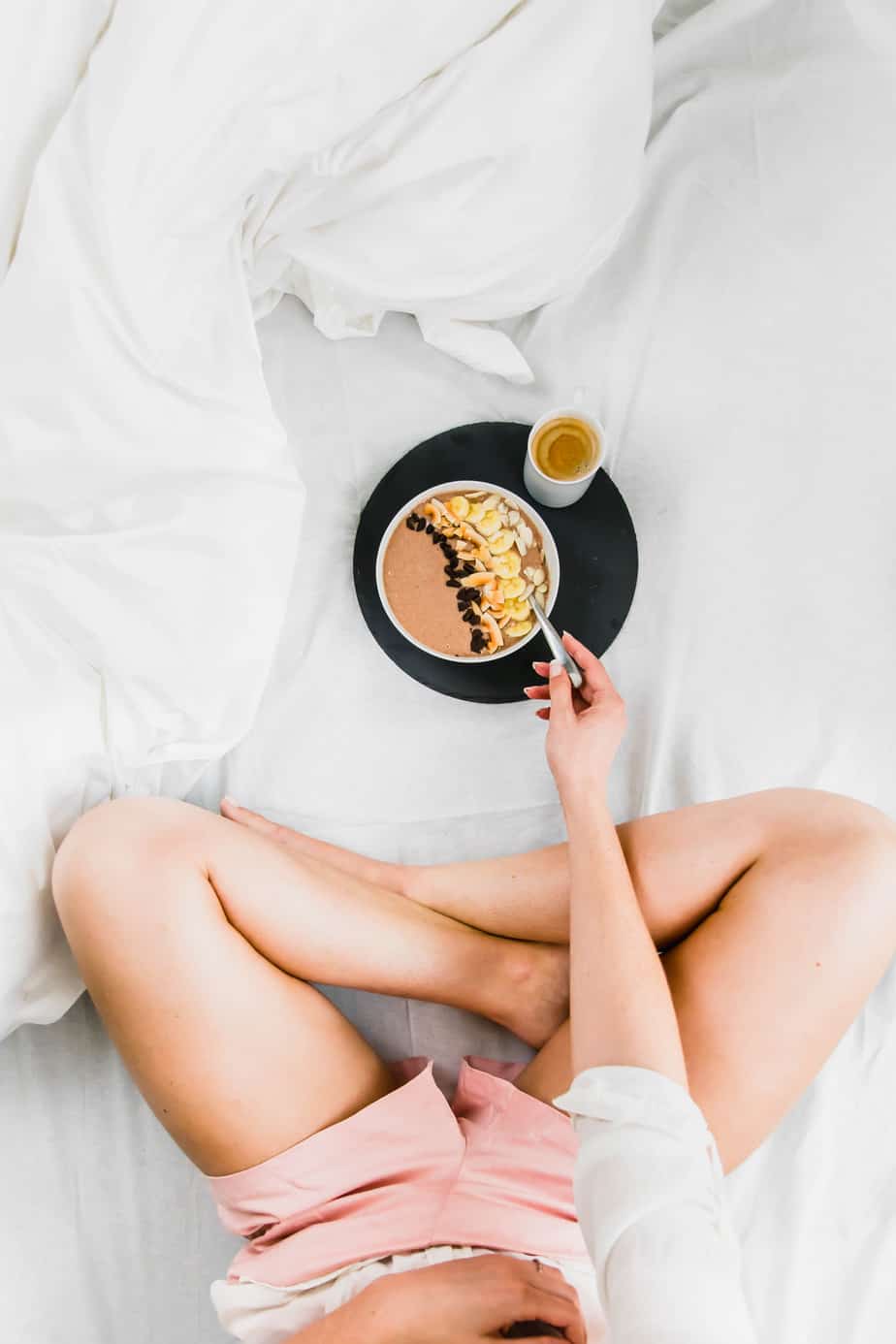 Is Amond Butter healthy?
Yes! Almond butter is made from ground almonds which are full of nutrients that are important for your health. So although almond butter is high in calories it provides a lot of health benefits. So enjoying almond butter in moderation is healthy and a great way to include healthy fats into your diet. Almond butter is a very healthy nut butter option as almond butter has more vitamin E than many other kinds of nut butter!
Ingredients You'll need:
Almond milk. I love using almond milk for extra nutty flavor, but you can swap it for any other milk alternative that you prefer such as oat milk or coconut milk.
Almond butter. If you don't haveo almond butter, you can swap it for any other nut butter such as peanut butter or maccadamia butter.
Bananas. Frozen is best for a thick smoothie texture. Use the ripe banans with black spots on their peel for delicious sweet flavor.
Chia seeds. These nutient dense seeds add lots of health benefits and thicken the almond butter smoothie.
Maple / Agave syrup. You can adjust the amount depending on your sweetness preference.
Cocoa powder. Adds a delicious, rich chocolate flavor to the smoothie.
TIP: Make your own frozen bananas by chopping and freezing fresh bananas. Homemade frozen fruit is more flavorful than the pre-packaged frozen fruit bought at a store. Store the frozen bananas in an airtight freezer bag or container in your freezer for up to 3 months.
Smoothie Bowl Toppings Suggestions:
Banana Slices
Coconut Shavings
Flaked Almonds
Dark Chocolate
Rolled Oats
Cacao nibs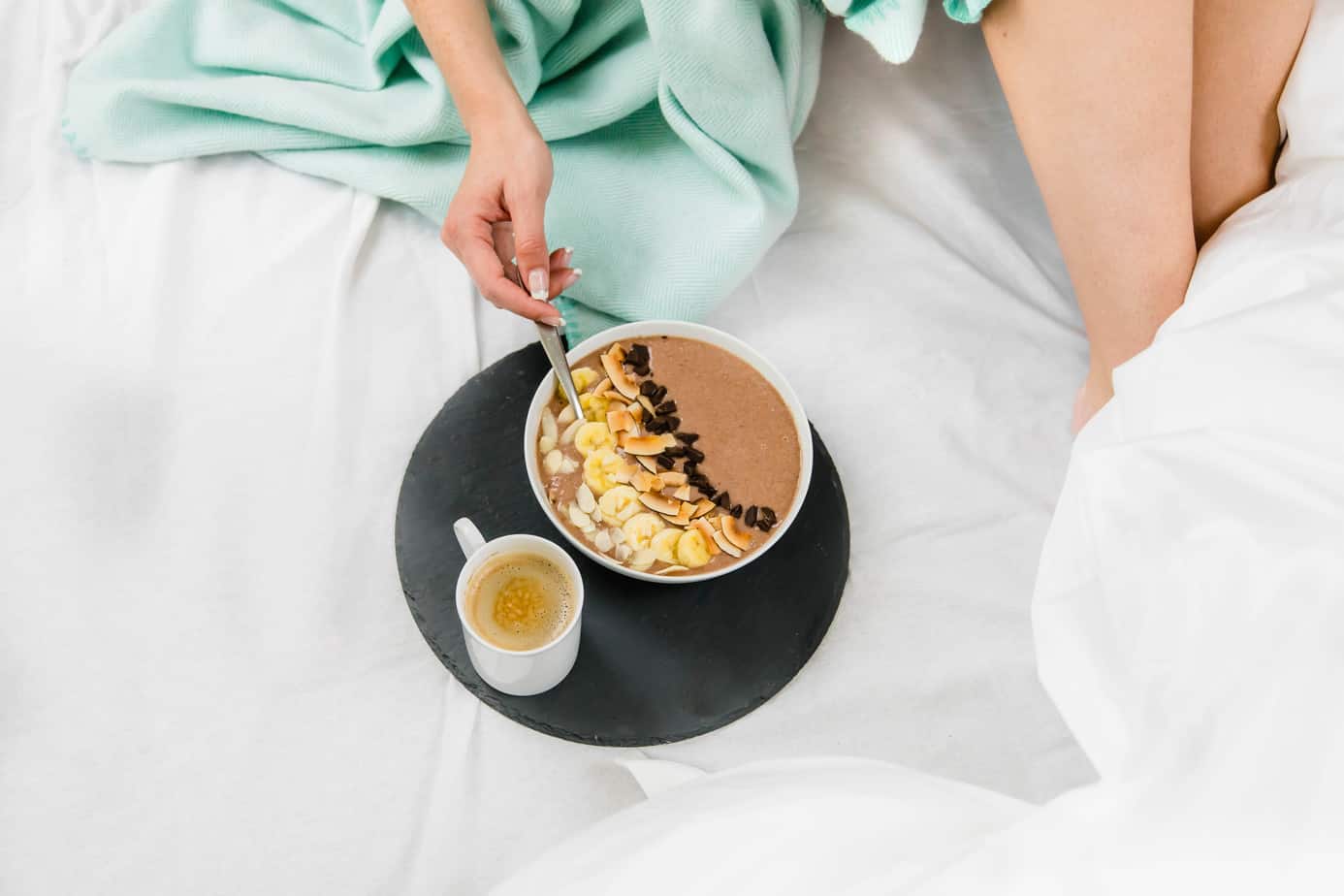 How to make an almond butter smoothie
STEP ONE
Add all the smoothie ingredients to a blender. For best blending results, layer the liquid ingredients at the bottom, followed by the nut butter, chia seeds, and cocoa powder, and then the frozen banana on top.
STEP TWO
Blend until creamy and smooth. If you prefer a thinner consistency, blend in a splash of extra almond milk. When you are happy with the consistency, pour the smoothie into a serving bowl.
STEP THREE
Add any desired toppings to the smoothie bowl and enjoy!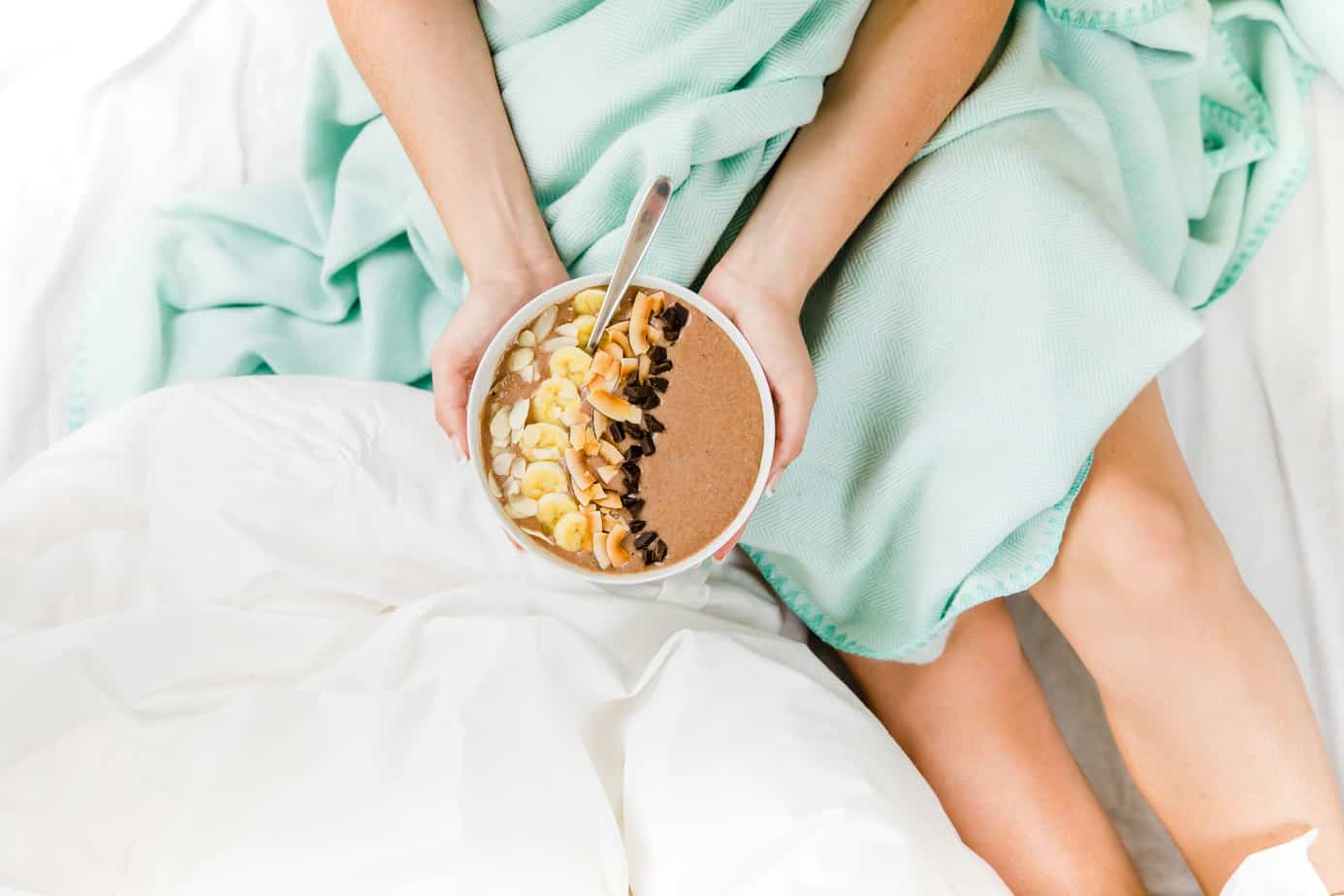 Recipe Variations & Optional Add-Ins
Add even more protein: Include a scoop of your favorite plant-based protein powder to add even more protein to this smoothie recipe.
Leave out the cocoa powder: If you want a plain banana and almond smoothie, you can leave out the cocoa powder and it will still be delicious.
For extra creaminess: To make this smoothie bowl extra creamy, add a ¼ cup of your favorite yogurt or coconut cream.
Add a boost of caffeine: If you want to start your day with a boost of caffeine, you can add a tsp of espresso powder to this smoothie. The coffee flavor combines beautifully with this smoothie.
MORE SMOOTHIE BOWL RECIPES TO TRY:
Almond Butter Smoothie Bowl
Ingredients
2

Frozen Bananas

⅓

Cup

Almond Milk

2

Tbsp

Almond Butter

1

Tbsp

Cocoa Powder

1

tsp

Honey/Sweetener

1

Tbsp

Chia Seeds
Toppings:
Banana Slices

Coconut Shavings

Flaked Almonds

Dark Chocolate Pieces
Instructions
Combine all the ingredients in your blender.

Blend until smooth, adding more almond milk if necessary.

Pour the smoothie into a bowl and add toppings in strips (or make your own masterpiece).

Enjoy.
I hope you love this Almond Butter Smoothie Bowl recipe as much as I do! And if you want to see more of my food adventures, follow me on Instagram or Facebook.
This post was made in collaboration with Granny Goose.