Learn how to make the perfect refreshing drink with our simple mango mojito recipe. The ideal fusion of sweet, tart, and alcoholic flavors can be found in this tropical cocktail, which is made with fresh mint, lime, mango nectar, and rum. Perfect for a tropical getaway or a hot summer day.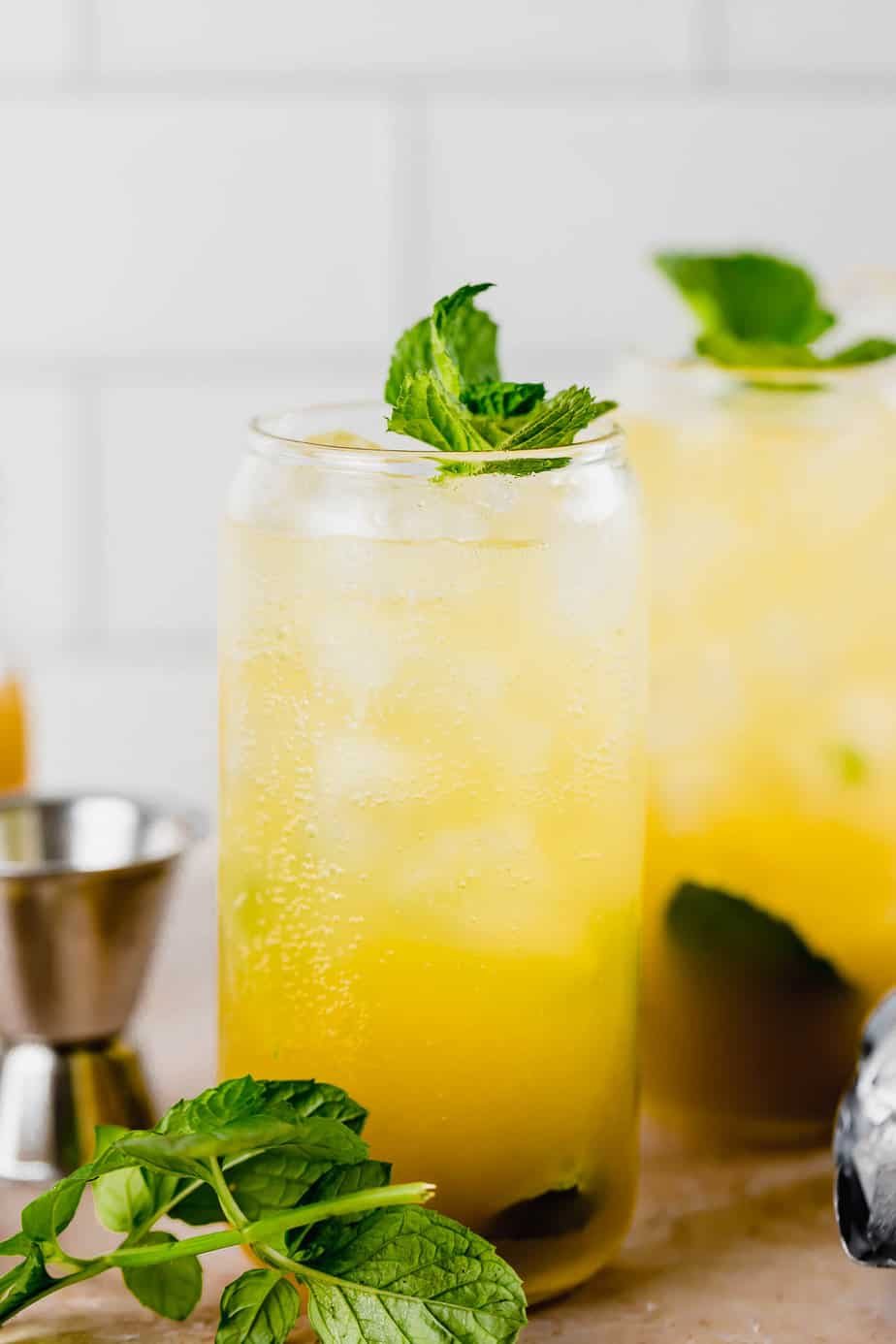 Why you'll love this mango mojito
Refreshing flavor: Mango adds a sweet and fruity twist to the traditional mojito, making it a perfect summer drink.
Perfect balance of sweet and tart: The sweetness of the mango is balances out the tartness of the lime juice. This makes it a well-rounded cocktail.
Easy to make: Mango mojitos are simple to make, requiring just a few ingredients that are easily available.
Great as a mocktail: Mango mojitos are easily made with or without alcohol.
Pretty and perfect: Mango mojitos are visually appealing, with their bright yellow color and fresh garnish.
Make your own mango nectar with our Homemade Mango Nectar Recipe
Ingredients for this recipe
Mango Nectar: One of the key ingredients of a mango mojito is, of course, fresh mango nectar.
Lime Juice: Freshly squeezed lime juice is a must for a classic mojito, and it also helps to balance out the sweetness of the mango. You'll need about 1 tablespoon of lime juice per cocktail.
Sugar: Muddle the sugar with the mint leaves to release a distinct sweet herby flavor.
Mint Leaves: Fresh mint leaves add a bright, herbal flavor to the mango mojito. Use about 5-8 leaves per cocktail.
Club Soda: Club soda provides the fizz in the mango mojito, and it helps to balance out the flavors.
White Rum: A classic mojito is typically made with white rum, but you can use any type of rum that you prefer. If you're not a fan of alcohol, you can skip the rum and still enjoy a delicious mocktail.
Ice: Ice is essential for keeping the mojito cold and refreshing.
Optional garnish: A sprig of fresh mint or a slice of lime adds a touch of visual appeal to the mango mojito.
With these ingredients, you'll be able to make a delicious mango mojito that is perfect for sipping on a hot summer day.
The sweet and tangy flavors of the mango and lime, combined with the bright and herbal flavor of the mint, make for a well-rounded cocktail that is sure to please.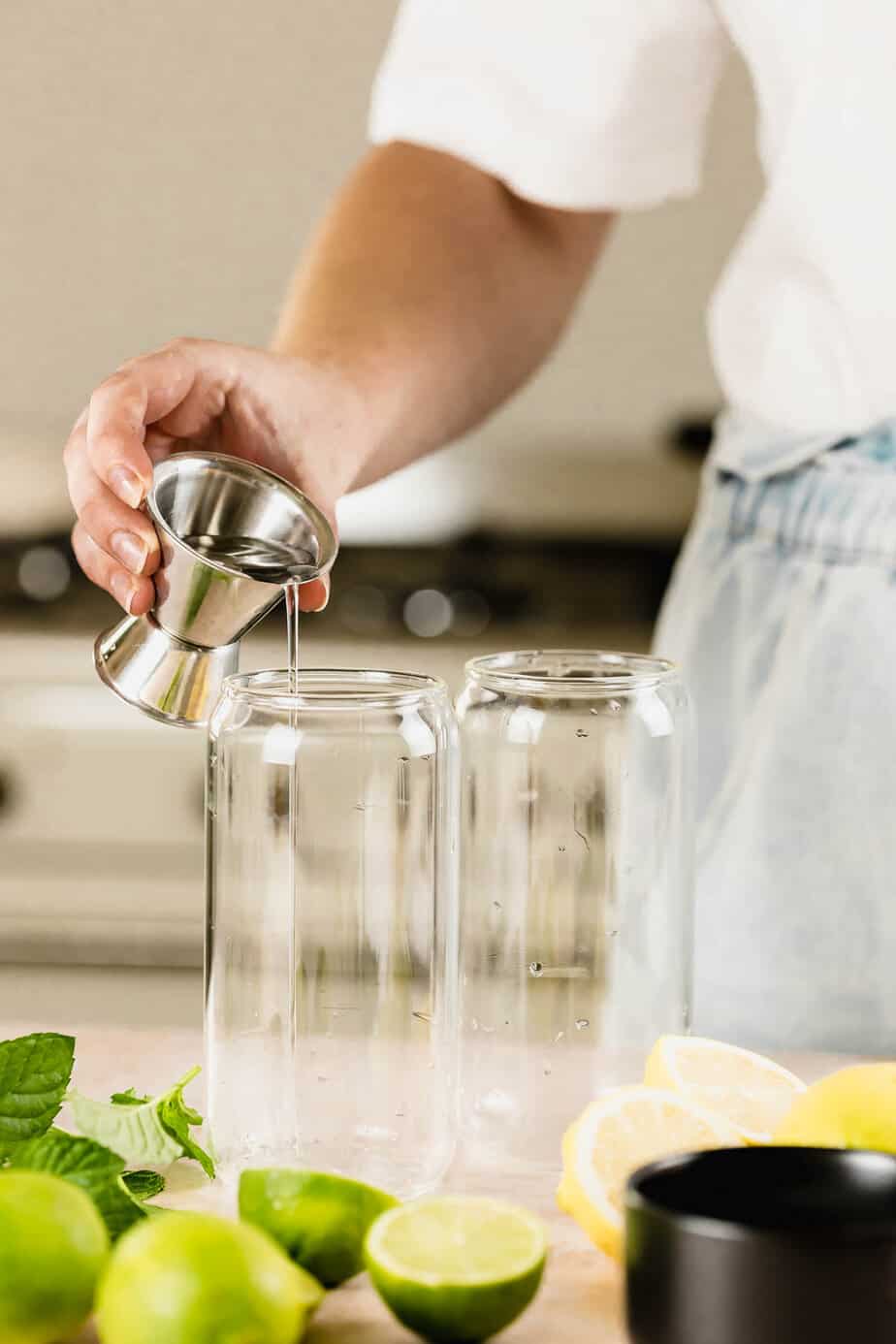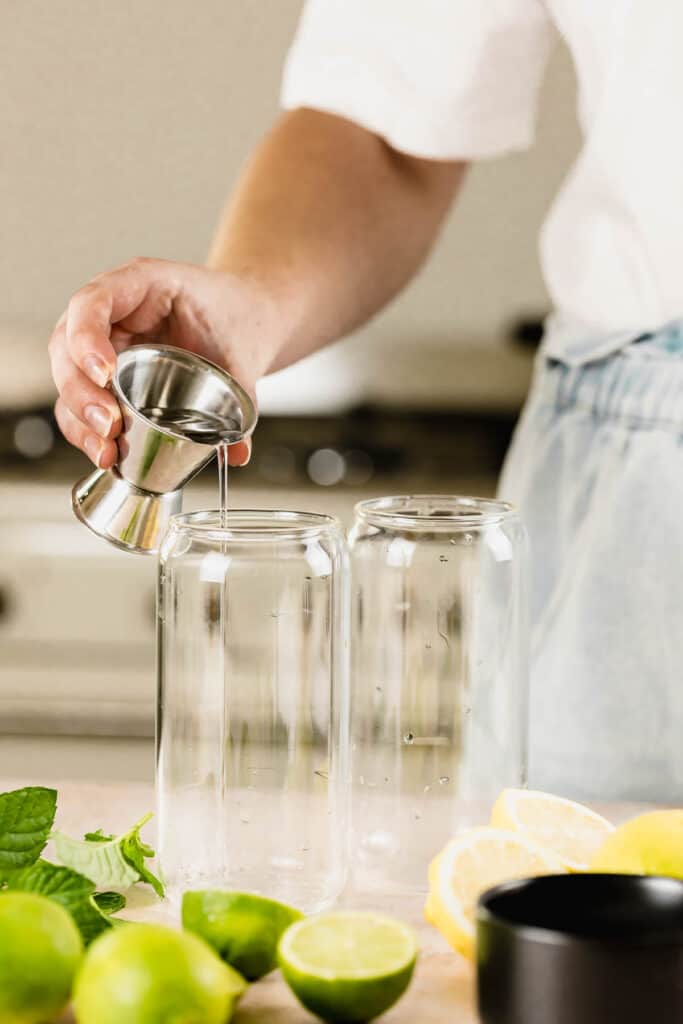 How to make a mango mojito
Ingredients:
8-10 fresh mint leaves
2 oz rum
2 oz fresh lime juice
2 oz mango nectar
2-4 teaspoon granulated sugar
Ice
Club soda
Lime wedges and mint leaves for garnish
Instructions:
In a tall glass, muddle the mint leaves with a muddler or the handle of a spoon to release the flavors.
Add the rum, lime juice, mango nectar, and simple syrup to the glass and stir to combine.
Fill the glass with ice, then top with club soda. Stir gently.
Garnish with lime wedges and a few mint leaves.
Serve immediately and enjoy your delicious mango mojito!
What is mango nectar?
Mango nectar is a sweet and thick liquid made from blended mangoes. It is typically sold in cans or bottles and is used as a base for smoothies, cocktails, or as a sweetener for drinks and desserts.
Mango nectar is made by pureeing ripe mangoes, straining out the solids, and adding sugar and sometimes other ingredients such as citric acid or ascorbic acid to preserve the flavor and color.
The resulting nectar is sweet, fruity, and slightly thick, making it a versatile ingredient in the kitchen. Mango nectar can also be found in many grocery stores or specialty food stores.
Best alcohol to use for a mango mojito
The best alcohol to use for a mango mojito is white rum. White rum is a light-bodied spirit that has a mild and slightly sweet flavor. This makes it the perfect complement to the sweet and tangy flavors of the mango and lime in the mojito.
Additionally, white rum is a classic ingredient in mojitos, so it is a traditional and appropriate choice.
If you prefer, you can also use light rum or silver rum. Both of which are similar to white rum in flavor and body.
For a stronger or more flavorful rum, you can use a dark rum. Be aware that the flavor of the rum will be more prominent in the finished drink. It may overpower the other ingredients.
To make a non-alcoholic version of the mango mojito, simply omit the rum. Add extra club soda or a splash of sparkling water for a fizzy and refreshing mocktail.
Alternatives to rum:
If you prefer not to use rum in your mango mojito, there are several alternatives you can use. Some popular options include:
Vodka: Vodka is a neutral spirit that can be used in instead of rum. It has a clean, crisp flavor that won't overpower the other ingredients in the mojito.
Gin: Gin is a juniper-flavored spirit that can add a unique twist to your mojito. Its herbal notes can complement the flavors of the mint and lime.
Tequila: Tequila can add a touch of earthiness and spice to your mojito. It's particularly good in a mango mojito, as the sweetness of the mango can balance the spiciness of the tequila.
Whiskey: If you prefer a stronger or more complex flavor, you can use whiskey in your mojito. However, be aware that whiskey can overpower the other ingredients, so be sure to use it in moderation.
Brandy: Brandy can add a rich and fruity flavor to your mojito. Choose a light or clear brandy, such as cognac, to preserve the brightness of the drink.
How to make a pitcher of mango mojito's
This recipe makes one serving, it can easily be multiplied to make a pitcher for a party or gathering.
To make a pitcher. Simply multiply the ingredients by the number of servings you need and mix everything together in a large pitcher. Add ice and club soda just before serving.
Expert tips and tricks
Use fresh ingredients: Fresh mint leaves, lime juice, and ripe mango are essential to creating a delicious mojito. If the mint is not fresh, it can be bitter and ruin the flavor of the drink.
Muddle the mint properly: Muddling the mint helps to release the essential oils and flavors. Be gentle when muddling, as over-muddling can lead to a bitter taste.
Use a good-quality rum: A good-quality rum will make a big difference in the flavor of your mojito. Light rum works best for mojitos, as it has a mild and slightly sweet flavor that complements the other ingredients.
Get the sugar content right: The right amount of sugar will depend on personal preference, but it's important to add enough to balance the tartness of the lime juice. You can use simple syrup, sugar, or a sugar substitute like stevia or monk fruit extract.
Chill the ingredients before mixing: Chill the mint leaves, lime juice, rum, mango nectar, and simple syrup before mixing, as this will help to keep the drink cool and refreshing.
Don't over-mix: Over-mixing the ingredients will make the drink foamy and can release too much of the mint flavor. Stir gently to combine the ingredients.
Serve in a tall glass: A tall glass is best for serving mojitos, as it allows plenty of room for the ingredients and the ice.
Frequently asked questions
Is mojito better with vodka or rum?
The traditional and classic alcohol to use in a mojito is rum. Rum is a light-bodied spirit that has a mild and slightly sweet flavor, which complements the sweet and tangy flavors of the lime and mint in the drink.
White rum is the traditional choice for mojitos, but light rum or silver rum can also be used.

Vodka can be used as an alternative to rum in a mojito. Vodka is a neutral spirit that has a clean and crisp flavor, which can complement the other ingredients in the drink.
Using vodka in a mojito will result in a lighter, brighter, and slightly less sweet version of the drink, but it can still be very refreshing.

Are mojitos unhealthy?
Like most alcoholic beverages, mojitos can be unhealthy if consumed in excess. They are typically made with sugar and contain a significant amount of calories, especially if they are made with sweetened simple syrup or other sweet ingredients.

However, mojitos can also be made in a healthier way. For example, you can use fresh fruit and sugar-free sweeteners, such as stevia or monk fruit extract, to reduce the amount of sugar and calories in the drink.
Additionally, you can use less alcohol or opt for a lower-alcohol content rum to reduce the overall calorie content of the drink.

It's important to remember that moderation is key when it comes to alcohol consumption.
Does mango mojito contain alcohol?
Yes, mango mojito typically contains alcohol. The traditional alcohol used in a mojito is rum, which is a light-bodied spirit that has a mild and slightly sweet flavor.
The rum is mixed with fresh mint leaves, lime juice, sugar or simple syrup, and mango nectar or puree to create the drink.
The result is a sweet, tangy, and refreshing cocktail that typically contains between 6% and 14% alcohol by volume, depending on the type of rum used and the recipe.
Mango Mojito's can easily be made as a mocktail by simply leaving out the rum and adding extra soda water.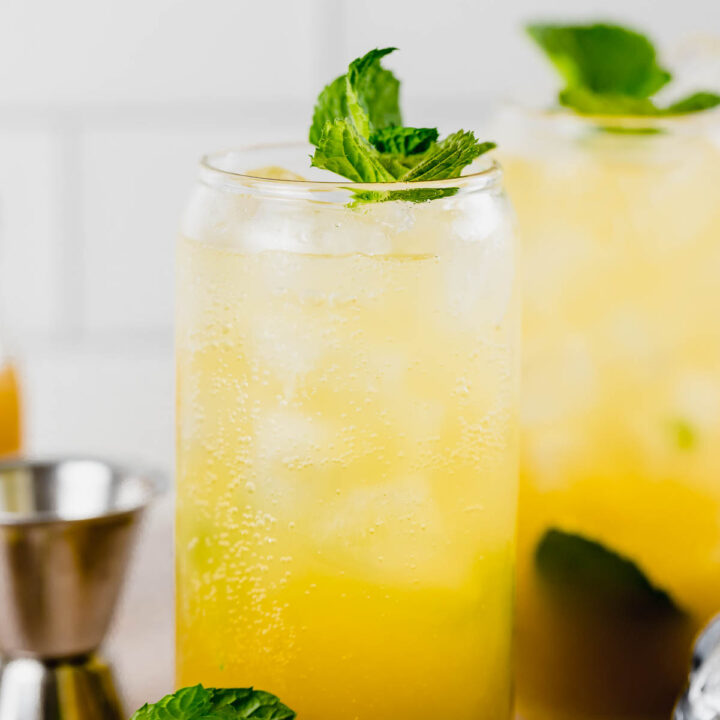 Easy Mango Mojito
Fresh and delicious mango mojito made with rum and mango nectar
Ingredients
4 oz rum
Juice of 1 fresh lime
Juice of ½ fresh lemon
4 teaspoon sugar
8 oz mango nectar
10 mint leaves
Club soda
Instructions
Place 2oz rum, juice from ½ a lime, juice from ¼ lemon, 5 mint leaves, 2 teaspoon sugar in each glass.
Use a muddler to muddle the mixture together until the sugar starts to dissolve.
Fill each glass with ice and divide the mango nectar between the two glasses.
Top with club soda and garnish with fresh mint.
More easy cocktail recipes