Learn how to make the classic and popular Roy Rogers drink, a refreshing and fruity mocktail that's perfect for any occasion. Our easy-to-follow recipe includes the essential ingredients needed to make this drink, along with simple steps and garnish options.
Plus, discover easy variations and even suggestions for adding alcohol to the drink. Don't forget to make your own homemade grenadine syrup to add a personal touch to your Roy Rogers!
What Is A Roy Rogers Drink?
The Roy Rogers beverage is a well-known and longstanding mocktail because because of its ease, freshness, and adaptability.
It needs only a few simple, easily available ingredients, such as cola and grenadine, to make it. Both children and adults love the drink's sweetness and tanginess, and both the color and taste of it are vibrant red.
The drink is named after Roy Rogers, a famous American actor and singer, who was a fan of the drink. The Roy Rogers drink is similar to a Shirley Temple, which is made with lemon-lime soda and grenadine, but uses cola instead of lemon-lime soda.
The drink is typically served over ice and garnished with a maraschino cherry. The Roy Rogers drink is popular among both children and adults, and is a great non-alcoholic option for those who are looking for a fun and refreshing drink.
Ingredients for Roy Rogers Drink
Cola - The main ingredient in a Roy Rogers drink is cola, which gives the drink its signature dark color and sweet, bubbly flavor. You can use any brand of cola that you prefer, but many people use Coca-Cola or Pepsi.
Grenadine syrup - Grenadine syrup is a sweet, red-colored syrup made from pomegranate juice and sugar.
It adds a fruity flavor and bright red color to the drink. Grenadine is widely available at most grocery stores, but you can also make your own at home by simmering pomegranate juice and sugar together.
Ice - To keep the Roy Rogers drink cold, you will need ice cubes. You can use regular ice cubes from your freezer or use larger ice cubes to keep the drink cold for longer.
Maraschino cherry - A maraschino cherry is a bright red cherry that has been soaked in a sweet syrup.
It's a popular garnish for the Roy Rogers drink, adding a pop of color and a sweet finish to the drink. You can find maraschino cherries in the cocktail section of most grocery stores.
How To Make A Roy Rogers Mocktail
STEP ONE:
Fill a glass with ice cubes. A tall glass works well for this drink.
STEP TWO:
Pour cola into the glass until it is about ¾ full.
STEP THREE:
Add grenadine syrup to the glass. The amount of grenadine you add will depend on your preference. Start with 1-2 tablespoons of grenadine and adjust to taste.
STEP FOUR:
Stir the drink gently with a long spoon to mix the cola and grenadine together.
Garnish the drink with a maraschino cherry. You can also add a slice of lime or lemon for extra flavor.
Serve and enjoy your refreshing Roy Rogers mocktail!
Pouring grenadine over the ice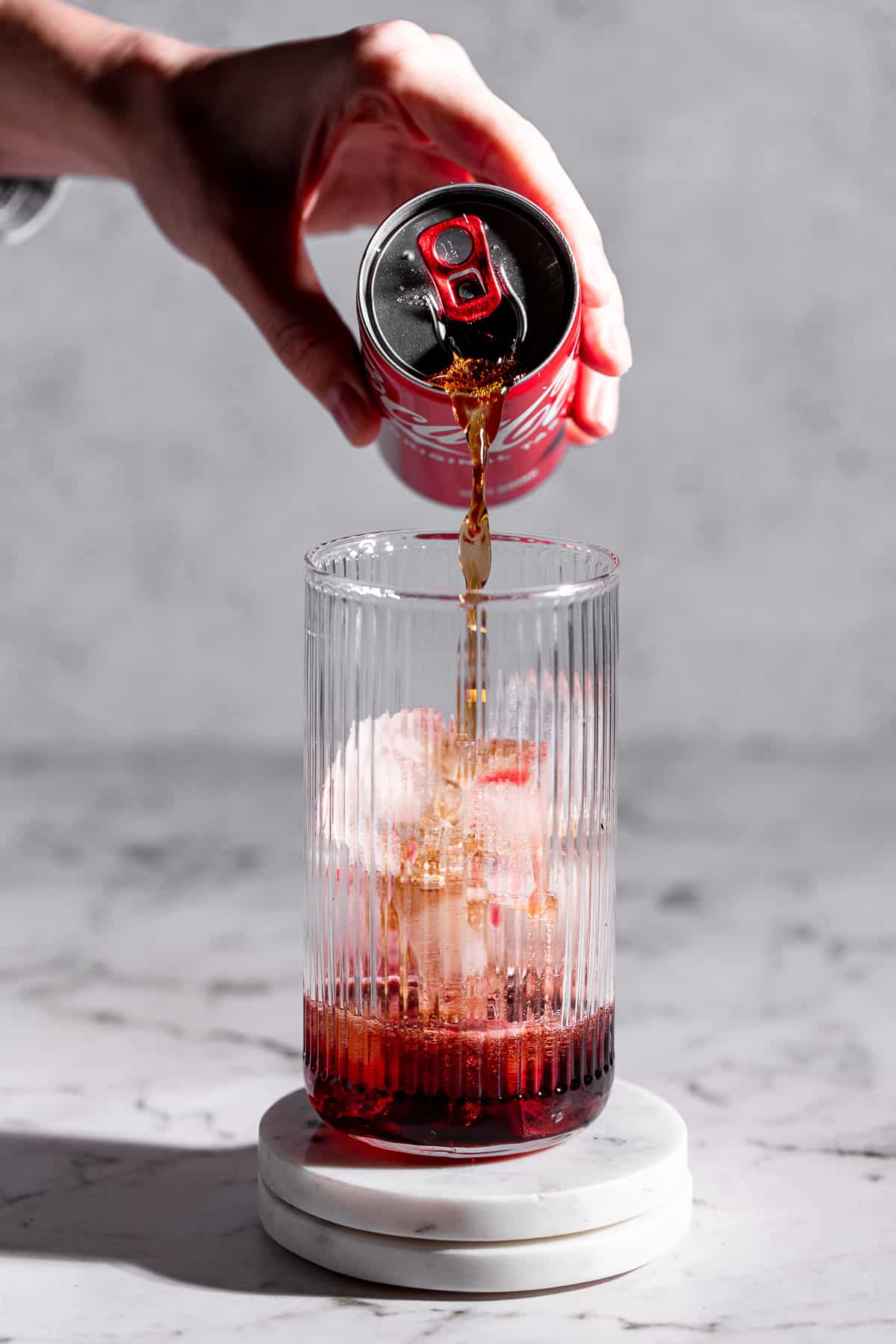 Topping with coke
What is Grenadine Syrup & How To Make it:
What Is Grenadine Syrup?
Grenadine syrup is a sweet, red-colored syrup that is used to add flavor and color to a variety of drinks, including cocktails and mocktails. It is made by combining pomegranate juice, sugar, and water and simmering the mixture until it thickens into a syrup.
Grenadine syrup has a sweet and slightly tart flavor, with a fruity aroma that is reminiscent of pomegranates. It is often used to add a pop of color to drinks, as its bright red hue can make a drink look more attractive and visually appealing.
Grenadine syrup has been a popular ingredient in the bar industry for decades, and is commonly used in classic cocktails such as the Tequila Sunrise, the Singapore Sling, and of course, the Roy Rogers.
It is also a popular ingredient in non-alcoholic drinks and mocktails, as it can add a sweet and fruity flavor to the drink without any alcohol content.
While the traditional recipe for grenadine syrup uses pomegranate juice as its main ingredient, some modern versions may use artificial flavors and colors instead.
When choosing a grenadine syrup, it's important to read the label and look for a high-quality brand that uses real pomegranate juice and natural ingredients.
How To Make Grenadine Syrup at Home:
Ingredients:
2 cups pomegranate juice
1 cup granulated sugar
¼ cup freshly squeezed lemon juice
Instructions:
In a saucepan, combine the pomegranate juice and sugar over medium heat. Stir until the sugar dissolves completely.
Bring the mixture to a boil, then reduce the heat to low and let it simmer for 20-30 minutes. The mixture should thicken into a syrup-like consistency.
Remove the pan from the heat and let it cool to room temperature.
Stir in the freshly squeezed lemon juice, which helps to balance the sweetness and add a bit of tartness to the syrup.
Strain the syrup through a fine-mesh sieve to remove any pulp or seeds.
Transfer the syrup to a clean glass bottle or jar and store it in the refrigerator. It should keep for several weeks.
Recipe Variations
Blue Roy
To make a Blue Roy, replace the grenadine syrup with blue curaçao, which is a blue-colored orange liqueur. The result is a bright blue drink with a sweet orange flavor.
Dirty Roy
To make a Dirty Roy, add a shot of espresso to the drink. This creates a unique and tasty combination of coffee and cola flavors.
Virgin Cuba Libre
To make a Virgin Cuba Libre, replace the grenadine syrup with lime juice. This creates a tangy and refreshing drink that is similar to a traditional Cuba Libre, but without the rum.
Cherry Vanilla Roy
To make a Cherry Vanilla Roy, add a splash of vanilla extract and a few drops of almond extract to the drink. This gives the drink a subtle nutty flavor and enhances the sweetness of the cherry garnish.
Fruity Roy
To make a Fruity Roy, add a splash of your favorite fruit juice, such as orange juice, pineapple juice, or cranberry juice, to the drink. This adds a fruity twist to the classic Roy Rogers drink.
Garnishes for Roy Rogers Drink
The Roy Rogers drink is typically garnished with a maraschino cherry, which adds a pop of color and a sweet finish to the drink.
However, there are many other garnish options that you can use to customize the drink and add extra flavor. Here are a few garnish options to consider:
Lime or Lemon Wedge: Adding a wedge of lime or lemon to the rim of the glass is a classic garnish option for many drinks, including the Roy Rogers.
Orange Slice: A slice of fresh orange can add a citrusy flavor and aroma to the drink. You can also use a dried orange slice for a decorative touch.
Mint Sprig: Adding a sprig of fresh mint to the drink can give it a refreshing herbal flavor and aroma.
Cinnamon Stick: A cinnamon stick can be used as a stirrer and add a subtle spicy flavor to the drink.
Skewered Fruit: Skewering a few pieces of fruit, such as cherries, strawberries, or pineapple chunks, and placing them on the rim of the glass is a fun and colorful garnish option.
Add a Dash of Alcohol
If you want to add a kick to the drink, there are a few spirits that can complement the flavors of the Roy Rogers. Here are a few options:
Rum
Adding a splash of rum to the Roy Rogers can turn it into a Caribbean-inspired drink. The sweetness of the grenadine syrup and the cola complement the flavor of the rum, creating a balanced and flavorful cocktail.
Whiskey
Adding a shot of whiskey to the Roy Rogers can create a smoky and complex flavor profile. The whiskey adds a depth of flavor to the drink that balances well with the sweetness of the grenadine and cola.
Vodka
Adding a shot of vodka to the Roy Rogers can give it a more neutral flavor profile. The vodka adds a bit of bite to the drink and complements the sweetness of the grenadine and cola.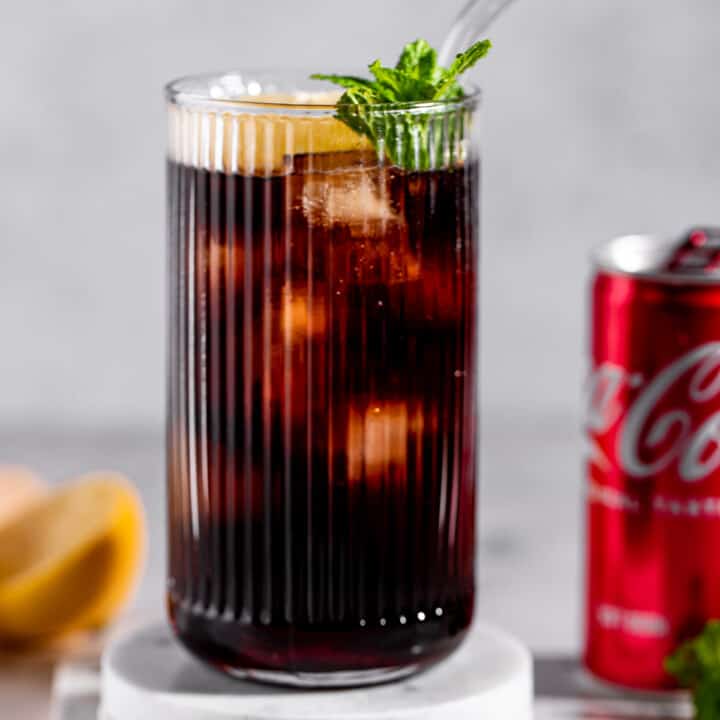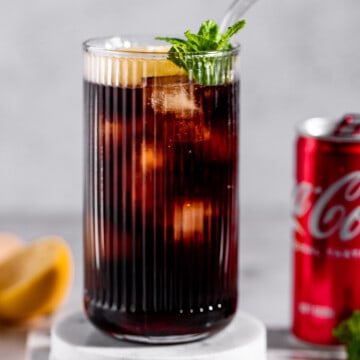 Roy Rogers Mocktail
A refreshing easy to make mocktail recipe with only 2 ingredients.
Ingredients
6

ounces

cola

1

ounce

grenadine

Freshly squeezed lemon juice

optional
Instructions
Fill a tall glass with ice and pour the grenadine over the ice.

Top with cola and add a dash of lemon juice if desired.

Garnish with fresh mint and lemon.
Nutrition
Calories:
139
kcal
Carbohydrates:
35
g
Protein:
0.1
g
Fat:
0.03
g
Sodium:
14
mg
Potassium:
11
mg
Sugar:
28
g
Calcium:
5
mg
Iron:
0.2
mg
Tried this recipe?
Let us know how it was in the comments below
Tag us on Instagram!
We love seeing people make our recipes. Mention @baking_ginger