These Vegan Oreo Cupcakes & Frosting are easy to make and absolutely delicious! With an oreo base and fluffy oreo frosting, these vegan cupcakes are always a crowd-pleaser - for vegans and non-vegans alike.
Jump to:
Vegan Chocolate Oreo Cupcakes Recipe
I make these delicious Oreo cupcakes with soft, fluffy frosting all year round. They are always a perfect sweet treat for any occasion - and who doesn't love Oreos?
These cupcakes are packed with chocolate Oreo flavor in both the cupcakes and the frosting. And I highly recommend adding an extra oreo on top after the cupcakes are assembled - not only does it make the cupcakes look great, but it is also a tasty addition!
These beginner-friendly cupcakes are easy to make and only take 30 minutes. This fool-proof recipe uses simple, plant-based ingredients and creates a moist and rich cupcake that no one would think was vegan.
Topped with soft, creamy frosting that has lots of crushed Oroes in it. These cupcakes are a true celebration of the much-loved Oreo cookies.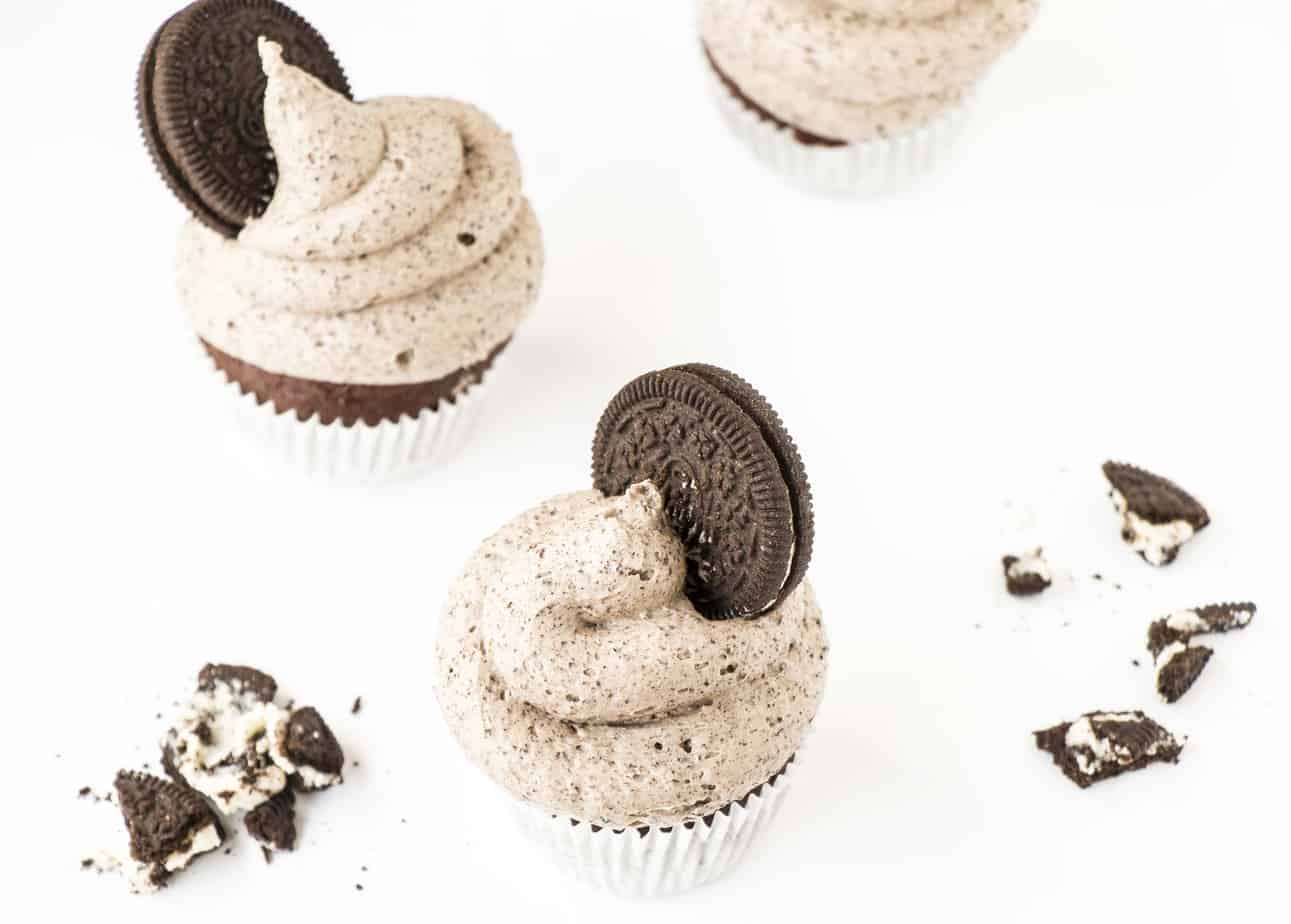 Ingredient Notes & Substitutions
For the cupcakes:
All-purpose flour. I use plain sifted all-purpose flour to make my cupcakes. But you could also use 1:1 gluten-free flour for a gluten-free version of this recipe.
Baking powder. This is what makes the cupcakes soft and fluffy. Be sure your baking powder is still in-date for best results.
Vanilla extract. Enhances the flavor of the Oreo cupcakes.
Cocoa powder. Use a good-quality cocoa powder for this recipe to give the cupcakes a deep, rich chocolate flavor - just like Oreos have!
Oreo cookies. Placed at the bottom of each cupcake
Vegetable oil. Or any other light oil, such as coconut oil or canola oil.
Plant-based milk. Any non-dairy milk will work for this recipe. I like to use oat milk or almond milk best.
Flax eggs. This vegan alternative to egg is easy to make by combining together flax powder and water. For 2 eggs, mix together 2 tablespoon ground flaxseed with 6 tablespoon water.
Granulated sugar. To add a touch of sweetness to the cupcake batter. You could also use coconut sugar or xylitol as a healthier alternative.
For the frosting:
Plant-based butter. Any kind will work but ideally, be a firm stick-style option as that will give the best-textured frosting.
Powdered sugar.
Oreos. Crushed.
Another delicious vegan frosting recipe is my Vegan Peanut Butter Frosting (without butter)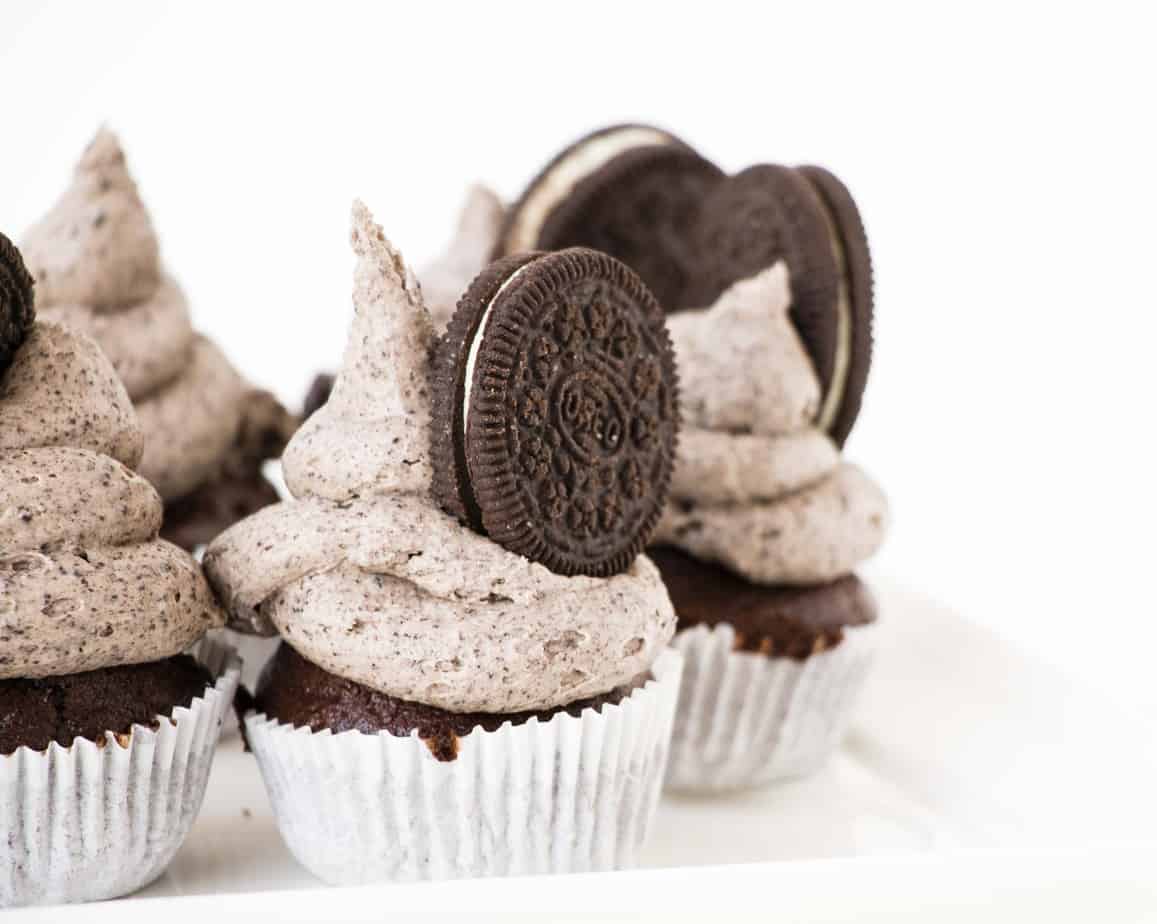 How to make vegan oreo cupcakes and frosting
You can find full instructions and measurements for this recipe on the recipe card below at the bottom of this post. This is a summary of the process with tips and process photos.
Vegan Chocolate Oreo Cupcakes:
STEP ONE
Preheat your oven to 180ºC/350ºF and line a cupcake tray with cupcake paper liners.
STEP TWO
Place all the ingredients (except the Oreos) in a large mixing bowl. Using a whisk or an electric mixer on medium to high speed, mix the batter together until smooth and well combined.
STEP THREE
Place an Oreo in the bottom of each cupcake liner. (As seen below)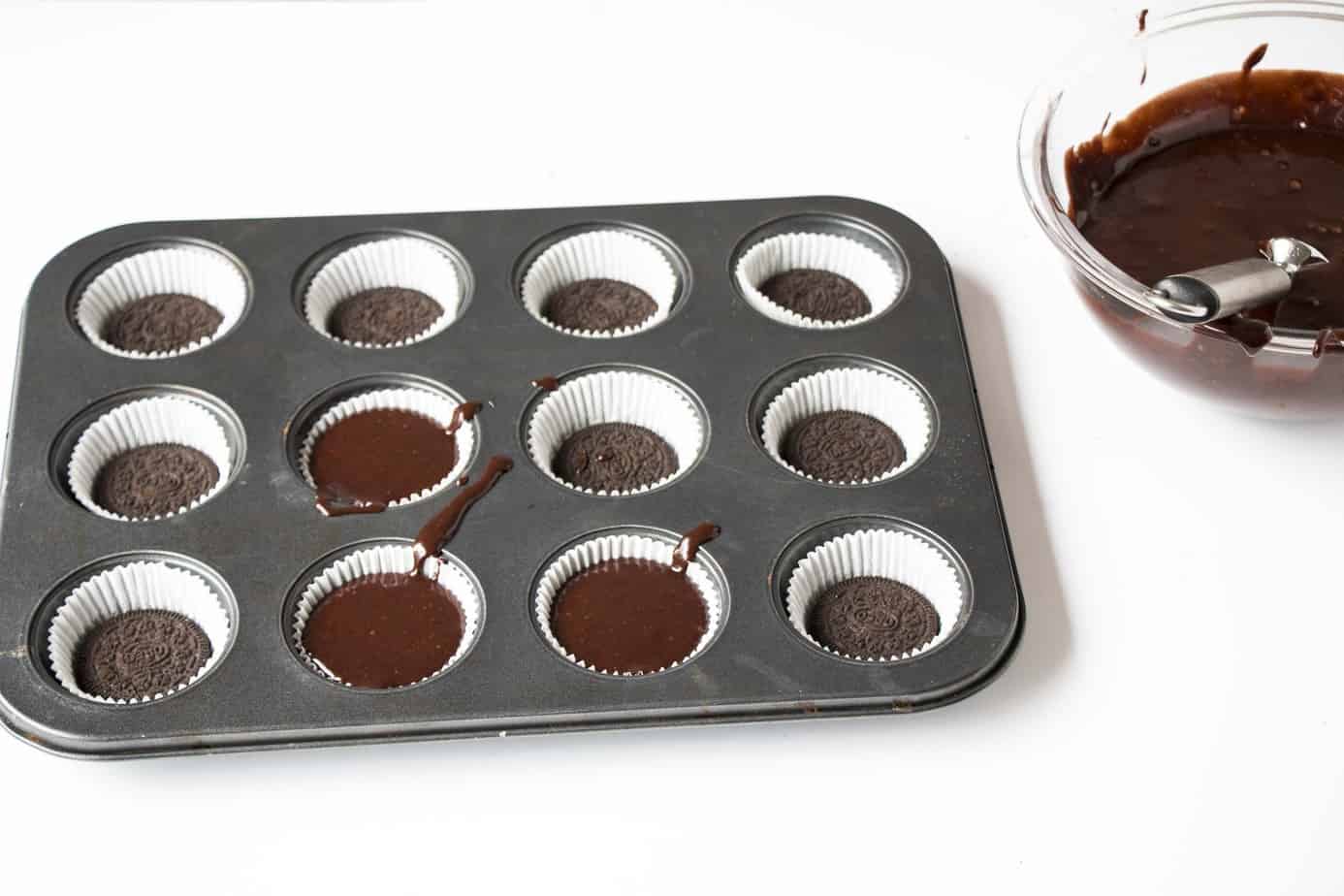 STEP FOUR
Top each cookie with the chocolate batter until the paper liner is ⅔ full and then bake for 18 - 22 minutes, or until the cupcakes are cooked through.
Vegan Oreo Buttercream Frosting:
STEP ONE
Blend the Oreo cookies in a food processor until fine crumbs, about one minute.
STEP TWO
In a large mixing bowl, mix together the softened butter, powdered sugar, and Oreo crumbs until light and fluffy.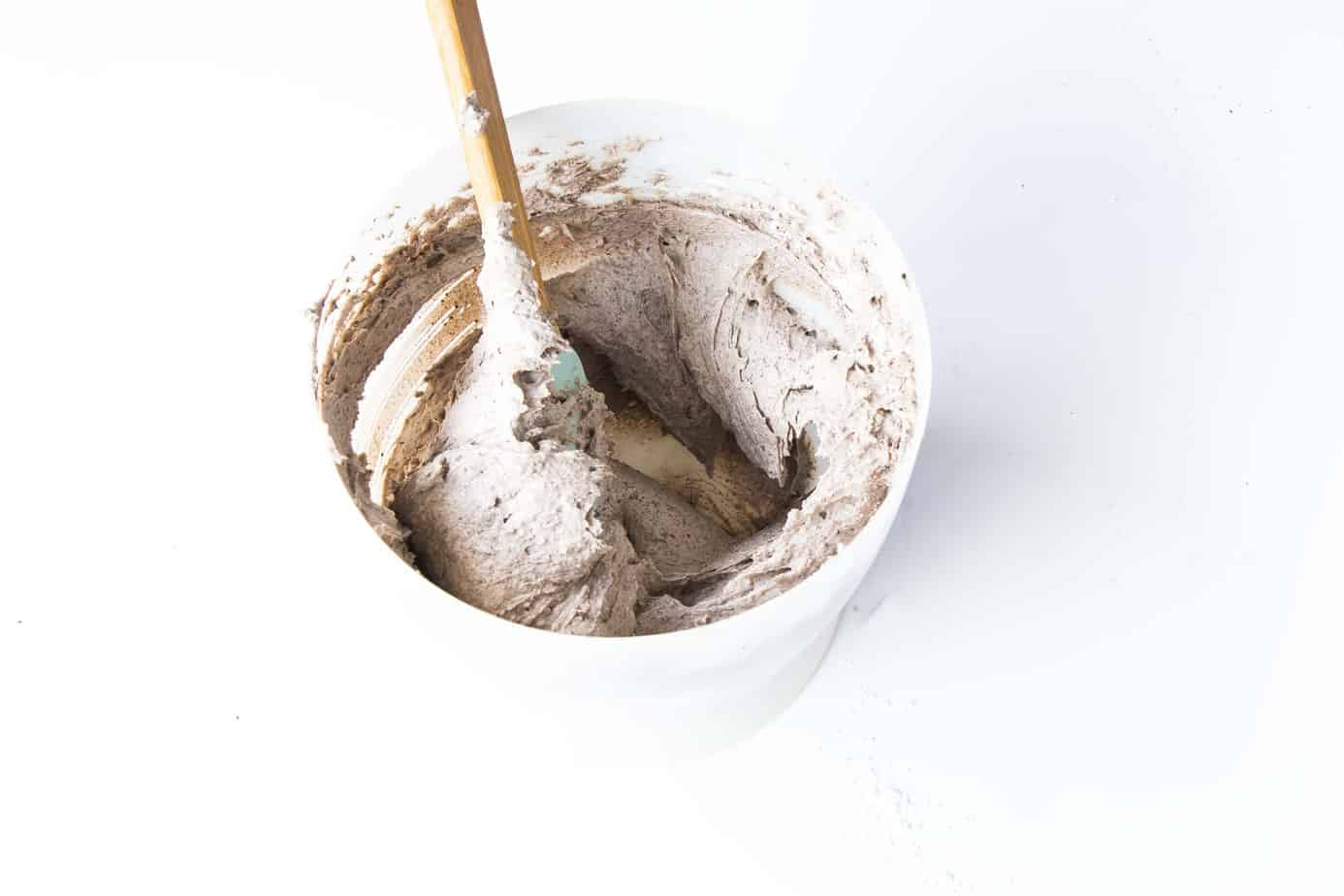 STEP THREE
Top the cooled cupcakes with the frosting and optionally add an extra Oreo on the top for decoration or sprinkle with Oreo crumbs.
Step-by-step Instructional Video:
Recipe Tips & Notes
Measure your flour correctly. It is best to either weigh it out on a food scale. Or you can use the spoon and level method where you spoon the flour into a measuring cup and then level off the top of the cup with a knife. Don't tightly pack the flour into the cup.
Don't over-mix. This is very important in vegan baking. If you over-mix the cupcake batter it can change the texture and/or rise of your cupcakes. So it is important to mix until just combined and then stop mixing. The more you mix your batter, the more gluten will develop and in turn, your cupcakes will become chewy and more like bread rather than cake.
Do not overfill your cupcake liners. If you fill your liners all the way to the top, the cupcakes will rise over the edges during baking. So make sure to leave enough space for them to rise, they should only be filled about ⅔ full at most.
Bake immediately. This is another important element of vegan baking. You should always bake your cupcakes right away and don't let the batter stand around for too long as this can also affect the rise of your cupcakes.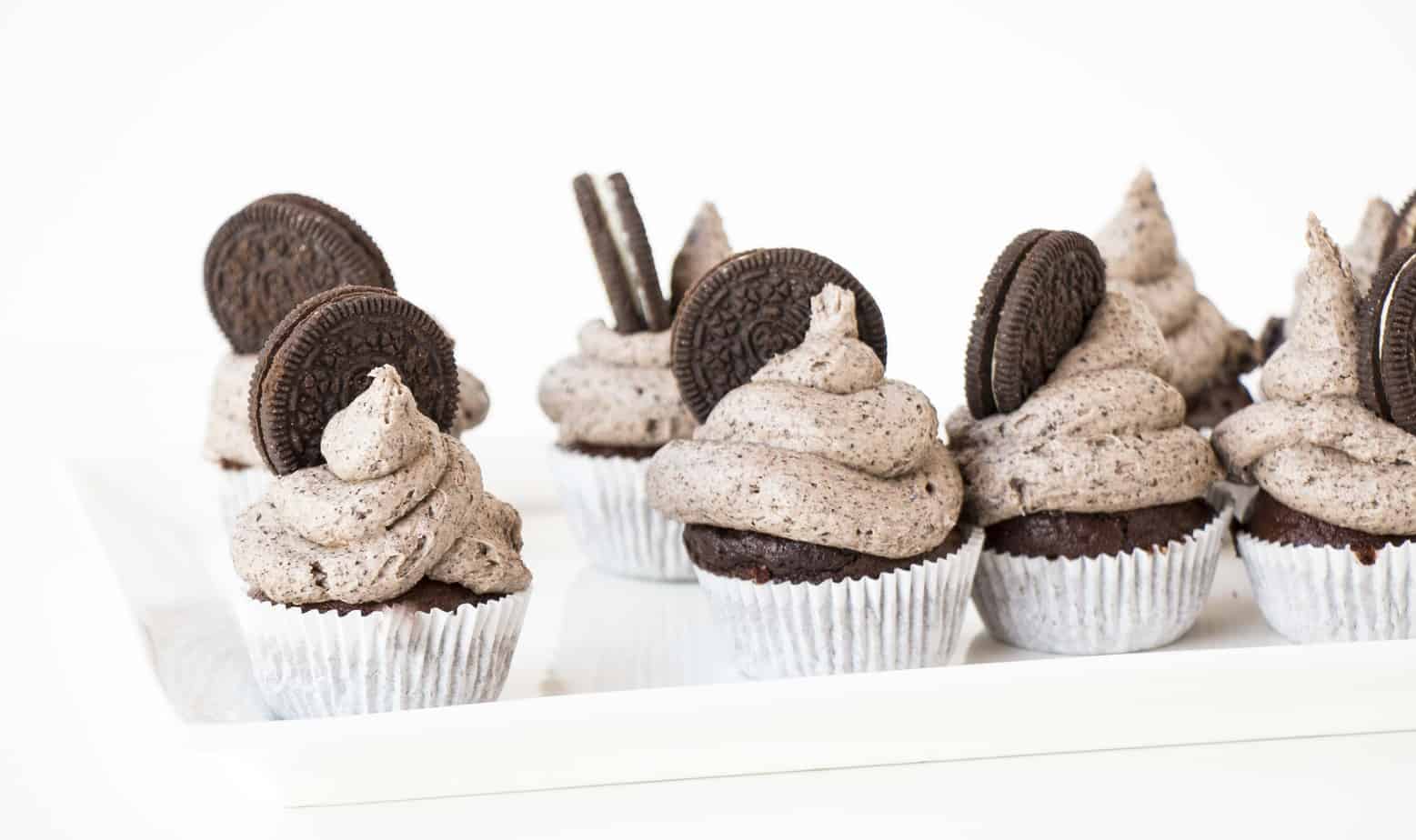 Storage Instructions
For best results, store your cupcakes covered in the fridge for 3 - 4 days. When ready to enjoy, let them come to room temperature on the counter before serving.
Normally cupcakes can last a bit longer than 3 - 4 days when stored in the fridge, but the Oreo cookies cause a slightly shorter shelf life. This is because the Oreos begin to lose their delicious crunchiness after 3 - 4 days.
These cupcakes are not ideal for the freezer, because the Oreo cookies lose their crunchiness in the freezing and thawing process. If this is fine with you, then these cupcakes can be stored in the freezer for up to three months.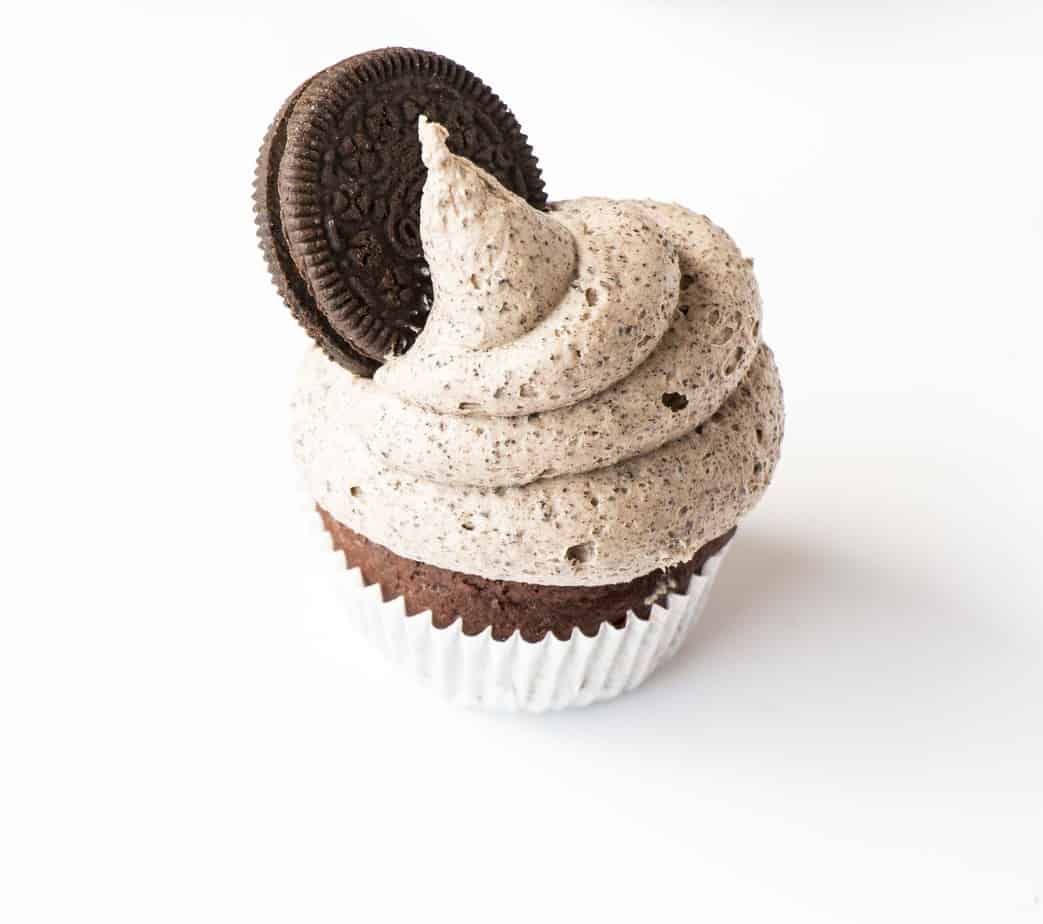 More Cupcake Recipes To Try:
Fluffy Gingerbread Cupcakes with Cream Cheese Frosting
I hope you love this Vegan Oreo Cupcakes & Frosting recipe as much as I do. And if you want to see more of my food adventures, follow me on Instagram or Facebook.
Double Chocolate Oreo Cupcakes
Ingredients
1 ½

Cup

Flour.

2

teaspoon

Baking Powder.

2

teaspoon

Vanilla Essence.

3

tablespoon

Cocoa

2

Packets Oreos.

½

Cup

Oil.

½

Cup

Milk.

2

Eggs.

¾

Cup

Sugar.
For the Frosting:
400

g

Butter

soft.

500

g

Powdered Sugar.
Instructions
Preheat oven to 180ºC/350ºF.

Link cupcake pan with cupcake papers.

Place ingredients (except the Oreos) in a bowl.

Mix on medium to high speed until it all comes together.

Place an Oreo in the bottom of each cupcake paper.

Fill each one with the batter.

Bake for 20min.

Meanwhile, blend the remaining Oreos until fine.

Mix together the butter, powdered sugar and fine Oreos until light and fluffy.

Remove Cupcakes from oven and allow to cool.

Pipe on icing and place and extra Oreo on the top for decoration.

Devour.
Tried this recipe?
Let us know how it was in the comments below
Tag us on Instagram!
We love seeing people make our recipes. Mention @baking_ginger