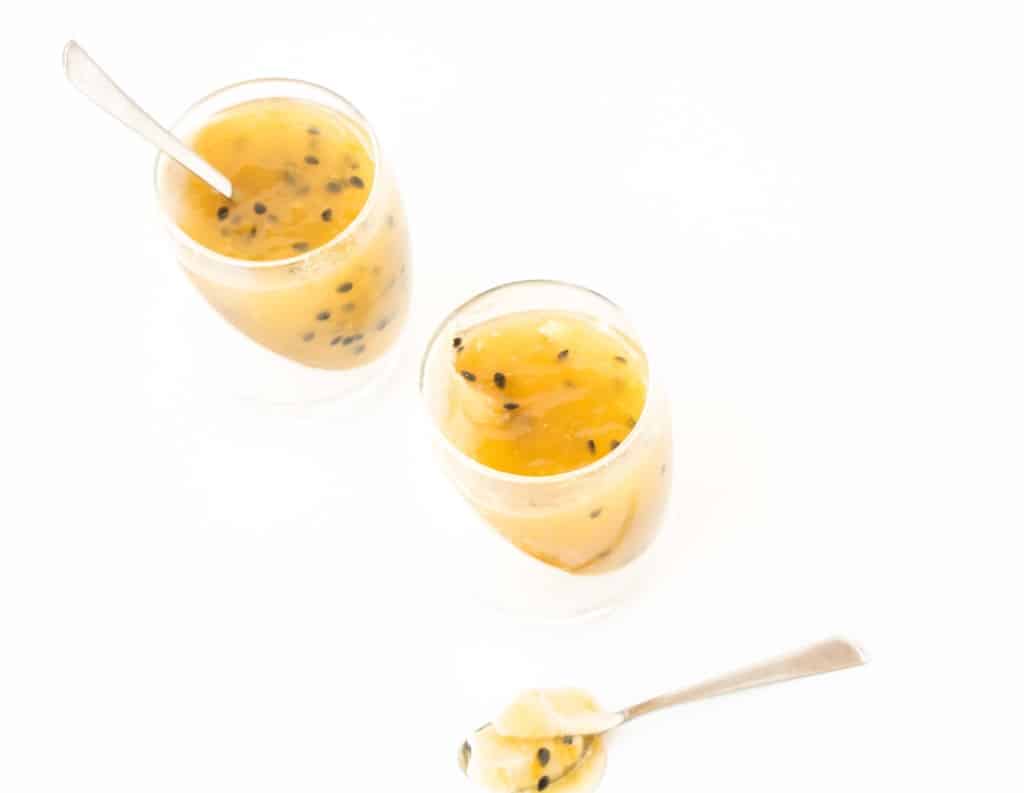 Summer has been hitting us hard over here. All I've wanted to do the last couple of days is spend my days sipping cocktails in the pool. Unfortunately life is life and we have all got to carry on with our daily activities despite the blistering temperature's. So with this heat in mind, I decided I would make something fruity and summery. And so this Vegan Passionfruit Panna Cotta with Agar Agar was born. There's always a positive side to everything ;).
My latest obsession is panna cotta. Up until recently panna cotta has always seemed like something a little out of my range of expertise. It just sounds and looks so fancy, that I always thought it is probably a gigantic mission to make. BUT, this stuff is crazy easy to make!! Which makes it even more amazing, because everyone finds it so impressive and it tastes REALLY delicious!
To start off my panna cotta craze, I thought I would go for a vegan variation, as a little challenge to myself. It turned out so beautiful and perfect. The balance of the vanilla and granadilla compliment each other so perfect, and then there is just a tiny hint of coconut from the coconut milk. Mmmm absolutely perfect!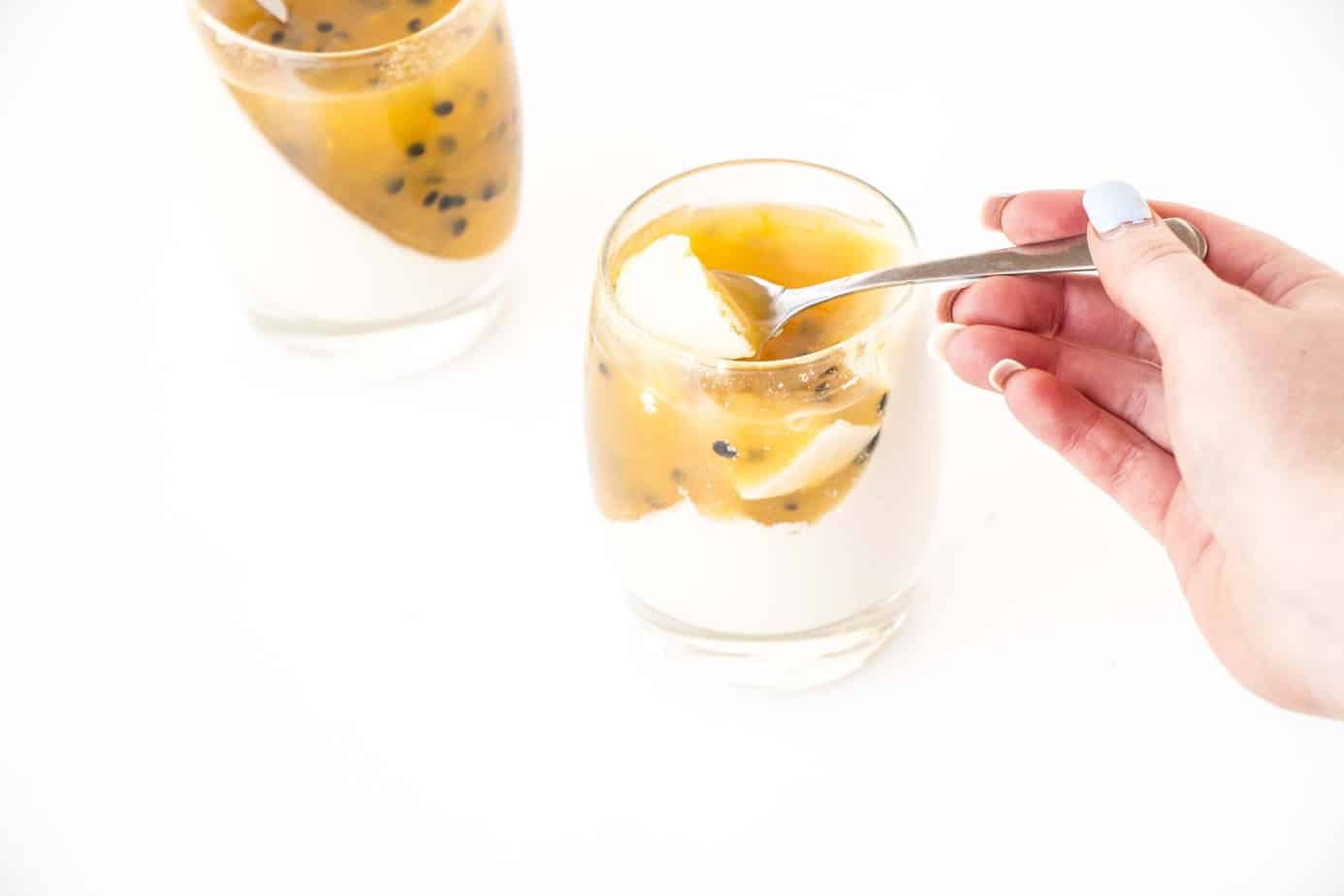 To create the ideal panna cotta texture I used agar agar in both the milky layer as well as the passionfruit layer. It gives it that perfect almost jelly like texture. I have to warn you though, this agar agar stuff is pretty strong, if you add too much of it you will end up with a very hard and not so great tasting panna cotta (trust me it's happened).
To make this awesome Vegan Passionfruit Panna Cotta, start by adding the coconut milk, vanilla and sugar into a saucepan. Then heat up the mixture and allow it to simmer for a few minutes. Once simmering, gently stir in the agar agar and lower the heat. Once the agar agar is completely incorporated, pour the mixture into the glasses. To get the look as in the pictures, place your glasses leaning side ways either in a muffin tin or in small bowls and then pour in the mixture. Place your glasses (in the muffin tin/bowls) in the fridge and allow to chill for a few hours. In another sauce pan, add the granadilla pulp (canned or fresh) and heat up for a few minutes. Once the granadilla is warm, slowly stir in the agar agar until well incorporated. You can the gently pour in the granadilla mixture on top of the panna cotta layer (only once it's set) and place the glasses back in the fridge for a few more hours.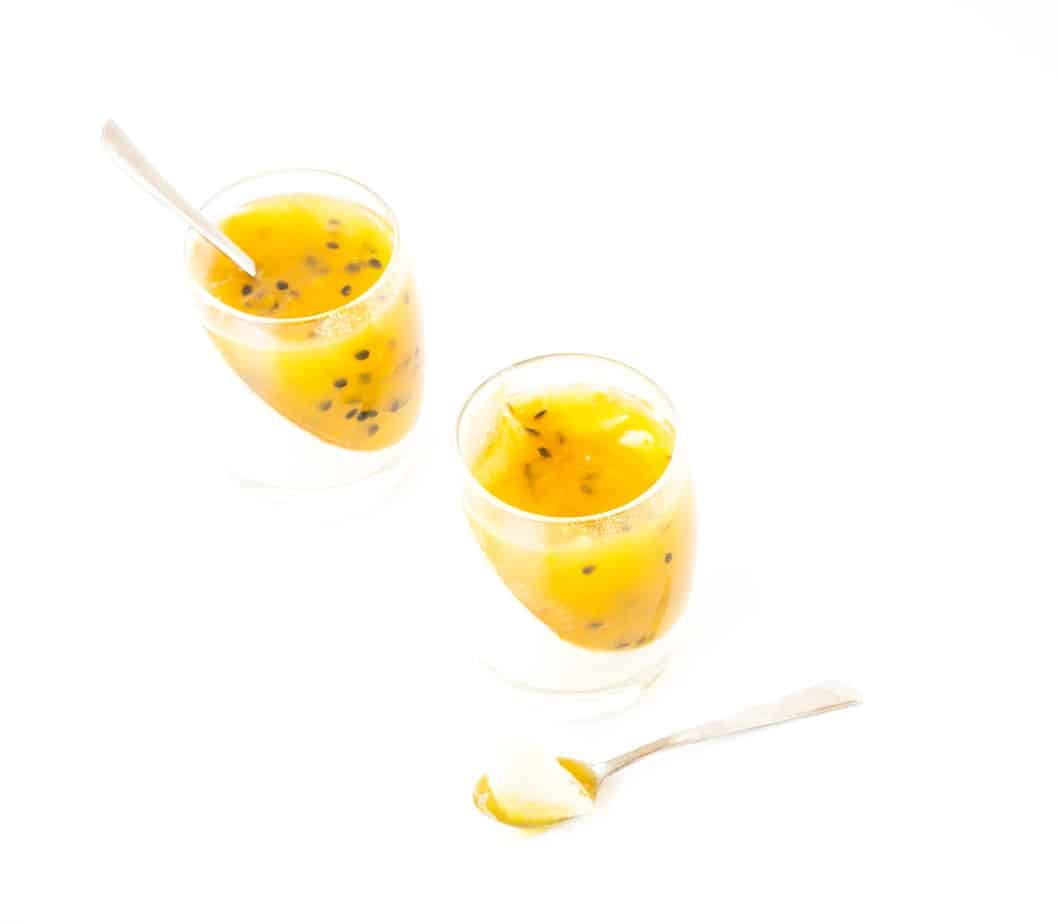 This Vegan Passionfruit Panna Cotta recipe is an absolute winner for everyone, regardless of whether they are vegan or not. They are perfect for any time of the year and as you can see, pretty easy to make.
Vegan Passionfruit Panna Cotta
Ingredients
For the Panna Cotta:
1

can Coconut Milk

2

tsp

Vanilla

¼

Cup

Sugar/Sweetener

1

tsp

agar agar
For the Passionfruit layer:
2

cans Granadilla Pulp or 1 Cup Fresh Granadilla Pulp.

½

tsp

agar agar
Instructions
Place the coconut milk, vanilla and sugar in a sauce pan and heat up until it starts to simmer.

Allow the milk mixture to simmer slightly for a few minutes.

Then gently stir in the agar agar until incorporated.

Pour mixture into glasses and chill in fridge for a few hours.
For the passionfruit layer:
Place the granadilla pulp in a saucepan and heat up.

Once warm, gently stir in the agar agar.

Then gently pour over the granadilla mixture onto the already set panna cotta layer.
Other Recipes You May Enjoy:
Healthy Blueberry Muffin Smoothie: