A guide to The Best Mixers for Rum to create delicious 2-ingredient rum drinks! From dark, light, gold, or spiced, there is a rum drink for every taste and occasion.
Jump to:
Mixing Rum
Rum is usually associated with fruity, tropical drinks such as mai tais, daiquiris, mojitos, etc. But rum is actually a highly versatile liquor that mixes well with many various juices, sodas, and other beverages.
While rum is distilled from sugarcane or molasses, it isn't a very sweet liquor. Especially white rum which is more on the dry side or dark rum which has deep, woody flavors similar to scotch.
This allows the rum to be combined with a wide range of flavors, from sweet to spicy and even bitter mixers. These all play off of rum's flavor notes which range from tropical and grassy in lighter rums to caramelly and complex in aged rums.
Love rum cocktails? Then check out our BLUE MOTORCYCLE DRINK or our JUNGLE BIRD COCKTAIL!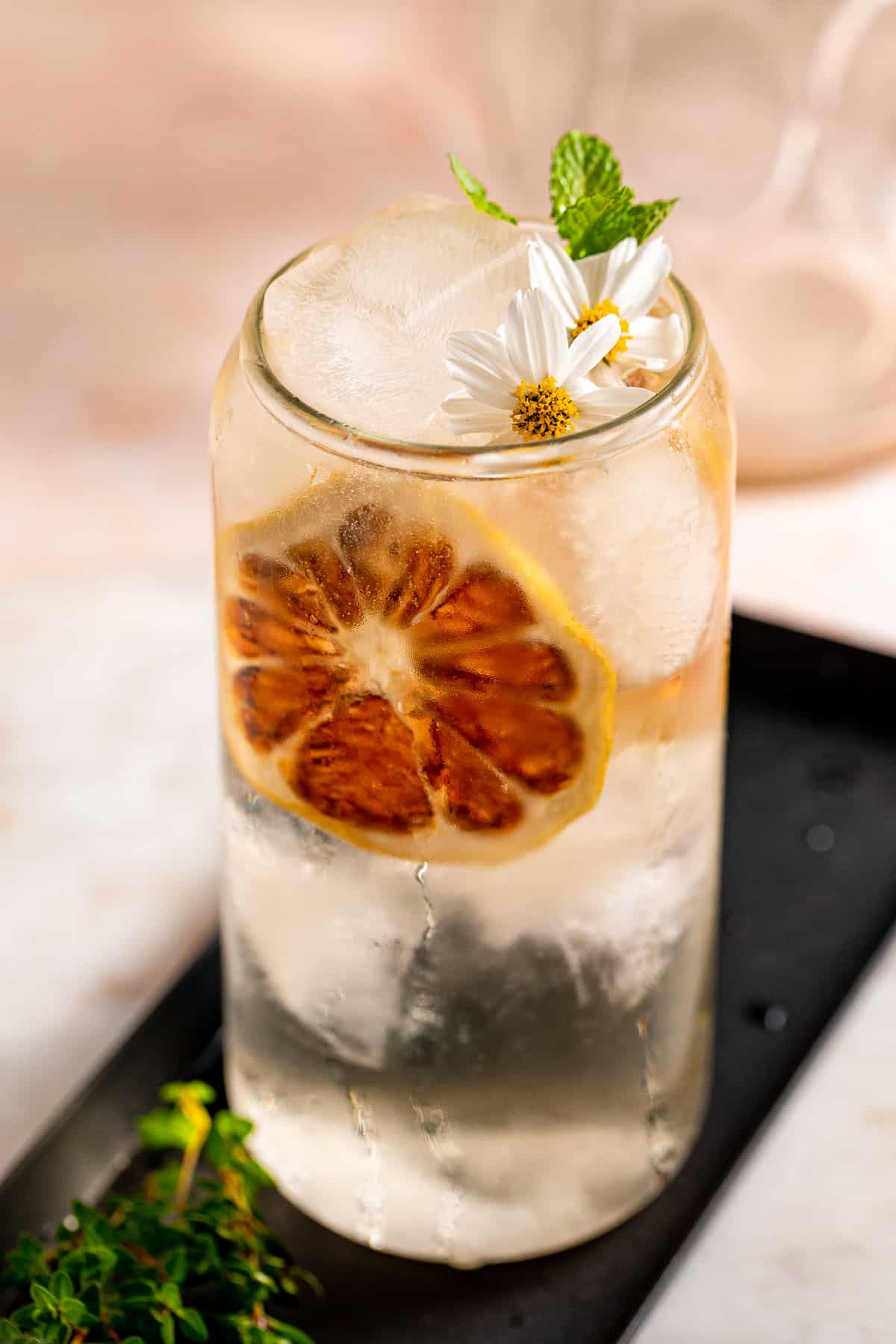 The 10 Best Mixers for Rum
Rum is far more versatile than we may realize and it can be paired with plenty of different mixers. Below is a list of the best mixers for rum, all the way from traditional pairings like pineapple juice to lesser-known combinations like root beer.
We hope this list will inspire you to try out many new tasty ideas for your next rum drink! And as with any good drink, it all starts with high-quality ingredients so always aim to use fresh, good-quality mixers and decent rum.
1. Pineapple Juice
Pineapple juice is a classic rum mixer choice. And for a good reason! Pineapple is tangy and fruity which brings out the best in rum.
It provides a sweet and refreshing flavor that balances out the natural woody and floral notes commonly found in rum, especially in gold and dark rums. Mixing pineapple juice and rum will make you feel like you're lounging on a tropical beach, even if you're just in your backyard!
If you are in the mood for a pineapple cocktail, then check out our FROZEN JALAPENO PINEAPPLE MARGARITA. You won't be disappointed!
2. Coconut Water
Another tried and trusted pairing - coconut and rum! Coconut water is the clear liquid found inside the coconut which is super hydrating and is full of vitamins and nutrients. It is a great low-sugar and low-calorie mixer option for rum that is full of electrolytes that can help to avoid a dreaded hangover.
3. Ginger Ale
Ginger ale is carbonated, lightly spiced, and sweetened so it takes away some of the harshness of rum while complementing its flavor. It is less intense than ginger beer so you can enjoy all the natural flavors of the rum.
Spiced rum and any aged rum are great options for mixing with ginger ale thanks to their flavorful notes of coconut, caramel, and vanilla. While you can use light rum, it won't stand out well against the ginger flavor, so we suggest choosing another mixer if that is the only kind of rum you have on hand.
4. Orange Juice
Sweet and slightly tart, orange juice is a delicious mixer for rum as unusual as it may seem. The zesty sweetness of the orange juice complements the complexity of the rum, creating a refreshing drink that's perfect for any season and occasion. 
The sweet, nutty flavors of aged rum work best for this combination, but light or dark rum will also work well!
We love orange juice mixed drinks! Try out our WHISKEY & ORANGE JUICE recipe for a tasty alternative.
5. Flavored Seltzers
Flavored seltzers, whether they are made with natural flavors or with juice, can offer a world of flavor options to add to your rum. Along with the addition of the bright, refreshing fizz, this combination is definitely worth a try.
There are so many different flavored seltzers available these days, so play around to see which one you like best. Create your new favorite bubbly rum drink with black cherry, lime, grapefruit, watermelon, or mango seltzer.
6. Coffee
Like the classic pairing of whiskey and coffee, rum and coffee also make for a delicious duo. Especially as a delicious after-dinner drink on a cold evening - it's the best way to warm up!
We recommend using spiced rum for this mixer as the coffee will bring out its spicy aromatics and flavors. And feel free to top the whole thing off with some whipped cream if you're feeling extra fancy and indulgent.
Looking for a delicious coffee cocktail? Then you have to try our SHAFT DRINK recipe!
7. Cola
Rum and cola is a timeless classic that has been around for over 100 years. The sweet, bitter taste of Coca-Cola pairs perfectly with complex rum, creating a refreshing highball drink that's simple and refreshing. 
The versatility of this mix allows you to customize it to your exact liking by using different types of rum or colas or by adding a squeeze of lime for a zesty twist.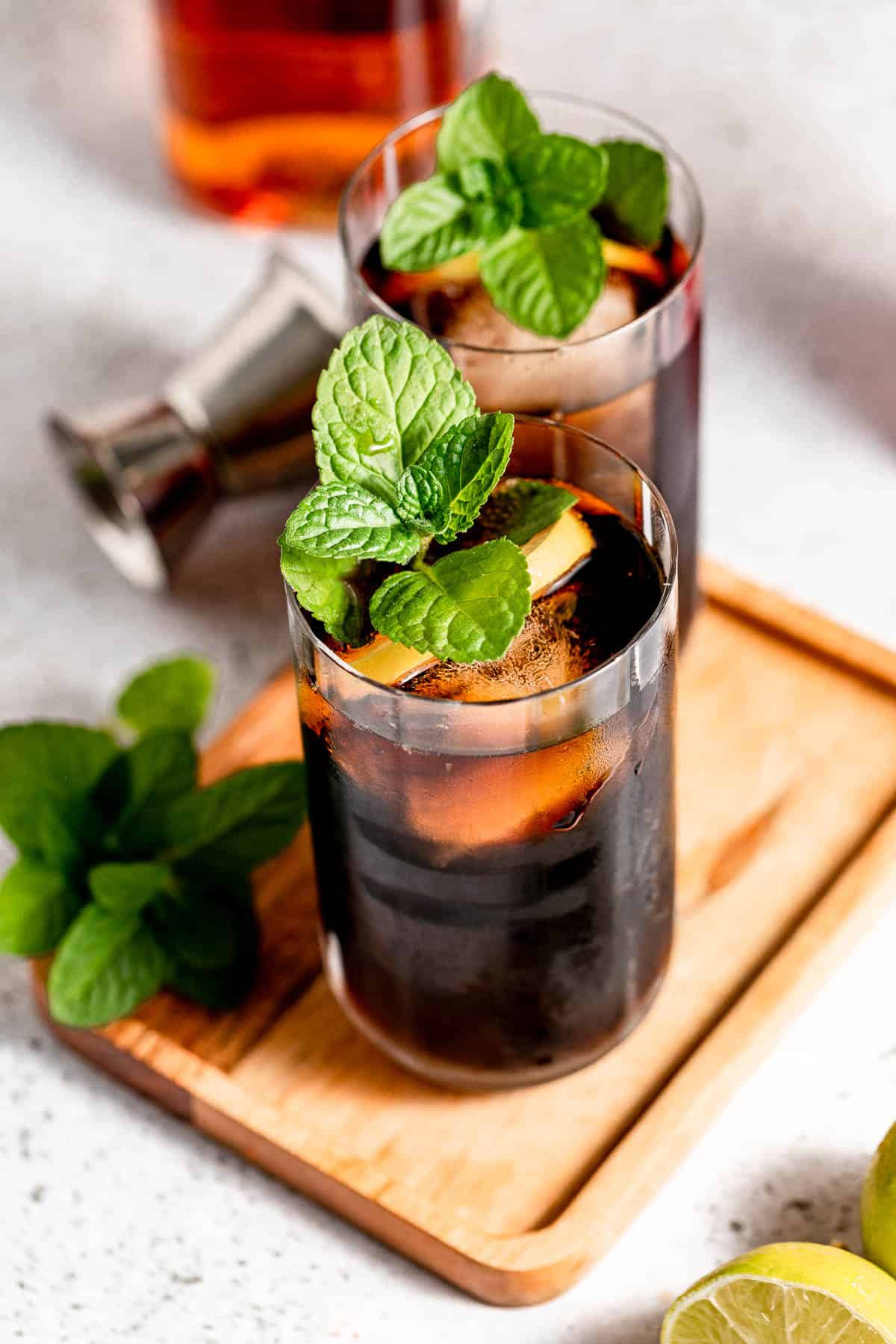 8. Grapefruit Juice
Rum and grapefruit juice is a refreshing summer mix and the two flavor profiles combine beautifully.
The crisp combination is easy to make and is a perfect brunch drink option. Add a splash of grenadine or simple syrup if you prefer a sweeter drink as the bitter grapefruit doesn't suit everyone's palate.
9. Tonic Water
Gin isn't the only match for the deliciously sweet, dry, and bitter tonic water! The bitter quinine found in tonic water is the perfect mix for rum's complex sweetness.
Tonic water adds a refreshing but dry element to a cocktail and also enhances the floral and woody notes found in different types of rum. But if you're not completely sold on tonic and rum, then ease your way there with a Rum and "Sonic" - a 50-50 mix of soda water and tonic water.
10. Club Soda
Club Soda's faint but noticeable minerality brings out a rum's inherent nuttiness and can temper a spiced rum's heat. The flavor profile of this refreshing mix will differ slightly depending on which rum you choose, so the choice is all yours.
Due to its simple, clean taste, club soda can complement the flavor profile of any rum and adds a delicious burst of bubbles to the mixed drink.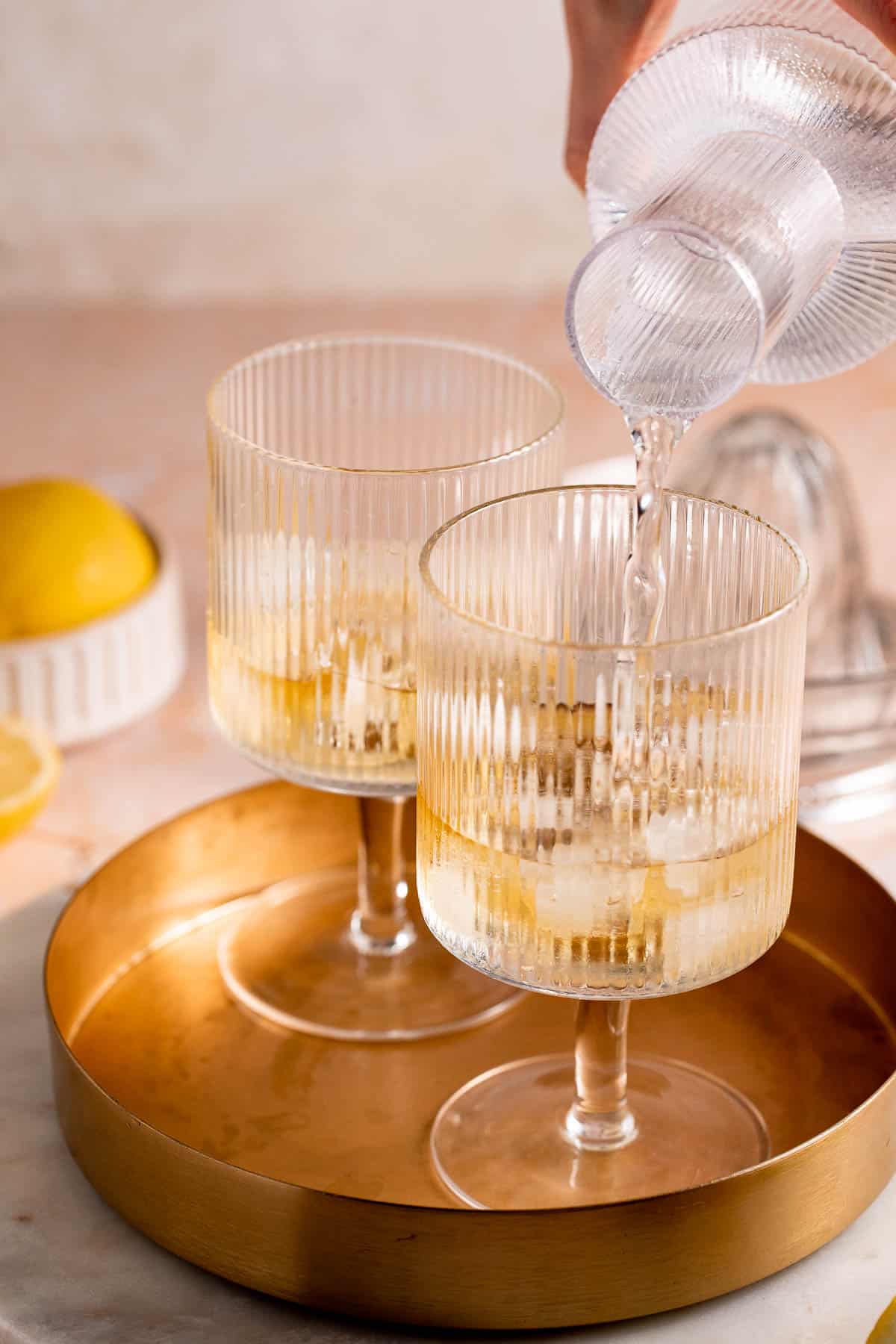 I hope you love this list of The Best Mixers for Rum as much as I do! And if you want to see more food and drink inspiration, follow me on Instagram or Facebook.