The most delicious and healthy pecan banana bread recipe. Perfect for fall. So quick and easy to make and so healthy you could have it for breakfast.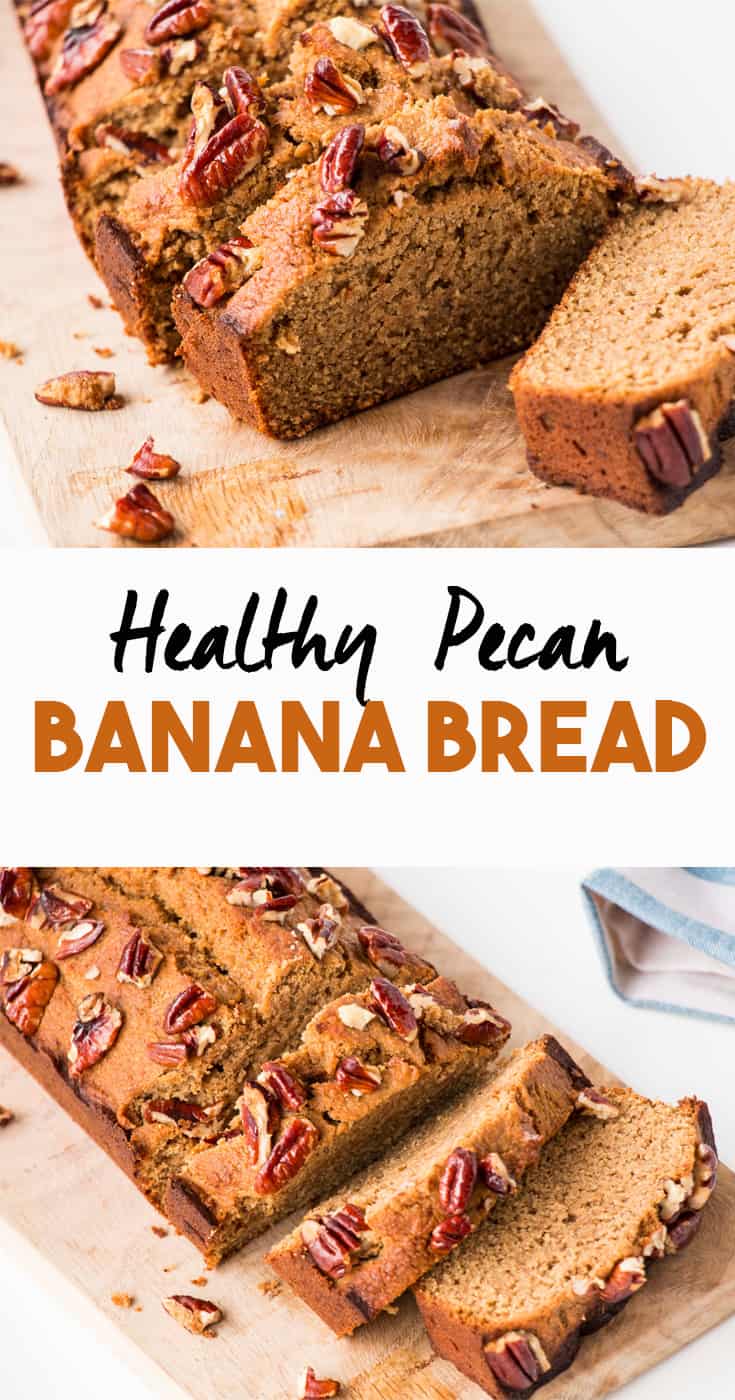 Banana bread with Pecans
As a child, we had Banana Bread often...too often. And although my mother always made delicious Banana Bread, I wasn't the biggest fan of anything banana. I was always the one picking the bananas out of fruit salads or really anything that contained bananas. The thing that I hated the most was the mushy texture it has when you eat it. It really grossed me out as a child.
Baking with Bananas
It's strange though, how as we grow up we learn to love different foods and learn to love the things we hated as children. I realised that when I was once "forced" to eat an Avocado, which was also one of those mushy things I hated as a child. Suddenly this nasty, mushy thing I really despised, seemed to be so delicious.
Ever since that day, I LOVE avocados. I could literally live off it... hence the fact that I made Avocado Ice-Cream. It was that day that I decided I would let go of my childhood fussiness and give everything that I hated another chance to prove itself to me. And bananas have been one of those things that have really proved me wrong. I love bananas now and the texture doesn't bother me at all anymore.
I made this Healthy Pecan Banana Bread the other day, and literally the whole loaf was gobbled up (mostly by me) in half a day. It is the best when I make something it tastes so delicious but at the same time, it can be eaten as a meal because it is so healthy... just like my Caramel Chia Pudding.
Breakfast, snack, or dessert
This Healthy Pecan Banana Bread is no exception. I actually ate this bread for a snack, as dinner and for breakfast the following day. Okay...part of it was because I was a bit lazy to cook, but it was also because it was SO delicious and I knew it was crazy healthy... so NO guilt here.
Banana Bread is also something that's really nice to make when you have old banana's lying around and you really don't want to waste them. Because lets be honest, most of us never actually eat all the fruit we buy. So whenever I see a couple of old bananas lying around I see it as a good excuse to bake tis Healthy Pecan Banana Bread. Yum!
How to make healthy banana bread
I used 3 banana's that were seriously over ripe. A ⅓ cup of coconut oil, you can swop this out for normal canola or sunflower oil, a cup of brown rice flour and half a cup of coconut flour, which you can either swop out for oat flour to keep it a little healthy or use normal flour (obviously it loses a tiny bit of the health part then).
I also used coconut sugar, because it's really healthy and I also like the flavour coconut sugar adds, to me it seems to resemble dark sticky brown sugar which is always delicious in recipes.
I used 1 egg in this recipe which as usual can be swopped out for a flax egg as a vegan alternative. The last view ingredients are simply to give it a delicious flavour, namely cinnamon, vanilla and salt.
I started by mushing up the banana's, which you can do with a fork or a blender. But I simply threw the banana's into my Kitchen Aid, and then using the paddle attachment I blended it on high, which seemed to get the job done.
I then added the egg, vanilla, cinnamon, salt and oil. Once all that was blended I added all the dry ingredients and mixed it until everything was well incorporated. I then transferred it to a lined bread pan, topped it with a few chopped pecan nuts and baked it at 180ºC/350ºF for about 45min.
This bread just came out so perfectly. I HATE dry anything, and this was so delicious and moist. You don't even need to spread butter on it because it is already pure perfection.
Other Recipes You May Enjoy:
Apple & Cinnamon Muffins:
Healthy Cinnamon Carrot Cookies: