This Easy Salted Caramel Popcorn recipe is the perfect addition to any party. It is decadent and addictive and everybody loves it.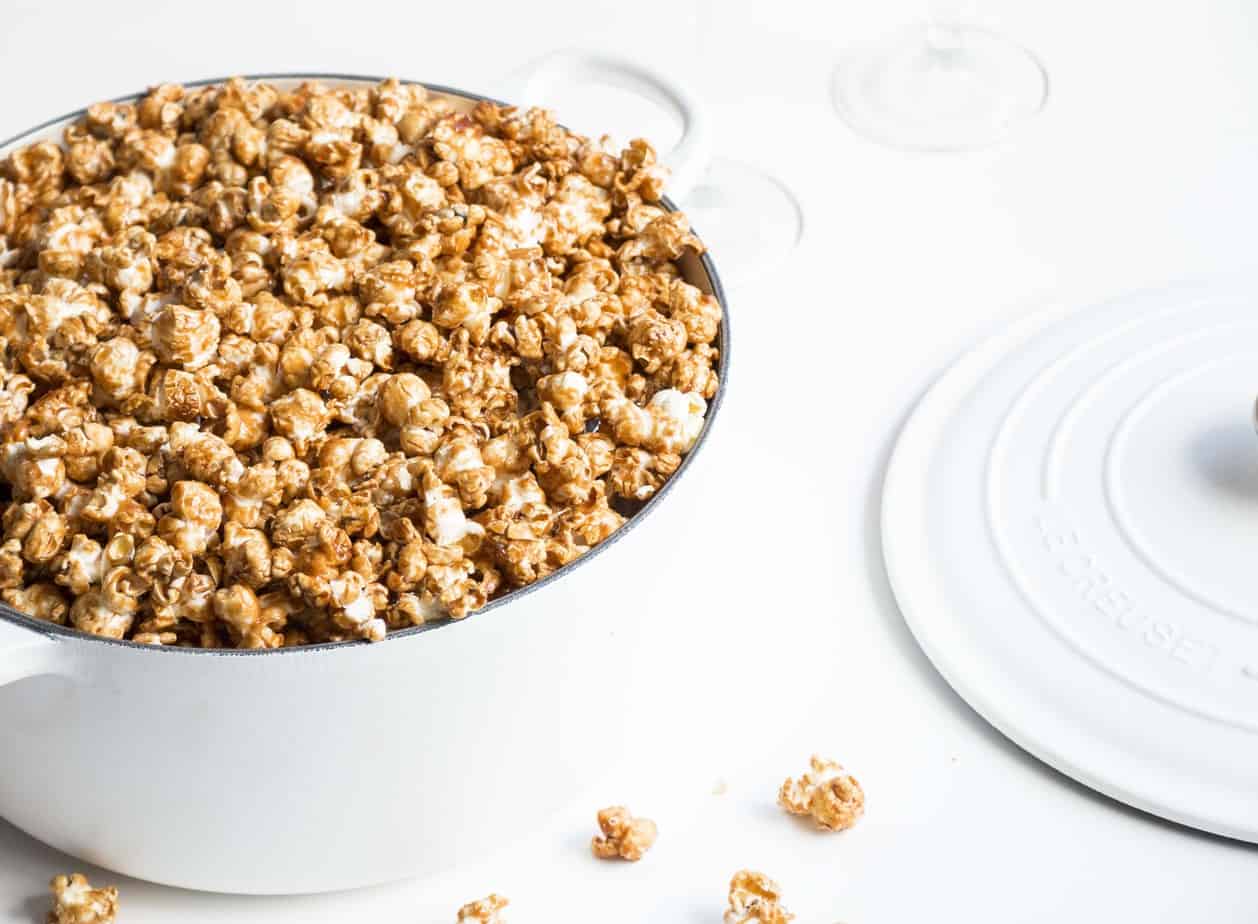 Popcorn with Salted Caramel
This weekend is quite festive. My big sister is getting married and we are throwing her a little engagement party. We aren't doing anything massive or elaborate just a little cocktail party.
So I'm making one of my favourite things to make for such an event, Champagne Jelly. Not only is it beautiful and festive but also darn delicious.
To go with it, I made this delicious Easy Salted Caramel Popcorn. This recipe is always a winner because it looks really amazing and it is deliciously light and refreshing.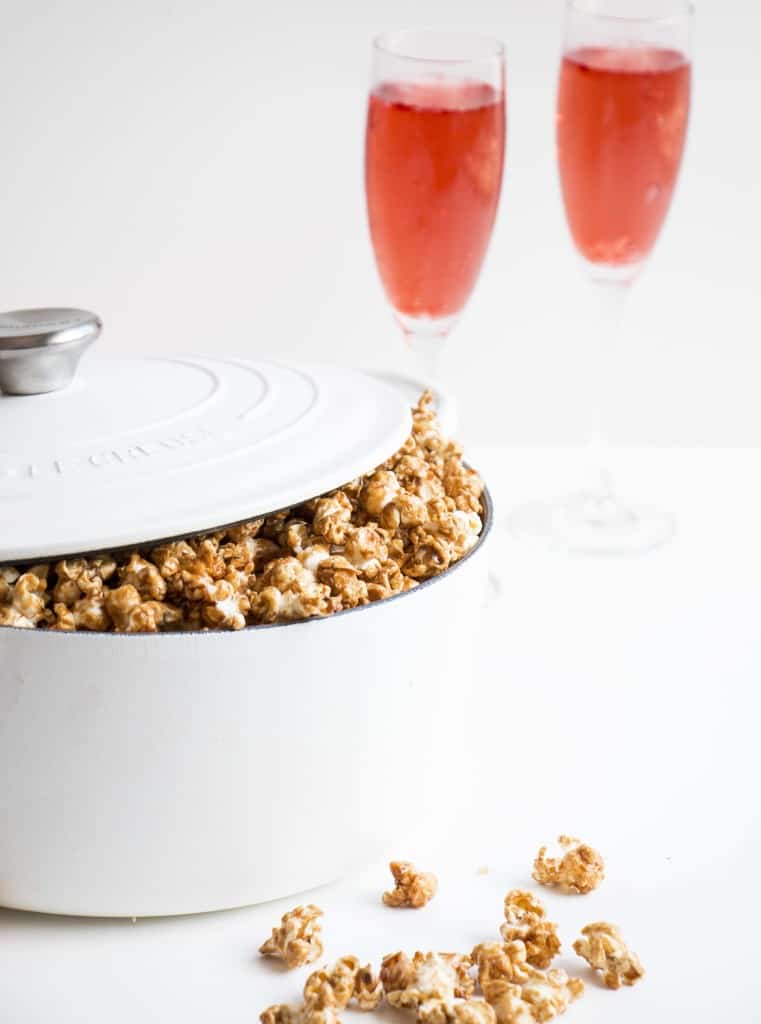 How To Make
This Easy Salted Caramel Popcorn has become one of my favourite things to make for an occasion. It is so easy to make this simple recipe. You can have a delicious, big bowl of popcorn in minutes!
Especially when you aren't making an elaborate dinner, because it is still satisfying without being really filling and it also doesn't require you to spend half the day slaving away. There is nothing I hate more than hosting a party and then pretty much missing the whole party catering for all your guests.
I like being able to make a few things ahead of time and then really enjoying the party myself. That's why this Easy Popcorn works so well, it requires barely any time to make, you can make it ahead of time and it looks beautiful and tastes delicious.
This easy recipe can be made vegan style as well, all you have to do is use the Vegan Salted Caramel Recipe, pour it over your popcorn, give it a little bake and there you go! If you don't want it to be vegan, then use the normal delicious Salted Caramel Sauce recipe (which is incredibly easy to make).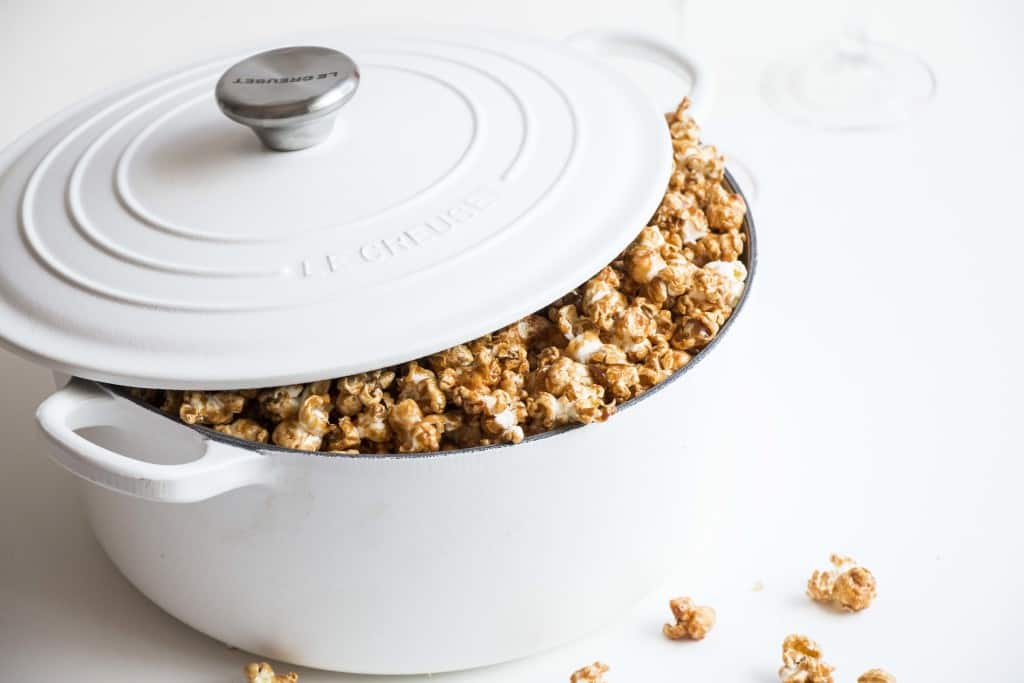 This Easy Salted Caramel Popcorn recipe is really no fuss at all, the only key to this recipe is baking it for the right amount of time so that the popcorn remains nice and crunchy.
I hope you love this popcorn recipe as much as I do. And if you want to see more of my food adventures, follow me on Instagram or Facebook.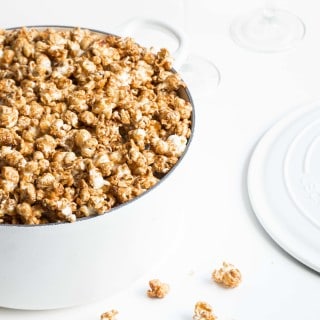 Easy Salted Caramel Popcorn
Ingredients
Popcorn

popped, I used one cup un-popped.

1

Batch Salted Caramel Sauce or Vegan Salted Caramel Sauce
Instructions
Pour the Salted Caramel over the popped popcorn and mix it in gently.

Pour the caramel popcorn onto a lined baking sheet and spread it out evenly.

Bake for 30min on 150ºC.

Remove from oven, allow to cool and enjoy.
Tried this recipe?
Let us know how it was in the comments below
Tag us on Instagram!
We love seeing people make our recipes. Mention @baking_ginger