These Easy Cake Mix Donuts are light, fluffy, and full of rich chocolate flavor. Topped with a creamy chocolate glaze, these baked donuts are the perfect homemade dessert that can be whipped together in minutes.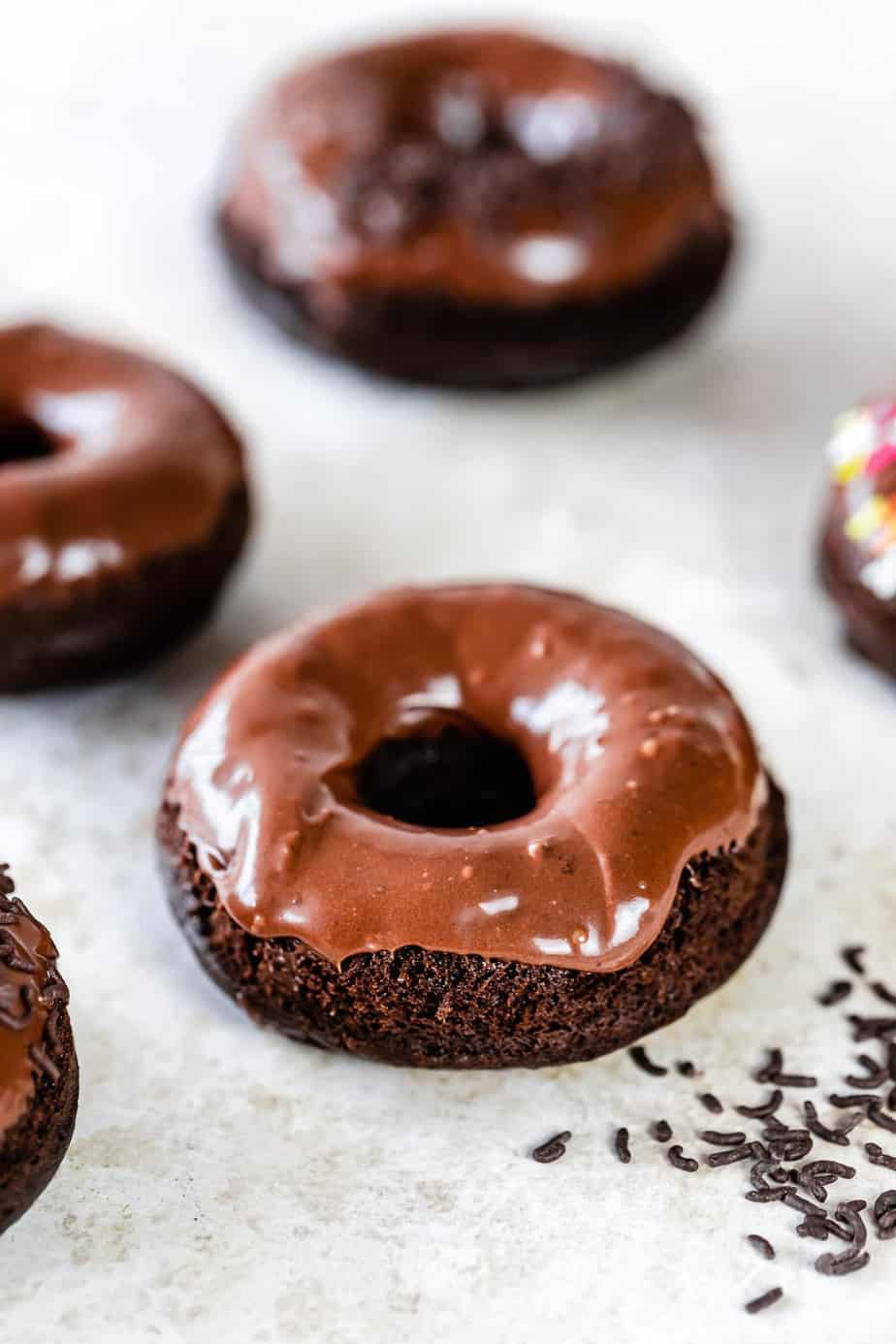 Baked donuts with cake mix
Rather than being a traditional donut that is made with a yeast-based dough and fried, these donuts are made without yeast using a ready-made cake mix and are baked in the oven. You will need a donut pan to make this recipe.
Cake mixes can be adapted for all sorts of recipes (I usually use Pillsbury ready-made mixes). Using a cake mix speeds up the preparation time in making the donut batter and guarantees a delicious texture and taste. This recipe uses a chocolate cake mix as its base, and therefore this baked donut recipe is incredibly quick to make and has a rich chocolate flavor.
These Chocolate Baked Donuts taste homemade and are a fun twist on a standard cake. It is a simple and fun recipe to make with children, and it is almost fool-proof so you are pretty much guaranteed a great end result.
.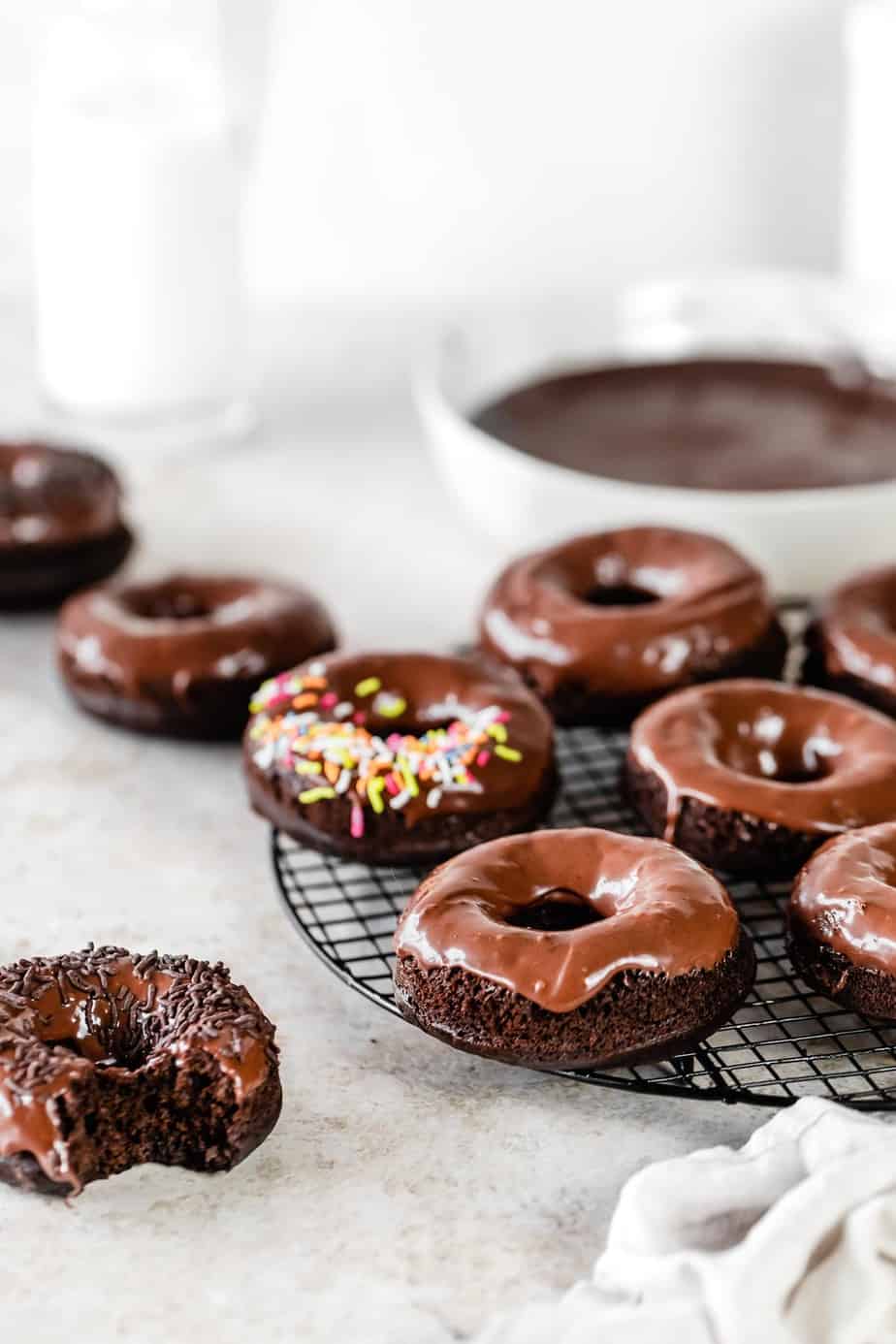 What you will need to make these baked cake mix donuts
Because this recipe uses a ready-made chocolate cake mix, there are not a lot of ingredients involved in making these chocolate donuts. All you will need is:
Chocolate cake mix: Any kind will work, so use your favorite one.
Eggs: Room temperature is best.
Oil: I used canola, but vegetable oil will also work.
Water: To get the perfect donut butter consistency.
Chocolate frosting: Use ready-made or make your own.
Milk: To turn the frosting into a thinner glaze that will coat the donuts.
Your favourite toppings: Sprinkles, nuts, cocoa nibs, etc. Have fun!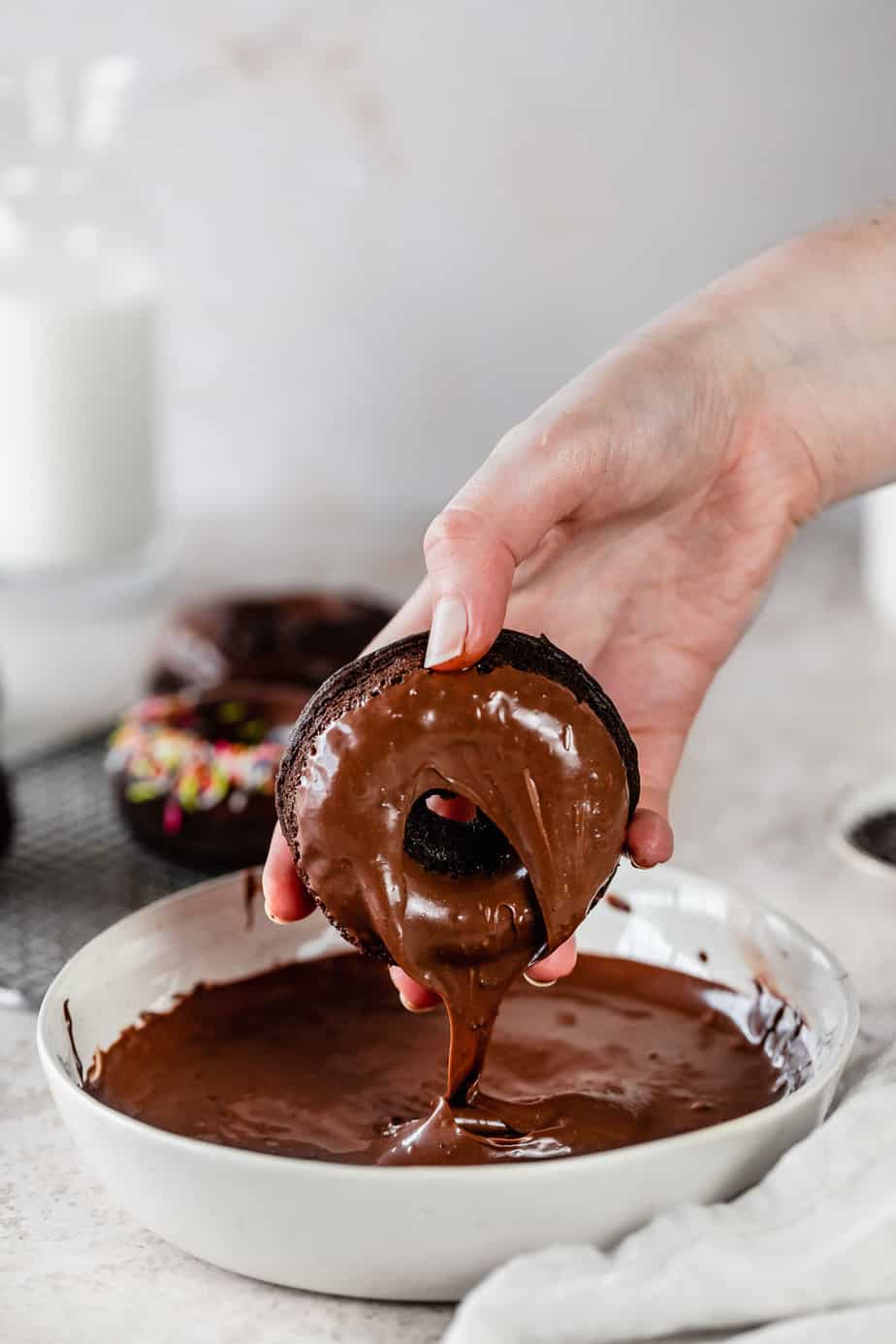 How To Make Easy Chocolate Cake Mix Donuts
I have included a video to show you exactly how to make these Easy Cake Mix Donuts. They are incredibly quick and easy to make.
All you have to do is add all the donut ingredients into a large mixing bowl. Beat the mixture together with an electric mixer until the batter just comes together. Pipe the batter into a greased donut pan (I used this one). Then bake the donuts for 8 - 10 minutes. Allow the donuts to cool before adding the chocolate glaze.
For the donut glaze, I used a ready-to-use frosting that I mixed with some milk to make a thinner consistency. But if you prefer a thick glaze you can leave out the milk. You can also use make your own homemade chocolate frosting - I just used a ready-to-go option to speed up the process.
The last step is the fun part! Once the donuts are glazed you can top them with whichever topping you like. Sprinkles or nuts or melted white chocolate, or cocoa nibs, whatever you prefer!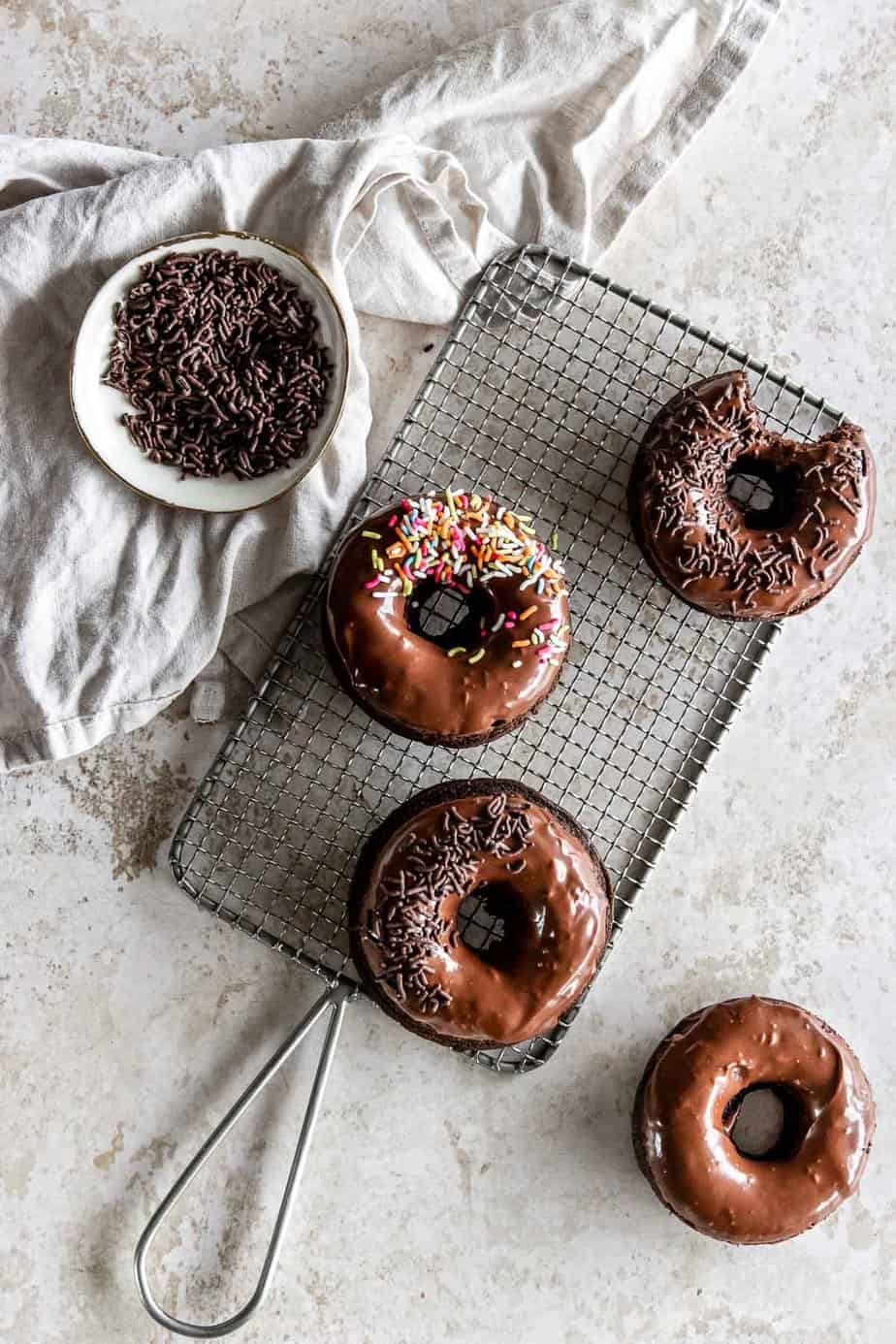 What is the difference between a cake donut and a regular donut?
Donuts of all forms are delicious. Baked donuts are prepared differently from regular donuts, so naturally, there is a slight difference in the flavour and texture. Baked donuts have a denser, cakey texture in comparison to fried donuts. A cake doughnut is made from essentially cake batter and it gets its lift and aeration from chemical leaveners like baking powder and/or baking soda. Fried donuts and baked donuts both look the same. They both also work extremely well with a glaze - and a sprinkling of chopped nuts or sprinkles.
Do you glaze donuts hot or cold?
These baked chocolate donuts are best glazed once they have cooled off. Fried donuts are glazed while they are still hot, but for baked donuts, it is best to glaze donuts cold. This way the glaze doesn't melt and runoff, but rather it stays nice and thick and sets up on the donut.
More Donut Recipes To Try: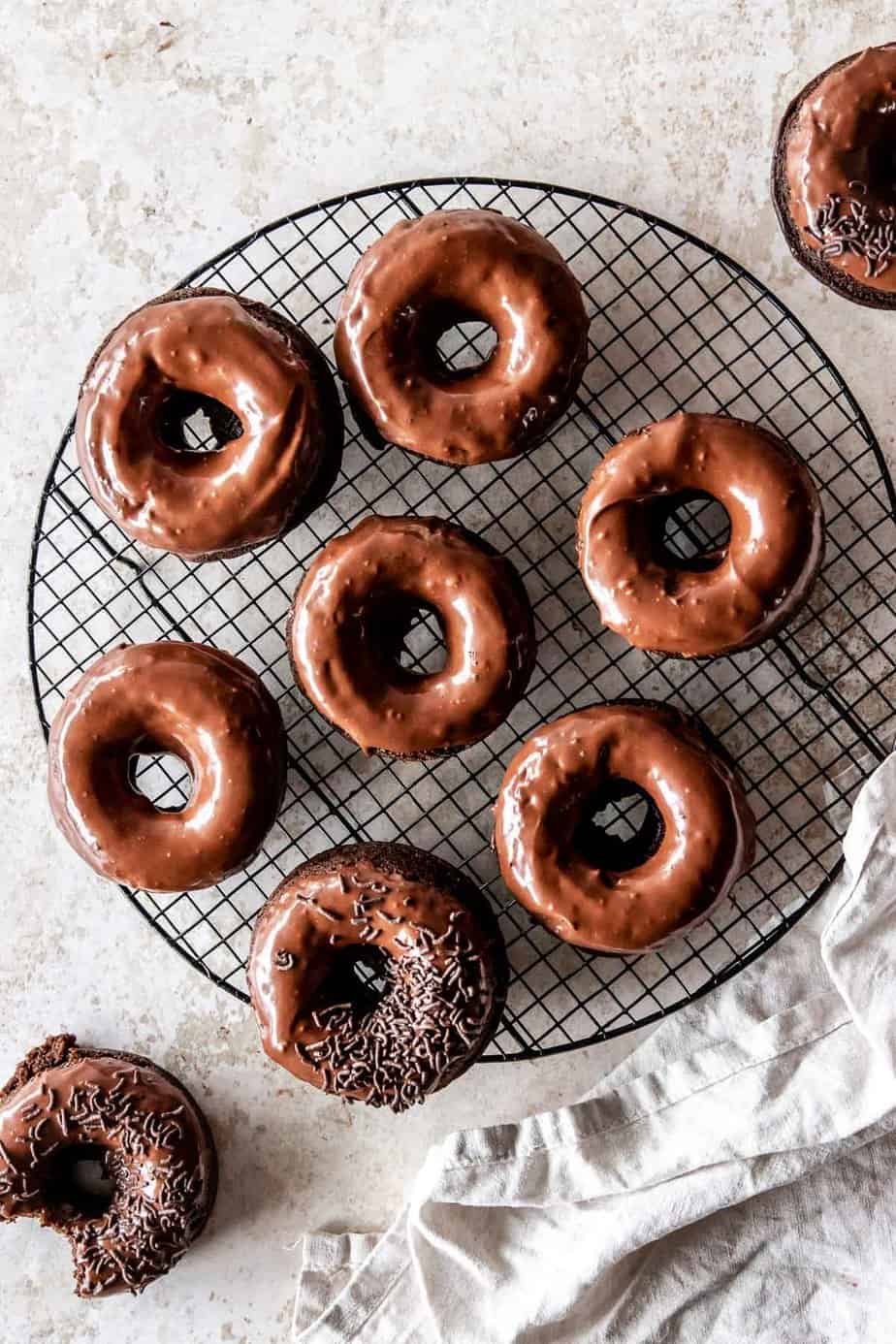 If you make these yummy Cake Mix Donuts, let me know what you think of them over on my Instagram. I'd love to hear your thoughts 🙂
Easy Cake Mix Donuts
These Easy Cake Mix Donuts are light, fluffy, and full of rich chocolate flavor. Topped with a creamy chocolate glaze, these baked donuts are the perfect homemade dessert that can be whipped together in minutes.
Ingredients
For the Donuts:
1

box

Chocolate Cake Mix

3

Eggs

room temperature

½

Cup

Vegetable oil

1 ¼

Cups

Water
For the Glaze:
1

tub

Chocolate Frosting

(about 2 cups of frosting)

2

Tbsp

Milk

Sprinkles/Nuts/Cocoa nibs

optional
Instructions
Place the Chocolate Cake Mix, eggs, water and oil in a large mixing bowl.

Beat the mixture on high speed for 2-3 minutes, or until smooth and just combined.

Pipe (or spoon) the batter into a donut pan.

Bake the donuts for 8-10 minutes, remove from oven and allow to cool slightly.

Meanwhile, whisk together the chocolate frosting and 1 Tbsp of milk (add more or less depending on desired consistency).

Dunk each donut into the glaze and transfer to a wire rack to dry.

Top with sprinkles or desired topping.