You only need a few simple ingredients to make this gorgeous Clementine Curd Winter Pavlova. The crisp meringue has a soft fluffy inside that combines beautifully with the citrus clementine curd.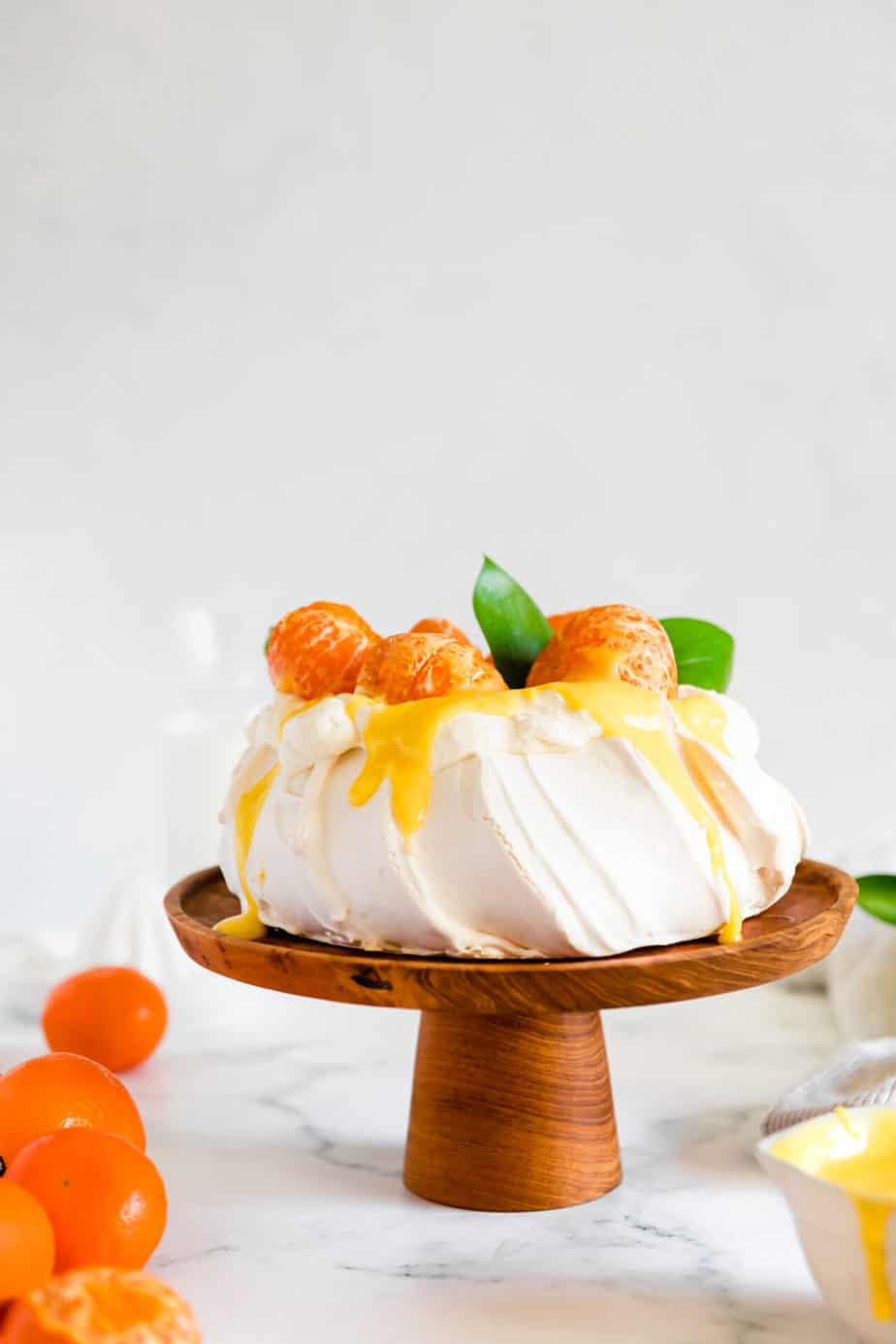 Check out my Easy Citrus Cupcakes for another delicious creamy and zesty sweet treat recipe!
Clementine Curd & Pavlova Recipe
The combination of sweet meringue and creamy citrus curd is always a favorite. This showstopper dessert is a fun and tasty twist on a classic summer recipe that transforms it into a wintertime delight.
Clementines are packed with sweet, zesty flavor which makes them perfect for making a creamy curd. This clementine curd is easy to make with just a few simple ingredients but makes this dessert extra special and unique.
The clementine curd is creamy and delicious and can be used for all types of desserts and toppings. But I especially enjoy it when it is added to a sweet, fluffy pavlova during the winter and I hope you do too!
Jump to: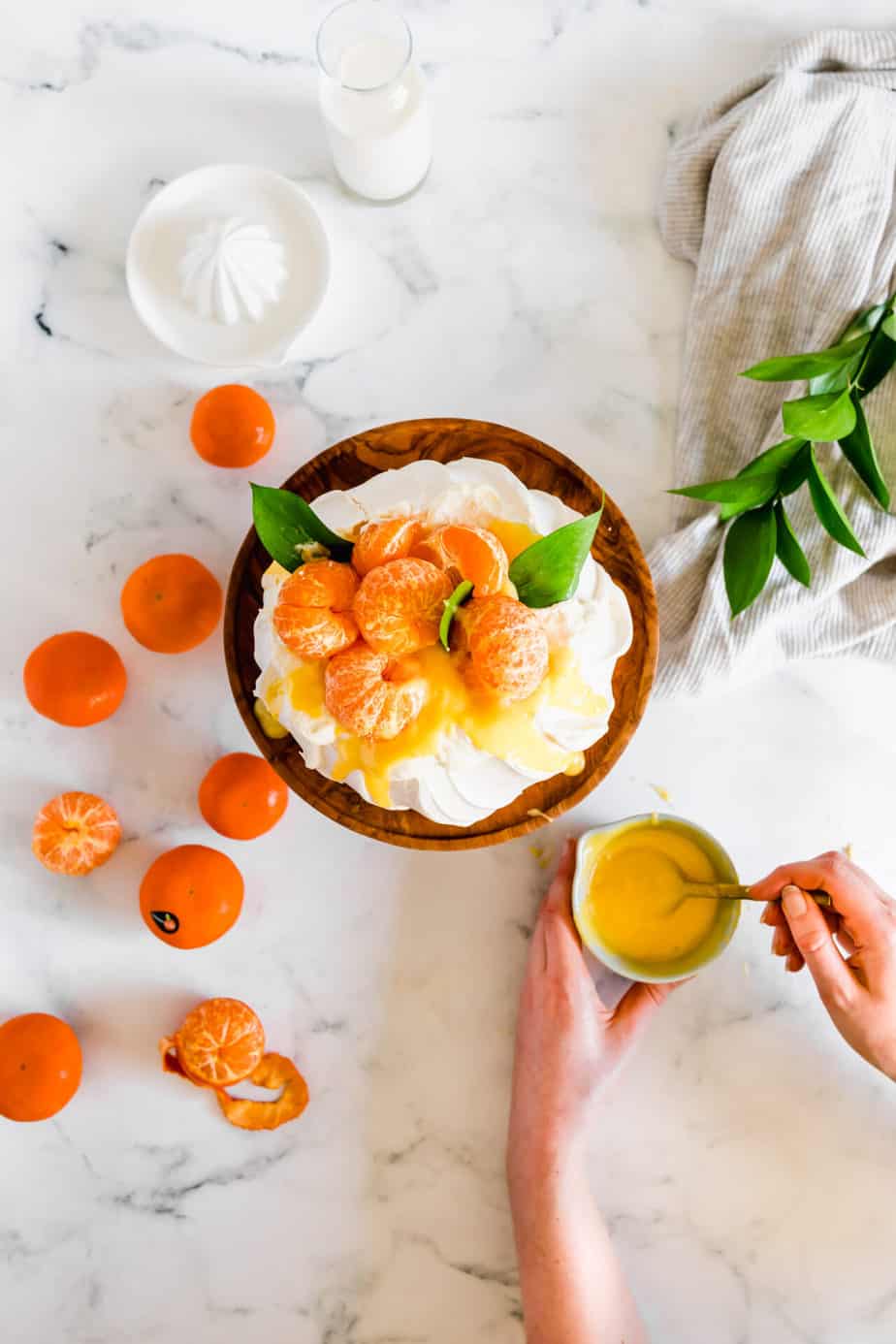 Recipe Notes & Tips
Choose your pavlova shape: This meringue recipe can also be made into two flat disks of meringue or mini meringue nests. Pipe the meringue mixture into two 8" circles for a two-layered Pavlova rather than a single tall pavlova, as pictured. The two-layered version is much easier to make and has far more structural integrity and is less likely to crack. This is also true for mini pavlova nests - which are made by simply piping the meringue into smaller nest shapes.
Egg whites: When separating your eggs, make sure there's no trace of egg yolks in the whites. Yolk in the egg whites will prevent them from whipping properly. It is best to have your egg whites at room temperature for whipping. But I find it is easier to separate my eggs while they are cold and then allow them to come to room temperature before whipping them up.
Don't forget the corn starch: Adding corn starch (cornflour) to a pavlova is a traditional technique that helps maintain the structure of the baked pavlova.
Meringue baking: You can bake the meringue in advance and allow it to cool down inside the oven. Try and do this overnight or as long as you can as the slow cooling helps prevent the meringue from collapsing and cracking.
Curd options: The clementine curd can be made ahead and kept refrigerated in an air-tight container for up to a week. If clementines aren't in season or you can't find any, you can substitute them with regular lemon curd or orange curd.
Fine sugar: Castor sugar is superfine sugar and is essential to this recipe. It can be store-bought or you can make some at home by whizzing granulated sugar in the food processor until very fine.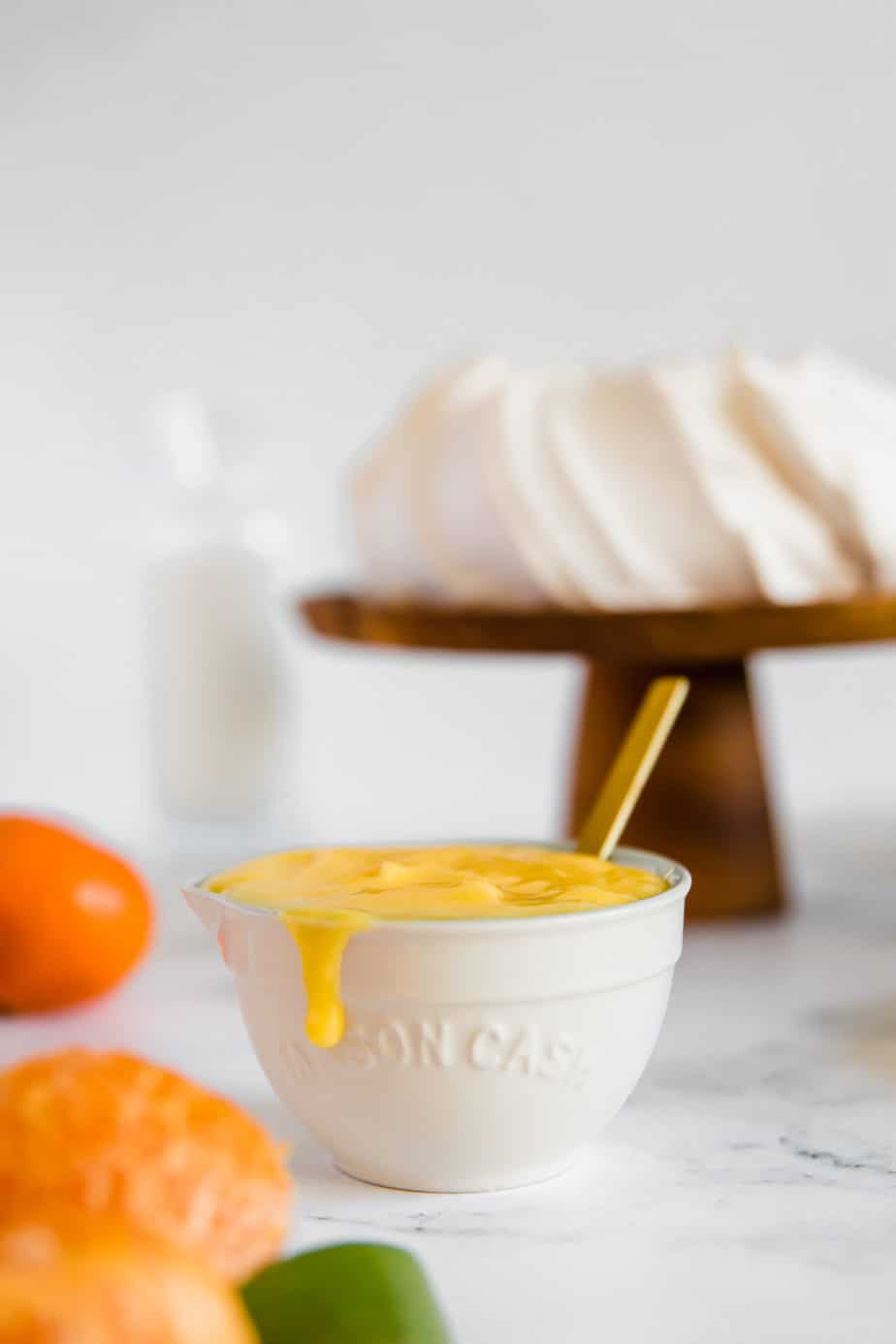 HOW TO STORE PAVLOVAS
Pavlovas can be made up to 3 days ahead of time and then stored at room temperature in an airtight container.
Once they are assembled the filling will start to soften the meringue, so it is best to serve and eat them 3 - 4 hours after assembling.
Toppings Suggestions
For my winter pavlova, I topped it with citrus fruits and clementine curd. But there are so many other options you could also add to it, such as:
Chopped white chocolate
Sliced oranges
Roasted nuts
Fresh rosemary sprigs
Pomegranate seeds
Sugared cranberries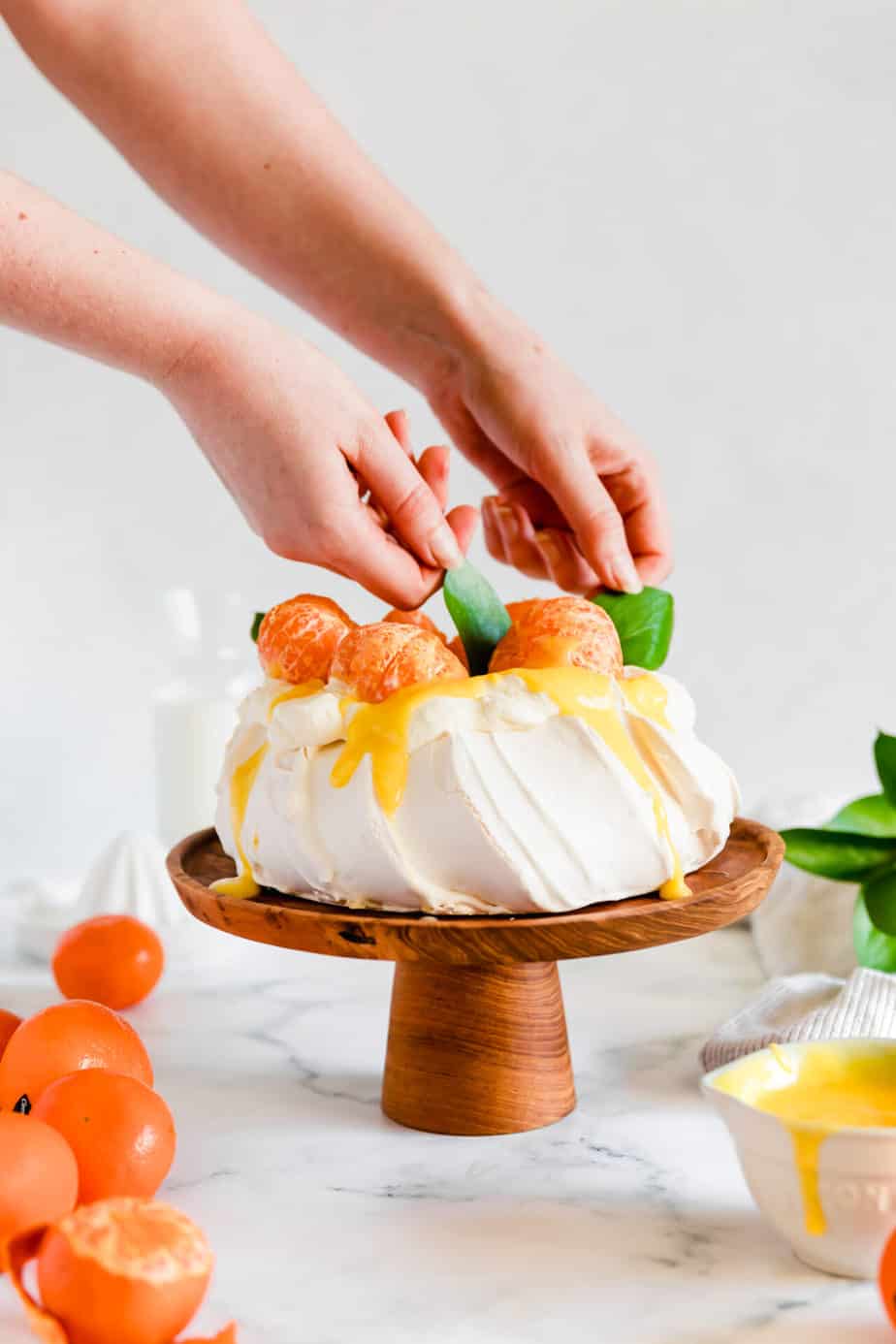 What is clementine curd made of?
Granulated sugar. To sweeten the curd. You can adjust the amount you add according to your preference.
Cornstarch. This ingredient helps to thicken and set the curd to the perfect texture.
Eggs. Adds richness and thickness to the clementine curd.
Clementine zest and juice. Adds tons of fresh, sweet clementine flavor.
Lemon juice. Balances and enhances the taste of the curd.
Butter. Makes the clementine curd thick, rich, and creamy.
How to store clementine curd
Clementine curd can be stored in your refrigerator for up to one month. You can also freeze clementine curd for up to one year. So if you want, you can make a double batch of this yummy curd and store it for later use.
Store the curd in an airtight container with plastic wrap or a cutout disc of parchment paper pressed against the surface to prevent skin from forming on the top of the curd or any discoloration.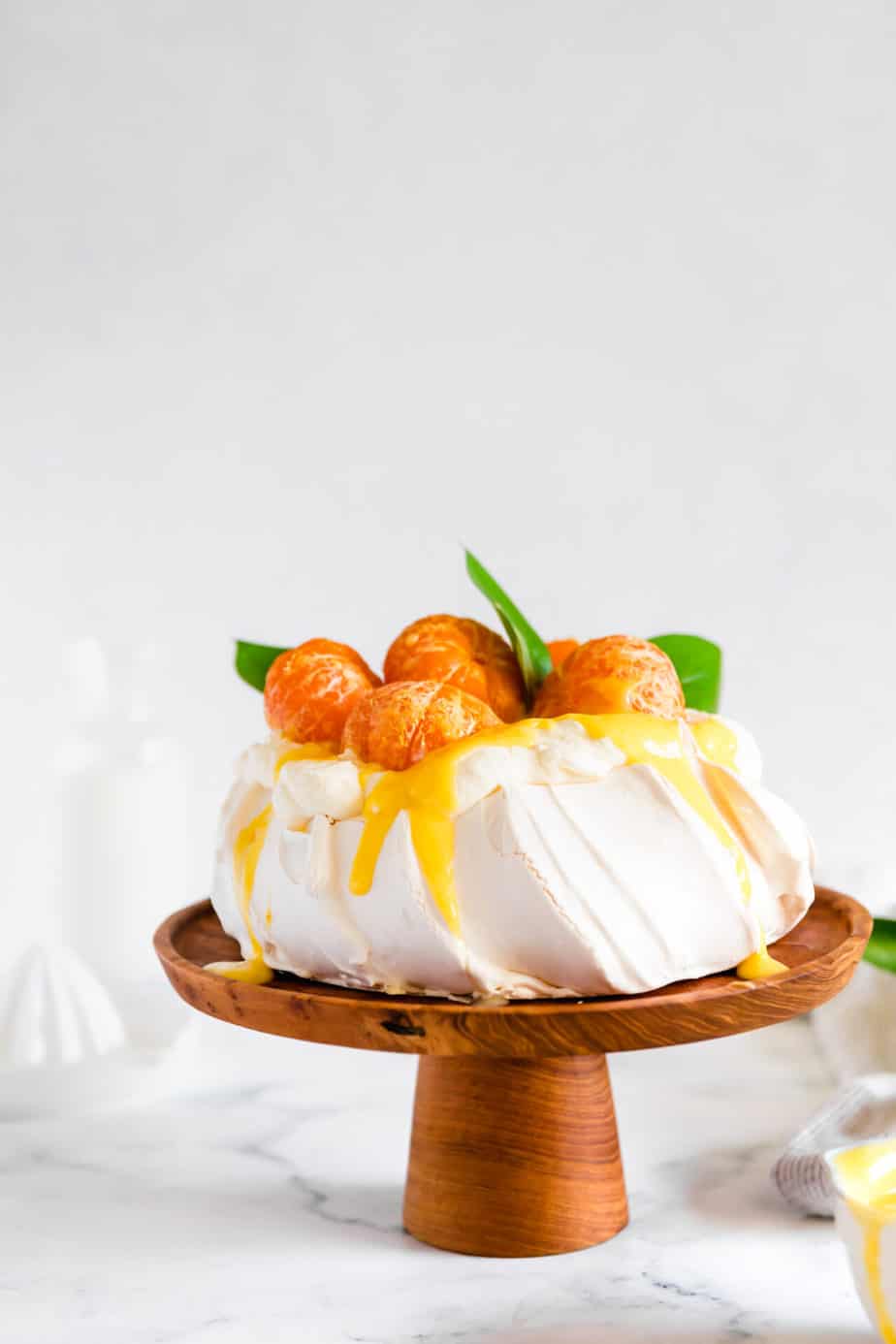 More Pavlova Recipes:
Mini Pavlova Nests with Blueberries & Cream
Fig & Thyme Pavlova with Spicy Red Wine Syrup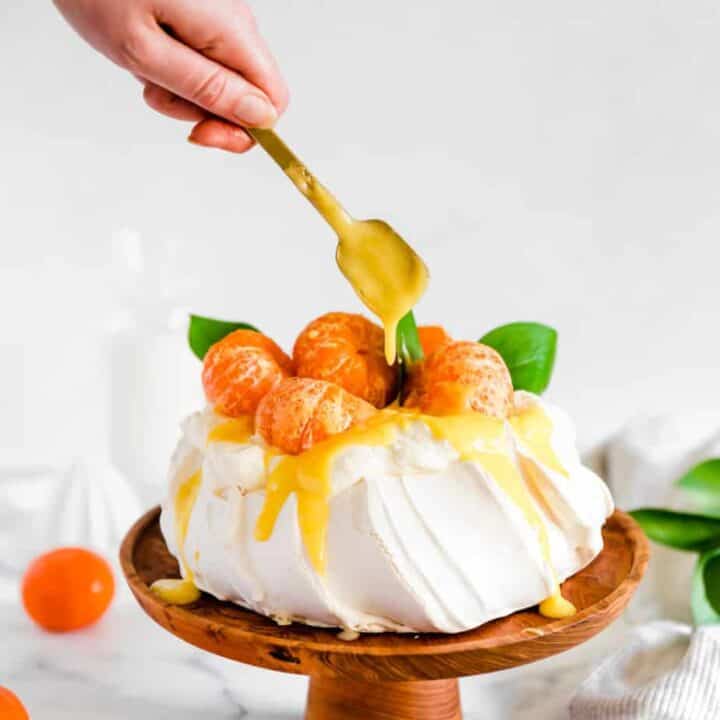 Clementine Curd Winter Pavlova
A gorgeous Clementine Curd Winter Pavlova with crisp meringue that has a soft fluffy inside topped with creamy clementine curd.
Ingredients
PAVLOVA
6 egg whites
½ teaspoon white vinegar
330 grams castor sugar, sifted
1 ½ teaspoon corn starch sifted
1 pinch cream of tartar
1 teaspoon vanilla extract
CLEMENTINE CURD
¾ cup granulated sugar
1 teaspoon corn flour
1 eggs
1 egg yolks
2 tablespoon clementine zest
¼ cup clementine juice
½ tablespoon lemon juice
3 tablespoon butter, cubed
TOPPINGS
1 cup whipped cream
Clementines
Mint sprigs
Instructions
To make the pavlova, preheat the oven to 120ºC and line a baking sheet with baking paper.

In a mixing bowl, beat the egg whites and cream of tartar on a medium speed until frothy.

Add all the sugar one teaspoon at a time while continuously whisking.

Increase the speed and whisk until stiff peaks are reached.

Sprinkle overtop the cornflour, vanilla essence, and vinegar.

Fold together to combine.

Spoon the meringue mixture onto the prepared baking sheet and shape with a palette knife forming a small nest on top.

Turn oven down to 100ºC and place the baking sheet on the bottom rack of the oven.

Bake the meringue for one hour and then turn the oven off leaving the the meringue in the oven for another five hours.
Clementine Curd

In a medium saucepan, whisk together the cornstarch and sugar.
Add the eggs and egg yolks to the sugar mixture and whisk well.
Add the clementine and lemon juice, and the clementine zest and blend together.
Add the butter and place the saucepan over a medium heat.
Whisk constantly until the mixture thickens and boils (should take about 7 - 10 minutes).
Remove from the heat and allow to cool until cold (2 - 3 hours)
Assembling the Clementine Curd Pavlova
Place the whipped cream on top of the cooled meringue.
Top with a thick layer of clementine curd.
Generously add clementine segments and sprigs of mint and enjoy!
Notes
Other Toppings Suggestions
Chopped white chocolate
Sliced oranges
Roasted nuts 
Fresh rosemary sprigs 
Pomegranate seeds  
Sugared cranberries 
I hope you love this Clementine Curd Winter Pavlova as much as I do. And if you want to see more of my food adventures, follow me on Instagram or Facebook.
This post was made in collaboration with Clemengold and Samesyn.