Adding luscious, frothy creamer to your coffee is a delicious and easy way to upgrade your coffee-drinking experience. Find out in this post how to froth coffee creamer at home and which creamers will work best.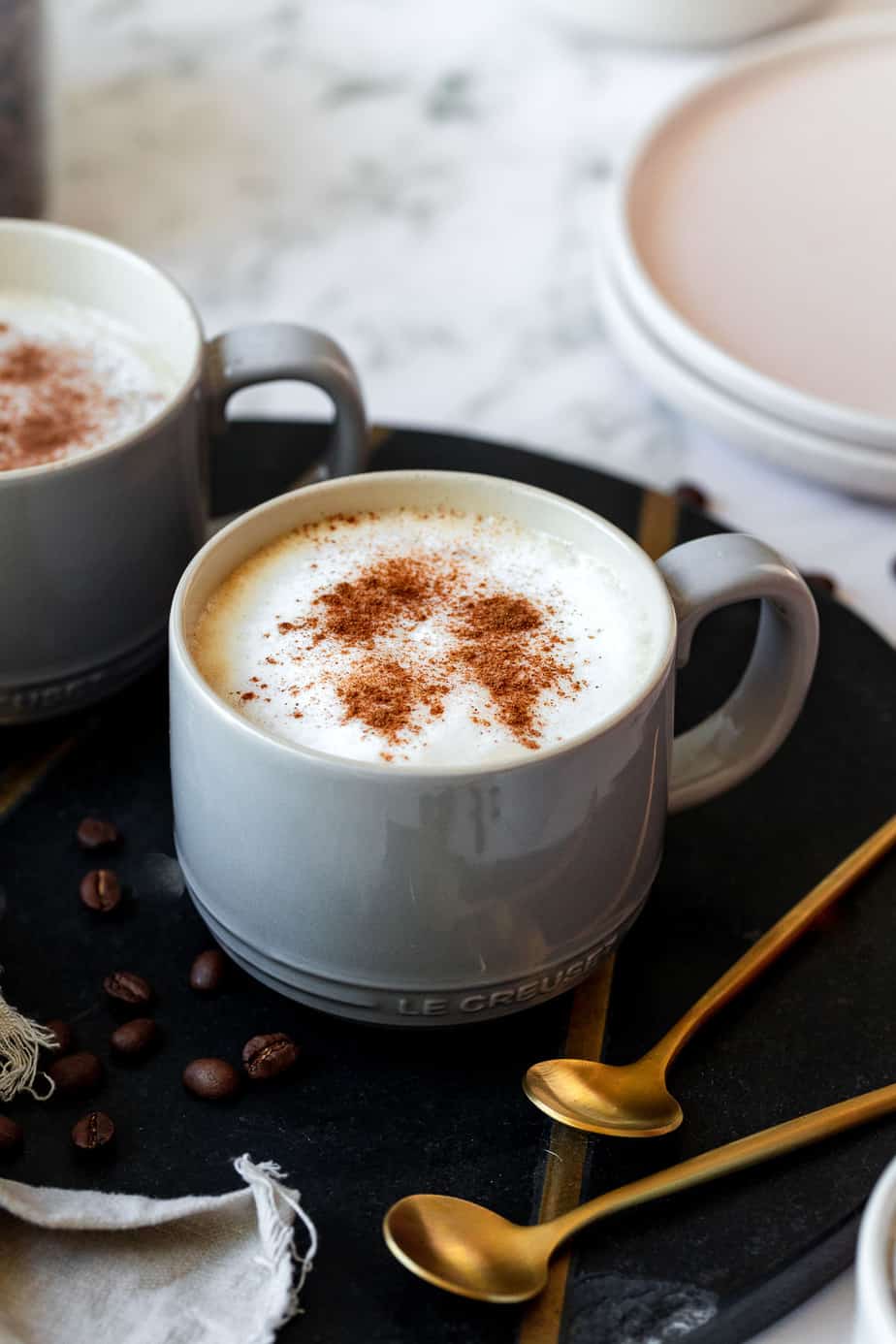 Jump to:
What is creamer?
Creamer is something that can be added to coffee to flavor or tone down the sharpness of a cup of coffee. You can use creamers to make coffee milkier, feel silkier, and taste richer. For a long time people used milk and cream to do this, but coffee creamer is an effective substitute for milk and cream.
Creamer has a longer shelf life than milk and cream and it comes in both liquid and powder forms. Powder creamers need to be stored in a cupboard and liquid creamers must be stored in a fridge.
There are dairy-free creamer options available, which are also known as coffee whiteners. Along with lactose-free creamers and different flavors of creamer.
The main ingredients in creamer:
Dairy coffee creamers are usually a sweetened and flavored combination of cream and cow's milk. The ingredients in a non-dairy coffee creamer vary depending on the brand, but most contain a combination of vegetable oil, water, sodium caseinate, corn syrup, and flavorings.
The proteins in the cow's milk are what help to stabilize frothy foam. They hold up the bubbles' walls and prevent the froth from collapsing.
Creamers that are dairy-free or artificial, make up for the lack of proteins with an additive called Gellan. Gellan bonds with calcium to mimic the effect of protein-rich dairy milk.
I love adding frothed creamer to my Oatmilk Honey Latte (Starbucks Copycat) recipe. Give it a try - you won't be disappointed!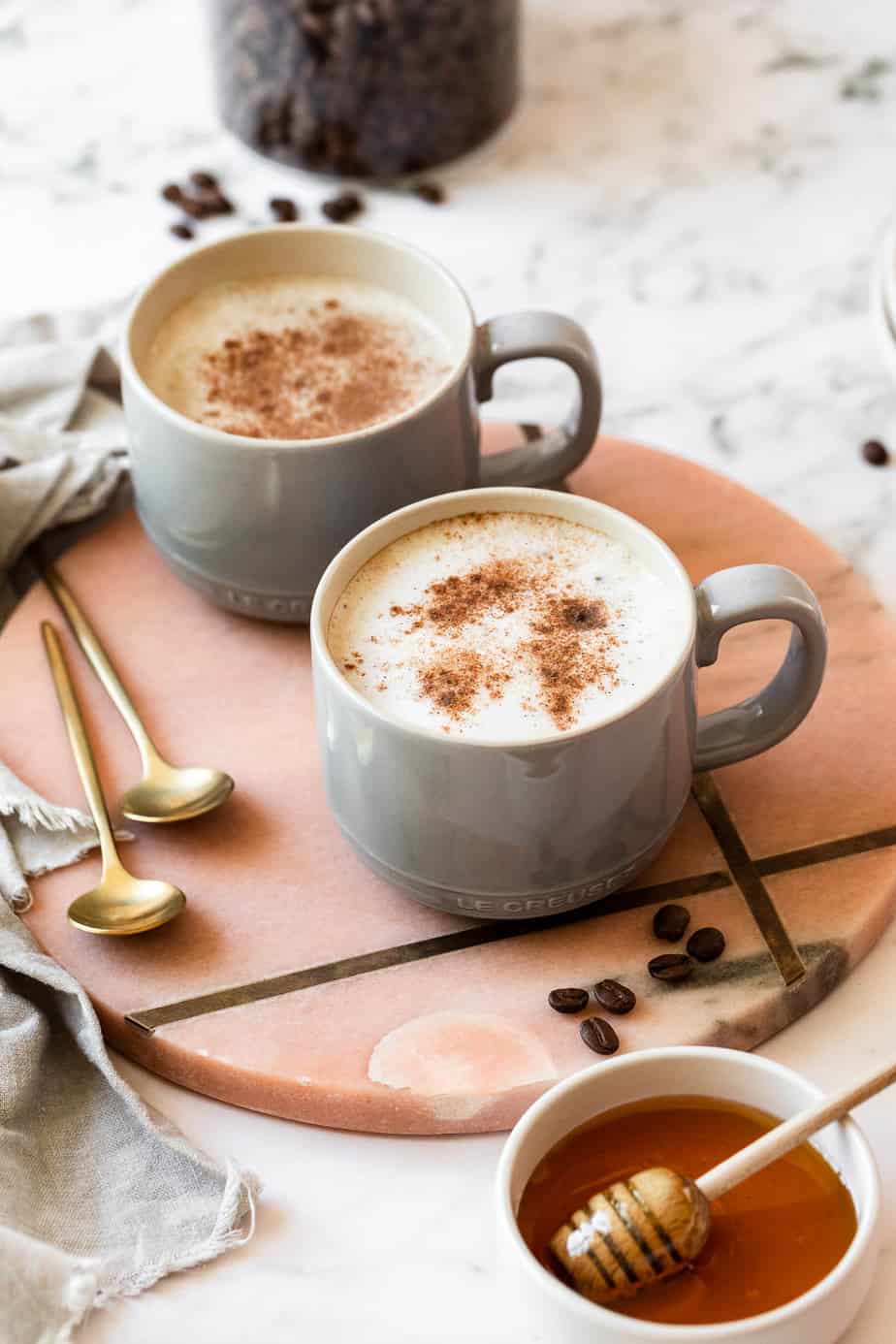 Can you froth coffee creamer?
Yes, you can froth creamer! There are many different ways to froth creamer at home that will produce stable, frothy foam for your beverages.
You can froth coffee creamer using automatic devices such as an electric frother, handheld frother, and a steamer wand. Or, you can also shake your coffee creamer in a mason jar, use an immersion blender, or a French plunge to create a silky and bubbly froth.
The one thing you will need to check to be able to froth your creamer is that your creamer contains dairy or Gellan in its ingredient list. This is what is needed to make the creamer froth and hold the froth. The amount of protein, fat, or Gellan will affect the taste and stability of the creamer froth.
What types of creamer can you froth?
Dairy Creamers. This type of creamer is made with cream, milk, or sweetened condensed milk. Therefore, depending on the dairy percentage, dairy creamers will froth similar to milk products such as half and half or whole milk. They are very popular creamers and are easy to find at any store.
Plant-Based Creamers. Different types of plant milk contain different amounts of fats and proteins, depending on the source. Therefore, not all plant-based creamers can froth well and the different types of milk will give varying results. Some plant milk creamers have additives like Gellan that help them froth better. Oat milk based creamers are one of the best-performing plant milk creamers.
Non-dairy creamers. Non-dairy creamer, also known as a coffee whitener, usually comes in powder form. It normally contains sodium caseinate which is a milk-derived protein as well as an added stabilizer such as Gellan. This means that most non-dairy creamers are able to produce a creamy and stable froth.
Using a flavored creamer won't impact its ability to froth. So you can use your favorite flavored creamer for frothing too!
How to froth creamer without a frother
Restaurants and coffee shops normally use a professional steam wand to froth their creamer. But there are several different ways you can froth creamer at home that are easy to do and just as effective.
1. Sealable Jar / Mason Jar
This is a great method for anyone who doesn't have any suitable kitchen gadgets to froth their creamer. All you have to do is find a jar with a lid that seals tightly. You will need to shake the jar vigorously for a few minutes and so this is a high-effort frothing option but it gets the job done! Follow the steps below to make frothy creamer using a jar:
Fill the jar with liquid creamer halfway full.
Put the lid on the jar and shake vigorously for 60 seconds or until it doubles the size.
If you want warm coffee creamer froth, remove the lid and place the jar in the microwave.
Let the microwave heat the creamer for 30 seconds.
Use as desired.
2. Immersion Blender (Hand blender)
An immersion blender is a versatile kitchen tool that can also be used to froth liquid creamer. immersion blenders are a lot bigger than handheld frothers or steamer wands, so they tend to form denser foam and larger bubbles - but they are still a great option for creating creamer foam. You will need a tall jug/pitcher to avoid any mess and then follow the simple steps below to froth your creamer using an immersion blender.
Warm up the creamer in a microwave or on the stovetop if you would like warm froth.
Transfer the creamer to a tall pitcher or container.
Submerge the blender stick into the creamer, turn it on, and use up and down motions at low speed.
Continue doing this for 15 seconds or until you form a sufficient amount of foam.
Remove the blender, then use the frothy creamer as desired.
3. French Press (Plunger)
You can use a French press to froth your creamer at home. This is an easy way to produce silky foam for all your warm beverages. To achieve: this, follow the simple step-by-step instructions below
Pour cold or warm creamer into the French Press chamber. Make sure it is below the halfway line.
Put the lid on and rapidly plunge up and down for 30 -60 seconds to force air bubbles into the creamer.
Continue doing so until the creamer has doubled in volume or you have created enough foam.
You can then use the frothed creamer as desired.
4. Bullet Blender
This at-home method to froth creamer is quick and requires no manual effort. For this method, it is best to use cold creamer and then warm it up once it has been frother if you desire hot foam. To use your Bullet Blender to make creamer froth, follow the steps below:
Pour your coffee creamer into your Bullet blender cup. Be sure to only fill halfway.
Place the cup on the base of the blender and blend the creamer for 15 - 30 seconds.
You can then use the foam as is or heat it before using it.
5. Handheld Frother
A handheld frother is a more affordable alternative to a fancy automatic electric frother. It is a lightweight device that produces a creamy froth that is perfect for topping your beverages. It is easy to use and to froth coffee creamer with a handheld frother, follow the simple steps below:
Heat your creamer in the microwave for about 20 seconds if you want hot coffee creamer froth. Alternatively, skip this step if you want a cold foam.
Transfer the creamer into a jug or glass.
Insert the hand frother just below the surface level of the creamer.
Turn the handheld frother on to let the air start to flow into the coffee creamer.
Froth for two to three minutes or until you achieve a dense yet airy mouthfeel foam.
Use as desired.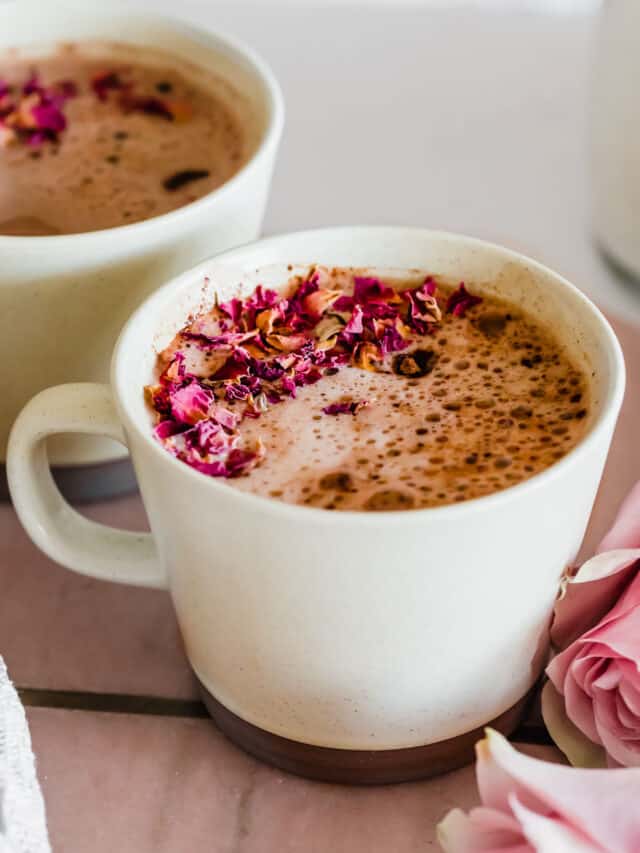 How much should you heat creamer before frothing?
Whether you're warming your creamer before or after you have frothed it, it is important that you don't make it too hot or too cold. Ideally, creamer should be heated to 55°- 62°C (131 °- 143.6°F) for frothing.
The closer you get to a boil, the less stable the bubbles in the froth will be. This is because milk proteins begin to break down around 76°C (170 °F) so it is important to stay below that temperature. For non-dairy creamers, you can follow the same rule to keep the bubbles stable.
Can you froth sugar-free creamer?
Yes, you can froth sugar-free creamer at home. As long as the creamer has enough protein in it, you can froth it. Look for ingredients like the milk protein Casein on the ingredients list if you aren't sure about the protein content in your creamer.
Recipes to try with frothy creamer:
You can add frothy creamer to all sorts of delicious drinks. It is easy to froth creamer at home so find the method that works best for you and enjoy adding it to your favorite beverages!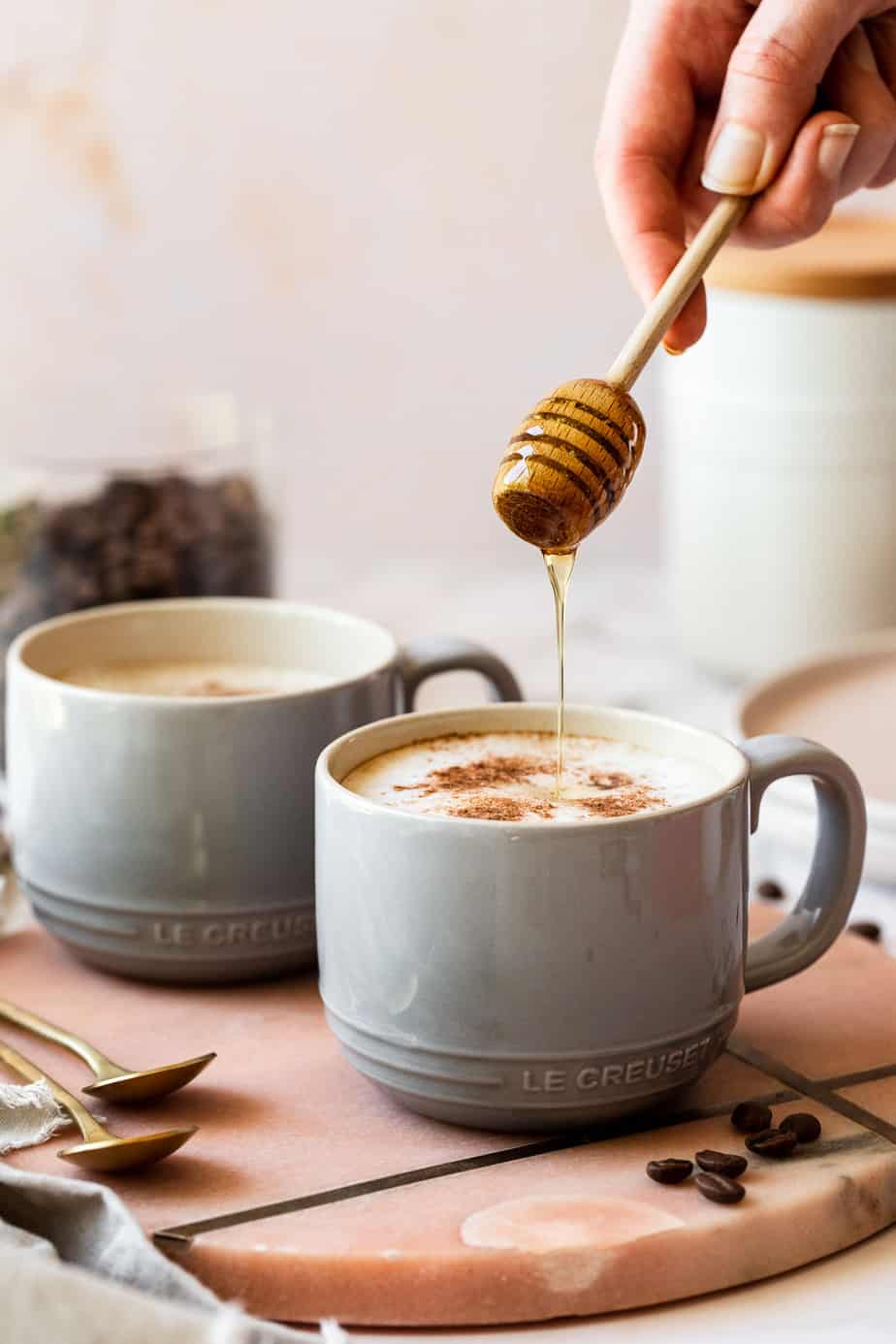 Can you freeze coffee creamer?
Yes! You can store liquid creamer in the freezer in a sealed container for 4 - 6 months. Freezing your coffee creamer won't affect its taste or consistency!
Learn all about freezing half and half in our CAN YOU FREEZE HALF AND HALF post!
I hope you enjoyed learning about whether you can froth creamer! And if you want to see more of my delicious food adventures, follow me on Instagram or Facebook.