Only great things can come from combining a brownie with a pie. This Gooey Flourless Chocolate Brownie Pie is almost too good to be true! It is a delicious, fudgy, rich, chocolatey indulgence at its best.
Most baked goods taste their absolute best slightly warm fresh out of the oven. That is especially true for this recipe. I highly recommend eating this Gooey Flourless Chocolate Brownie Pie while it is still warm and molten - maybe even throw a scoop of ice cream or some spiked whipped cream into the mix. Live your best life!
This Gooey Flourless Chocolate Brownie Pie is a delicious and rich brownie recipe that is baked into a pie dish. I love keeping recipes simple and this recipe is no exception. Just a couple of ingredients and a few steps is all it takes to be in chocolate heaven!
Looking for more delicious chocolate recipes? Check out our CHOCOLATE SOUFFLÉ WITH RED WINE MULBERRY SAUCE or CHEWY CHOCOLATE SUGAR COOKIES!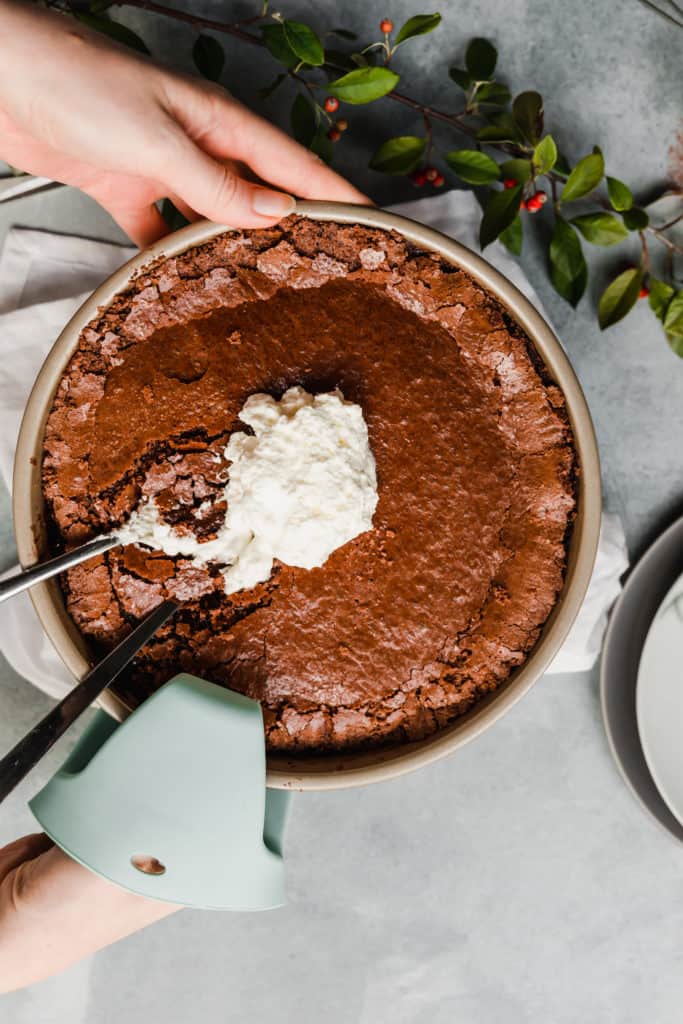 While the Gooey Flourless Chocolate Brownie Pie bakes it will rise and the top will crack a little. It will also crack a bit more as it cools. Don't panic though! This is exactly how it should be. It just means it is deliciously moist and fudgy in the centre - yummm! I also think the cracks add some wonderful charm to the pie's beautiful, rich and dark appearance.
Getting the bake-time right on this Gooey Flourless Chocolate Brownie Pie is the most important part of the recipe. You want to make sure that chocolatey center is smooth and super gooey so be careful to not over-bake the pie. I thankfully had my beautiful, go-to egg timer from Kitchen Inspire to keep track of things and it made sure I avoided the dreaded over-bake!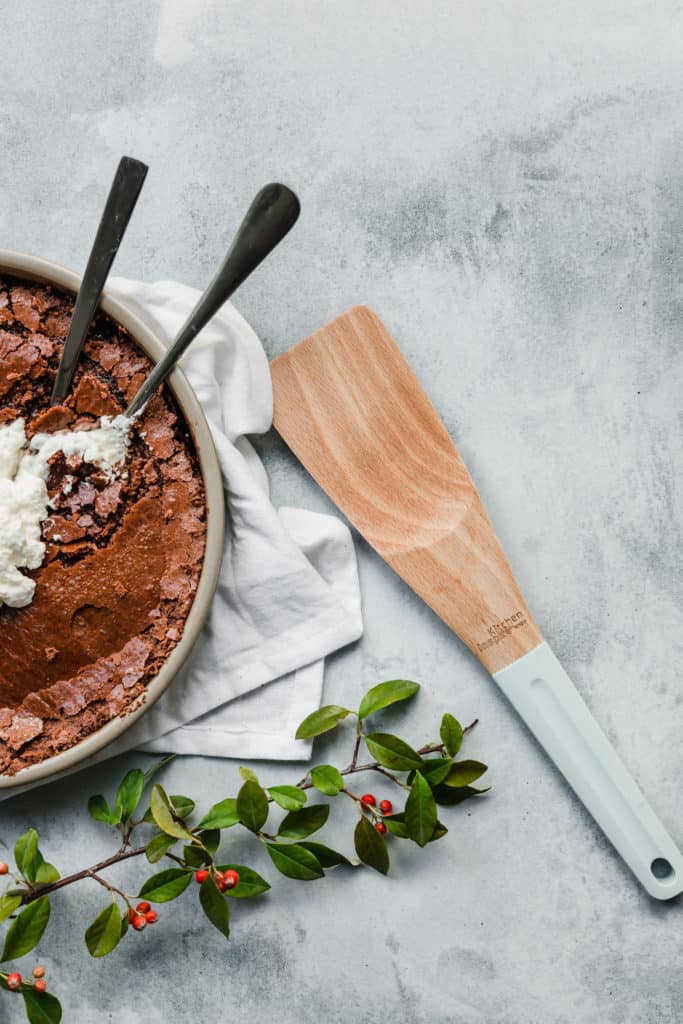 So if chocolate is your thing and it's Treat Yo'self Time, make this Gooey Flourless Chocolate Brownie Pie. You won't be disappointed! It's pure decadence and indulgence, and everyone needs that every once in awhile - or you need it most days if you're anything like me! :D

Gooey Flourless Chocolate Brownie Pie
Ingredients
350

grams

dark chocolate

250

grams

unsalted butter

5

large eggs

250

grams

golden caster sugar
Instructions
Whisk the eggs and sugar until light and fluffy and tripled in size.

Heat chocolate, salt, and butter in a bowl over a pan of simmering water until melted and glossy.

Remove chocolate mixture from heat and allow to cool for a few minutes.

Fold chocolate mixture into the egg mixture.

Grease a pie tin well and fill with brownie mixture.

Tap the tin on work-surface a few times to remove any air bubbles.

Place the tin in a roasting tray that is filled halfway with boiling water.

Place the roasting tray in the oven and bake for 40 minutes at 120ºC or until set with a slight wobble.

Remove from oven and leave to cool in the water-filled roasting tray for 1 hour.

Serve with cream or ice-cream and enjoy!
Tried this recipe?
Let us know how it was in the comments below
Tag us on Instagram!
We love seeing people make our recipes. Mention @baking_ginger