Chocolate Soufflé with Red Wine Mulberry Sauce is an indulgent and special sweet treat that everyone will love.
Stop! Before you get intimidated by the idea of making a soufflé! I promise it's actually super duper easy! To be honest even if it flops a little, it'll still be darn delicious.
It's Valentines Day tomorrow and if there are two things that scream Valentines, it's gotta be wine and chocolate. Am I right? And yes you can still have both those things on your own. I'm all for taking yourself out on a date ;)
I used some of my favourite ingredients to make this Easy Chocolate Soufflé with Red Wine Mulberry Sauce including, Honest Chocolates 70% Organic Dark Chocolate and Backsbergs Merlot and Mulberry Preserve.
To make this Easy Chocolate Soufflé is as the name says...easy! Firstly, you melt the chocolate and the butter together (if you're anything like me this is a job for the microwave, we're keeping it easy here people). Then you add the egg yolks and vanilla to the melted chocolate. Give it a good whisk here to make sure you don't end up with chocolate flavoured scrambled eggs. Meanwhile, beat your egg whites with a little sugar and cream of tartar until you have stiff peaks. Then we're gonna fold that into your delish choc mixture and bam! Guys, I told you it was easy.
This chocolate soufflé can be eaten on it's own, but trust me once you add the red wine mulberry sauce there's no going back! I might start adding this to anything and everything... don't judge me!
Without further adieu... here's the recipe that's definitely going to make it's way into someones heart. It's definitely made its way into mine, and hope you love it as much as I do!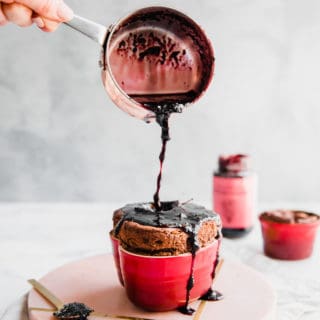 Easy Chocolate Soufflé with Red Wine Mulberry Sauce
Ingredients
3

tablespoon

butter

3

tablespoon

cocoa powder

90

grams

Dark Chocolate

I used Honest Chocolates 70% Dark

Seeds from one vanilla pod

Pinch

Cream of tartar

2

tablespoon

sugar

2

eggs

seperated

3

tablespoon

Backsberg Mulberry Preserve

½

cup

Backsberg Merlot
Instructions
Grease the ramekins using 1 tablespoon butter, then coat them with the cocoa powder.

Place the remaining butter and dark chocolate in a microwavable bowl and microwave until melted, stirring every 30 seconds.

Add the vanilla seeds and egg yolks while whisking continuously.

In a stand mixer with a whisk attachment, beat the egg whites, sugar and cream of tartar until stiff peaks have formed.

Fold the egg whites into the chocolate mixture and divide the mixture between 2-3 ramekins.

Meanwhile, place the Backsberg merlot and mulberry preserve in a small saucepan over medium heat and allow to simmer for at least 5 minutes.

Remove the soufflés from the oven and serve immediately with the red wine mulberry sauce.
Tried this recipe?
Let us know how it was in the comments below
Tag us on Instagram!
We love seeing people make our recipes. Mention @baking_ginger