Dark Chocolate Sprinkle Cake - The most scrumptious dark chocolate cake recipe, topped with a creamy fudge frosting. The perfect cake for any and all occasions.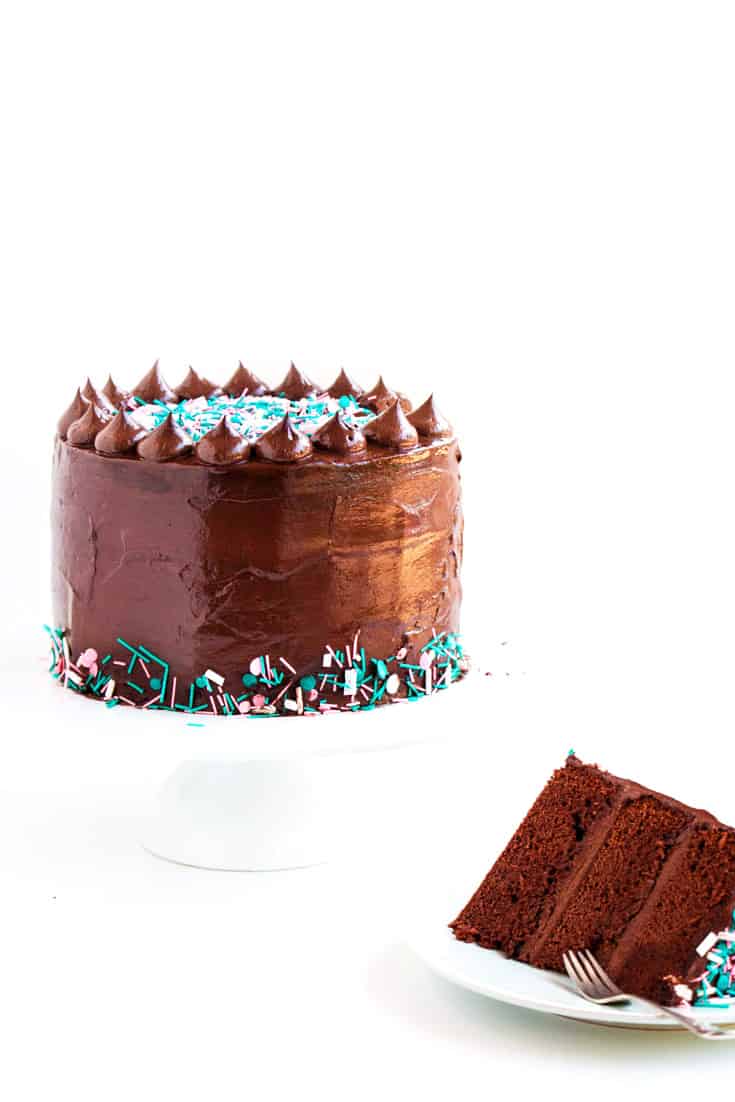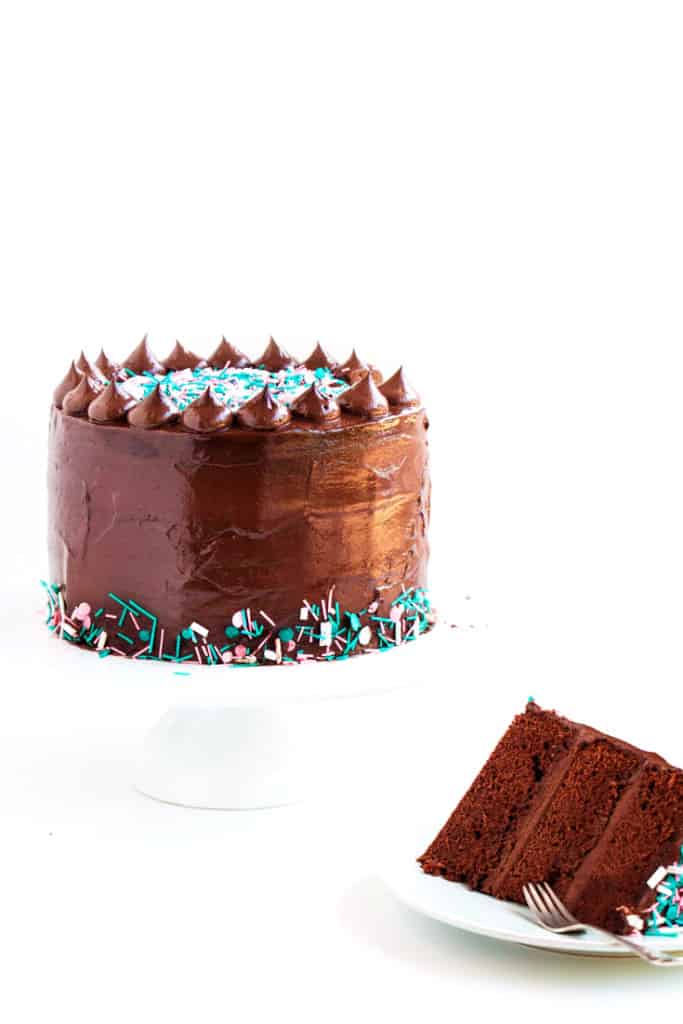 This cake right here...is probably thee most delicious cake I have ever eaten! Give it a try and let me know what you think. Pop over to Instagram to see more or to have a chat :).
Have I mentioned that I've been in a serious cake mood lately? Probably. I've become slightly obsessed with baking cakes. I am just having so much fun experimenting with different recipes and most of all with all the different kinds of decorating techniques. I've done an Ombre Cake, which personally I think turned out pretty darn good (okay, that's probably because ombre cakes are actually a lot easier to make than they look). I've done a sort of Naked Cake, which was pretty darn delicious and looked so majestic and festive during the holiday season. And now, ladies and gentleman we have thee most delicious Dark Chocolate Sprinkle Cake. This cake is everything, it is moist and rich and oh so beautiful. The part I loved the most about it was assembling it and adding all the sprinkles (serious sprinkle obsession over here). It truly is a fun cake to bake and make.
This Dark Chocolate Sprinkle Cake is pretty much a tribute to the amazing Rosie from Sweetapolita. Her cakes are so amazing and on top of it all she is also a fellow sprinkle lover ;). I have spent hours and hours staring at all her beautiful creations on her blog and Instagram page and have made many of her absoloutely delicious creations. So todays cake is a bit of a mixture. It is my cake, with her delicious Dark Fudge Frosting, her amazing inspiration of sprinkles and my homemade sprinkles. Yes, it is pretty much the perfect combo.
Other than the cake looking absoloutely beautiful it tastes heavenly. I love balance of the dark chocolate cake with the fudgy frosting. The cake itself isn't incredibly sweet, but add a little of that simply heavenly smooth frosting, throw on some colourful sprinkles and you have the most perfect cake. I could totally have a slice right now... (yes it's already all finished).
Dark Chocolate Sprinkle Cake
Author:
Prep time:
Cook time:
Total time:
Ingredients
Dark Chocolate Cake:
6 Eggs
490g Sugar
110g Cocoa Powder
260g Flour
360ml Milk
6tsp Baking Powder
120g Glucose Syrup/corn syrup
440g Butter (soft)
5tsp Vanilla
Dark Fudge Frosting:
2 ¼ Butter (softened)
¾ Cups Powdered Sugar
¾ Cup Cocoa
300g Dark Chocolate (melted)
½ Cup Hot Water
¾ Cup Sour Cream
Instructions
Dark Chocolate Cake:
Preheat oven to 180ºC.350ºF and line 3 pans with baking paper as well as spray them with non-stick spray.
Combine the eggs, milk, syrup and vanilla.
Sift together the dry ingredients.
Add the dry ingredients to the egg mixture bit by bit, alternating with the soft butter.
Mix all the ingredients until well incorporated.
Divide the batter between 3 cake tins.
Bake for 45min or until a fork inserted comes out clean.
Want more? Why not SUBSCRIBE to my mailing list to get all the latest recipes straight into you inbox.
Pin It :)