This Creamy Tiramisu recipe is the perfect show-stopper for any party. Made with mascarpone, coffee and chocolate it is creamy & delicious.
An easy Tiramisu Recipe
Creamy Tiramisu - A delicious dessert that is simply decadent and creamy. With soft flavours of coffee and chocolate, this easy-to-make dessert will win over anyone's heart.
My holiday is finally on its way. I am in Cape Town, all the "business" side is over and now it's time for all the good stuff to begin.
I've spent the last few days driving around Cape Town from one place to the next so we are finally getting a few days to relax, hit the beach and do nothing!
 It's strange when you finally allow yourself to do nothing, it is as if everything catches up to you. I am suddenly dead tired. But I suppose it is simply your body's way of telling you to take it easy for a while. So I shall obey and do a lot of nothing!
Moving on to the good stuff... Creamy Tiramisu! I made this delicious thing as part of a whole bunch of holiday baking recipes for Le Creuset, so if you want to check out the rest head over...here. 
Why you'll love this recipe
This baby right here is amazing! Creamy, chocolatey and with that delicious hint of coffee. I love this Creamy Tiramisu because it isn't totally over-the-top rich like chocolate desserts often are.
It has a sort of subtle rich taste that comes from the mascarpone and the chocolate, but with that hint of coffee, it seems to balance it out perfectly.
This dessert isn't difficult to make at all. But it will make you look as if you are the master of all desserts. When I make this when friends or family come over for dinner, everyone is so impressed by my mad dessert-making skills.
The truth is that it is actually super easy. It has quite a few steps but they are all quick and easy to follow. So all you have to do is pay attention...
How to make tiramisu
Here we go! The first thing I do is make the coffee syrup which you will use to dip the finger biscuits in. To do this, all you do is place the sugar and water in a saucepan. Bring it to a boil slowly while you stir to ensure that the sugar dissolves properly.
Then add the coffee, give it a quick stir and remove it from the heat. Close the pot with the lid and set it aside to allow it to steep (about 30min). When it's done steeping, you will simply strain it to ensure there are no coffee granules in your Creamy Tiramisu.
While your coffee is steeping, you can start with the cream filling. So begin by whipping the cream until soft peaks and place that in the fridge. Combine the egg yolks, sugar and Kahlua in a glass bowl and whisk until combined.
Place the bowl over a pot with simmering water and whisk until thick and foamy. Remove it from the heat and whip on high speed. When it is light in colour, you can fold in the mascarpone and stir in ⅓ of the cream. Once incorporated, fold in the rest of the cream.
To assemble the Creamy Tiramisu. Dip the biscuits in the coffee syrup and place a few at the bottom of the dish to create a base layer. Then add ½ of the cream filling over the biscuits, top with the grated chocolate and add another layer of the dipped biscuits.
Pipe the remaining cream filling over the biscuits and sprinkle on some cocoa. Place in the fridge for an hour or two and enjoy!!
I hope you love this recipe for Creamy Tiramisu. And follow me on Instagram or Facebook for even more food and drink inspiration!
Other Recipes You May Enjoy:
2 Ingredient Dark Chocolate Fudge: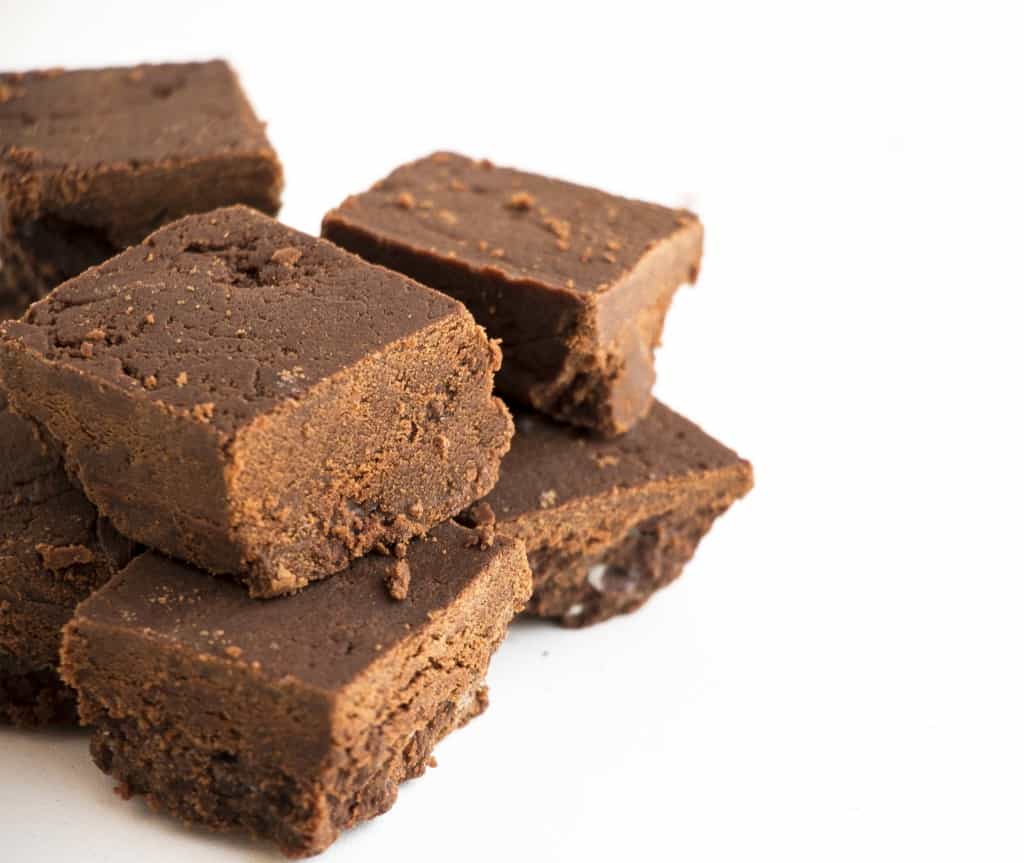 Chewy Chocolate Pecan Brownies: