Delicious Chewy Chocolate Pecan Brownies. The perfect holiday recipe is made with dark and milk chocolate and crunchy pecans.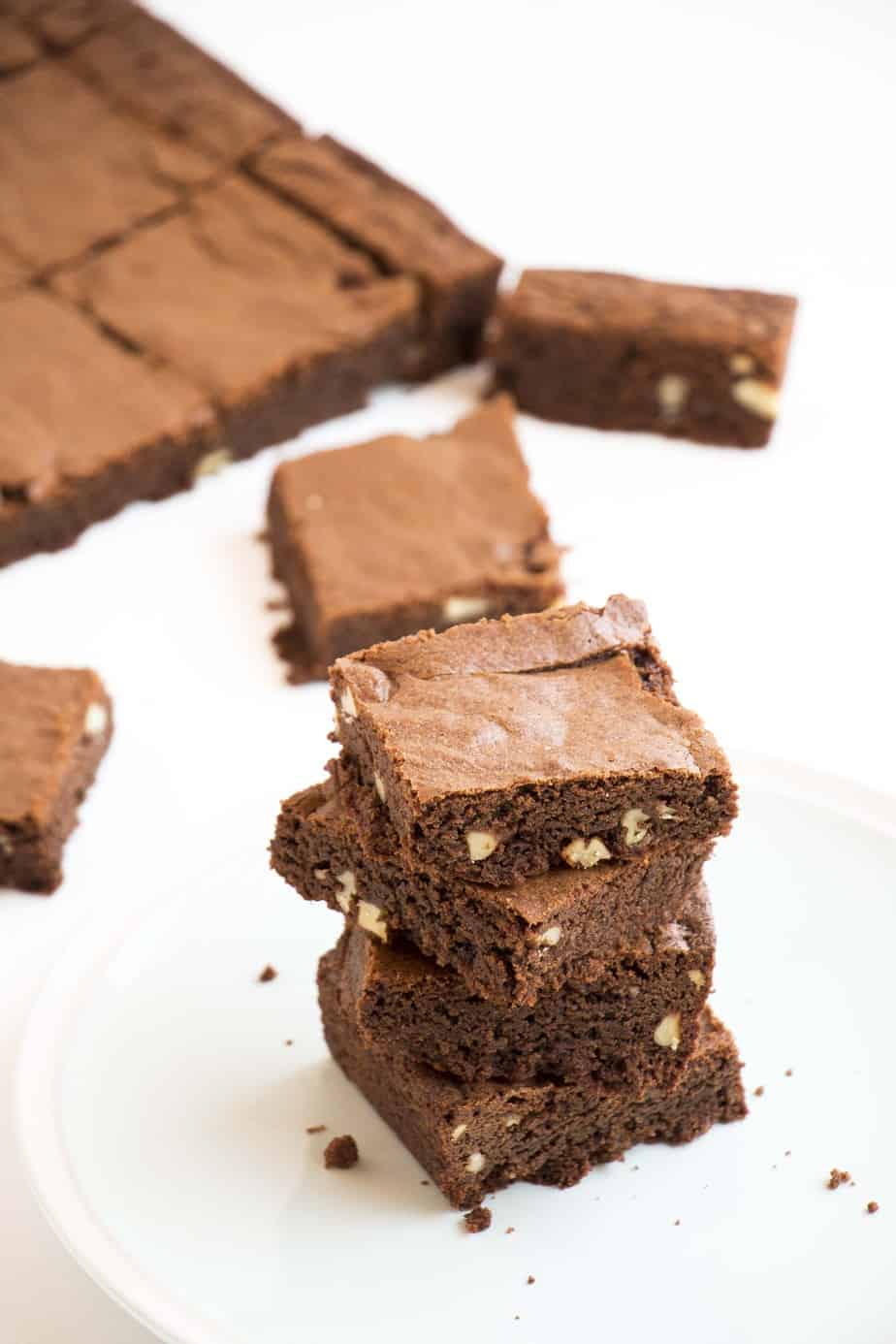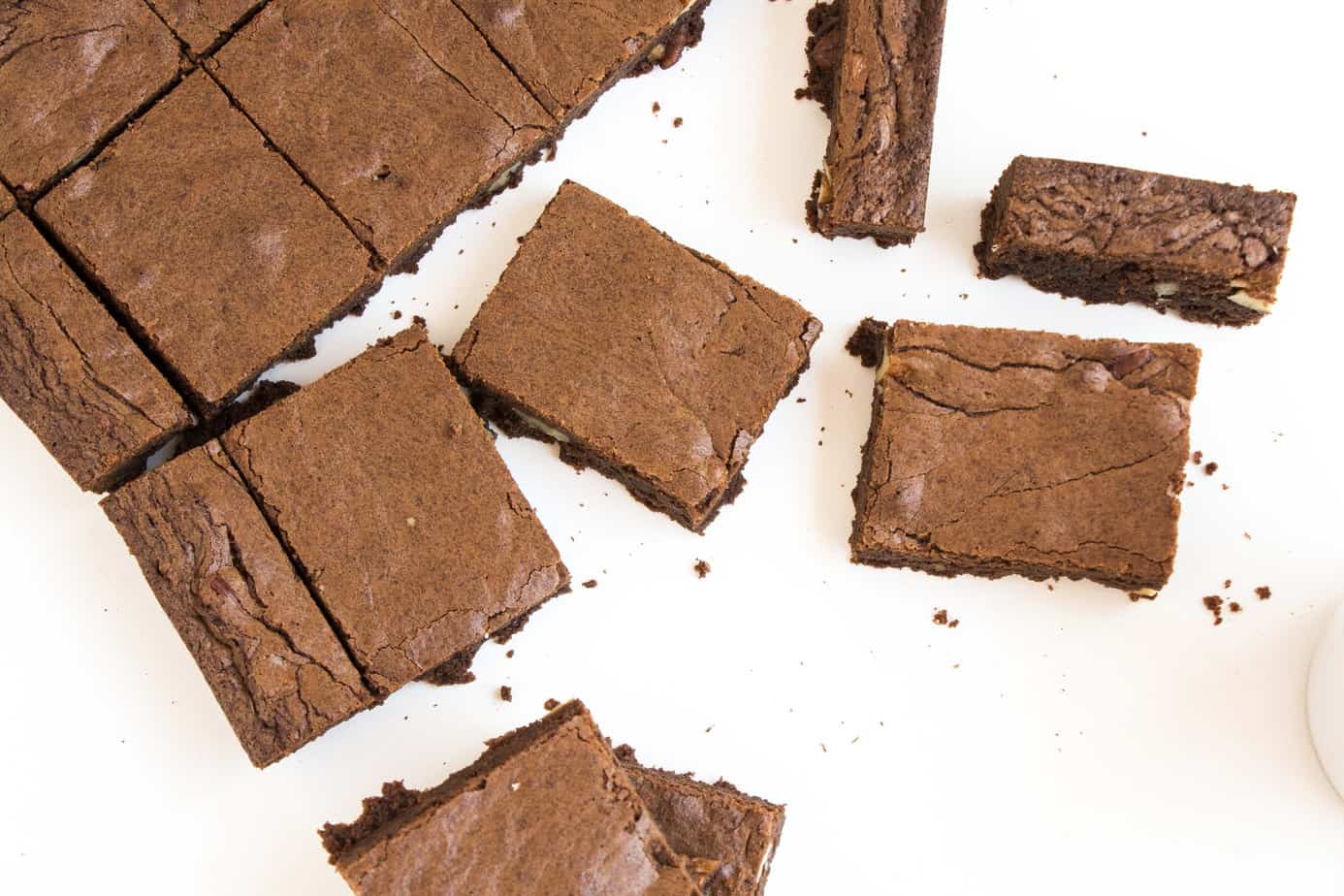 A brownie recipe with pecans
What is better than Chewy Chocolate Pecan Brownies? I mean really chewing and super chocolatey! Nothing!! There is nothing better and more delicious and addictive. These guys right here are to die for!
I am a chocolate addict I know! I am always all about Chocolate Mousse or Chocolate Cupcakes etc. But these brownies will convert anybody and everybody to the dark side of chocolate.
Why you'll love these Chocolate brownies
What I love about these Chewy Chocolate Pecan Brownies is that they are BROWNIES! Okay, I know that it sounds like I am losing my mind. But what I mean is that they truly have the texture and flavor that a brownie should have.
I find that often brownies are more like a square slice of chocolate cake, with a spongey texture and a more cocoa powder taste than a true chocolatey taste. I sound a little crazy I know. But once you make these and sink your teeth into one of them... you will understand!
The best part is the tiny bit of crunch between all the chewy chocolatey goodness. This is of course thanks to those delicious pecans. I don't like to put a lot of pecans into my brownie mix, because I never want the nutty flavour to overwhelm the chocolate flavour. So I only use a tiny bit of pecan nuts, just to give it that crunch.
To make these particular brownies, I also like using a nice combination of milk chocolate with dark chocolate. I do this because when you use only dark chocolate, the bitter taste can often be a little overwhelming and strong, and when you use only milk chocolate it often doesn't taste chocolatey enough and it ends up being extremely sweet. So in order to make these scrumptious brownies, I used a good balance of the two types of chocolate.
How to make these brownies
To make these fantastically delicious Chewy Chocolate Pecan Brownies all you do is melt that the chocolate in the microwave (make sure you stir it every 30 seconds). Then mix together all the dry ingredients and slowly add the eggs, butter and vanilla. Continue to mix and then add the chocolate and the pecans. Ensure that all the ingredients are well combined and then pour it into a pan or brownie pan. Bake for 40min at 160ºC and there you have it! Easy right? These are sure to become an absolute holiday favourite.
I hope you love this recipe for Chewy Chocolate & Pecan Brownies. And follow me on Instagram or Facebook for even more food and drink inspiration!
Chewy Chocolate & Pecan Brownies
Ingredients
200

g

Milk Chocolate

200

g

Dark Chocolate

1

Cup

soft Butter

380

g

Treacle Sugar

sticky brown sugar

4

Eggs

100

g

Pecan Nuts

2

tablespoon

Vanilla Essence

280

g

Flour

2

teaspoon

Bakin Powder
Instructions
Preheat the oven to 160ºC and line a baking sheet with parchment paper.

Melt the chocolate in the microwave, stirring the chocolate every 30 seconds to ensure that it doesn't burn.

Mix together the dry ingredients.

Combine the dry ingredients, with the eggs, vanilla and butter and mix well.

Slowly add in the chocolate while mixing.

Add the pecans and mix until everything is combined.

Pour the batter into the lined pan and bake for 40min.

Allow to cool, remove from pan and cut into blocks.

Devour!
Tried this recipe?
Let us know how it was in the comments below
Tag us on Instagram!
We love seeing people make our recipes. Mention @baking_ginger
Other Chocolate Recipes You May Enjoy:
2 Ingredient Dark Chocolate Fudge:
The Creamiest Chocolate Mousse: