If there was ever a perfectly balanced cake recipe, this Chocolate Tahini Mini Bundt Cakes recipe would be the one. They are deliciously chocolatey without being too sweet and have a perfectly moist, fluffy texture. These mini bundt cakes are truly the cakes of dreams!
I go through phases when it comes to food, where I find something I love and then it goes in EVERY single thing I eat. I'm currently obsessed with tahini. No jokes, I'm considering calling my future puppy Tahini (come on you have to admit that's the cutest name). You can find all my recent tahini-loving recipes over here on the blog!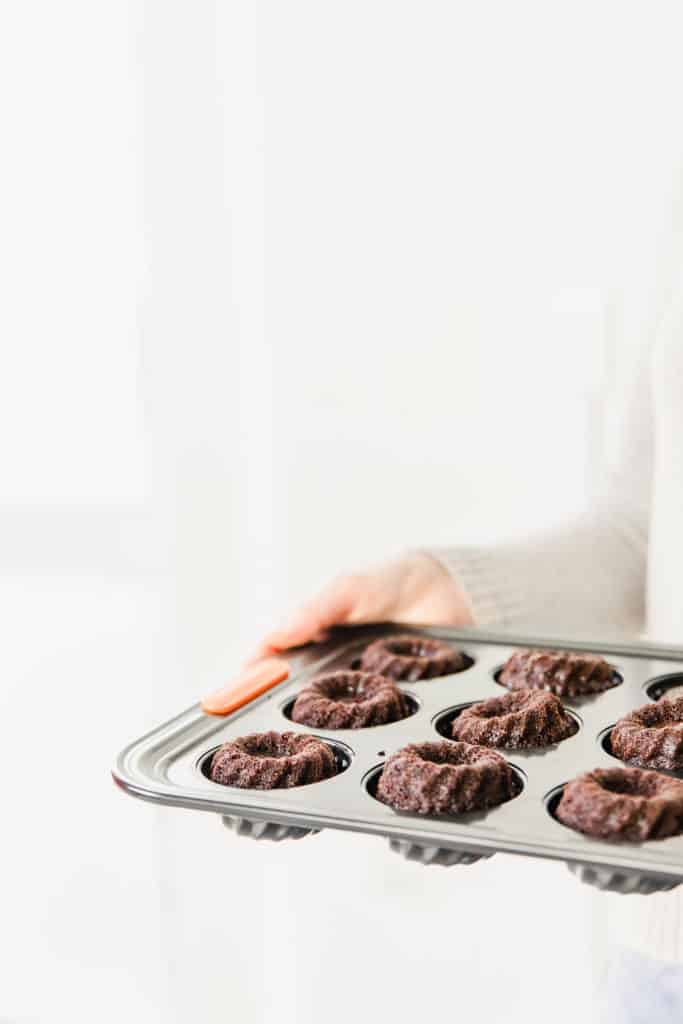 SO WHAT DOES TAHINI TASTE LIKE?
Tahini is literally just sesame seeds and water. That's it! Its texture is similar to smooth unsweetened, natural nut butter. Its flavour is nutty and umami — that's why it works so well in so many savoury dishes too, like baba ghanoush and hummus.
So when Le Creuset asked me to give their brand new mini bundt cake pan for a spin around the block (which is the bomb just by the way) I knew it would involve tahini! And yes, maybe you're thinking that tahini in dessert is a little weird. But best believe the little saltiness the tahini adds is exactly what you need in your life!
The Easy Tahini Glaze
I topped these Chocolate Tahini Mini Bundt Cakes with a sweet tahini glaze and a few toasted sesame seeds and it is as if the heavens opened up. Okay, that's a little dramatic but on a serious note, the combination of those three things is next level delicious!
It is a simple glaze recipe that is pretty much fool-proof and takes just minutes to make. And it really is the perfect topping to these delicious lil cakes!
How To Make Tahini Bundt Cakes
This is a super easy cake recipe that is made from scratch from simple pantry staples. These mini bundt cakes can be whipped up in no time at all. To make them all you have to do is:
The first step is to preheat your oven to 180ºC and spray your mini bundt cake tin with non-stick spray.
Then whisk together all the dry ingredients for the cake.
In a separate bowl, combine all the wet ingredients.
Add the wet ingredients to the dry ingredients and mix until just combined - do not overmix.
Pour the cake batter into your prepared mini bundt cake tin.
Bake for 12-15 minutes and then allow to cool slightly.
To make the glaze, simply whisk all the glaze ingredients together until smooth and creamy.
Serve each bundt cake with a drizzle of glaze and top with toasted sesame seeds.
Give it a go and pop over to my Instagram account to let me know what you think! I'd love to hear your thoughts 🙂
Mini Chocolate & Tahini Bundt Cakes
Ingredients
350

g

brown sugar

250

g

flour

sifted

75

g

cocoa powder

sifted

2

tsp

bicarbonate of soda

1

tsp

baking powder

2

eggs

250

ml

buttermilk

250

ml

warm strong coffee

100

ml

oil

75

g

tahini

2

tsp

vanilla essence
For the glaze:
200

g

icing sugar

sifted

1

tbsp

milk

more if a more runny consistency is desired

2

tbsp

tahini

1

tsp

vanilla essence

toasted sesame seeds

for topping
Instructions
Preheat oven to 180ºC and spray your Le Creuset mini bundt cake tin with non-stick spray.

Whisk together all the dry ingredients for the cake.

In a separate bowl, combine all the wet ingredients.

Add the wet ingredients to the dry ingredients and mix until just combined. Do not overmix.

Pour the batter into you Le Creuset mini bundt cake tin.

Bake for 12-15 minutes then allow to cool slightly.

To make the glaze simply whisk all the ingredients together.

Serve each bundt cake with a drizzle of glaze and top with toasted sesame seeds
MORE TAHINI RECIPES TO TRY: