This classic Bee's Knees Cocktail is the perfect summer drink. Made with honey syrup, gin and lemon juice creating the perfect balance of sweet and sour. This 3 ingredient cocktail recipe is a must for warm days.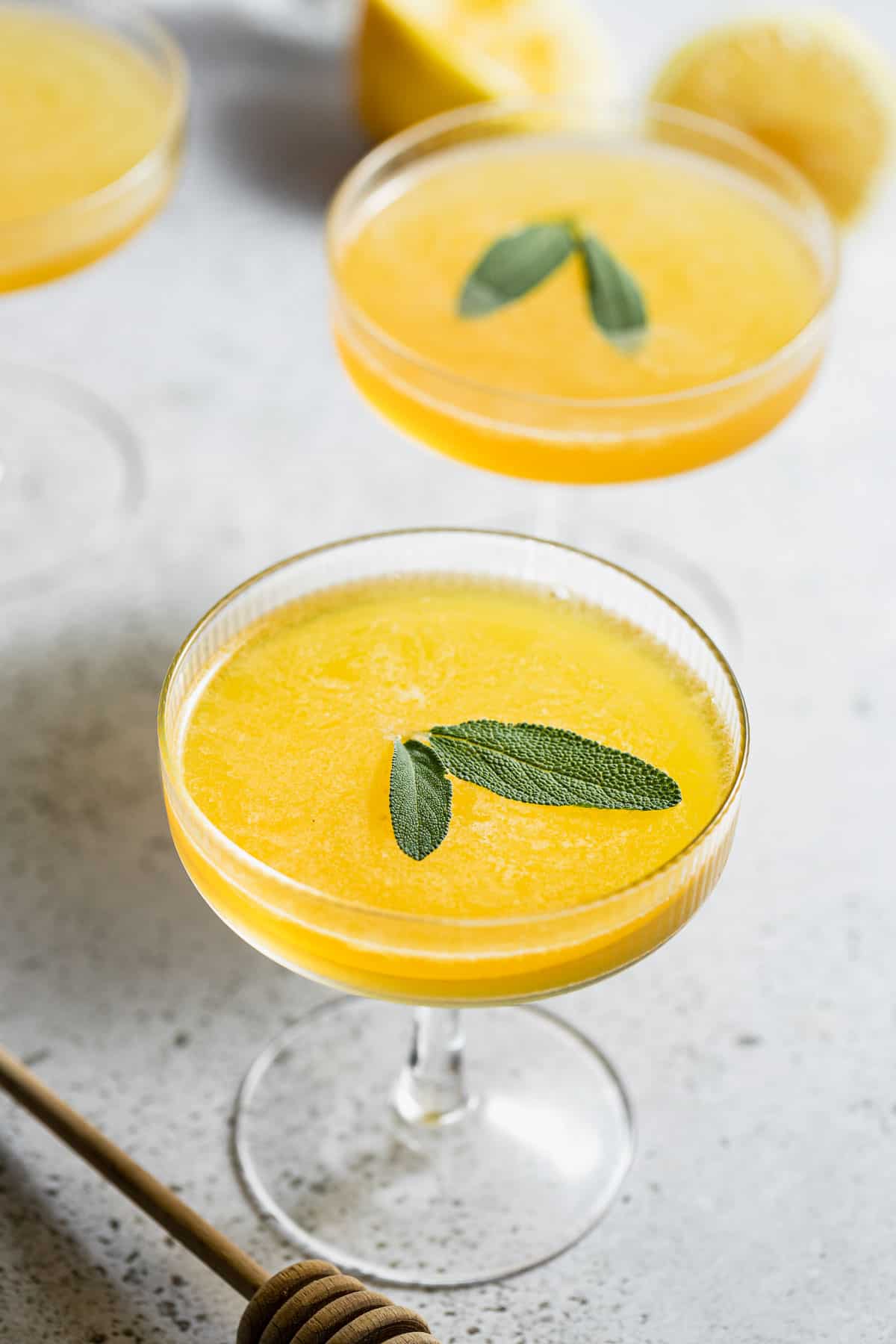 Jump to:
History of Bee's Knees
The bee's knee's cocktail came about during the Prohibitation Era from 1920 to 1933. Alcohol was banned in the USA and thus led to many people bootlegging alchohol.
The bee's knee's cocktail was invented as a way to mask the harsh taste of the bootlegged gin. They used honey to add sweetness and lemon juice to add a dash of tartness.
More recently, the bee's knee's cocktail has become a popular drink on the cocktail scene. With bartenders and mixologists using different types of honey and adding herbs such as sage and thyme.
Ingredients
The best part about the bee's knee's cocktail is that it only requires 3 readily available ingredients namely; gin, honey and lemon juice.
Gin - Gin makes up the base of this cocktail and therefore it is important to use a good quality gin with notes that accentuate the other flavors of the cocktail. Use either a classic dry gin or a more floral gin with subtle botanical notes.
Honey - The sweetness for the cocktail all comes from the honey syrup. It is made by using equal parts water and honey. The type of honey can influence the flavor so it is important to choose a honey that has a light, floral taste.
Lemon Juice - The hint of sour is derived from the splash of lemon juice added to the cocktail. It provides a tart balance to the cocktail and adds a slight hint of yellow to the color of the drink. Using freshly squeezed lemon juice will give you the best results and flavor.
How To Make A Bee's Knees Cocktail
Step One: Make the honey syrup by combining equal parts honey and water in a saucepan.
Step Two: Fill a cocktail shaker with ice and add the gin, honey syrup and lemon juice.
Step Three: Close the shaker and shake vigorously for 30 seconds or until cold to the touch.
Step Four: Strain the cocktail into a chilled glass and garnish with sage leaves.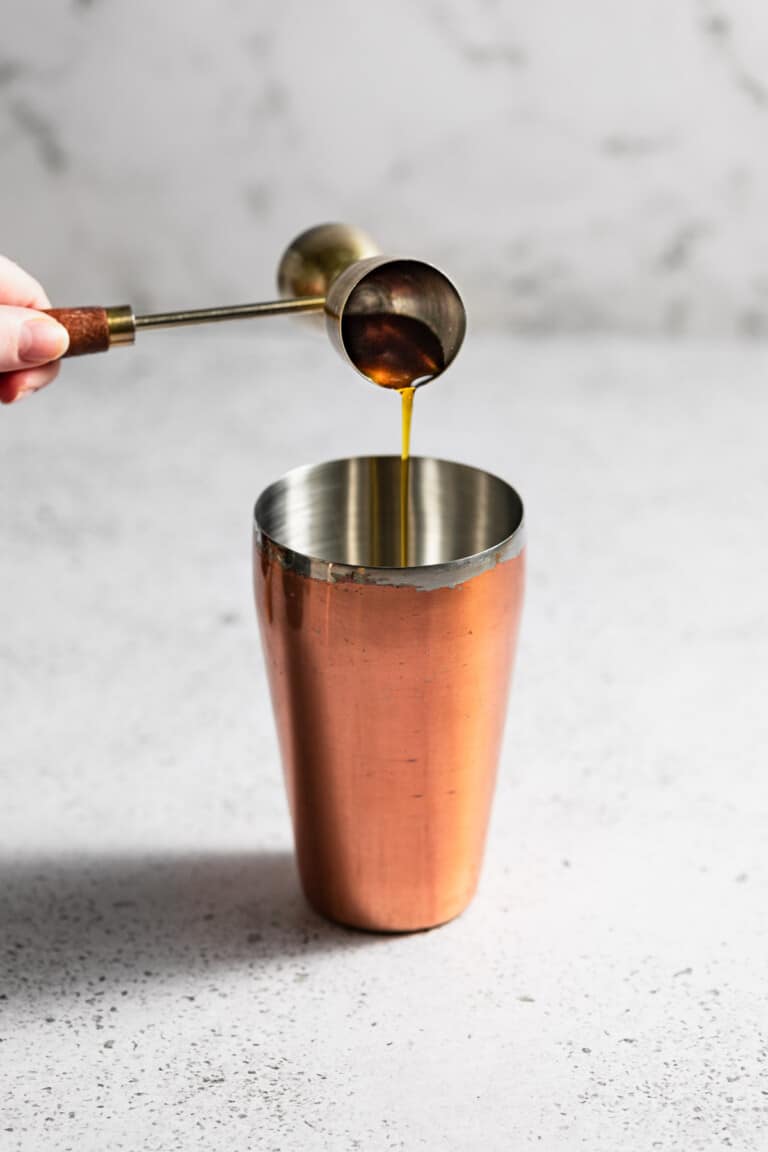 Make a Large Batch
Making a pitcher of Bee's Knees cocktail is a great way to serve this classic drink at a party or gathering. Here's how to make a pitcher of bee's knee's cocktail:
Ingredients:
2 cups gin
1 cup honey syrup
1 cup fresh lemon juice
Ice
Lemon slices, for garnish
Instructions:
In a pitcher, combine 2 cups of gin, 1 cup of honey syrup, and 1 cup of fresh lemon juice. Stir well with a stirring spoon to combine.
Add ice to the pitcher, filling it about halfway full.
Stir the mixture well again to chill the drink and dilute it slightly.
Fill an ice bucket or cooler with more ice and place it on the side for guests to use to add ice to their individual glasses.
When ready to serve, pour the Bees Knees cocktail from the pitcher into individual glasses filled with ice.
Garnish each glass with a lemon slice.
Serve and enjoy!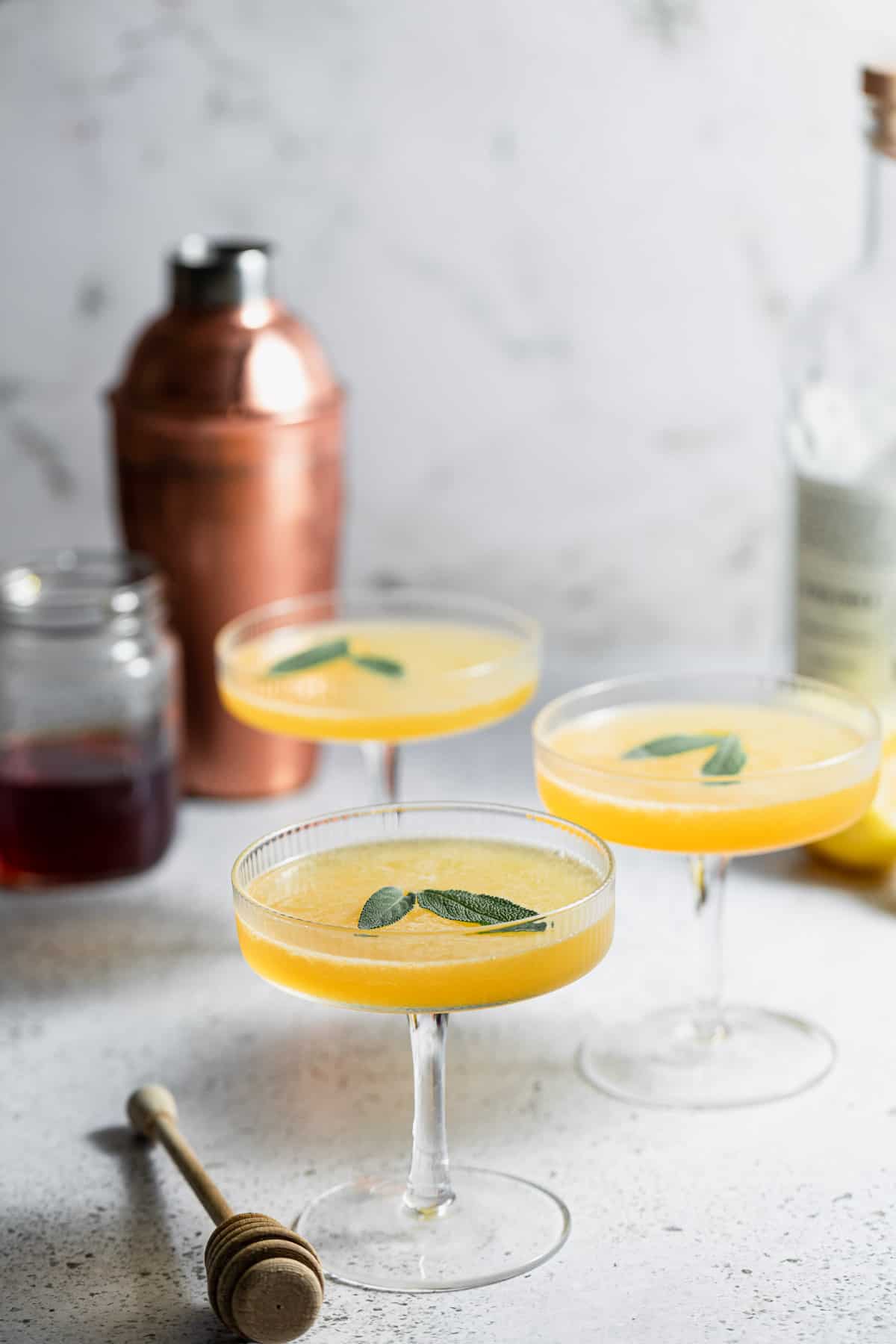 Bee's Knees Variations
Champagne Bee's Knees - To make a more festive cocktail, finish the cocktail off with a splash of champagne and serve in a chilled champagne flute.
Bee's Knee's with Vodka - Instead of using gin, substitute the gin for your favorite vodka. Garnish with fresh lemon slices.
Bourbon Bee's Knees - For the whiskey lovers, try swapping out the gin for your favorite bourbon for a smooth alternative to the classic cocktail. Garnish with herbs such as thyme or rosemary.
Bee's Knee's with Tequila - Adding a shot of tequila to this classic cocktail will give it a little extra flavor and perfectly balance out the flavors of the honey and lemon juice. Simple substitute 1 shot of gin for 1 shot of tequila.
Add Orange Juice - Add 2 oz of orange juice to the cocktail shaker before shaking for a sweeter variation.
Bee's Knee's Sour - Make a bee's knee's with egg white. Simply add the egg white to the mixture in the cocktail shaker and make sure to shake vigorously to ensure you get a nice fluffy texture.
How To Make A Mocktail
We love making mocktails around here. What better way to enjoy your brunch than with a bee's knees mocktail.
To make a mocktail bee's knees cocktail:
Ingredients:
½ oz fresh lemon juice
½ oz honey syrup (equal parts honey and water)
3 oz sparkling water or club soda
Ice
Lemon twist, for garnish
Method:
Fill a cocktail shaker with ice.
Add the lemon juice and honey syrup to the shaker.
Shake vigorously for about 20 seconds to mix the ingredients well.
Strain the mixture into a glass filled with ice.
Top with sparkling water or club soda and stir gently.
Garnish with a lemon twist or a sage leaf and serve.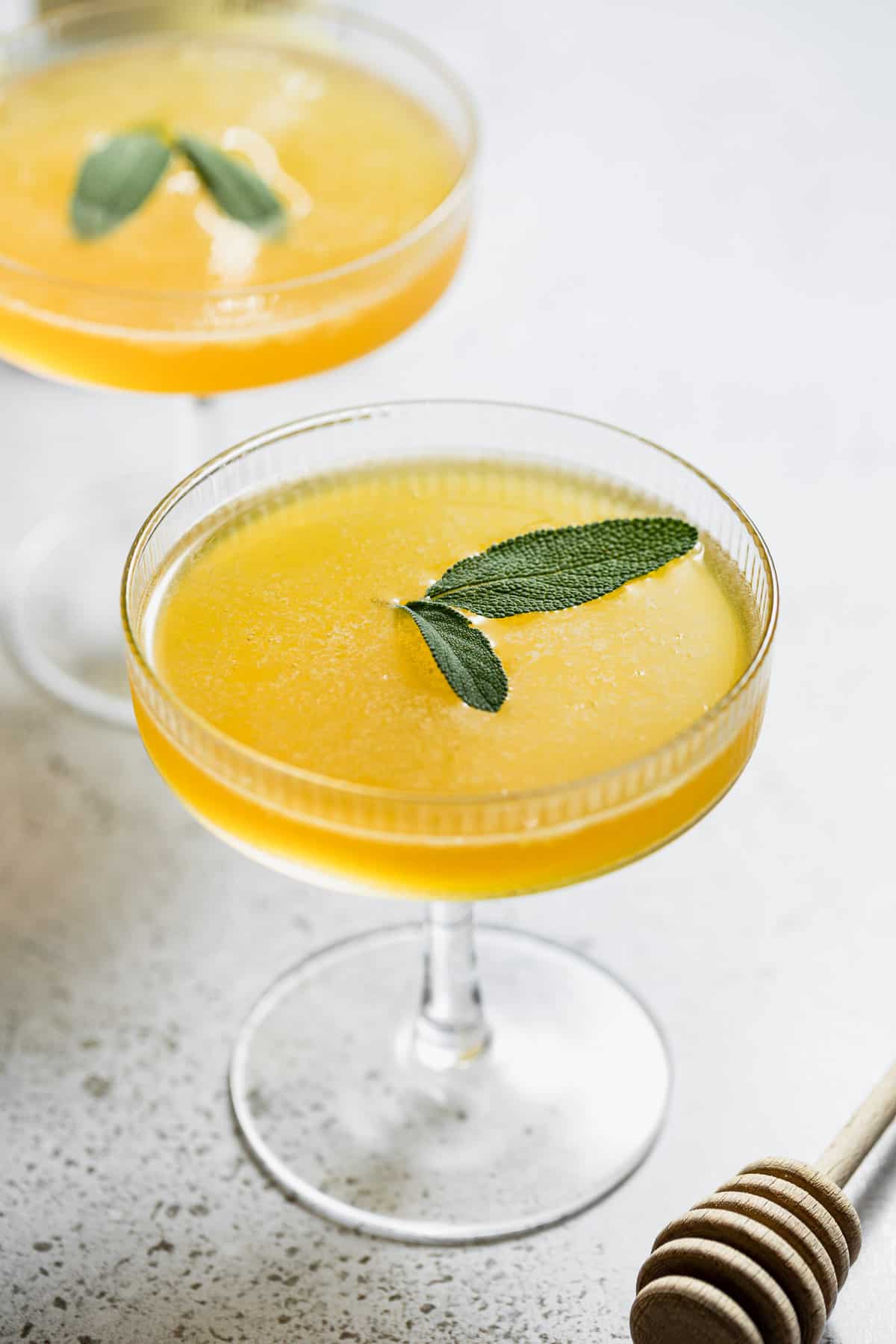 Garnish Ideas and Suggestions
Adding a different garnish to any cocktail can add a unique twist and change up the flavor a little. Here are a few of our favorite garnishes for this cocktail:
Lemon Twist - Use a peeler to cut a thin strip of the lemon rind off of the lemon. Twist it over the glass to release the delicious oils and to add a little extra zest. Drop the lemon twist into the glass once twisted.
Edible Flowers - One of our personal favorite garnishes. Add your favorite edible flower to the glass for a beautiful, fresh touch. Try using chamomile flowers, violas or any other edible flowers you may have in the garden.
Mint Leaves - Swap out the sage leaves for something a little fresher by adding a sprig of mint to the top of your cocktail.
Cinnamon Stick - To add a touch of warmth to this cocktail, garnish with a cinnamon stick. This will give the cocktail a slightly spicy flavor and perfectly complement the honey.
Expert Cocktail Making Tips
Always keep it fresh - The best top tip is to use fresh ingredients. This will ensure that all your ingredients off as much flavor as they possibly can. It will give your cocktail a vibrant, fresh taste.
Measure Accurately - Use a cocktail jigger to measure all your ingredients to ensure consistency and that the flavors are perfectly balanced.
Chill Your Glass - A chilled glass not only looks beautiful but will keep your cocktail cooler for longer and add to the taste and experience of the cocktail.
Choose The Right Garnish - A garnish can make or break a cocktail. We eat and drink with our eyes so ensuring that a beautiful garnish is chosen that complements the cocktail in both flavor and looks is very important. Get creative and try different garnished such as herbs, flowers and spices.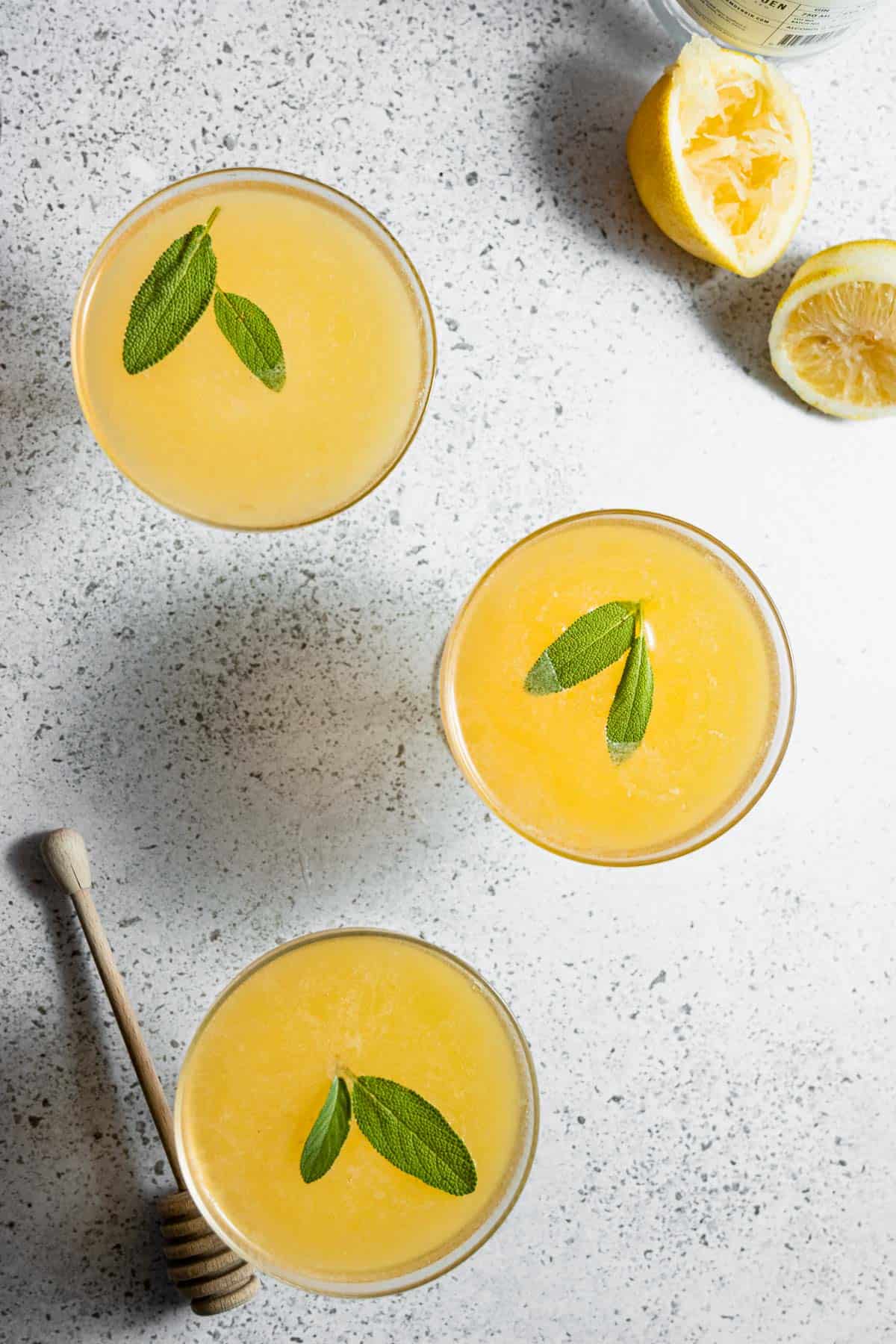 Best Gin For Cocktails
There are so many gin variations out there. The best gin to choose is a gin that complements the honey and lemon of the bee's knee's cocktail. A couple of great gin options include:
Plymouth Gin - With a softer, rounder flavor this gin will be the ulitmate gin to complement the honey and lemon in a bee's knees.
London Dry Gin - The botanical flavors from the juniper pairs beautifully with the honey and lemon. The dry gins also balances out perfectly with the sweetness from the honey.
Old Tom Gin - If you prefer a sweeter cocktail, this is the gin option you want to go for. Old Tom Gin has a sweeter undertone and a little more depth.
Bee's Knees Cocktail
A beautifully balanced 3 ingredient cocktail recipe made with gin, honey and lemon juice.
Ingredients
1

ounce

honey syrup

2

ounce

lemon juice

4

ounce

gin

sage leaves

for garnish
Instructions
Fill a cocktail shaker with ice.

Add the honey syrup, lemon juice and gin to the cocktail shaker. Shake for 30 seconds.

Divide the cocktail between two chilled coupe glasses and garnish with fresh sage leaves.
Nutrition
Calories:
180
kcal
Carbohydrates:
14
g
Protein:
0.1
g
Fat:
0.1
g
Saturated Fat:
0.01
g
Polyunsaturated Fat:
0.01
g
Sodium:
1
mg
Potassium:
38
mg
Fiber:
0.1
g
Sugar:
12
g
Vitamin A:
2
IU
Vitamin C:
11
mg
Calcium:
3
mg
Iron:
0.1
mg
Tried this recipe?
Let us know how it was in the comments below
Tag us on Instagram!
We love seeing people make our recipes. Mention @baking_ginger