A quick and easy Zesty Lemon Meringue recipe. The perfect dessert for any time of the year. Light, refreshing and always beautiful.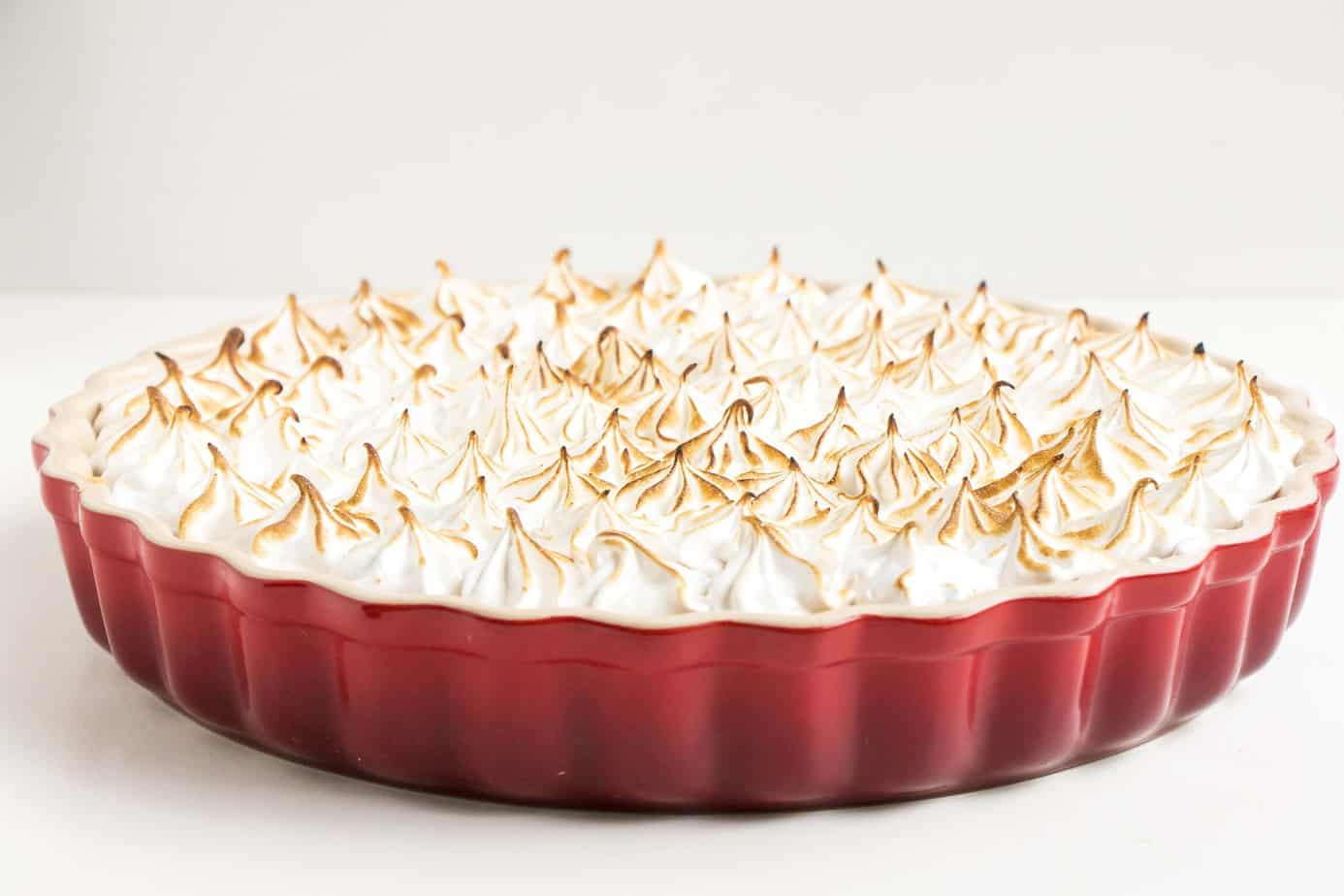 A simple lemon meringue recipe
I've been feeling super inspired since I found out about winning that super amazing bursary from Capsicum Culinary Studio! I literally just want to bake all day! And you no what, I think I actually will do that! I'm starting with making another one of my favourites...Zesty Lemon Meringue.
I made this beautifully delicious Lemon Meringue for a little Instagram campaign I did for Le Creuset, and Oh My Goodness was it delicious!! I have always been a big lemon meringue addict, even as a kid...which is probably a little strange because most kids like things sweeter rather than sour. But I was always the kid buying the most sour candies I could find!
Why you'll love this tart
That's the thing I love about this particular Zesty Lemon Meringue recipe. It's actually sour! Not unbearably sour, but it has a bit of a kick, just like a Lemon Meringue should have.
It isn't rich at all, it's not overly sweet like most lemon meringues are, it is simply perfect. It has a perfect balance between sweet and sour. The lemon filling is deliciously tangy and sour, and then the crunchy meringues on top are the sweetness that balances out the sour. YUM!
When you craving something other than Chocolate Mousse, Ice-Cream or something peanut buttery, then Lemon Meringue is pretty much the most perfect dessert. It works for all seasons, it's light and fresh for summer but at the same time, perfectly decadent for winter.
Unlike most lemon meringue recipes, this Zesty Lemon Meringue is pretty darn easy to make. You only have to bake the crust, it doesn't contain any condensed milk and really keeps well.
So you can make a Zesty Lemon Meringue all for yourself and not worry about it going off ;). Who doesn't want a whole lemon meringue to themselves right?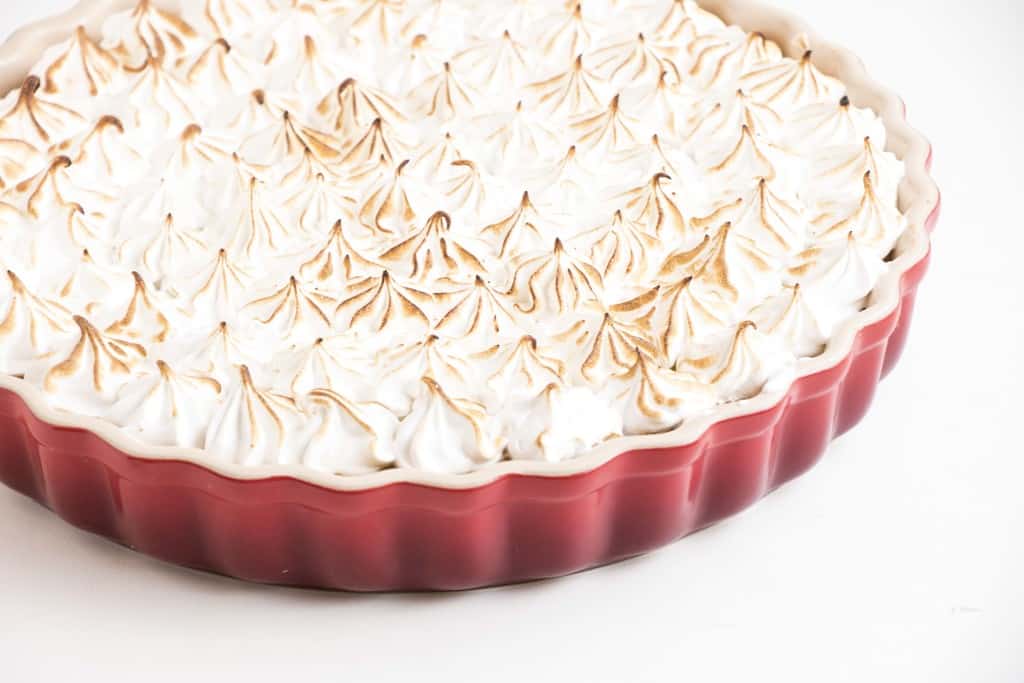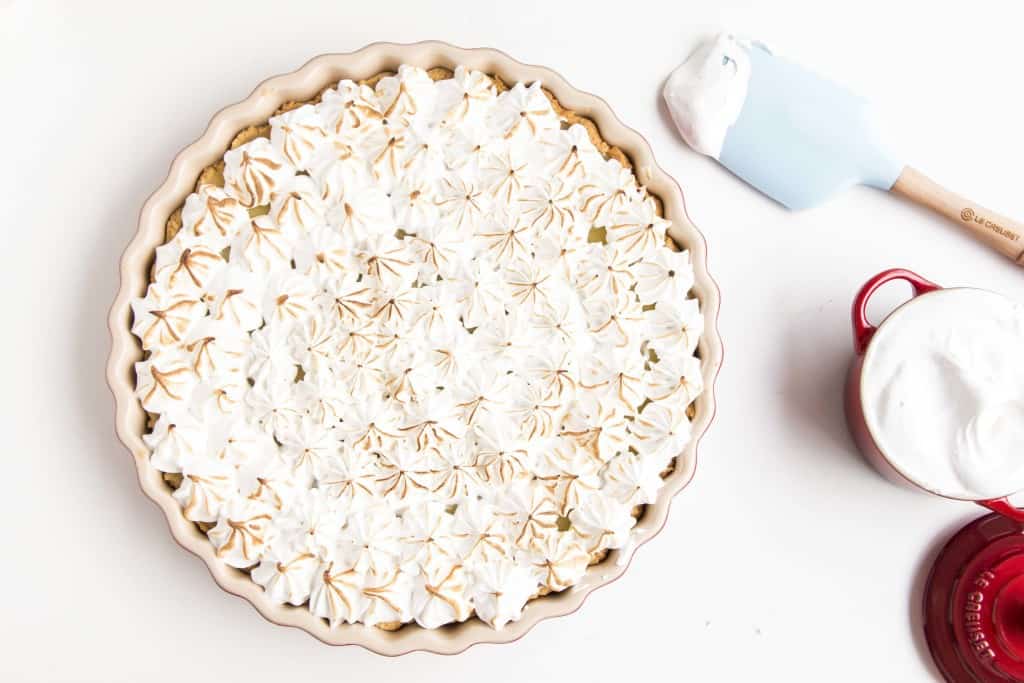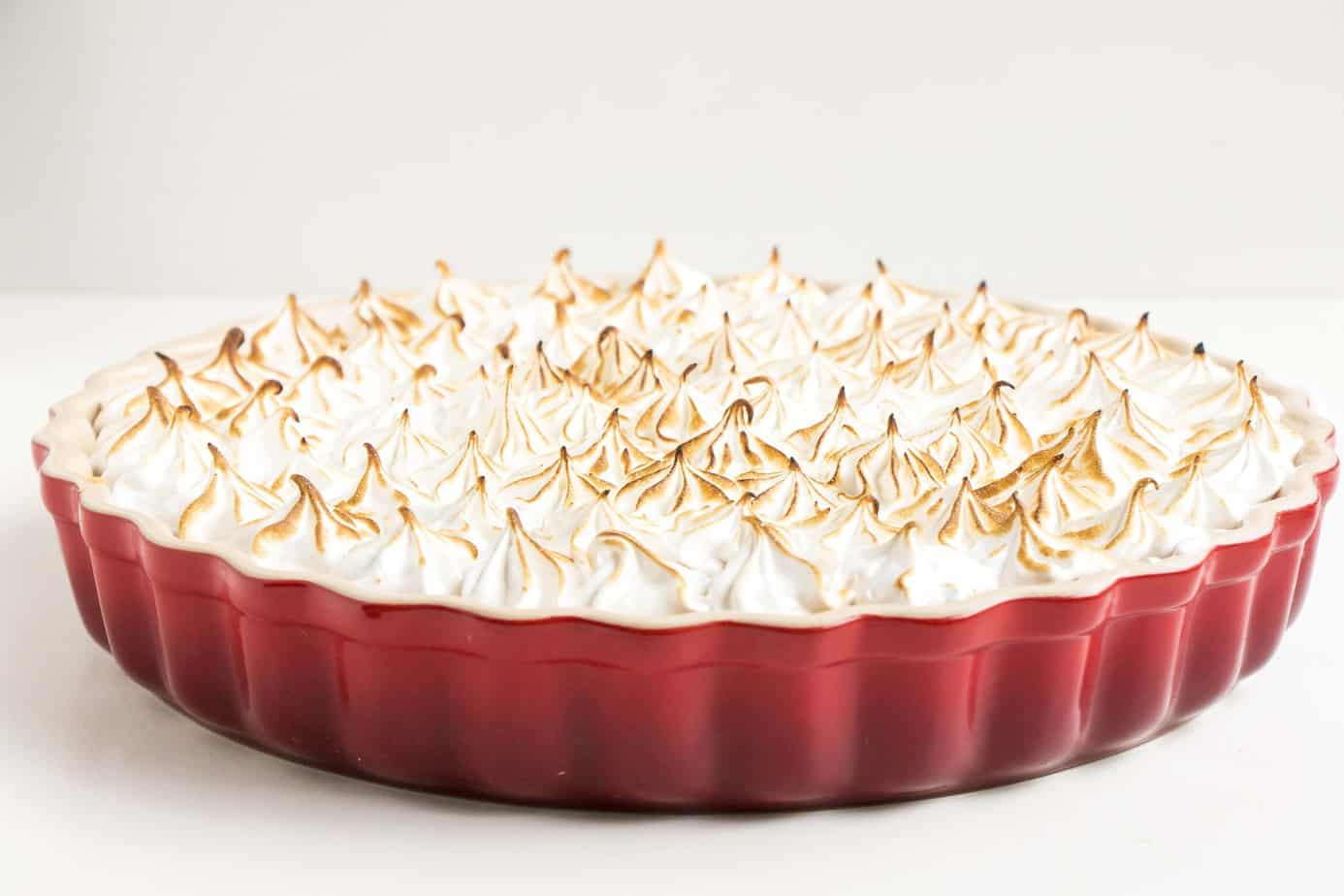 Zesty Lemon Meringue
Ingredients
For the Crust:
3

Cups

of Flour

1

teaspoon

salt

1

Cup

Cold Butter

6

tablespoon

Ice Water

Zest of 1 lemon
For the Filling:
1

litre Water

440

g

Sugar

200

ml

Lemon Juice

85

g

Corn Starch

115

g

Egg Yolks

Zest of 1 Lemon

60

g

Butter

Pinch

of Salt
For the Meringue
200

g

Egg White

400

g

Castor Sugar
Instructions
In a food processor combine the flour, salt and lemon zest.

Add the butter and the Ice water 1 tablespoon at a time, until dough pulls together.

Roll the dough into a ball, press flat, cover with plastic wrap and chill for an hour.

Roll out dough and transfer to a tart pan/flan dish.

Place baking paper over the dough and fill the pan with baking beans/any beans.

Bake for 25-30min.
For the Filling:
Combine 750ml water, 230g sugar,salt, lemon juice and lemon zest in a saucepan and bring to a boil.

Meanwhile, combine the remaining sugar,cornstarch, egg and remaining water until well incorporated.

When the lemon mixture begins to boil, remove the saucepan from the heat and add the egg mixture a tiny bit at a time while whisking furiously (to ensure the egg doesn't become scrambled).

Once all the egg is incorporated, return the saucepan to the heat and allow the mixture to boil until it becomes thick.

Once thick, immediately remove from the heat and stir in the butter.

Pour the filling over the cooled crust and allow the filling to cool and set.
For the Meringue:
Whip the egg whites until soft peaks, then slowly add in the castor sugar.

Continue to whip the mixture until stiff and shiny.

Pipe (or simply spread) the meringue over the cooled filling.

Bake the tart for 5min on 200ºC or use a blow torch to brown the meringue a little bit.