This Vegan Peanut Butter Chocolate Tart is the ultimate no-bake decadence. No one will even know it's vegan! Made with Oreos, peanut butter and a little coconut oil and cream!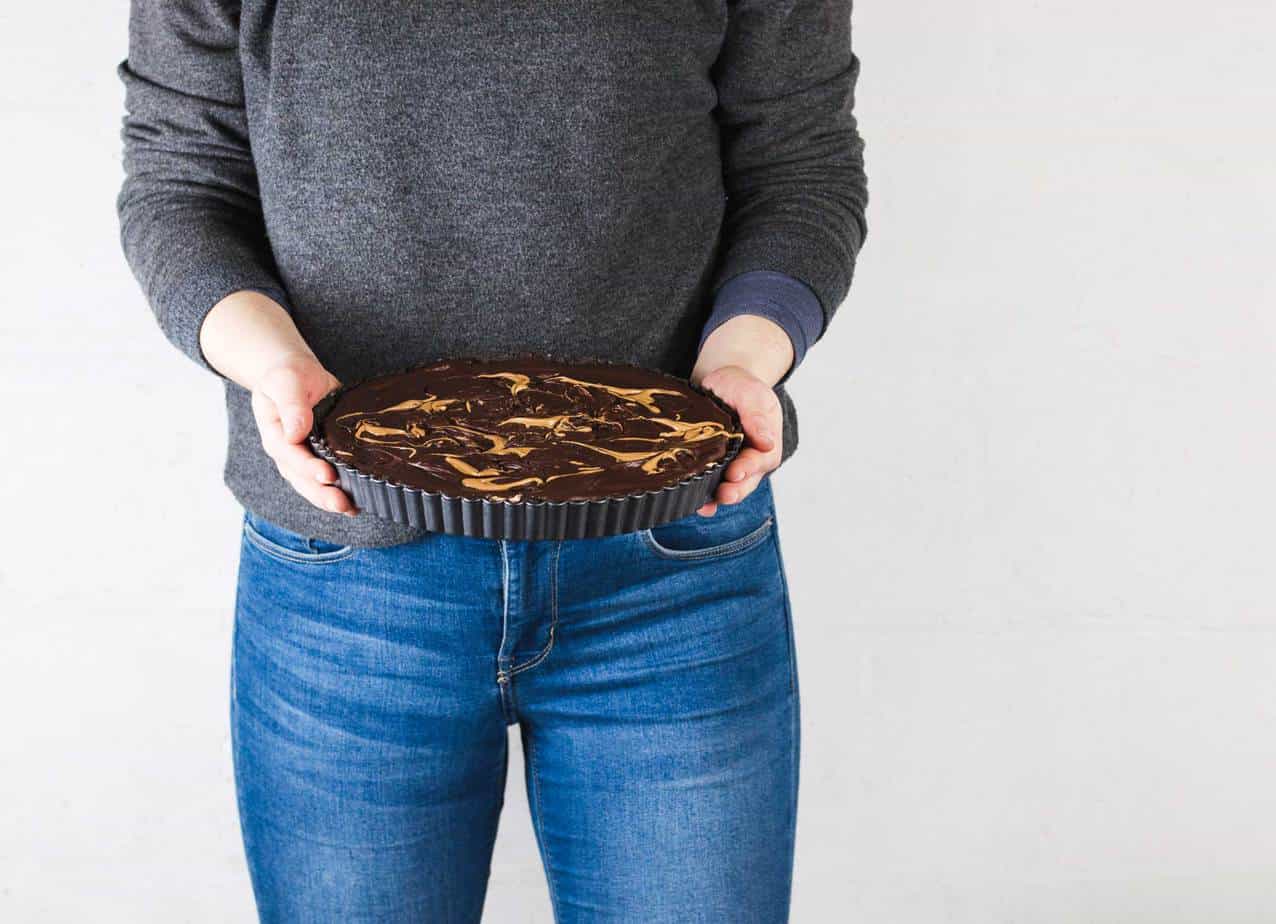 I've been focusing on a more plant-based diet. And I must admit, it's been pretty amazing. I feel a whole lot lighter, I don't get those mid-afternoon slumps anymore and generally, I just have more energy. It also wasn't nearly as difficult to cut out meat as I thought it would be. I don't actually miss it at all. What I do struggle with is having something delicious every now and then. yes, I know the whole point of it is to live a healthier life etc.. but come on, even vegans deserve a decadent treat every now and then! And I don't mean those rubber-like vegan brownies you get at cafes or cardboard tasting cookies… I mean something that satisfies those cravings. I'm not going to eat this Vegan Peanut Butter Chocolate Tart every day but every now and then it just hits the spot.
This Vegan Peanut Butter Chocolate Tart is so good that no one will even know it's vegan. Now that's what I consider a successful vegan dessert, am I right? It's fairly easy to make as well, it just requires a little setting in the fridge every now and then. To make the base, all you need are some Oreos (yes, they are vegan… you're welcome) and a little coconut oil. Mix that all together and smush it into a loose-bottomed tart pan, place it in the fridge while you make the filling.
The filling is my jam ya'll, it's creamy, peanut buttery and simply heavenly. It's  creamy combo of peanut butter (obviously), coconut cream (for that decadence yo), powdered sugar and a tiny bit of coconut oil (which you can totally leave out if need be), give it a really good whisk until light and fluffy and pour over your oreo base. Place it back into the fridge for a little while.
Last but not least, that yummy dark chocolate ganache. I used Lindt 90% dark chocolate because I like the bitterness it adds to the sweet dish and melted it together with some coconut milk. Once properly melted, pour it over the peanut butter filling and spread it out evenly. Then add a few swirls of peanut butter if you're feeling fancy. YUM!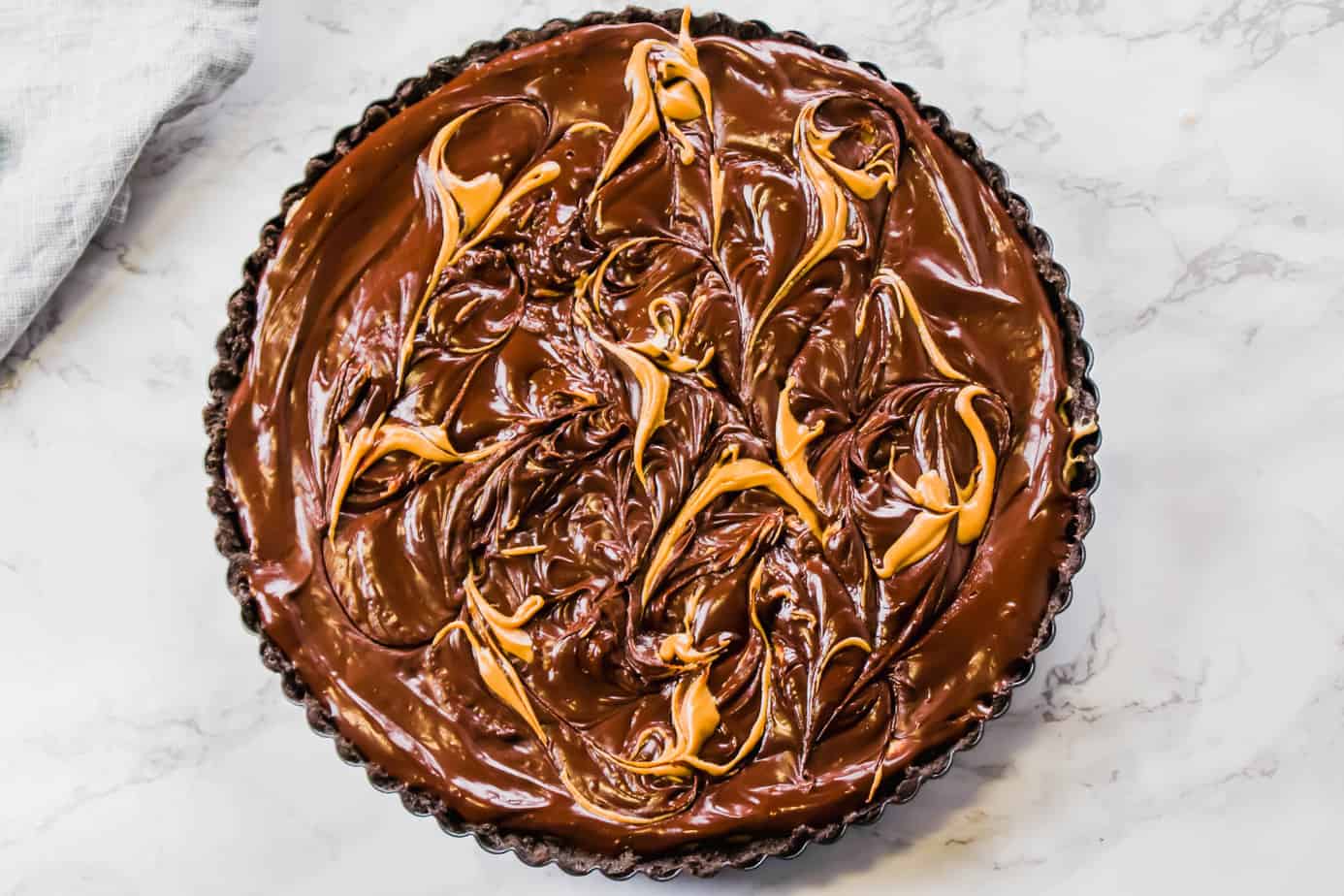 Guys, I was genuinely impressed with myself with this pie/tart/slice of heaven! It is addictively delicious! 
Vegan Peanut Butter Chocolate Tart
Ingredients
For the crust:
1

packet Oreos

½

Cup

Coconut Oil

melted
For the filling:
1

Can Coconut Cream

1

Cup

Peanut Butter

½

Cup

Powdered Sugar

1

teaspoon

Vanilla Essence

2

tablespoon

Coconut Oil

melted
For the topping:
300

g

80% Dark Chocolate

¼

Cup

Coconut Milk
Instructions
Place the Oreos in a blender and blend until completely crushed.

Mix in the melted coconut oil.

Press the crust flat into a loose bottomed tart dish and place in the fridge.

Meanwhile, place the coconut cream in a stand mixer and whip until fluffy.

Add the peanut butter and keep whipping the mixture.

Add the the powdered sugar, vanilla and coconut oil and mix until just combined.

Pour the filling over the chilled crust and place it back in the fridge.

Break the chocolate into smaller pieces and place in a microwaveable bowl.

Pour the coconut milk over the chocolate and microwave the chocolate on high until melted (stirring every 20-30sec).

Pour the chocolate mixture over the filling and decorate with peanut butter swirls.

Place the tart in the fridge for at least 2 hours before serving.

Devour!
Tried this recipe?
Let us know how it was in the comments below
Tag us on Instagram!
We love seeing people make our recipes. Mention @baking_ginger