The ultimate healthy vegan Eggless Oat Flour Mug Brownie that only takes a 5 minutes to make and is the perfect guilt-free treat! Easy and delicious!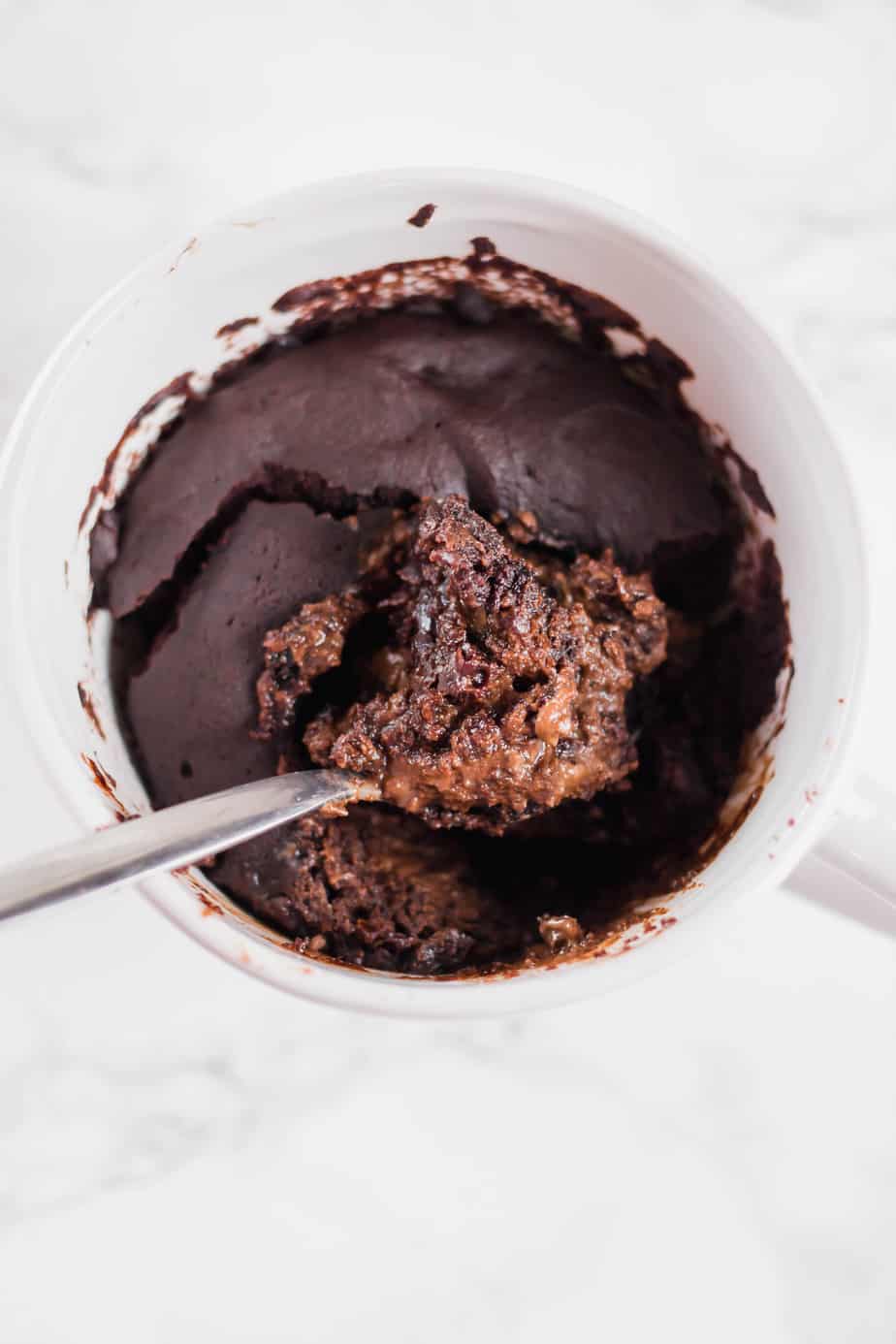 What is a mug brownie?
Mug cakes are easy to make single serving cakes made in the microwave. They are epic! All you need to do is mix all the ingredients together, pour it into a mug and pop it in the microwave for a few minutes.
The best thing about mug brownies is that it only takes a few minutes to whip up and has so many variations. A reader favorite is my Healthy Peanut Butter Mug Cake. Not only is it vegan but also gluten-free, and tastes just like cake.
Ingredient's You'll Need:
Oat Flour: Make sure the oat flour you use is gluten-free. For alternatives, use 1:1 Gluten-Free Flour or even regular all-purpose flour.
Cocoa Powder: This delicious chocolate brownie mug cake gets half its flavor from the cocoa, so make sure to use top quality cocoa powder.
Baking Powder: All you need is a ¼ teaspoon for this single serving cake. Make sure to spoon and level the baking powder.
Sugar: Regular granulated white sugar can be used. For a sugar-free mug cake use a sweetener or maple syrup.
Milk: Any non-diary milk works perfectly. My personal favorite is oat milk but almond milk and coconut milk works just as well.
Coconut Oil: Coconut oil helps bind all the ingredients together and ensures that the cake stays moist.
Chocolate Spread: Use your favorite vegan chocolate spread or regular Nutella for a non-vegan option.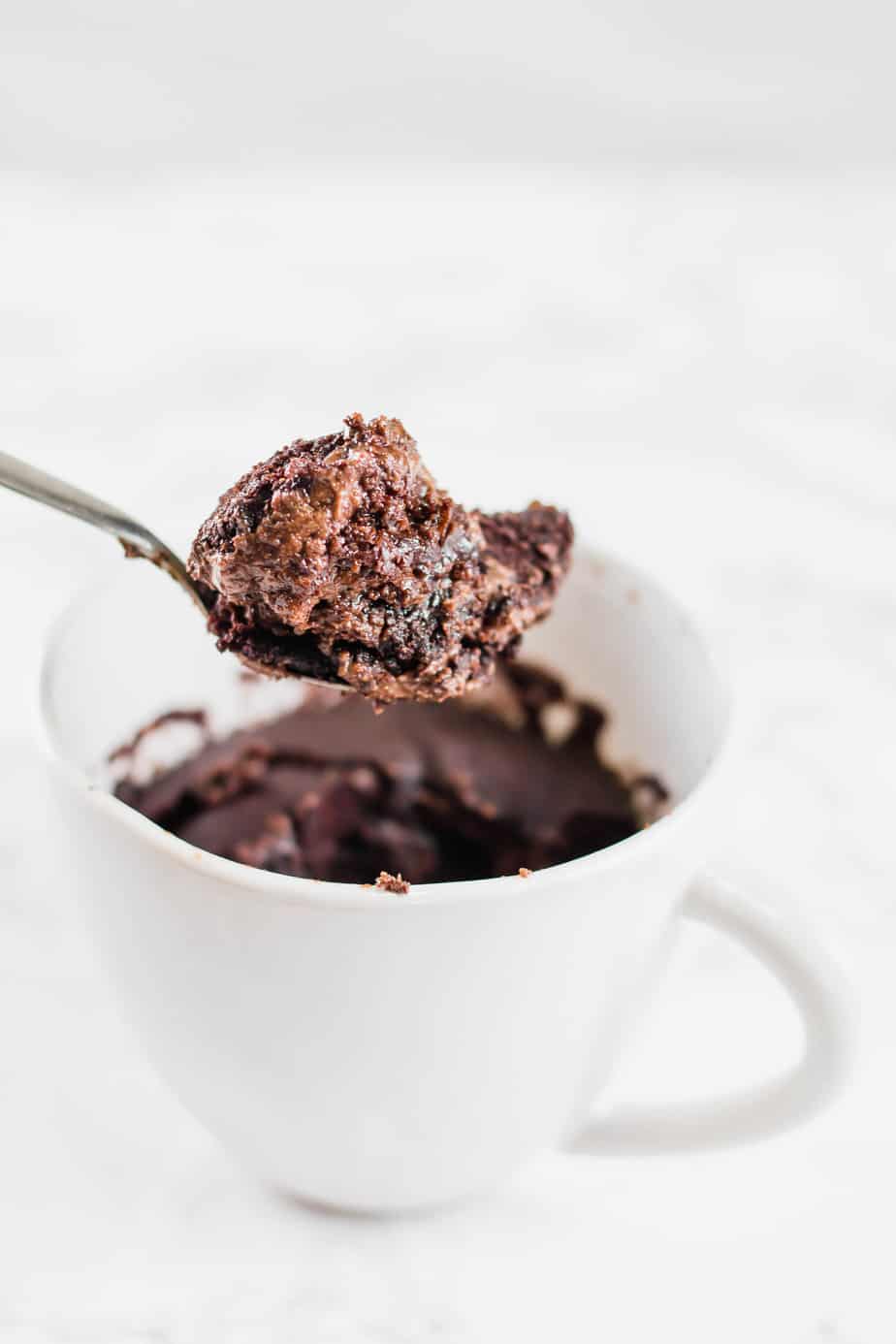 How To Make This Eggless Mug Cake:
This easy chocolate mug brownie only takes 5 minutes to make and is the perfect mid-afternoon snack. Vegan and gluten-free making this a delicious healthy snack. Because this is a no egg mug cake, you can under-bake the cake slightly if you prefer a gooey center.
Step One: In a small bowl, combine all the ingredients for the mug cake.
Step Two: Pour the batter into a large mug.
Step Three: Place the mug in the microwave for 3-4 minutes.
Step Four: Top with chocolate spread.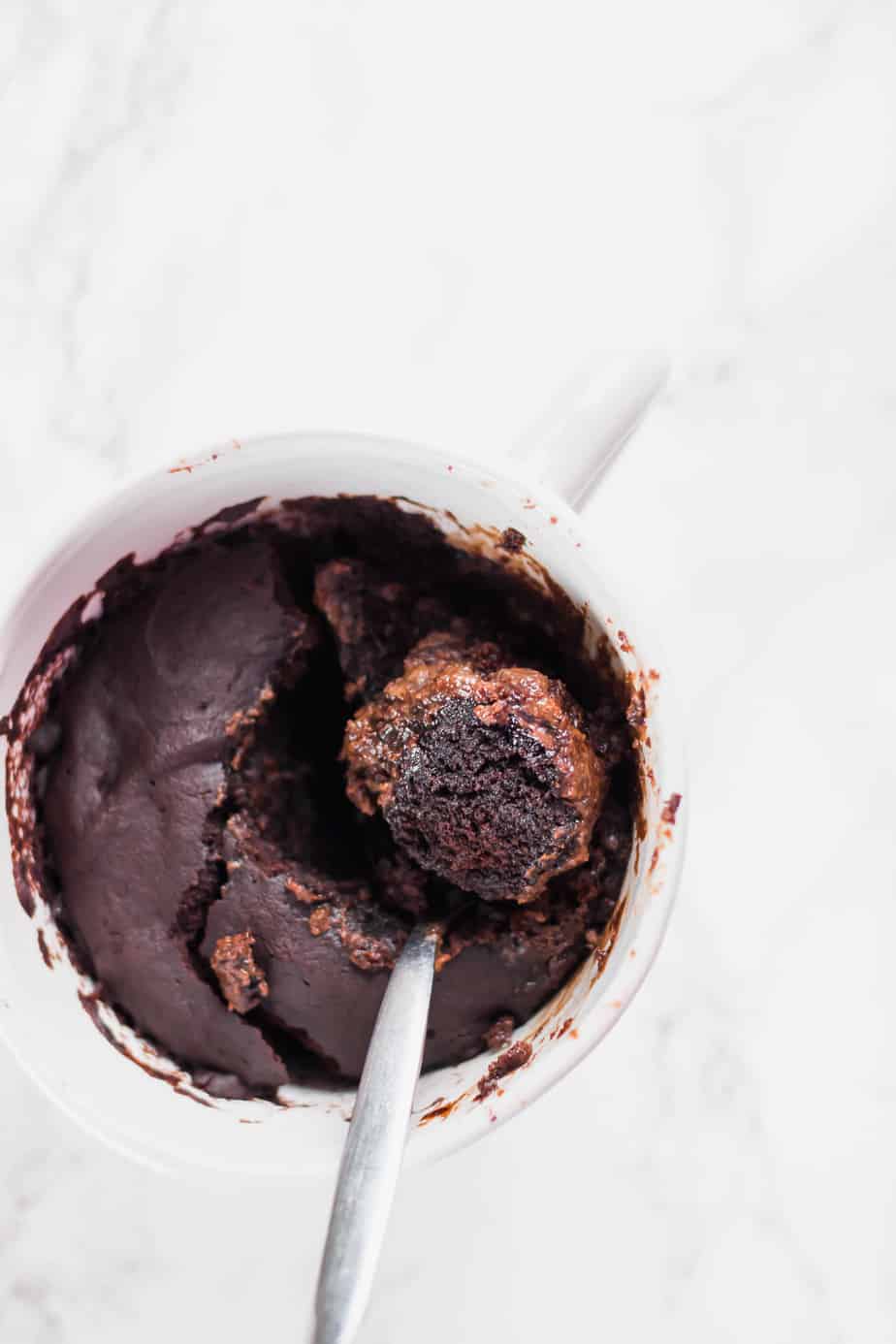 Variations & Additions:
Biscoff Cookie Butter Spread: Swop the chocolate spread for a Biscoff spread for a delicious Biscoff and chocolate mug cake.
Vanilla Extract: Add a teaspoon of vanilla extract to the batter for a little extra flavor.
Chocolate Chips: For extra chocolate-y goodness, sprinkle a tablespoon of chocolate chips over the top of the batter before placing the mug in the microwave.
Whipped Cream: Top the mug cake with coconut whipped cream.
Expert Tips:
Measure Accurately: Because this is a single serving cake recipe, the slightest shift in amounts can have a great affect. To accurately measure flour, spoon the flour into the measuring cup and level it after.
Microwaves Vary: Depending on the type of microwave you have, the cooking time may vary. Start by cooking it for less time and add on a minute or two if need be.
Dry Ingredients First: To ensure your cake rises correctly, add the flour, cocoa powder and baking powder to your bowl first and give it a quick whisk before adding the remaining ingredients.
Oat Flour Mug Brownie
This easy to make gluten-free, vegan chocolate mug brownie is the perfect 5 minute snack for treat.
Ingredients
¼ cup oat flour
2 tablespoon cocoa powder
¼ teaspoon baking powder
2 tablespoon sugar or sweetener
⅓ cup oat milk (or any other milk)
2 tablespoon coconut oil, melted
1 tablespoon chocolate spread (plus more for topping)
Instructions
Place all the ingredients in a small bowl and whisk together.
Pour the batter into a large mug and microwave for 3-4 minutes.
Remove from microwave and top with extra chocolate spread.