If you are looking to impress your friends at your next cocktail party or wondering how to liven up that glass of bourbon you usually enjoy neat we have all the information you need on the best mixers for bourbon and tasty bourbon cocktails.
Jump to:
What Is Bourbon and why is it so special?
Knowing what bourbon is exactly is important to understanding this well-loved liquor and can help you to craft a perfect bourbon drink, for yourself and/or for others.
So what is bourbon? Simply put, bourbon is an American whiskey. And there are a few key characteristics that set it apart from other whiskeys.
In order for a whiskey to be considered a bourbon whiskey it must meet three important criteria that are unique to bourbon.
The criteria for whiskey to be considered a bourbon:
1. The mash (the mix of grains) is at least 51% corn.
"Mash," or "mash bill," refers to the mix of grains that go into a whiskey.
This can consist of a combination of wheat, rye, and barley. A true bourbon is one where more than half of the mash consists of corn.
2. Distilled and aged in new, charred oak barrels.
Like many popular liquors, bourbon is aged and distilled in wood barrels. There are some alcohols, like scotch and rum, that can be aged in any kind of barrel and even in barrels that previously held other liquors.
But, by law, bourbon must be aged in charred oak barrels that have never been used before.
3. It must be produced in the United States of America.
In Kentucky in the late 1700s, the first-ever barrel of bourbon was distilled. Since then, bourbon has become an icon of America, just like baseball or apple pie.
To this day, genuine bourbon only comes from the United States — and most commonly, they still come from Kentucky itself.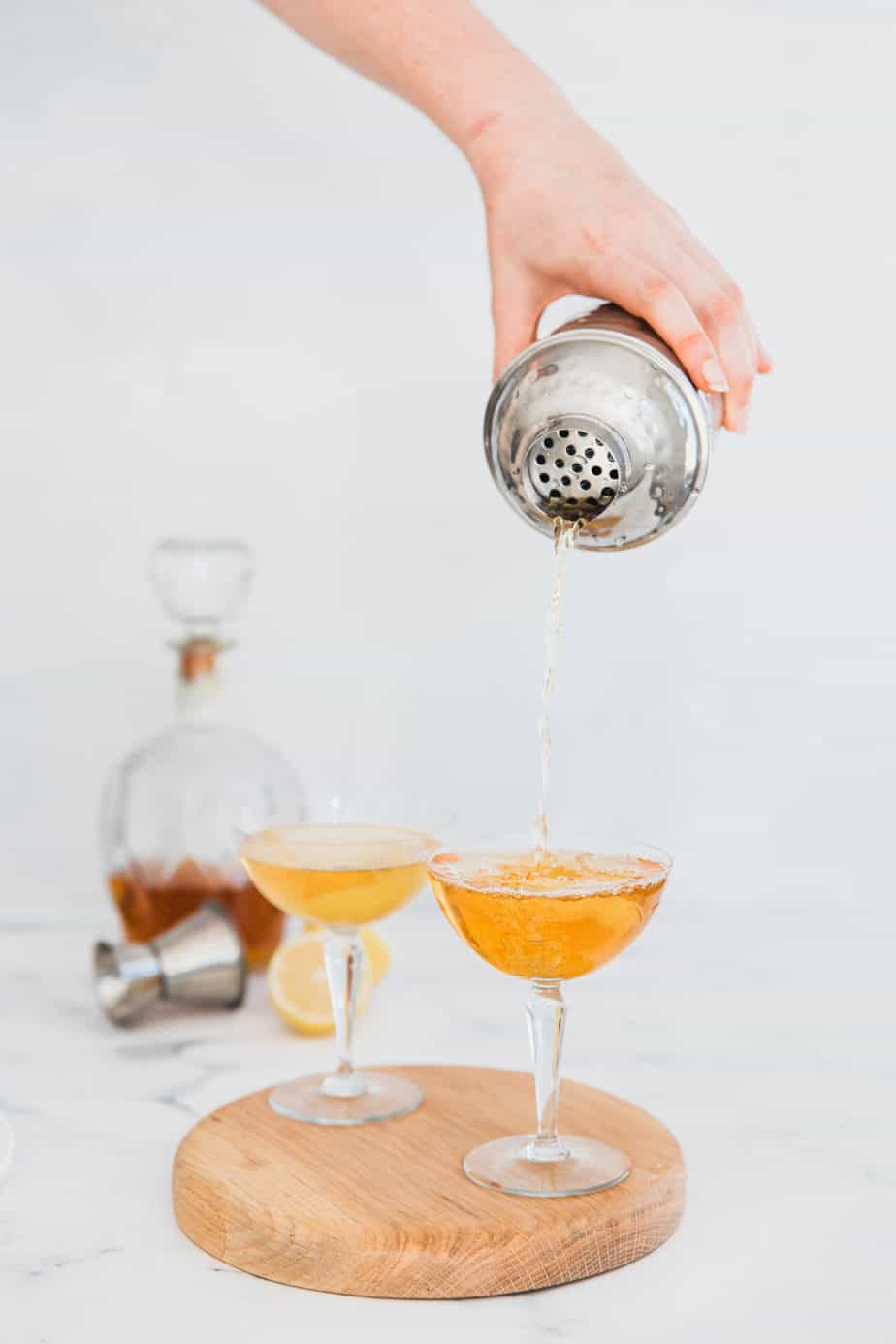 What Does Bourbon Taste Like?
Known for its trademark dark flavor profile, Bourbon automatically makes a drink more complex, robust, and sophisticated. Due to it being aged in charred oak barrels, this corn-infused drink garners a deep amber color and rich flavor profile.
Bourbon is prohibited by law from containing any flavor additives, so you would think the taste of bourbon would be pretty standard from bottle to bottle.
But actually, the flavor of bourbon is deeply influenced by the mash bill, distillation, and ageing process.
From these factors bourbons can contain a range of additional notes from the classic bourbon flavors of oak, caramel, and vanilla. These additional notes of flavor can include:
Butterscotch
Toasted rye bread
Oatmeal
Cornbread
Cinnamon
Honey
Nutmeg
Brown sugar
Custard
Chocolate
What are the main types of Bourbon?
Sweet bourbons – Depending on the mash bill used to produce the bourbon, as well as the amount of time it ages in the barrel, some bourbons will taste a little sweeter than others. Mash bills with a higher percentage of corn often produce a sweeter bourbon whiskey due to the natural sweetness of the corn. Sweet bourbons often have flavor notes of vanilla, caramel, custard, butterscotch, honey, and even chocolate.
Host or spicy bourbons – Some bourbons have a spicy or peppery taste to them. Part of this heat comes from the alcohol content of the liquor but it is also influenced by where and how bourbon is aged.
Floral bourbons – Some bourbons might contain a floral or herbal flavor. This is simply due to the yeast used during the fermentation process.
What is the best way to drink bourbon?
While bourbon is easily enjoyed alone or on the rocks, it is also used in a variety of classic bourbon cocktails. Bourbon has also seen a resurgence in popularity in the past decade, as bartenders and mixologists discover new ways to use it.
Cocoktail-makers love bourbon because it is a complex liquor with a wide range of flavors.
Bourbon can be used as the main ingredient in a cocktail or alternatively, a small amount can be used to add a hint of flavor to a drink.
Bourbon can be enjoyed all year round and due to it being such a flavorsome spirit, you may think there are a limited number of mixers that go with it.
But surprisingly you will find that bourbon can mix well with a variety of mixers.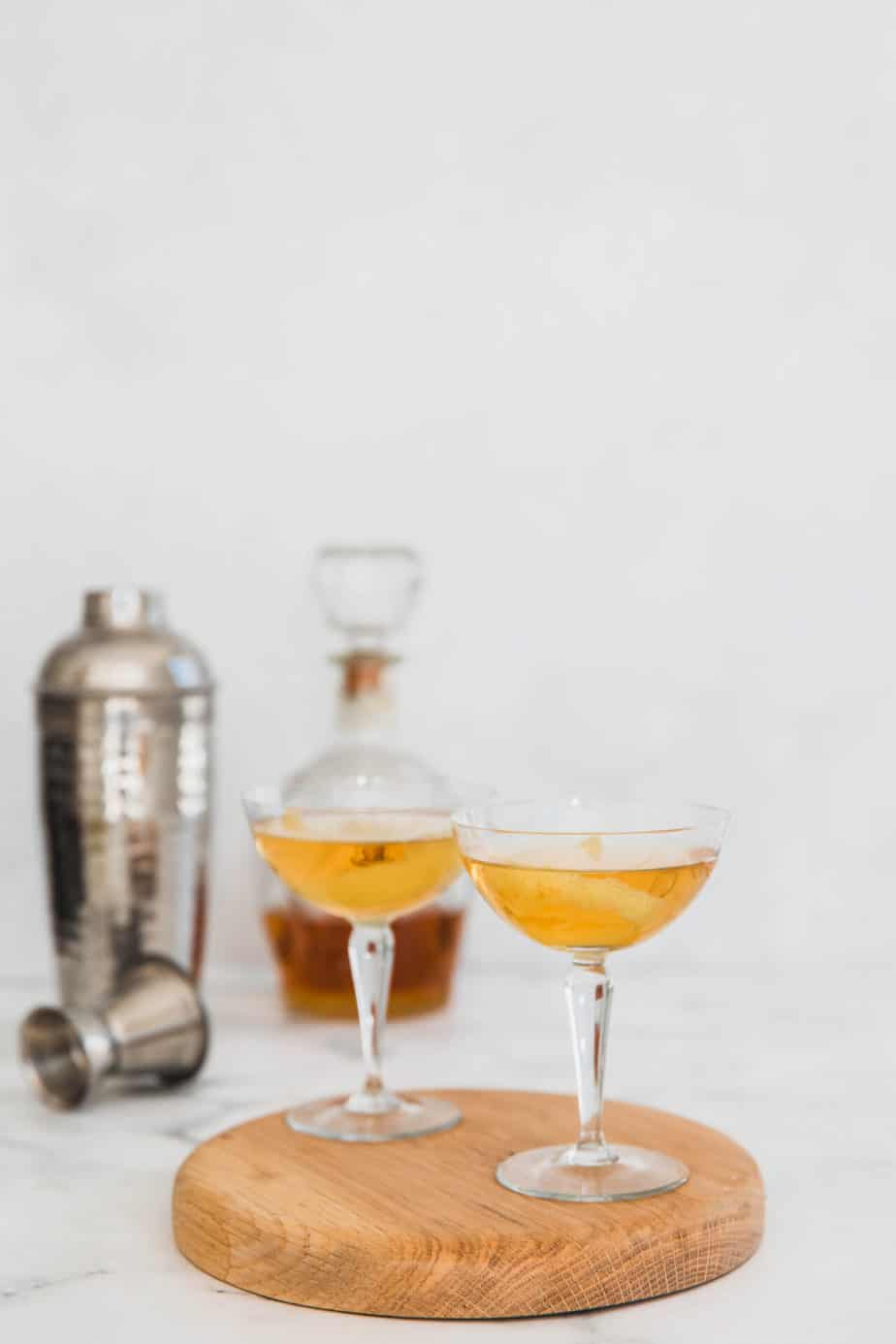 What are the best mixers for bourbon?
You might be surprised to find that bourbon can mix well with a variety of different mixers. It is also be used in a wide variety of classic cocktails such as An Old Fashioned, Manhattan, Mint Julep, and a Whiskey Sour.
Below we will explore some of the best mixers for bourbon and how you can enhance your whiskey-drinking experience.
1. Water / Soda Water
Bourbon is a strong liquor. It contains 40% alcohol. At this strength, the alcohol and dominant flavors in bourbon whiskey can mask the more subtle flavors that are present.
A way to bring out these flavors is to add a splash of room-temperature water to your bourbon.
The water separates the ethanol and guaiacol molecules in the drink which makes the bourbon more flavorsome and palatable.
Using water as a mixer is simple but effective. You can use any amount of water to whiskey ratio that you prefer - gradually add water to your bourbon until you reach the point where you can taste all of the flavors of the drink.
Soda water is simply water that has been carbonated and will work just as well as regular water if you prefer some bubbles in your drink.
Another option is to mix your bourbon with club soda for a similar end result.
2. Cola
Coca-Cola is one of the most popular mixers to use with bourbon whiskey, particularly if you are new to drinking bourbon. 
The sweetness of the cola makes the bourbon easier to drink while still retaining its caramel, vanilla, and smokey flavor.
To make a Bourbon and Coke Mix:
Place ice cubes in a medium-sized tumbler.
Pour in 60 ml of bourbon whiskey.
Add 200 - 300 ml of Coca-Cola (depending on preference).
Gently stir it together.
Add a lime or lemon wedge or slice (optional).
3. Ginger
Ginger's sour and citrusy flavor makes it the perfect addition to bourbon! It adds the perfect contrast to the bourbon's natural smoky and caramel flavor.
Mixing bourbon with ginger will make for a drink with interesting depth yet still super refreshing. You can use ginger as a mixer for bourbon in various forms, such as
Ginger beer
Ginger ale
Ginger bitters
Ginger syrup
To use ginger ale as a mixer with bourbon, mix one-part bourbon with five parts ginger ale and add lots of ice cubes. You can adjust this ratio according to your personal preference.
4. Coffee
Another highly popular drink combination is whiskey and coffee. Both coffee and bourbon share the same base flavors — deep and smoky and just a touch bitter.
You can enjoy bourbon and coffee hot or cold. So whether you're drinking French press or cold brew, a little bourbon with your coffee can really energize your night and create a delicious drink.
To make a hot coffee and bourbon drink, mix together one part bourbon with six parts of freshly made hot coffee in a large mug. Alternatively, try out this cold brew coffee and bourbon recipe:
Combine 80 ml cold brew coffee, 30 ml bourbon, 15 ml triple sec, and 15 ml maple syrup with ice in a cocktail shaker.
Shake until well combined!
Strain into a glass over ice and top with whipped heavy cream.
5. Apple Cider
A seemingly unlikely pair, these two ingredients are delicious when combined together. The sweet tartness of apple cider makes it a perfect addition to any bourbon.
It can enhance a bourbon's light, spicy notes and it adds just the right amount of sweetness.
You can enjoy this delicious combination of apple cider and bourbon warm on cooler days or over ice during the summer. Either way, it is always a hit!
I hope you love this list of The Best Mixers For Bourbon as much as I do. And if you want to see more of my food adventures, follow me on Instagram or Facebook.