A look at Masala Chai Benefits that can improve your health and wellness. This sweet and fragrant spiced tea is full of different beneficial properties that will help to keep you healthy.
Jump to:
Masala Chai Tea
Masala chai, or Masala tea, is a fragrant tea originating in India. Chai masala tea is made up of mixing certain spices and black tea and it can help prevent certain kinds of diseases and keep a person healthy.
No two cups of Masala tea are the same for each person and manufacturer making the tea has a different blend of ingredients that they use.
The main components of Masala tea include cardamom, ginger, cinnamon, black pepper, and cloves - and of course, black tea.
This combination of nutrient-rich ingredients provides a person with many health benefits. Masala chai is full of medicinal properties and antioxidants to help the body fight diseases and keep it healthy.
Chai tea is traditionally brewed using both warm water and warm milk. It is also sweetened to varying degrees depending on personal preference.
You can make your own chai tea at home from scratch or you can buy chai tea bags or concentrate from various stores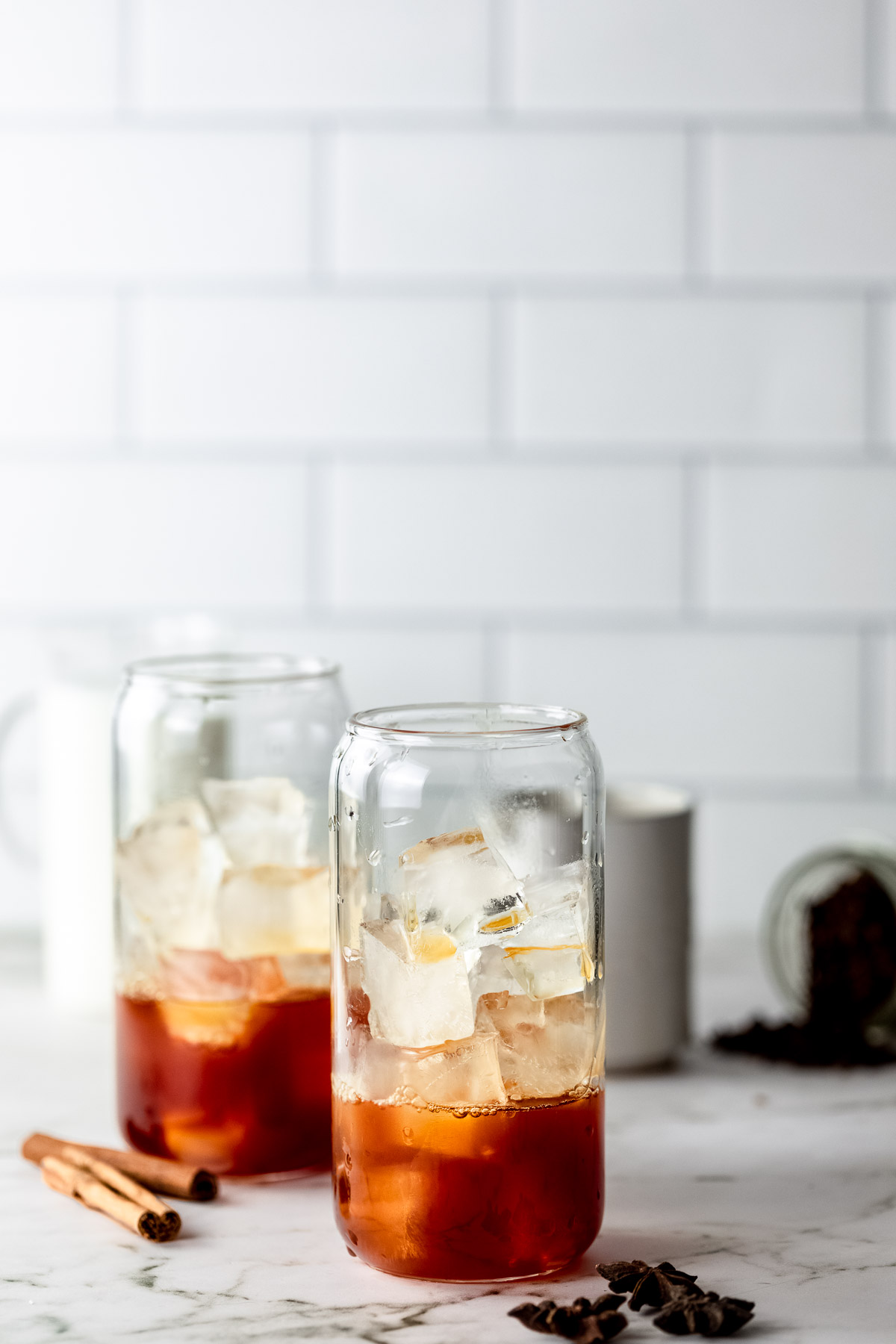 The Health Benefits of Masala Chai Tea
Masala chai tea has many health benefits from the mixture of nutritious ingredients it is made from. It is a drink with high nutritional value that is low in calories. And also has a delicious aromatic flavor too!
1. Heart Health
Evidence shows that masala chai tea can be good for your heart. It is proven that cinnamon, which is a key component of masala tea, can help lower blood pressure and levels of cholesterol.
Studies also show that black tea can help lower blood cholesterol levels.
2. Blood Sugar
Masala chai tea may contribute to better blood sugar control. This is because it contains ginger and cinnamon. Both of these ingredients which have a beneficial influence on blood sugar levels.
For best blood-sugar-lowering results, it is important to drink an unsweetened version. Often chai drink varieties prepared in cafés are often heavily sweetened.
This would then negate any of the blood-sugar-lowering benefits of the other ingredients in the chai tea.
3. Improve Digestion
Chai masala tea contains cinnamon, cloves, black pepper, and cardamom, which all have antibacterial properties.
This can help prevent digestive issues caused by bacterial infections.
Black pepper also helps to increase the amount of digestive enzymes which are needed to properly break down foods and support digestion.
Chai masala tea also contains ginger which is proven to have effective anti-nausea effects.
4. Reduces Inflammation
Many of the spices, particularly ginger, used to make masala tea have effective anti-inflammatory properties. Another ingredient commonly used in masala tea is clove. Cloves are widely used as a painkiller because they can help reduce inflammation.
5. Increase Energy
One of the main ingredients in masala chai tea is black tea. Black tea contains high levels of caffeine.
Studies have shown that caffeine is a way to naturally boosts one's energy levels. The combination of strong, spiced flavor and high levels of caffeine make masala chai a great natural boost.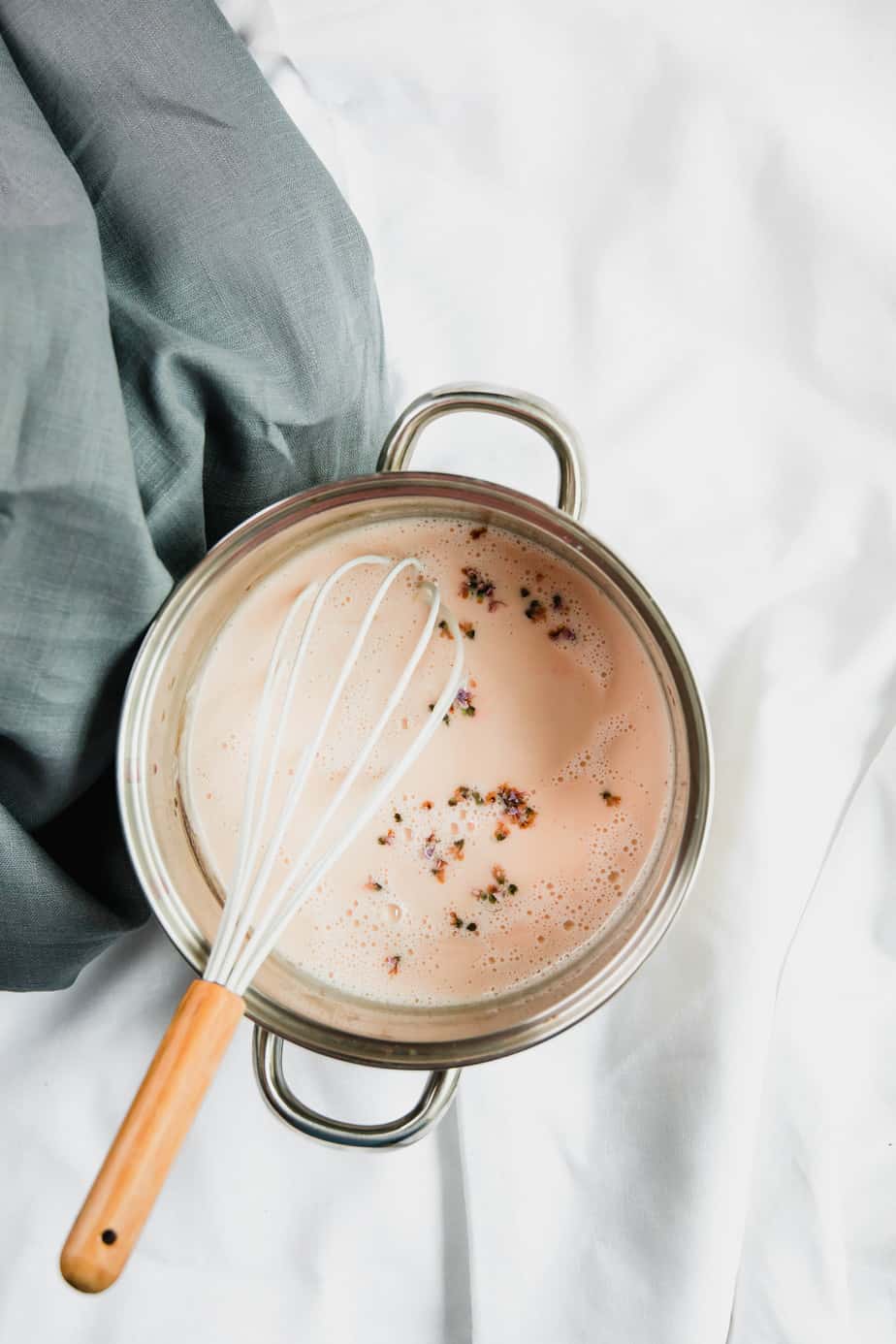 Masala Chai Ingredients & Notes
Cardamon pods - Cardamom is full of highly beneficial properties such as electrolytes, copper, iron, zinc, phosphorus, magnesium, and calcium.
Cinnamon sticks - Cinnamon is rich in vitamins A, K, magnesium, potassium, and phosphorus. It also has lots of anti-inflammatory properties and antioxidants.
Fennel seeds - These powerful seeds are highly nutritious. They contain high amounts of vitamin C, calcium, iron, magnesium, potassium, and manganese.
Whole cloves - Cloves are full of so many minerals and vitamins. Such as folates, niacin, pantothenic acid, riboflavin, thiamin, Vitamin A, C, E, and K. Clove are beneficial for liver health, they help to kills bacteria, are high in antioxidants, and improves bone strength.
Ginger root - Ginger is known for its antioxidant qualities. These qualities enables a person's body to reduce stress, relieve pain, and much more.
Black pepper corns - Black pepper is one of the most popular spices in the world and it offers impressive health benefits. These benefits include strong antioxidant properties, a good source of manganese, which is a mineral that can help with bone health, wound healing, and metabolism, and can enhance the absorption and function of certain nutrients and beneficial compounds..
Recipes with Masala Chai Tea
I hope you love this post about Masala Chai Benefits. And if you want to see more of my food adventures, follow me on Instagram or Facebook.