A delicious and beautiful twist on the classic hot cross buns, these Hot Cross Bundt Cakes are sure to be a spicy hit this Easter. Super easy to make, a crowd pleaser and decadently delicious.
Easter is one of my favourite times of year. I think it is because it really reminds me of my childhood. Getting up super early just to scavenge in the garden looking for all things delicious. Then spending the rest of the morning helping my mom create a delicious Easter feast and then of course munching down a whole bunch of hot cross buns after lunch.
We all know that warm spicy flavour of hot cross buns is part of what makes Easter so distinctive. But this year I wanted to do something a little different but with the same moreish flavour. And we all know I love a good bundt cake (see my fave lemon bundt cake here) and with Kitchen Inspires adorable mini bundt cake mould I just knew this would be a hit in the house.
I kept the recipe fairly simple but the flavours are definitely still all the there. The recipe is basically a one-bowl recipe which is my favourite kinda recipe and the mould is a super no-fuss mould, nothing sticks, the bundts pop out easily and it looks super pretty. Sounds like a win all around right?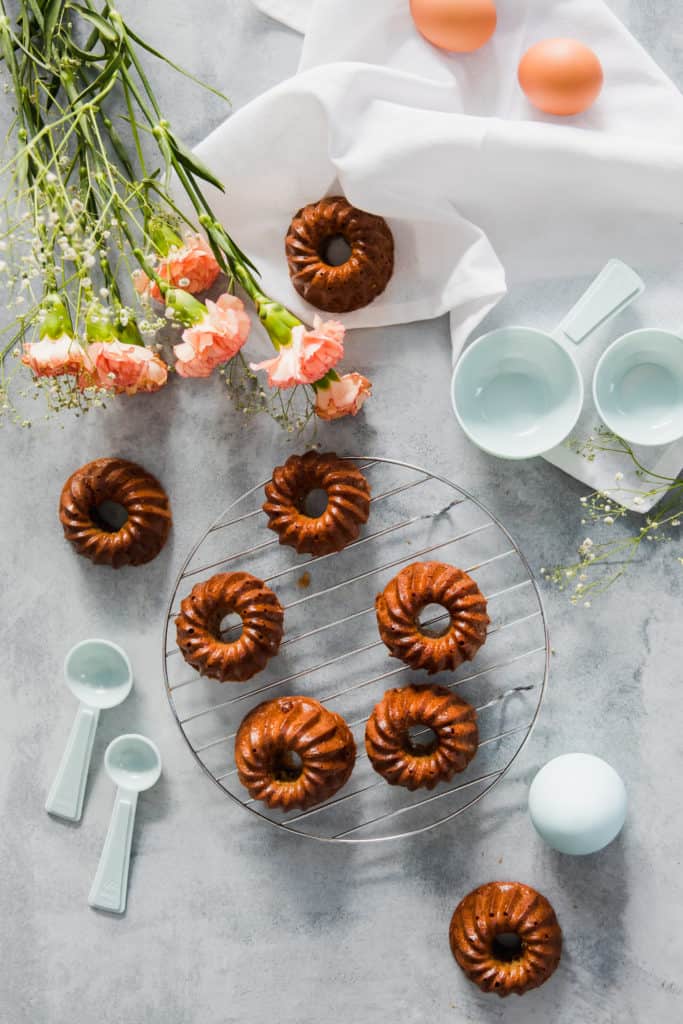 One of my favourite parts about this recipe is that you can make a massive batch of it and freeze the Hot Cross Bundt Cakes. Then later when your craving a little easter, simply pop one into the microwave for a few seconds and bam!
Hot Cross Bundt Cakes
Ingredients
150

g

flour

sifted

2

tsp

cinnamon

1

tsp

nutmeg

1

tsp

all-spice

½

tsp

bicarbonate of soda

1

tsp

baking powder

½

cup

sugar

¼

cup

brown sugar

¼

cup

oil

1

cup

plain yoghurt

3

eggs

½

cup

raisins

1

tbsp

orange zest
For the glaze:
1

cup

icing/powdered sugar

sifted

¼

cup

milk

add a little at a time
Instructions
Combine both sugars, all spices, bicarbonate of soda, baking powder and the flour in a mixing bowl.

Whisk until properly combined then add the oil, yoghurt and eggs.

Mix until just combined the fold in the raisins and orange zest.

Spoon batter into you Kitchen Inspire Crown Mould.

Bake for 15 minutes or until a fork inserted comes out clean.

Allow to cool and make the glaze by mixing together the icing sugar and milk adding more or less icing sugar depending on desired consistency.