Earl Grey & Fig Cake with a Nutty Fig Filling and Cream Cheese & Mascarpone Frosting - The most delicate cake that compliments any event or even simply with a good cup of tea. The softest cake layered with a tasty, crunchy filling.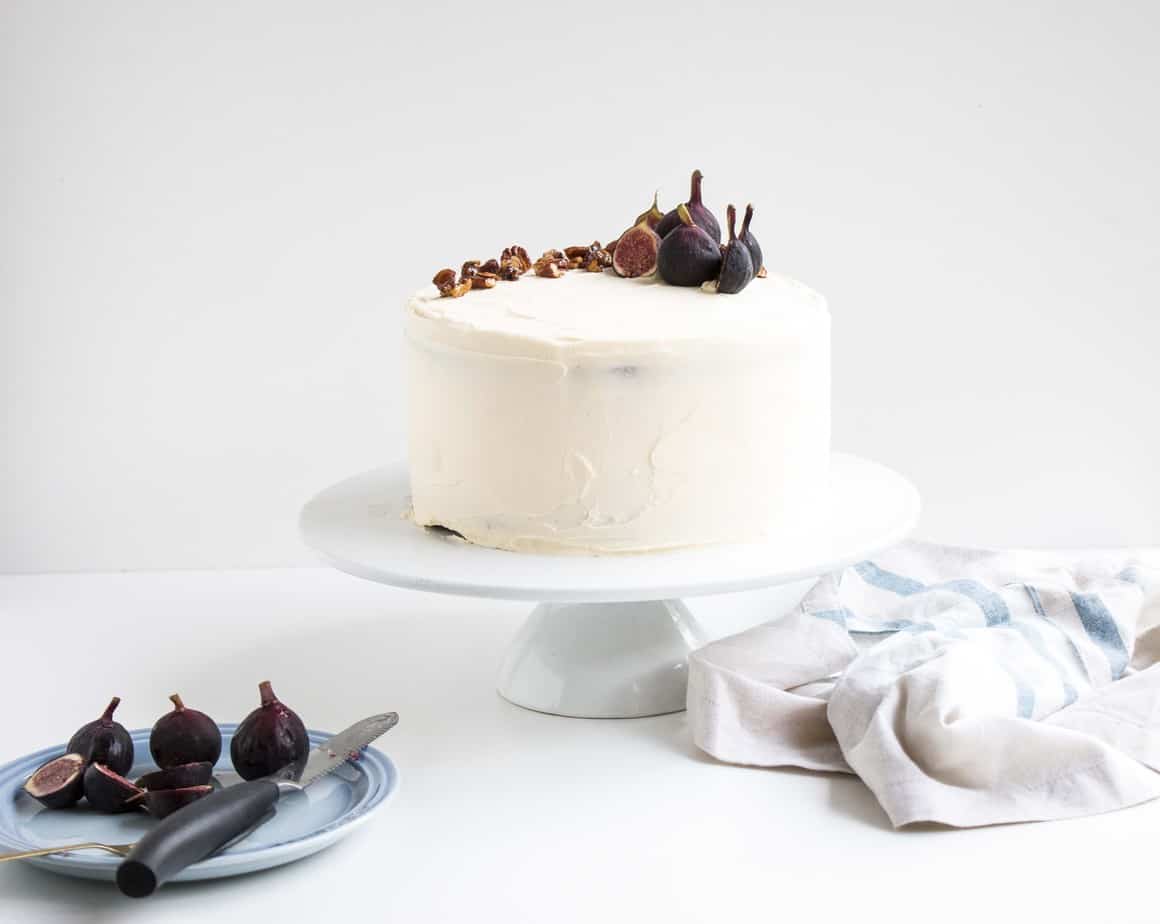 An Earl Grey Tea Cake with Figs and Nuts
I'm back in Cape Town this weekend! Beautiful, beautiful Cape Town. I love coming here, no matter the reason, I love the people, the views and most of all the vibe of the whole city. Everything is so gorgeous and filled with happy vibes.
Perhaps it's time for a move ;). This weekend the whole family is down here for my cousin's wedding and although weddings are great, family holidays can often turn out to be a little stressful.
So what better way to bring everyone together than with cake right? Especially this Earl Grey & Fig Cake with a Nutty Fig Filling - so delicious!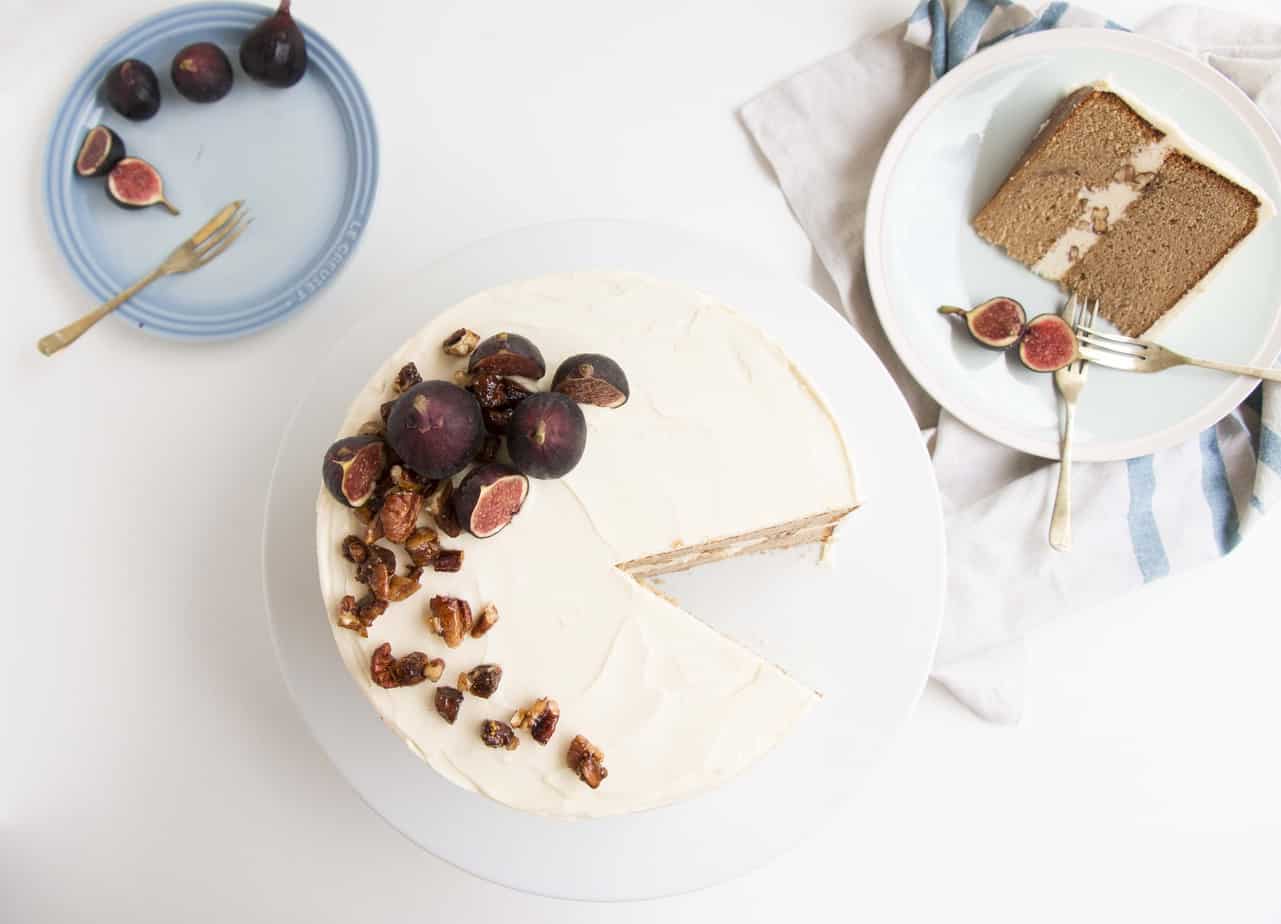 How To Make An Earl Grey Cake
I love this Earl Grey & Fig Cake with a Nutty Fig Filling. The earl grey flavour works so beautifully with the figs. It is very subtle, almost barely there but just as you finish chewing, that gentle earl grey flavour sneaks onto your taste buds.
This plus the delicious crunchy and chewy "figgy" nut filling and the beautifully soft cream cheese frosting and you pretty much have everything you could ever ask from a cake. And when they are layered on top of each other it is truly perfection.
On top of it all, it really does look absolutely breathtaking on a table. It really is something else, something that people aren't used to when it comes to cake and everyone has been absolutely in awe of its beauty and most of all its delicate flavours.
Cake Recipes
I am incredibly proud of myself lately, I have been pumping out cakes one after the other and they have all been simply delicious...even if I may say so myself ;). The Champagne Ombre Cake with Italian Meringue Buttercream was pure perfection and now this Earl Grey & Fig Cake with a Nutty Fig Filling! YUM! I think we are probably all starting to pack on the pounds...but hay, all for the love of cake right.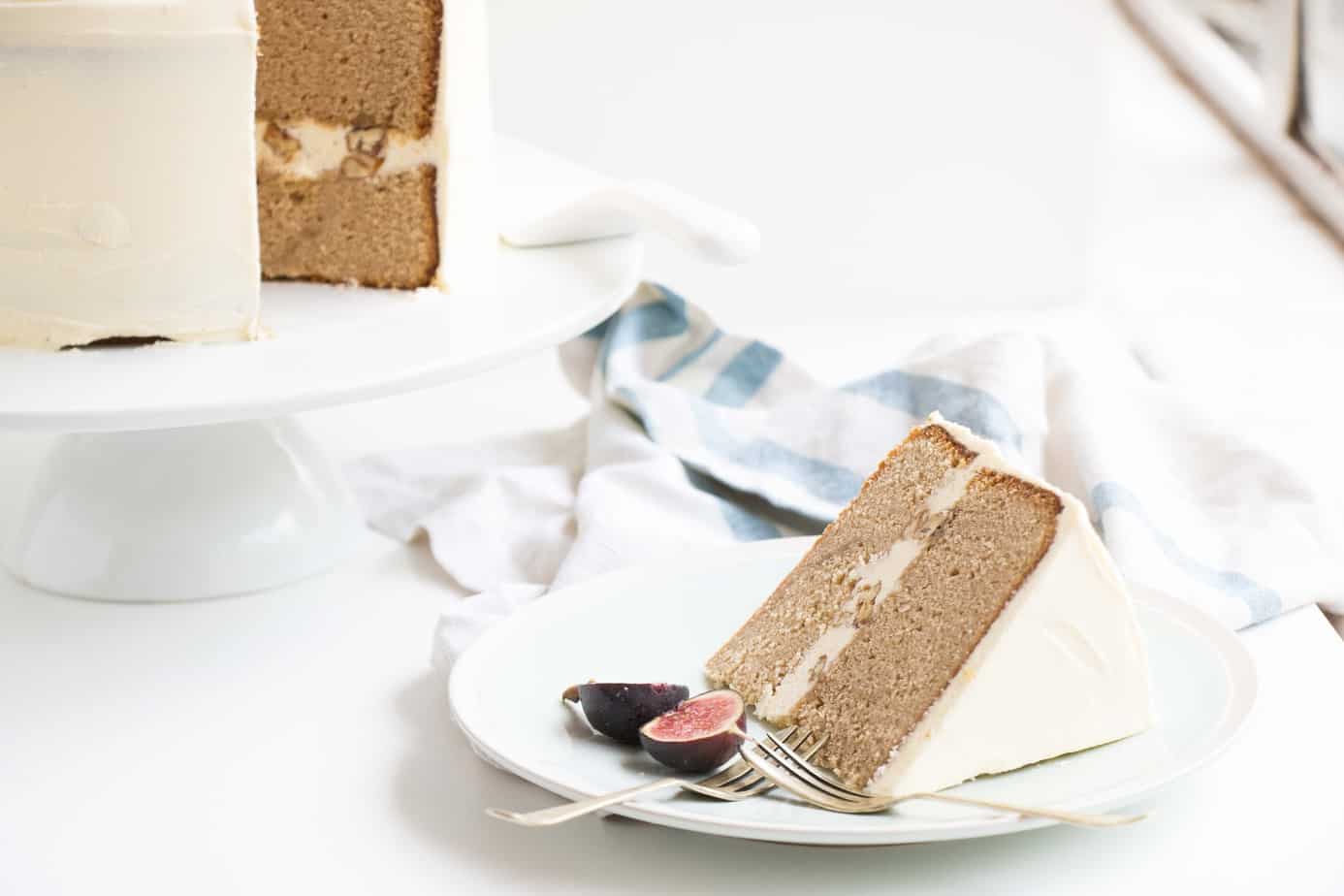 I hope you love this recipe as much as I do. And if you want to see more of my food adventures, follow me on Instagram or Facebook.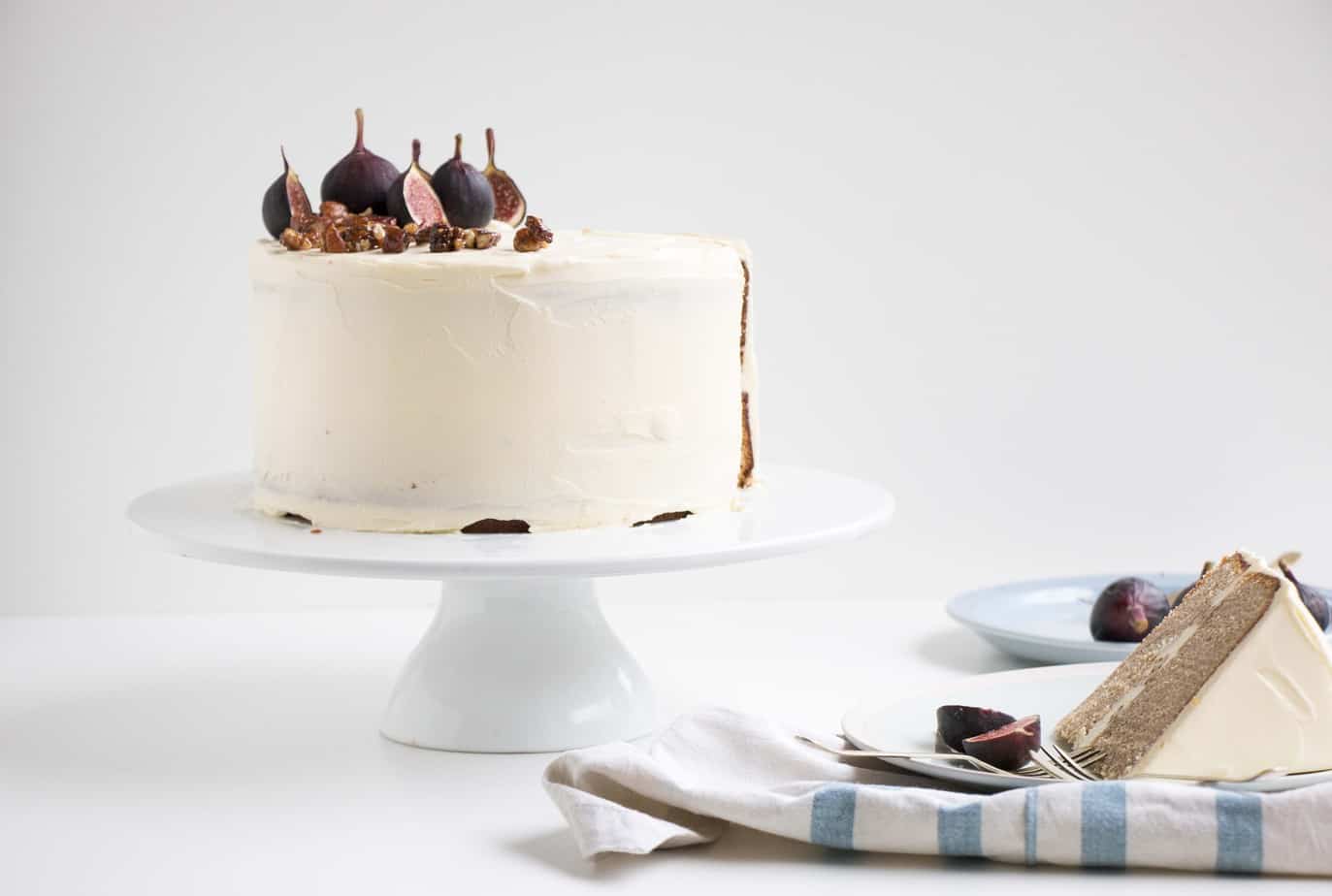 Earl Grey & Fig Cake with a Nutty Fig Filling
Ingredients
For the Earl Grey Cake:
600

g

Sugar

Egg White from 6 Eggs

25

ml

Vanilla

325

g

Soft Butter

4

Bags Early Grey Tea

560

g

Cake Flour

20

g

Baking Powder

1

tsp

Salt

270

ml

Milk

3

Eggs
For the Nutty Fig Filling:
100

g

Walnuts

100

g

Chopped Dried Figs

2

tbsp

Honey
For the Cream Cheese & Mascarpone Icing:
500

g

Mascarpone

soft

250

g

Cream Cheese

120

g

Soft Butter

5

Cups

Powdered Sugar

2

tsp

Vanilla

Fresh figs for topping
Instructions
For the Earl Grey Cake:
Preheat the oven to 180ºC/350ºF and line pans with baking paper and spray lightly with a non-stick spray.

Place the milk in a saucepan with the tea bags over medium heat.

Allow the milk to simmer slightly, then close the saucepan with a lid and allow to steep for 15min.

Remove the tea bags.

Meanwhile, blend the butter with the dry ingredients on low speed, then add the eggs, egg whites and vanilla.

Continue to mix.

Add the milk mixture a little as a time, scraping down the bowl every now and then.

Mix until well incorporated.

Divide the batter between 2 or 4 cake tins (depending on how thick you want your layers).

Bake for 40min or until fork inserted comes out clean.

Remove cakes from oven and allow to cool.
For the Nutty Fig Filling:
Mix together all the ingredients and spread it out on a lined baking sheet.

Bake at 180ºC/350ºF for 10min then set aside to cool.
For the Cream Cheese & Mascarpone Icing:
Mix together all the ingredients using the paddle attachment.

Continue to mix until smooth.
Assembly:
Place one layer of cake then add a little frosting.

Sprinkle a bit of the nutty fig filling over the frosting then add the next layer.

Continue to do so, depending on whether you have 2 or 4 layers.

Then spread a thin layer of the frosting around the entire cake to provide it with a crumb coating.

Place the cake in the fridge for 10-15min.

Spread the remaining frosting around the cake.

Top with remaining nutty fig filling and fresh figs.
Love it? Why not PIN IT?